Ho, ho, how would you like to read about some fantastic festive festivals in Italy this December? John Bensalhia reports.
With Christmas approaching, this month's regular round-up of great events takes a festive approach. I've found some excellent happenings for all the family, with plenty to inspire gift and dinner ideas. Wrap up warm, off we go!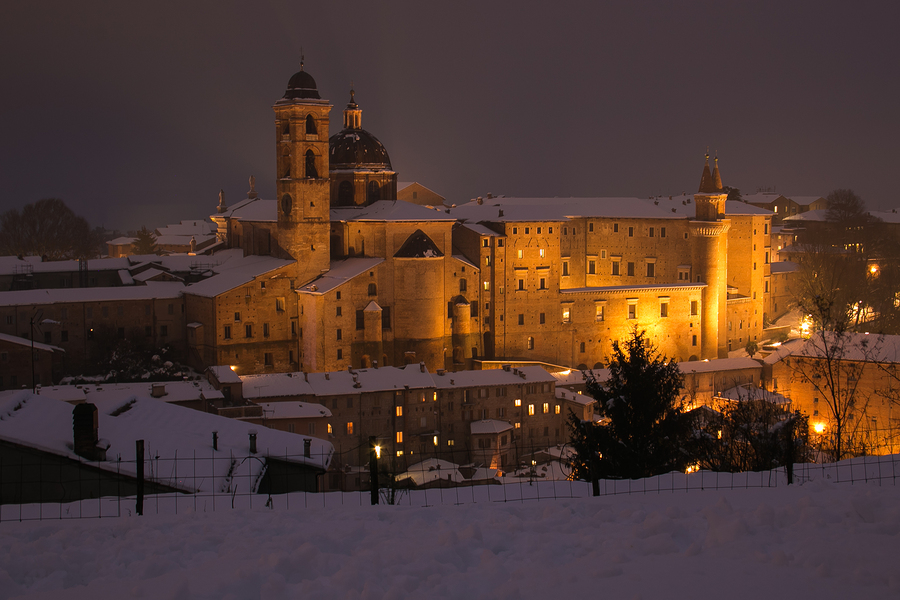 Verbania, 1st - 22nd December 2019 (Also open in the latter part of November – open weekends and public holidays)
A visit to the atmospheric Christmas Village at the Farm kicks off this seasonal sack of event goodies. Based at Verbania's Lake Maggiore, the charming Fattoria del Toce farm becomes a living nativity, with characters from the Christmas story coming to life.
Christmas Village at the Farm is open to all at weekends and on public holidays in the run up to the festive day. With nativity characters on hand to guide visitors and to provide entertainment, this is a delightful way to build up anticipation for the main day. Simple but fun activities for young ones include bread making, pony rides and playing traditional games.
A visit to the Christmas Village wouldn't be complete without an extra stroll around the surrounding 15,000 sqm park, which contains a wealth of animals and wildlife. It's a great option for those who are seeking an alternative to the hustle and bustle of a busy festive environment. And as a tasty bonus, warm yourselves up in the dining zone with some delicious hot meals and snacks!
Como, Throughout December 2019
A Toy Story for all to enjoy.
Every child (and 99.99999% of adults) loves toys. Christmas is a great time to add to that burgeoning toy collection, and I'm sure that there will be a fair few ideas at the annual Como-based  Città dei Balocchi (Toys' Town).
It's a location that provides plenty of Christmas wonder for kids and adults – not least with the amazing light displays provided by the timely dovetail with Como's Magic Light Festival that transforms the area into a super-lit Winter Wonderland.
There is so much to do in Toys' Town. Go skating on the ice rink. Post a letter to Santa, outlining your favourite Christmas gift wishes. Sample the local dishes and gifts on sale – it's an ideal locale to sort out your Christmas shopping!
Plus, special guest appearances from both Santa (coming to Piazza Duomo on Christmas Eve) and Befana (who brings the event to a close on 6th January 2020)!
Hône, 6th - 8th  December 2019
A big part of Christmas is the food. From starter to pudding, one of the main elements to consider is the accompaniment to the big meal of the day. One great example is bread, and the forthcoming Festa della Micòoula provides perfect inspiration.
Based in Aosta Valley's village of Hône, the three-day festival revolves around Micòoula – a sweet type of bread that combines an eclectic mix of ingredients like rye dough, nuts, figs, raisins, chestnuts and even chocolate.
This popular bread will be on sale along with a number of other local festive delicacies that are sure to be a hit at any Christmas dining table in Italy! Cooking demonstrations, dancing and music performances are also on this tempting menu.
Urbino, 7th - 8th  December 2019
We're going back in time to experience a Christmas Renaissance-style.
The period of the Renaissance adds a touch of class to Christmas, and the upcoming ninth edition is sure to be as popular as ever before. Period costume is the order of the two days, with helpers and entertainers dressed up as musicians, lords and ladies, knights and artisans to recreate the era and to provide entertainment that was so popular in that period (including musical performances, parades and fire displays).
Kids will be sure to love this event too, and as an introduction to the history of the Renaissance, you can't get a more enjoyable lesson than this. There will be special areas devoted to children's entertainment, and they will love the living Nativity scene in Palazzo Ducale's basement.
Siena, 7th - 8th  December 2019
Mercato nel Campo likes to think big.
Which is why there's not one, not two... but 150 market stalls built up for this weekend celebration in Siena. The concept recalls the 14th century style of big markets, recreating that period medieval feel with gusto.
A wealth of foods and crafts are available at this impressively sized market. It's a sure way of grabbing food and gift ideas for Christmas, albeit with a period feel. Meats, cheeses, pastas, condiments, herbs, fruits, vegetables and sweets are among the goodies on offer in the food stalls. Meanwhile, the gift and crafts stalls offer a slew of unique keepsakes and decorations, with the likes of arts, crafts, books, ceramics and more jostling for your attention.
7th - 29th  December 2019 (weekends)
One of the most acclaimed living nativity experiences can be found in the Basilicata region, with the 10th edition of the Sassi di Matera Living Nativity Scene running for four consecutive weekends this December.
The Sassi caves in Matera are an inspired location for this eternally popular concept. The story is brought to life in six key acts, which take place in the city centre. It's performed by the talented performers of Gruppo Storico Romano, who vividly and imaginatively bring the real meaning of Christmas to life.
Because of its popularity, you'll need to book a ticket in advance. The entrance fee is €10,00, although children aged 10 and under can get in for free.
Cervia and Milano Marittima, 7th December 2019 - 6th January 2020
A double helping of Christmas fun this December as the Winter In Love event comes to Cervia and Milano Marittima.
Lasting until 6th January next year, Winter In Love has lots for everyone to enjoy. It's an ideal chance to get into the festive spirit, with both events providing something for everyone. The concept of Cervia's Winter In Love is Christmas Emotions. Let your emotions run wild, from joy at ice skating through to a tear in the eye at magical performances. One of the most notable elements of Cervia's Christmas celebrations is the salt dough nativity scene – appropriate for a region well known around the world for its high quality salt.
Meanwhile, Milano Marittima will launch a spectacular lights festival – with a lengthy 8m span of illuminations for the Christmas season. The size of its ice skating rink is also impressive at 200mq – just the job for its Mima On Ice event!
Agnone, 8th & 24th December 2019
It's been keeping the human race warm since the dawn of time. It's been sung about by everyone from The Ohio Players to Jimi Hendrix. And now it's about to provide some extra heat at Christmas in an amazing show.
Molise's 'Ndocciata Christmas fire show has received considerable acclaim from around the world, and this year's show looks set to be another scorcher. The area of Agnone sees a procession bearing torches called ndocce, with torch bearers clad in traditional shepherd's capes. It's a parade that includes all ages, and one that attracts plenty of spectators, who have come to witness this awesome spectacle.