There's a greater sense of 'going native' on holiday when you take the decision to travel like a local, not to hire a car or join a package holiday, but to let the train take the strain. Of course, it all looks straightforward, but occasionally things can go wrong – and even if the challenge is quite fun, a few tips can save confusion and frustration. First, an up-to-date summary about rail travel this year, then a few suggestions, both popular destinations and curious less well-known journeys.
First, long distance travel Italy has two rail companies, the state-run Trenitalia with its high speed Freccia Rossa /Bianco (red and white arrows) and privately operated Italo trains. There isn't much to choose between them if you book well ahead, and they are equally good on speed (300km per hour/ 180 mph) and punctuality. Also we recommend Italia Rail for bookings, the easiest, most affordable way for travelers outside Italy to book advance tickets on the Trenitalia Rail Network.
Travelling locally on state railways can be more complicated. Trains are classified by region, and on the departures board will be prefixed by a letter R – regionale– or RV- regionale veloce, a faster local train which only stops at key stations along the line. Naturally the Italo and Freccia trains have priority on the tracks, and sometimes a regionale train will have to wait in a station for a delayed express train to pass because they share the same line.
Timetables. Timetables are displayed everywhere in stations, yellow for departures and white for arrivals. The information is all there, but beware of asterisks! You may find on close inspection that your preferred train doesn't run on Saturdays, or that you may not take your bicycle on certain trains, for instance. It's usually more reliable to check trains on the Trenitalia website.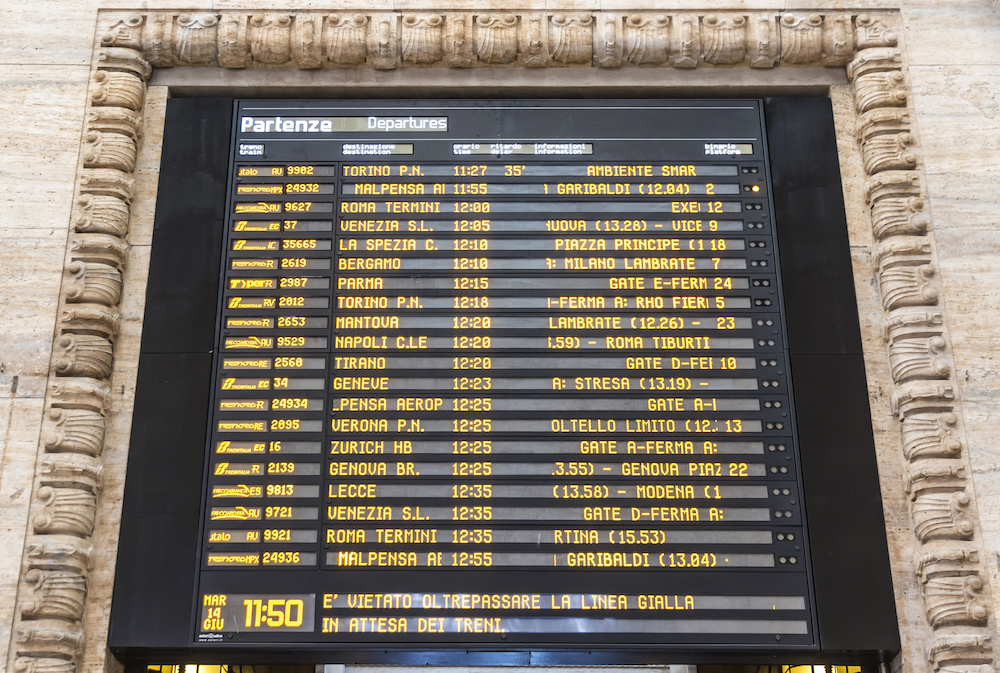 Buying your ticket. These days you're expected to use a ticket machine (or online) rather than buy your ticket from an actual human being, although this is still possible in city stations. Touch the union jack flag on screen if you want English, but not English as we know it. The accent is impenetrable and the phrases used are rather bizarre.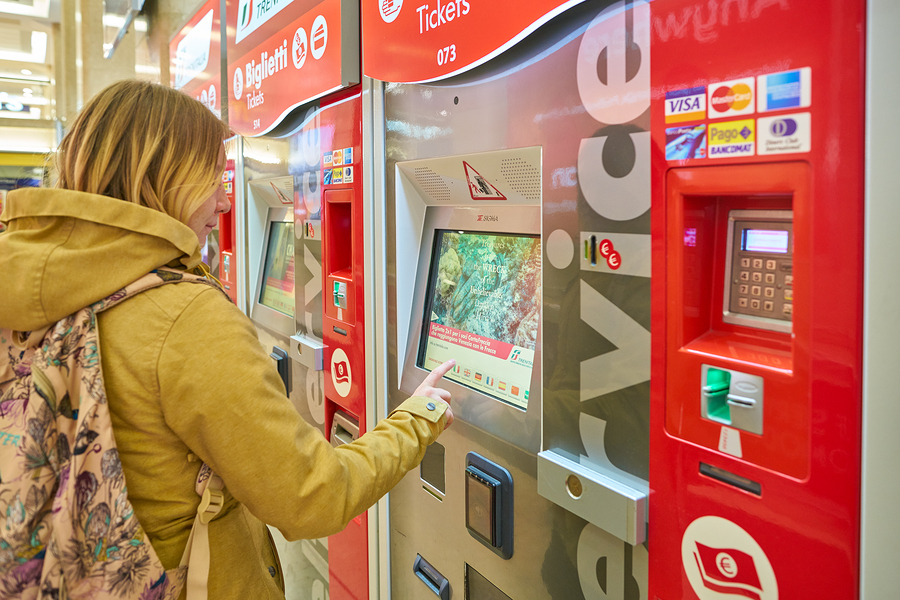 You are first warned very loudly to 'Bee Ware of Peek Pockets', thus informing everyone nearby that you are a foreign tourist and fair game. You need to remember that the machine will assume that your journey will begin at that station on that date, although there are opportunities to change both. A new rule states that your ticket must show the date of travel. In other words, you can't buy a ticket on a certain day, and if you don't use it, travel the next day. It will not be valid, and a vigilant inspector may make you pay a fine.
Do not forget to validate your ticket in one of the many machines on station platforms. You put it in the slot in the direction of the arrow on the ticket, and it makes a clicking noise. If the machine doesn't work, it is not an excuse: find one which does, or you could be fined.
Now for a few travel suggestions– both popular destinations and off the beaten track.
Rome. All roads (and railway lines) lead to Rome! Rome has several stations but the busiest is Termini, which includes the arrival point from Fiumicino Airport. Although police patrol the concourse, there are trained gangs of pickpockets – often children -  who target tourists. Try not to look lost or be seen consulting a guide book. Keep wallets safely hidden.
Venice. Second only to arriving in La Serenissima by boat is to arrive at Santa Lucia Station by train. Cross the causeway from the mainland and watch on the left-hand side the perfectly synchronised rowers crossing the Lagoon, seeing the islands of Murano and Burano in the distance. (Don't look on the right where you'll only see the ugly industrial port of Mestre.)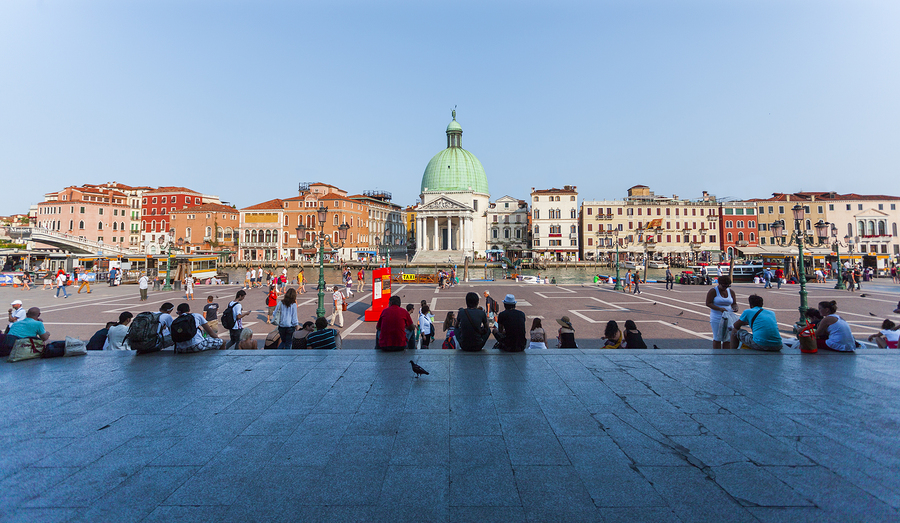 Unusual rail trips and destinations
Sicily from Naples: This is a most unusual train journey: it's the only one I know where the train actually goes on to the ferry boat, then off again at the other side of the Straits of Messina. It's a long journey (Naples to Palermo 9 hours) but fascinating. The train is transported across the sea in 30 minutes, and you can either stay in your seat or wander round the boat. Once in Sicily, moving the train back onto the rails can take time and there are often delays of up to an hour. The train then splits, the two halves heading in different directions.
Reserve on line with Trenitalia.
Elba: Trains head towards Elba from the Rome-Genoa line. Get off at Campiglia Marittima, from where frequent local trains or buses take you to Piombino Marittima and the ferry. Your ticket also includes the bus journey if that is your preference. You have a choice of several ferry companies, and can wait inside a large ferry terminal. However, there are no trains on the island of Elba.
Further information from the call centre 0039 06684 75475
Loreto: This is a fascinating out-of-the-way destination by rail. First make your way to Ancona and change to the local train which takes a scenic route down the coast. You need to know that Loreto station is at the bottom of a steep hill, and in summer the hot climb up to the famous basilica and the Virgin Mary's flying house is just too much. Ask at the station bar and they will ring for a taxi.
Tickets from Trenitalia
Sardinia: This island has its own distinct rail systems, starting with the trenino verde ('little green train', run by ARST) which dawdles through mountainous bandit country, with a 251-mile network exclusively for tourists.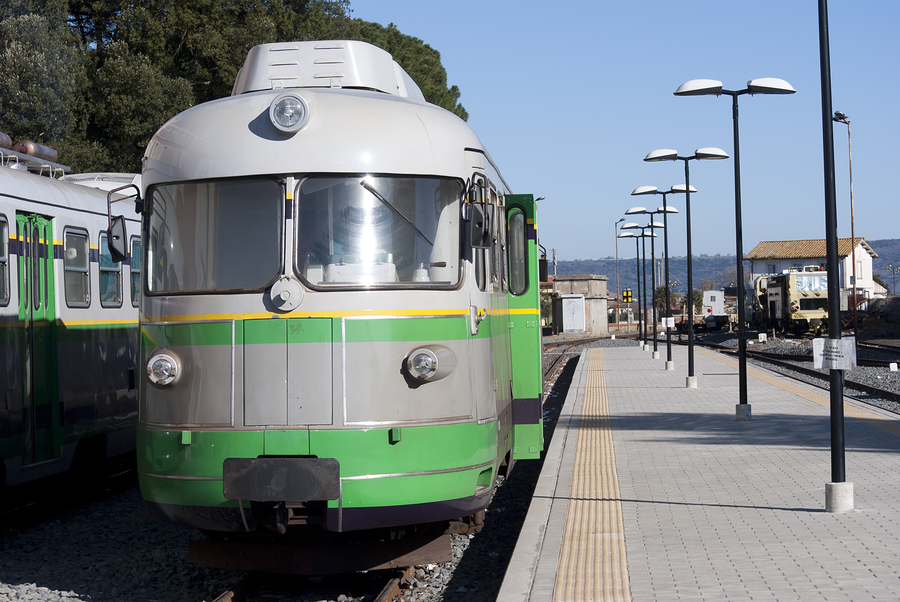 In complete contrast is the line built in the Mussolini era to carry coal from Carbonara, one of il Duce's new towns. You may think the town of Carbonara sounds dull and industrial, which it is, but go there from Cagliari for an original take on fascist architecture. (It takes 1 hour 45 mins and costs €4.90)
The narrow gauge wooden "toy trains" from Alghero to Sassetta provide a fun family day out (Algheroturismo.com), and there are rail connections at Sassetta to all major towns in Sardinia.
I hope these ideas will provide inspiration as well as practical advice for a rail holiday in Italy this year. Train fares in Italy are amazingly cheap and the service is generally reliable. Nowadays announcements are often made on board in English as well as Italian. Fellow passengers will always try to help, and you will emerge from your adventure with a sense of triumph!