It's always the rather quirky things about cities that appeal to me. Turin has the shroud, obviously, but as they only put it on display once a decade, you'll need other reasons to visit this great city with a backdrop of snow-covered Alps at the end of every street. For instance there's a very curious building shaped like an inverted funnel and known as the Mole (meaning the heap) which houses the National Museum of the Cinema. It offers two distinct pleasures.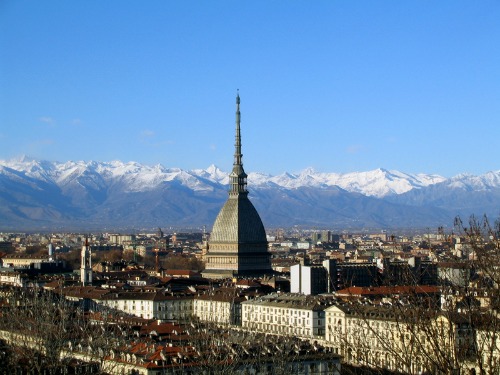 One is to shoot up through the vast domed space in a glass lift for a spectacular view of the city and mountains from the top of the spire. The other is to spend an afternoon snoozing gently in an aircraft-type reclining seat watching a film whilst digesting a fine lunch.
However, the city is probably best known for two things beginning with c: chocolate and cars. The annual Chocolate Festival in February fills the piazzas with stalls of chocolate creations (including a huge chocolate version of the Mole Museum of the Cinema) and the very air you breathe seems to threaten the absorption of many calories.
Now for the cars. The Italian Job has become a film classic, and that was filmed at the Fiat factory in Lingotto, a suburb just a short ride away on the number 18 tram. Now the factory has been wonderfully transformed into a giant shopping mall and exhibition space, but you can get to the legendary roof-top car testing track – and even have a guided tour of the film's locations in a vintage Mini Cooper. You'll recognise the 1km long arcades of via Po as the scene of a great car chase, and the Chiesa di Gran Madre di Dio across the river, where Michael Caine careered down the steps.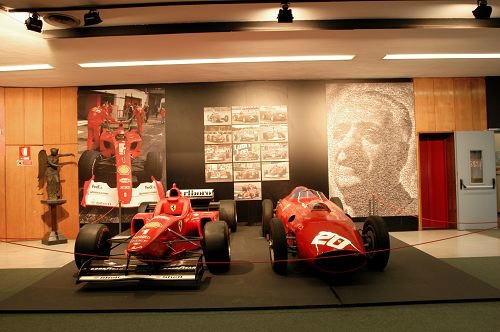 Turin probably has more fast cars than anywhere else in the world, at the Museo dell'Automobile. This amazing collection of over 150 veteran, vintage and classic cars is housed in a colossal hall built in the 1960s about 2 miles from the city centre. There are Bugattis, Fiats, Lancias and Maseratis as well as foreign sports models. The 1929 coupe used to carry Gloria Swanson in the film Sunset Boulevard is kept here, as is the very first Fiat (1899) and the first petrol driven car in Italy (1896).
It's rather satisfying to see that many early sports car models from the 1950s had their steering wheels on the right hand side in recognition of great British car manufacturers such as Aston Martin.
But after all that testosterone-charged adulation of the world of speed (and if you're familiar with driving on an Italian autostrada will understand why a museum of fast cars comes to be in Italy), a slower more relaxed pace might be needed for the rest of your holiday.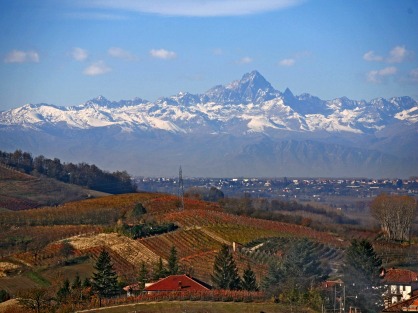 Only 20 miles to the south of Turin the lovely vineyard-covered hills of the Langhe region begin, and you leave the urban frenzy behind. The greatest wines in Italy are produced here, and many an idyllic day can be spent on a round of degustazione which usually thoughtfully includes bread and sausage so that you don't drink on an empty stomach.
A particular favourite is the enoteca at La Morra which has a vast array of local wines including Renato Ratti with its beautiful labels of 19th century soldiers in uniform. A pleasant stroll down the hillside from La Morra will bring you to a startling sight. A once-abandoned capella has been painted in blocks of bright primary colours by the American artist Sol Lewitt. I thought I'd hate it as a blot on the landscape, but I love it. It gleams like a jewel nestling in the neatly striped deep green backdrop of a vineyard.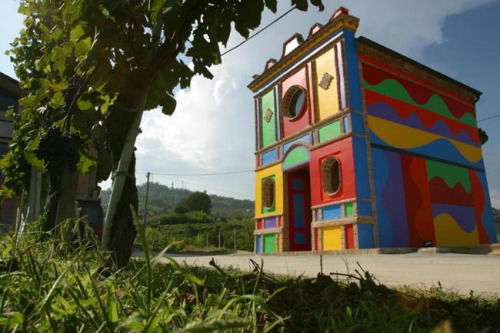 Many small hotels and restaurants in the Langhe often have that Italian characteristic which I've come to call the "fatal flaw". You'll find a beautiful dining room with a fine vaulted ceiling of exposed brick, but with a bare wire dangling from a hole in the wall. Your high-tech bathroom will have a hand-written notice stuck to the mirror with duct tape inviting you to save water. Or your stunning spotless bedroom may have a door to the balcony which won't quite shut. All this some may find irritating. I find it part of Italian charm.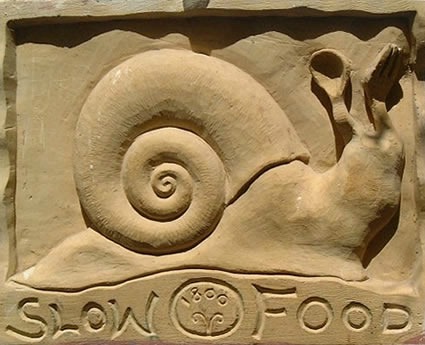 The pleasant little town of Bra is appropriately uplifting. Here it was that the Slow Food Movement began, and from humble beginnings that movement has taken over virtually a whole street, via Mendicita Istruita.
In the middle of this lane is the original slow food restaurant, Osteria il Boccondivino, clad with wisteria on the outside and shelves of bottles on the inside. Very conveniently across the street is the most wonderful B&B, All'Ombra della Collina, with no fatal flaws that I can detect. There's also a shop selling desirable things such as aprons, bags and corkscrews with the slow food snail motif. Wear a slow food tee shirt in any Italian restaurant (especially outside Italy) and you can guarantee respect and superb service.
Alba, with its 20 or so mediaeval towers, is famous for its white truffles, hugely expensive, but at least you can look at them in the shop windows. Should you feel the need to learn about the art of truffle-hunting, call in to Tartufi & Co for a slide show and a talk by a "trifolao" in person, as well as to taste local delicacies.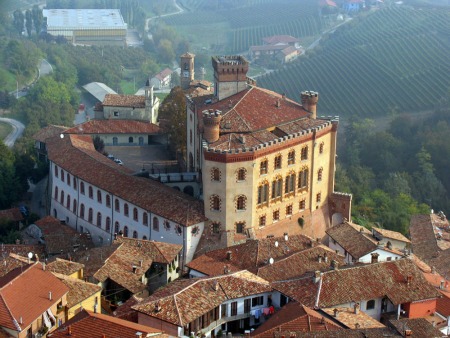 No trip to the Langhe would be complete without a trip to the village of Barolo and a visit to its handsome castle. The whole area is studded with similar castles, but here the cellars are full of world class wines all waiting for you to try them. The choice is overwhelming, daunting even, unless you're a real connoisseur. In many ways I prefer to go to a modest cantina and meet the producers of my chosen wine.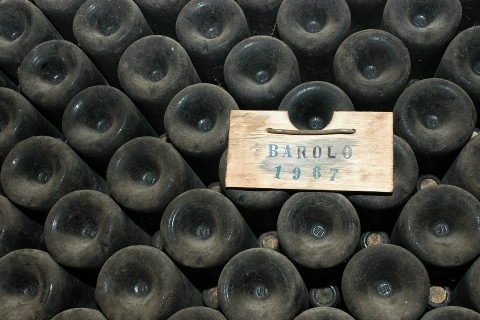 Perhaps this slow/fast holiday is ideal for couples with divergent interests. The average man (if there is such a thing) likes cars, cities and a timetable. His partner probably prefers to relax, taking each day as it comes with no particular agenda. With this combination, especially if interests overlap, you have the recipe for a perfect holiday: perfect harmony.
----------
Check out our feature about the White Truffle Fair in Alba, read about Lake Orta or find out about Hemingway's time in Stresa.
More news about Piedmont
The weather in Piedmont.
Map of Piedmont