The brightly painted face of a medieval-knight-turned-marionette. A three-legged Medusa grimacing from the center of a ceramic plate. The wooden wheel of a horse cart, painted in the colors and complexity of a kaleidoscope. There is something about Sicily's most typical products that embodies its culture: vibrant, splashy, inherent with meaning. Above all, not too serious.
If you're headed to Italy's largest island, you'll want to bring home a special souvenir. And I can think of no better way to experience the people, the stories, and the spirit of Italy's largest island than searching for an authentic, hand-crafted souvenir. 
So, what should you bring home in your suitcase? Here are some of my personal recommendations:
Ceramics (ceramiche)
Since the Middle Ages, Sicily's artisans have produced maiolica, the colorful, tin-glazed earthenware that is so characteristic of Mediterranean ceramics. But compared to the more sober, Renaissance-inspired pieces made across central Italy, Sicilian ceramics are, by contrast, full of whimsy. They feature bright colors, freehand designs, and an immediacy that encapsulates the vivacious spirit of the Sicilians themselves.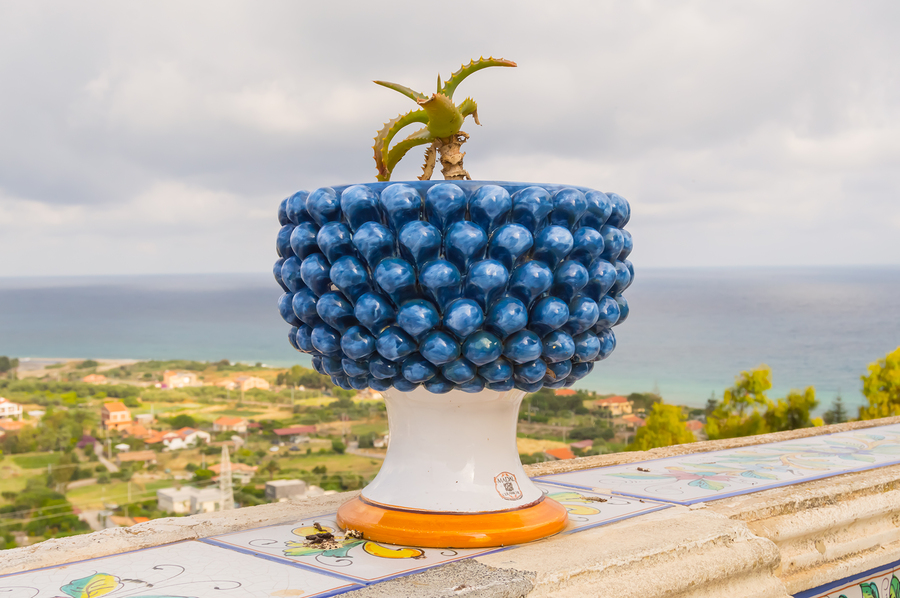 Sicilian ceramics is an enormous topic in itself, and there are several important ceramics towns across the island, each with centuries-old legacies. Caltagirone, in the center of the island, is the largest by far. Its more than a hundred ceramics studios cluster around an impressive ceramic staircase that forms the town's crowning glory. Caltagirone's ceramic origins are shrouded in the mists of ancient history, but the ceramic museum is a great place to start for an overview of this centuries-old tradition (Museo Regionale della Ceramica, via Giardini Pubblici, Caltagirone, 0933/58418).
In the province of Agrigento, on Sicily's western side, lies the unassuming town of Burgio. Through the eighteenth century, Burgio was known for its prolific production of pharmacy jars and pavement tiles, both brightly decorated in the maiolica tradition. In addition, the town is known for its production of cast metal bells. Its ceramics museum, in the old monastery complex of Santa Maria delle Grazie, is worth a visit as much for its collection as for its medieval atmosphere (MUCEB--Museo della Ceramica, piazza Santa Marta, Burgio, 0925/65052).  Further to the south, the town of Sciacca also boasts a long tradition of creating many things from terracotta, including pavements, vessels—even whistles and toys. 
Along Sicily's northern coast, the town of Santo Stefano di Camastra boasts a thriving community of ceramicists whose bright, whimsical pieces could only be made in a beach town. The tradition got underway in the late 1600s, and today, the local museum displays some of these historic wares (Museo della Ceramica, via Luigi Famularo 1, Santo Stefano di Camastra, 349/2987908). Many of the town's ceramics artists have showrooms located along the via Vittoria, which cuts a swath through town. It makes for a nice afternoon stroll with a gelato in hand.
If your travel plans don't allow you the time to venture far beyond Palermo, then take advantage of visiting the town of Monreale, just past the sprawl of Sicily's capital. There you'll find a couple of master ceramicists turning out some of the best of the island's traditional wares.
Here are some of my favorite places to pick a Sicilian ceramic masterpiece you'll treasure and proudly display:
CALTAGIRONE
Principe Amadeo, 9
0933/221967
Ceramiche Artistiche Besnik Harizi
Via Gueli, I
0933/24999
Ceramiche Artistiche di Martino
Via Roma, 88
0933/57729
Corso Principe Amadeo, 28
0933/21878
Ignazio Scarlatella
Scala Santa Maria Santissima del Monte, 2
338/920 9668
Piazza Umberto I, 19
0933/55707
MONREALE
Via Ludovico Torres, 36 
091/6404514
Via Circonvallazione, 25
091/6404393
SANTO STEFANO DI CAMASTRA
Ceramiche Insana Sebastiano
Via Vittoria, 1 
0921/337223
Strada Statale 113
0921/331822
Ceramiche Artistiche di Santo Stefano
Contrada Passo Giardino
0921/337244
Filadelfio Scultore e Ceramista
Contrada Sant'Anna, Caronia Marina
Via Umberto I, 37
329/2726291
Via Nazionale, 96
0921/331879
Coral jewelry and crafts (corallo)
Trapani, on Sicily's northwestern coast, was once the center of a thriving coral-working industry. Today, lovely jewelry in that distinctive color—not quite orange, red, or pink, but somewhere in between—abounds in jewelry shops across the island.
Trapani's artisans were already working coral in ancient times, according to the Roman writer Pliny. By the end of the Middle Ages, handwrought coral goods were being exported outside of Sicily. Years ago, coral-fishing boats lugged thousands of pounds of coral to Trapani's shores, but today, coral is only allowed to be harvested by hand, in an effort to preserve the integrity of the Mediterranean's reefs. Coral harvested from other parts of the world is also used.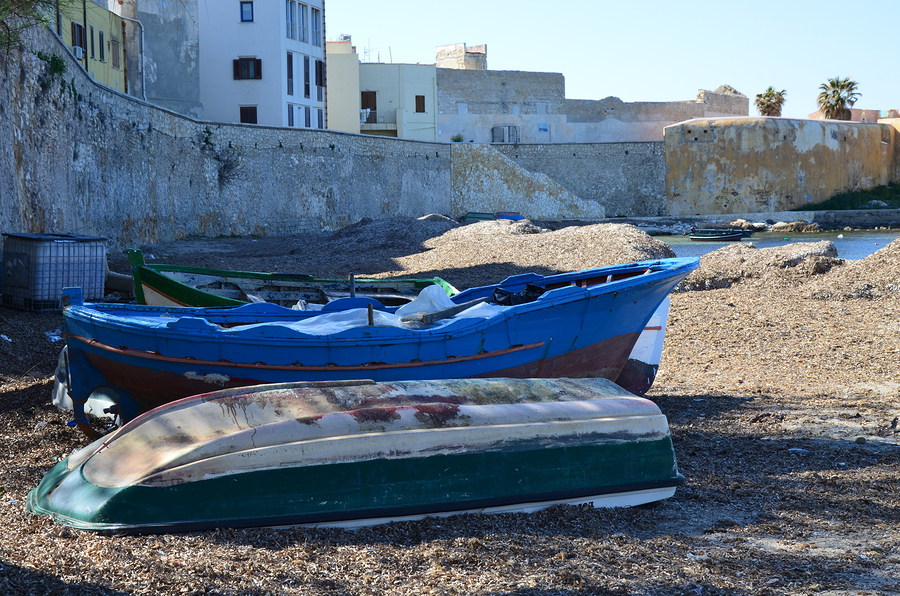 Coral baubles are widely available in jewelry shops across Sicily, but if you want to see the most jaw-dropping of historical coral creations, don't miss Trapani's regional museum (Museo Regionale Agostino Pepoli, via Conte Agostino Pepoli, 180, Trapani, 0923/553269). 
Sicilian marionettes (pupi siciliani)
The Sicilian marionette theater is one of the grand traditions of the island. The making of these marionettes is a specialized art perfected over the centuries and passed down within families from generation to generation. While small, cheaply made replicas of Sicilian marionettes are sold across the island, it's worth seeking out one of the artisan families who still makes the large-scale marionettes completely by hand. Palermo and Catania both boast rich histories of the marionette theater, each with its own regional variations.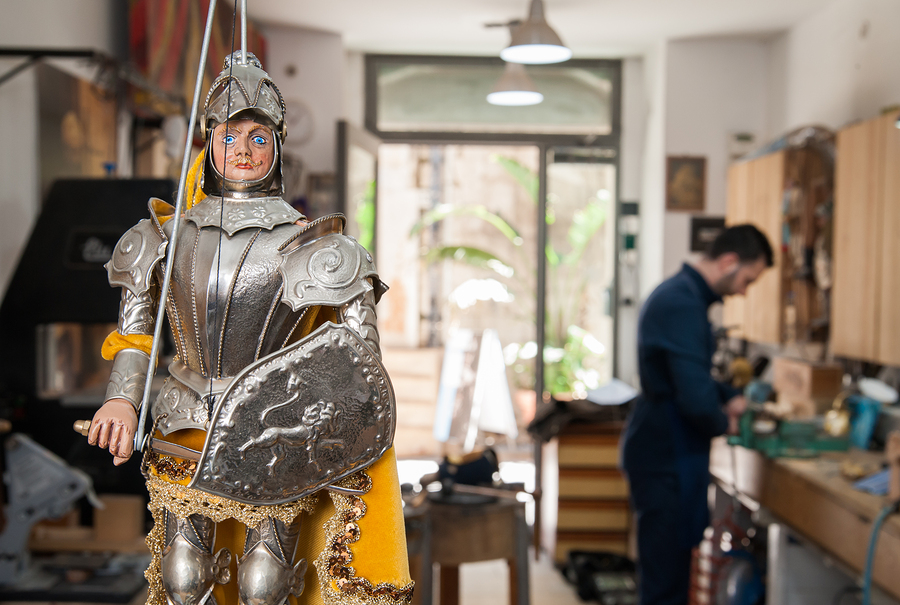 Even if you don't bring home a marionette, buying a ticket to see a show at one of the island's historic marionette theaters is an authentic Sicilian experience that is hard to top. You won't forget the antics of these wonderful characters dangled from the rafters of one of the island's longstanding historic theaters. 
The international marionette museum in Palermo is a great place to start (Museo Internazionale delle Marionette, Piazzetta Antonio Pasqualino 5, Palermo, 091/328060. 
ALCAMO
Via S. Ippolito, 16/c, Alcamo (near Palermo)
094/506354
CATANIA
Marionettistica Fratelli Napoli
Via Reitano, 55
0953/41052 
PALERMO
Associazione Culturale e Teatrale Carlo Magno di E. Mancuso
Via Collegio di Santa Maria, 17
091/8146971
Via Bara all'Olivella, 95
091/323400
Opera dei Pupi de Vincenzo Argento e Figli
Via Pietro Novelli, 1A
091/6113680
Sweets (dolci)
Sicily is one of the world's largest producers of almonds, with orchards dating to ancient times. Almonds form the basis for many typical Sicilian dishes, especially desserts, from almond cake (torta alla mandorla) to almond nougat (torrone or torroncino), to almond biscotti, granita, and gelato. Across Sicily, pastry shops overflow with sweet treats made from the island's almond bounty.
Of all the island's sweet almond treats, Martorana fruits, or frutte Martorane, take la dolce vita to a new level. Martorana fruits are not fruits at all, but masterpieces of "royal pastry" (pasta reale), a special type of marzipan. In these realistic-looking confections the artistic talents of Sicilian pastry artists truly shine. Whether it's the spiky stem of an eggplant, the waxy peel of a banana, or the plush skin of a peach, the tiny details of Martorana fruits are designed to trick the eye and delight the senses.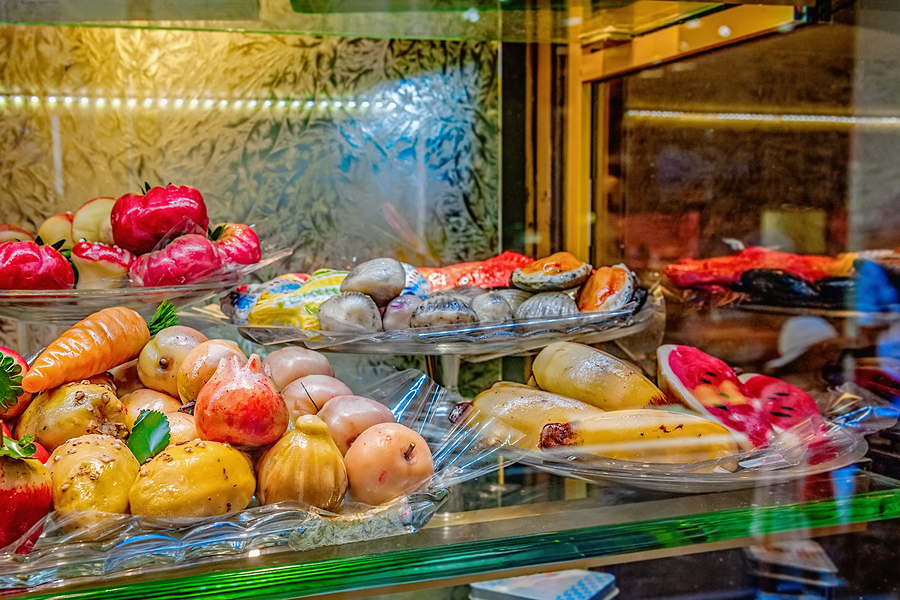 Here are a few of my favorite places to find typical Sicilian sweets:
CEFALÙ
Piazza San Placido, 7
095/7151844
Via Etnea, 302/304
Via Umberto 2/4/6
095/322335
ERICE
La Pasticceria di Maria Grammatico
Via Vittorio Emanuele, 14
0923/869390
Read more about Maria Grammatico and her story here.
PALERMO
Via Colonna Rotta, 68
Via Niccolò Garzilli, 19
091/489601
Via Mariano Migliaccio, 39
091/6822381
TAORMINA
Corso Umberto I, 112
0942/24735
Laboratorio Pasticceria Roberto
Via Calapitrulli, 9
0942/62663
But the queen of all Sicilian sweets is granita, the special frozen treat that cools you from head to toe on a hot Sicilian day. You won't be going home with granita, so be sure to enjoy as much as you can before you have to say arrivederci to Sicily.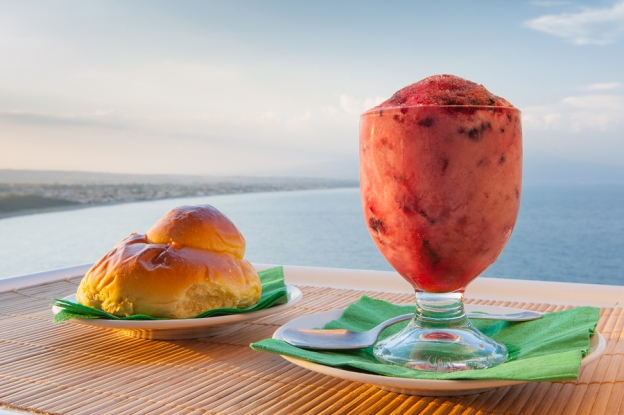 Laura Morelli is an art historian and historical novelist with a passion for Italy. You can find much more about what to bring home from Sicily and elsewhere in her guidebook, Made in Italy. You can also pick up copies of her Venice-inspired historical novels, The Painter's Apprentice and The Gondola Maker, in the Italy Magazine shop.