I once spent the month of August on Italy's largest island and I can vouch for its scorching heat. There's nothing like a cone overflowing with Sicilian gelato, among the richest and sweetest in Italy. But my favorite Sicilian treat is granita, a shaved ice beverage made with fruit juice—and sometimes coffee or sugar—to cool your engines. Granita comes in every flavor imaginable, from kiwi to espresso, mint and strawberry. Nothing refreshes better than granita on a hot summer day on Sicily. 
But granita is much more than a frosty beverage; it's a uniquely Sicilian ritual. The key is to carve out the time to sit at a table in a town square and consume your granita slowly, one tiny spoonful at a time. Pair it with a group of friends, a newspaper, or a leisurely afternoon spent people-watching against the backdrop of Sicily's splendorous architecture, and you've availed yourself of one of the island's most pleasurable, not-to-miss experiences.
It would be a mistake to speak of granita without placing it within the larger context of Sicilian desserts, which raise the conceptof la dolce vita to a whole new level. Sicily is world-famous for its traditional pastries, candy, and frozen treats. Sweets are closely tied to local traditions and feasts, like the tiny lambs fashioned of almond paste that only appear around Easter time, or the island's famous tradition of Martorana fruits.
It's also important to consider the centerpiece of Sicilian desserts: almonds. The island is one of the world's top almond producers, and the characteristic flavor and aroma are synonymous with Sicilian cuisine and pastries. If you only try one flavor of granita on Sicily, make it almond.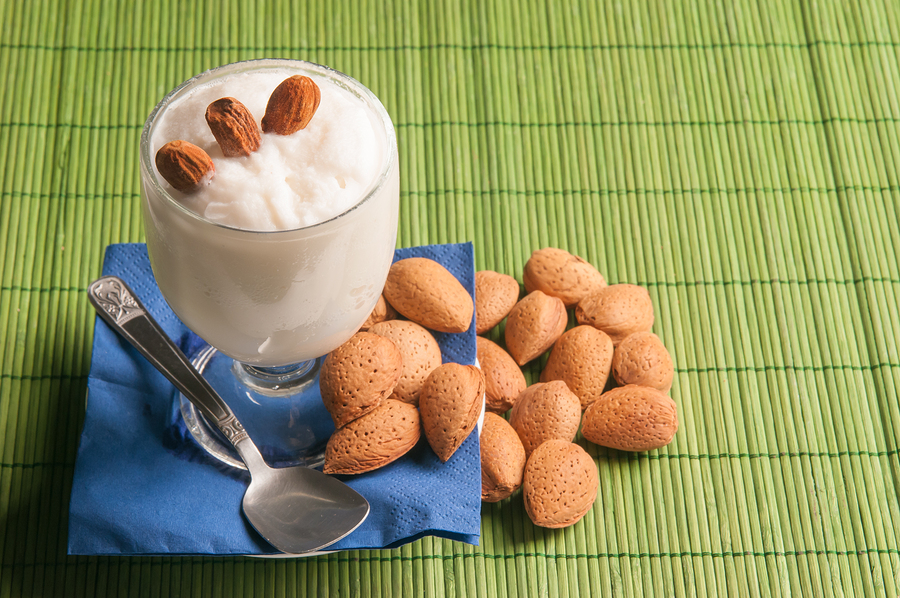 But there's much more to Sicily's famous frozen treat; read on.
Once upon a time, Sicily was famous for… ice!
Across the mountain peaks of Etna, Iblei, Lauro, Nebrodi, and Peloritani, strange, conical stone structures have survived centuries. Many of these Sicilian snow huts, or neviere, have stood since the Middle Ages as storage spaces for snow and ice collected during the winter months, packed tightly in below-ground pits, and insulated with layers of stone, brick, and straw.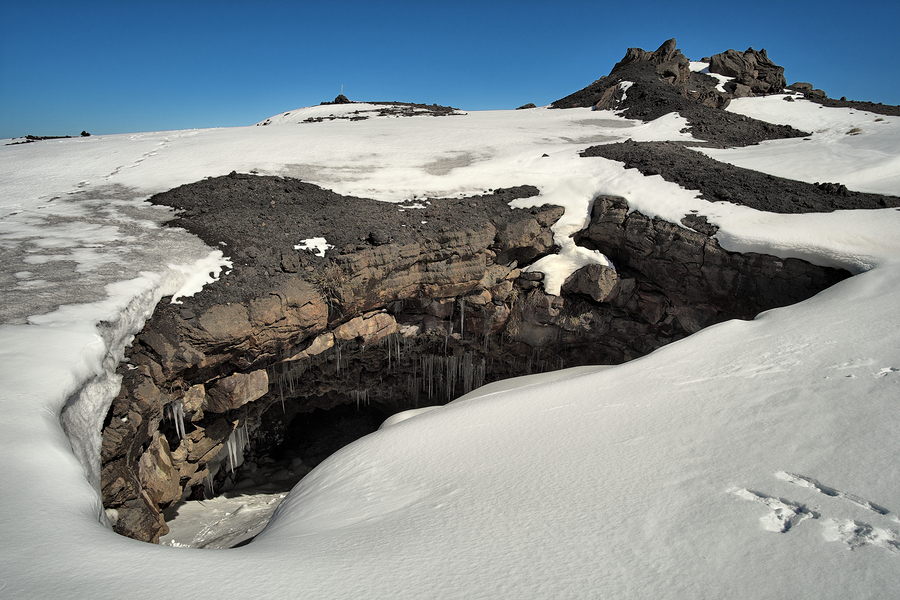 [The entrance to the Grotta del Gelo in Etna's National Park in Sicily]
Historical documents from the fifteenth century onwards bear testament to business of Sicilian ice, which was exported from the island's volcanic peaks to destinations as far away as Malta and the north African coast. When snow fell in the high elevations, a clanging bell would lure day laborers to climb the mountains to earn a few coins by carrying cartloads of snow into the neviere for safekeeping. In the summer, the ice would be transported down the mountains to consumers along the coast looking to mix the snow with fruit juice and syrups for a tasty refreshment.
Sicilian granita was born.
Of course, the advent of electricity and ice-makers meant that by the twentieth century, granita became widespread not only on Sicily but across Italy. Today, granita with a fresh brioche is a traditional Sicilian breakfast. Many take their granita coffee-flavored, while others opt for an almond-flavored granita with a shot of espresso on the side. But across Sicily, locals and visitors enjoy granita not only at breakfast but throughout the day, paired with a meal or enjoyed as a mid-afternoon snack.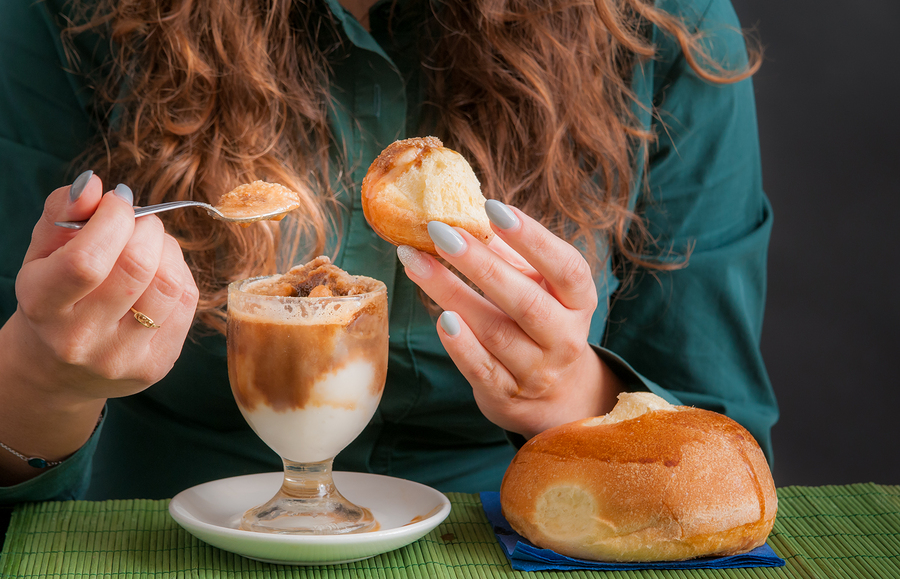 [Our favorite way to enjoy granita, with a brioche!]
How granita is made
A Sicilian granita requires only ice paired with fruit juice, espresso, or nut milk. However, like many of Italy's most important culinary traditions, the simplicity of the recipe can be deceiving, and there are as many varieties of granita as there are Sicilians. As in making a fine wheel of Parmigiano-Reggiano or a bottle of traditional balsamic vinegar, a well-made granita results from high-quality ingredients and family recipes passed down over generations. 
An impressive-looking mixer, the mantecatore al bastone, is the traditional machine for making granita. Its large mechanical beater is useful for whipping air into the mixture, making the resulting granita as light and fluffy as possible. Industrial soft-serve and "slushy" machines are also used. In some artisanal pastry shops, the ice is still today scraped by hand.
Here are some of the most popular granita varieties:
Lemon: Lemons and citrons are cultivated in several places on the island.
Almond: This is one of the most traditional varieties, with a light beige color and distinctive aroma that I always associate with Sicily.
Coffee: This version is most commonly paired with a fresh brioche and served at breakfast. 
Pistachio: Granita made with good-quality pistachios has a distinctive pale green color and a fresh, unmistakable taste.
Peach: This is my personal favorite, as much for its refreshing flavor as well as its beautiful yellowish-rose color.
Want to make it at home? We have a great recipe for coffee-flavored granita! 
How to experience granita on Sicily
Granita is served in bars and pastry shops across the island, but graniteare not created equally. Taste and quality can vary significantly from town to town, and from maker to maker. As you become a connoisseur of Sicilian granita, you will find small differences in consistency, flavor, and sweetness from town to town. Bars and confectioners in Messina and Catania brag that they have the best on the island, but the outlying islands off Sicily's northern coast also have wonderful recipes.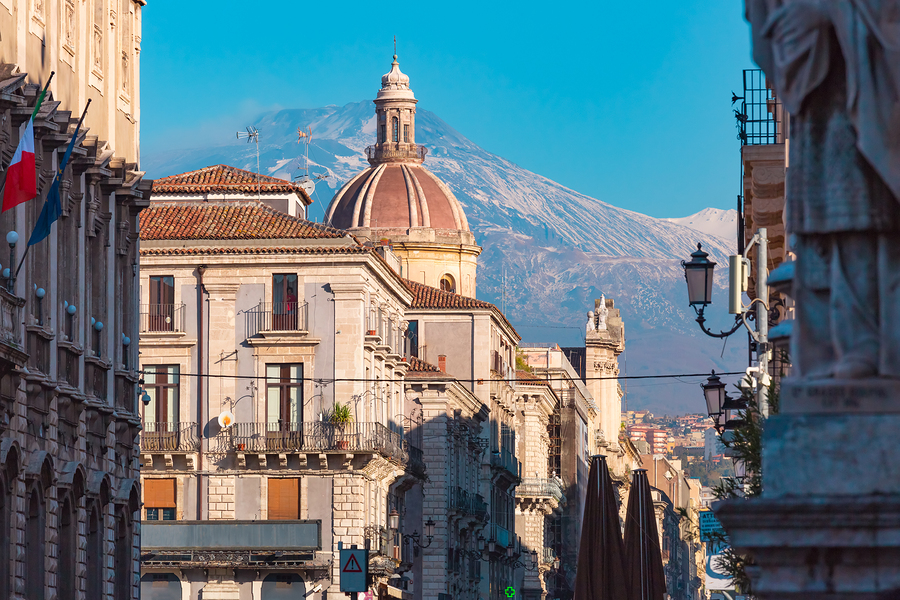 [The baroque city of Catania is well known for wonderful Granita!]
You can also order granita at many bars and pastry shops across Italy, but sampling it on Sicily offers the best opportunity to appreciate the tradition in its native setting. Here are some of the best places to taste-test granita:
ACIREALE
Caffè Cipriani, piazza Lionardo Vigo, 3-4, 95024 Acireale, 095/605696
CATANIA
OUTSIDE CATANIA
MARZAMEMI
MESSINA
NEAR MESSINA
Fiumara, Via Nazionale, 12, Villafranca Tirrenia, 090/334034
NOTO
Caffè Costanzo, Via Silvio Spaventa, 7, 96017 Noto, 0931/835243
Caffè Sicilia, Corso Vittorio Emanuele, 125, 96017 Noto, 0931/835013
SIRACUSA
Bar Kennedy, via Tisia, 140, 96100 Siracusa, 0931/1623965
ISLAND OF STROMBOLI
TAORMINA
INSIDER TIPS:
Look for the words pasticceria artigianale or produzione nostra on pastry shop win­dows. It's a great way to hunt for delicious granita and other terrific homemade treats from cannoli to Martorana fruits.
Granita snobs will tell you that you must consume granita within five hours of its preparation. Beyond that, the liquid rises to the top, the ice re-crystallizes, and it loses its light, whipped deliciousness.
Enjoying granita has to be one of the most pleasurable ways to spend your money—and your time—on Sicily. Exchange a few coins for a wonderful treat, and enjoy.
Pro tip: Order "a granita câ briosci" to feel immediately Sicilian.
Laura Morelli is an art historian and historical novelist with a passion for Italy. You can find much more about what to bring home from Italy in her guidebook series, including Made in Naples & the Amalfi Coast  and Made in Italy. These books, along with Laura's Venice-inspired historical novels, including The Gondola Maker, are available in the Italy Magazine shop.