Granita di caffè (Coffee granita)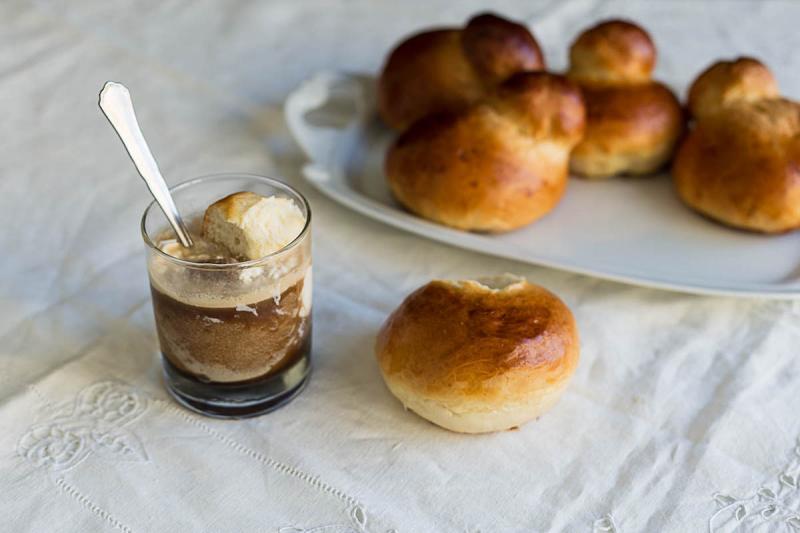 Cooking Time
5-10 minutes to prepare the syrup; 1-3 hours to chill syrup time; 5-6 hours freezing time
Don't let the hot lava that Sicily's Mount Etna occasionally emits fool you.The island's inhabitants have known for at least two millenia that Mungibeddu  ('Beautiful Mountain' in Sicilian) is a natural source of refreshment and refrigeration, with snow in its crevices lasting through even the hottest summer. Two thousand years ago, Greek and Roman colonists used lumps of the volcano's snow to chill their wine. Several centuries later, the Arabs used them to chill the sweet fruit and rose water syrups they called sharbats. During the Renaissance, much of nearby Catania's revenue came from the export of harvested ice and snow to other Italian city states and the island of Malta. And, at some point after the 16th century discovery that ice and salt mixed together had a freezing effect, Sicilians began to enjoy flavoured granular shards of ice churned in a pozzetto (a wooden vat containing a metal bucket surrounded by ice and salt) now best known as granita.
Eating granita is one of the ways Sicilians cope with the relentless heat of their summers. It's mopped it up with a brioche col tuppo (a distinctly-shaped sweet bun said to resemble the chignon Sicilian women traditionally wore their hair in) for breakfast. It's savoured as a thirst-quenching afternoon pick-me-up when the sun really starts to scorch. It's also enjoyed as the sweet conclusion to an evening meal.
Depending on seasonal availability and your location in Sicily, granita can also be found in a variety of flavours.  Lemon, strawberry, almond, chocolate, fig and even jasmine are just a few of the aromatic delights you'll come across along the vast Mediterranean isle.
In the city of Messina and Sicily's northeast, locals generally forgo their  morning cappuccino and cornetto ('croissant') in summer. Instead, they often opt for a breakfast consisting of coffee-flavoured granita topped with whipped cream and accompanied by the aforementioned sweet bun.
The messinesi generally go to their local bar (the Italian word for 'café') for their caffeinated granita fix. It is, however, remarkably easy to prepare granita di caffè at home, even with minimal equipment. In the recipe below, I've indicated two different ways to make your own coffee granita. In the absence of an ice-cream maker, you'll just need a bit of time, a shallow-freezer proof container and a fork to stir and scrape down the coffee-flavoured shards that will have started to form after a couple of hours in the freezer.
Just a few notes on the following recipe, adapted from Mary Taylor-Simeti's. First of all, the consistency of your granita di caffè can vary depending on which method you use. If using an ice-cream maker (essentially, a modern-day pozzetto), your granita will have a smooth, almost creamy consistency. If you opt for the low-tech method, your granita will be more granular, with coarse shards of ice peaking from its surface. Secondly, I've indicated to use espresso coffee which may not be available to everyone. Please feel free to replace this with whatever coffee you have on hand, even if it is a bit watered-down or weaker than the moka-percolated coffee that is generally consumed in Italian households. And, finally, if you'd rather avoid the side effects of consuming too much coffee, don't hesitate to use a decaffeinated variety either.
Ingredients (serves 4-6)
Ingredients
espresso coffees
225 mL, cooled to room temperature
whipping cream
freshly whipped (unsweetened) cream (optional), to serve
Instructions
In a saucepan, bring water and sugar to boil, stirring until sugar dissolves completely. Remove from heat and allow to cool to room temperature (N.B. You can speed up this process by immerging the saucepan containing the syrup in an icebath). Transfer syrup and cooled coffee to a jug, stir and store in refrigerator until chilled.
If you have an ice-cream maker, tip mixture into chilled freezer bowl and churn for 30 minutes. If you don't have an ice-cream maker, pour into a shallow, freezer-proof container and place flat in freezer.  After 2 hours, the mixture will have started to freeze, particularly at the container's sides. Remove the granita from the freezer, stir it with a fork and scrape down the ice that will have formed at the edges. Repeat this procedure every hour until the granita is no longer liquid and has turned to a firm, icy slush (about 3-4 hours).
Serve in glasses generously dolloped with whipped cream and, if having for breakfast, accompanied by a brioche bun.