For many of us, Tuscany is the destination of a lifetime. Florence lures travelers with its must-see masterpieces: Michelangelo's David, the treasures of the Uffizi, and the city's many monuments. And in the Tuscan countryside, we are seduced by the arts of the table: the region's simple, hearty, delicious cuisine and its famous wines.
With so many obvious attractions to experience, it's easy to overlook Tuscany's true unsung heroes: traditional artisans. These masters of leather, wood, stone, gold, and other materials toil away in quiet studios, creating handmade shoes, beautiful pottery, inlaid stone, and countless other marvels.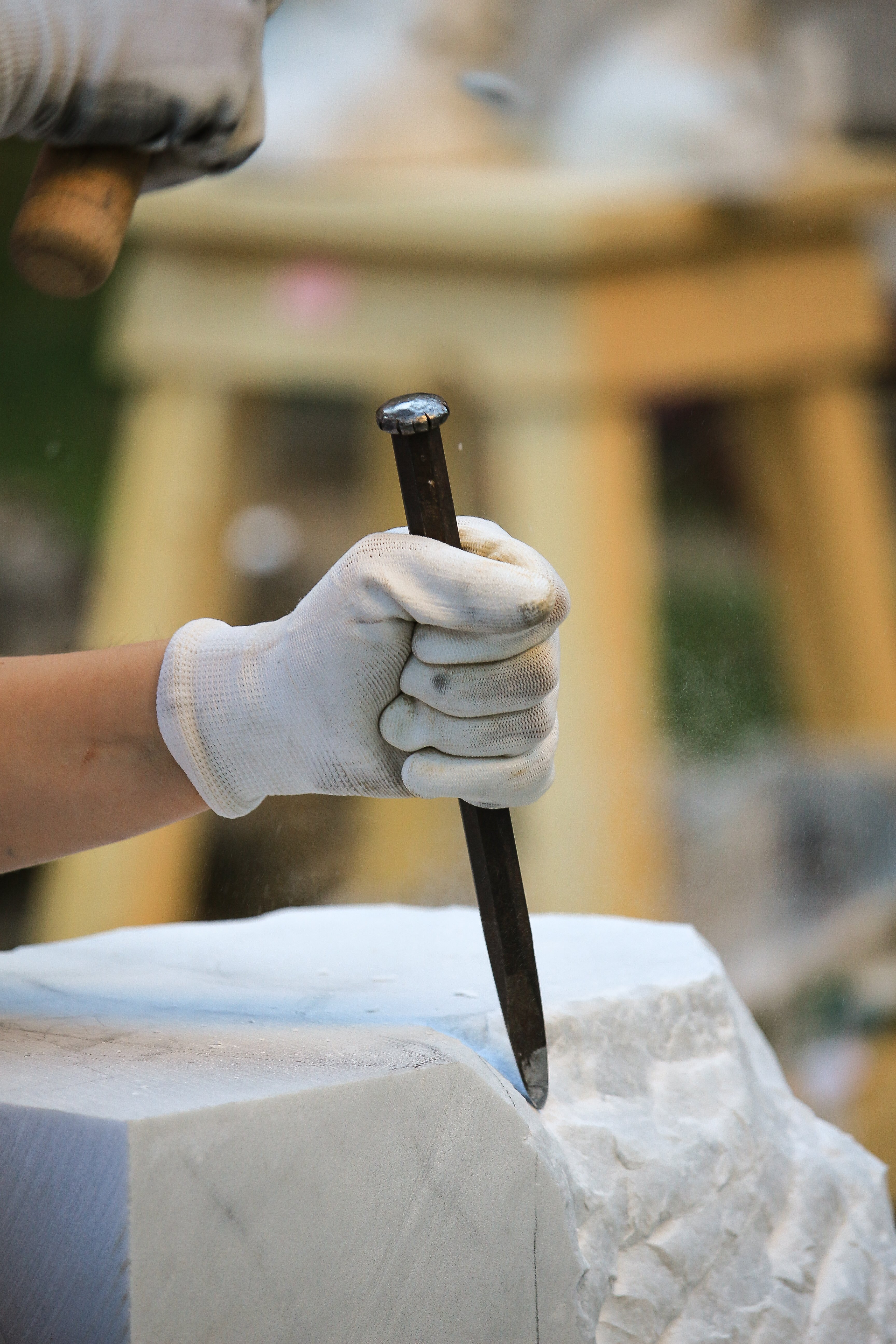 [Carrara marble 1 CC via Flickr (c) Piermarco.jpg]
So, which of these quintessential and authentic Tuscan souvenirs should you bring home in your suitcase? For many visitors, the first thing that springs to mind is leather goods—bags, jackets, belts, wallets, and other accessories that epitomize the spirit of Made in Italy. Tuscany is home to many terrific leather artisans, and let's face it: shopping for leather in Florence is a whole subject unto itself.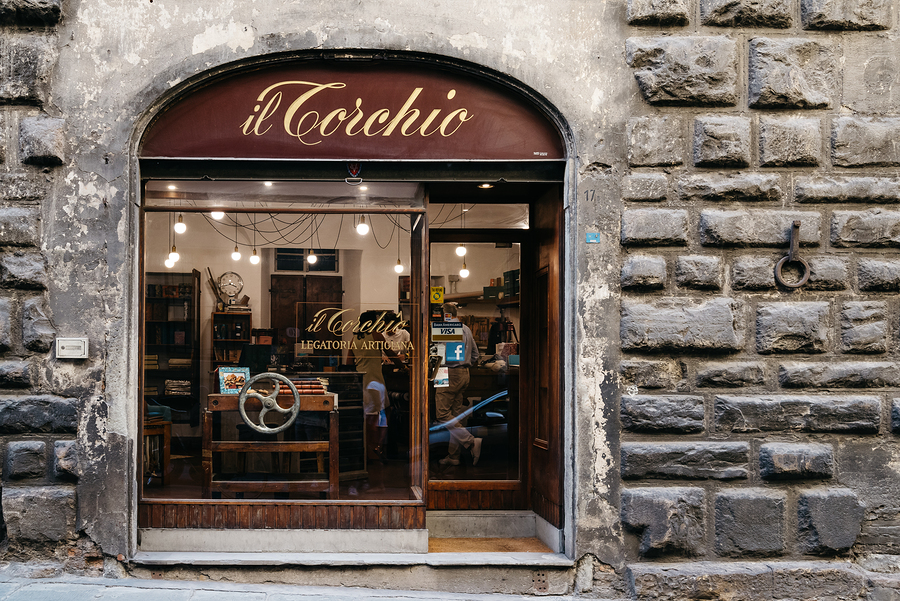 [Il Torchio by Erin Ciulla, book-binder and artisan located on Via de' Bardi, 17, Florence, Italy]
But if you want to come home from Tuscany with something unlike anything your friends will have brought home from their trip, read on…
ALABASTER, MARBLE, AND STONE
The Tuscan countryside is rich in natural resources. Since ancient times, people have been mining alabaster, quarrying marble, and pulling colorful stones from the ground with the intention of creating something special. The Romans used the rich deposits of translucent, grey-streaked white marble of the Apuan Alps, located in Tuscany's northernmost province of Massa Carrara, to build their monuments. Michelangelo Buonarroti traveled to the marble quarries of Carrara select raw materials for his famous Pietà and other sculptures.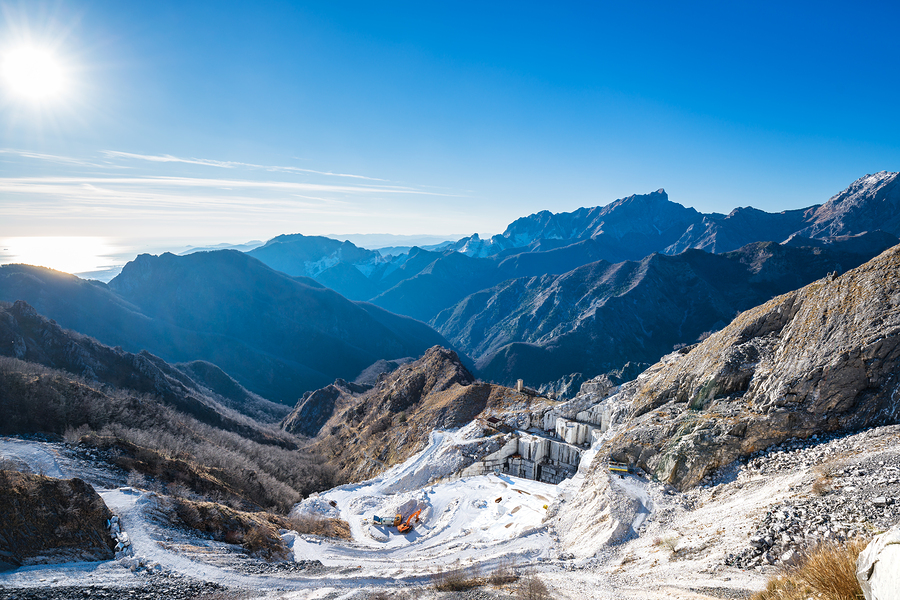 [Alpi Apuane mountains and marble quarry view. Carrara Tuscany]
Today, you can take a tour of one of the region's famous the marble quarries and appreciate the centuries-old tradition of removing white chunks of marble from the mountainsides.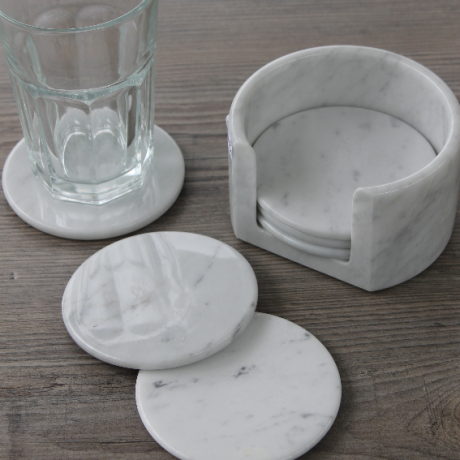 You don't have to travel all the way to the coast of Tuscany to find authentic Carrara marble. Just head over to the Italy Magazine shop.
Nearby, the town of Pietrasanta is a mecca for marble sculptors, drawing masters from around the world who want to walk in the footsteps of Michelangelo. Today, the skills and techniques of working marble and other quarried stones and minerals are still passed down verbally from master to student, involving many years of practice.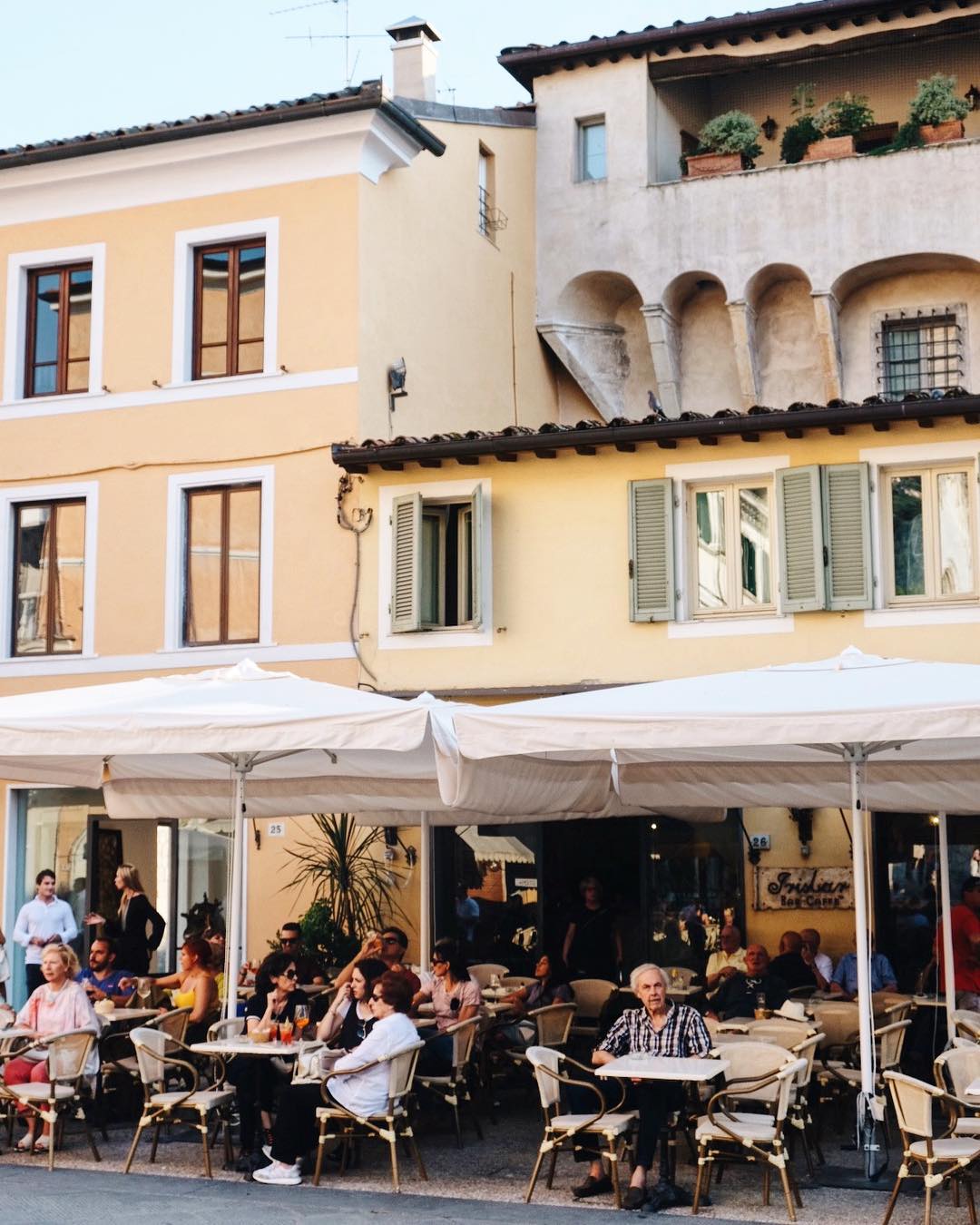 [Pietrasanta's historical center, photo by: Georgette Jupe-Pradier]
Further to the south, the ancient Etruscan city of Volterra is a center of alabaster crafts. In Volterra, a handful of diligent artisans preserve the tradition, using high-quality alabaster excavated from nearby Castellina Marittima. Alabaster is an exceptionally hard mineral that occasionally contains little perforations and holes within it. The work is slow; it can take a month or so to craft a bust, for example. For our recommendations of where to see and purchase alabaster in Volterra, click here.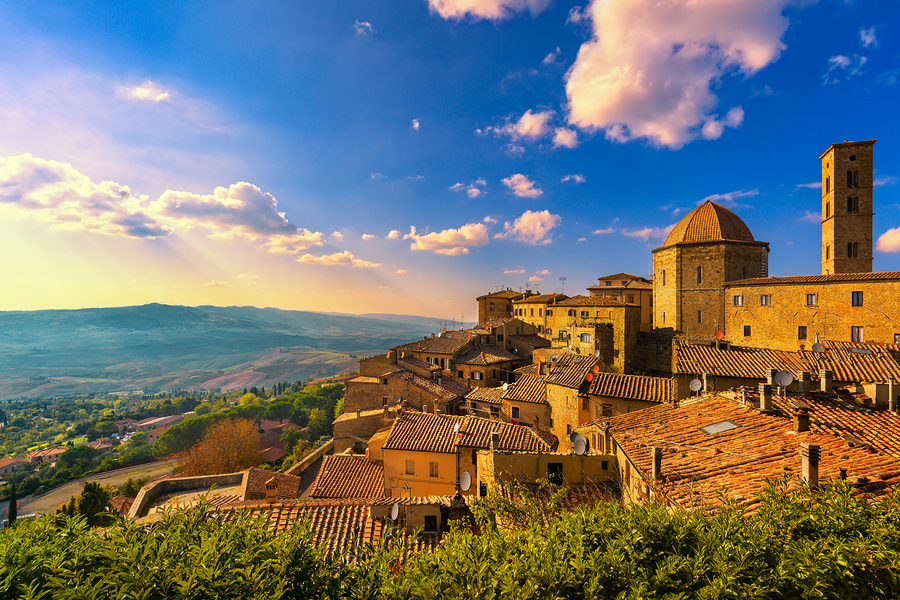 [Volterra's skyline church and panorama view during sunset]
[Volterra alabaster workshop CC via Flickr (c) stevekc.jpg]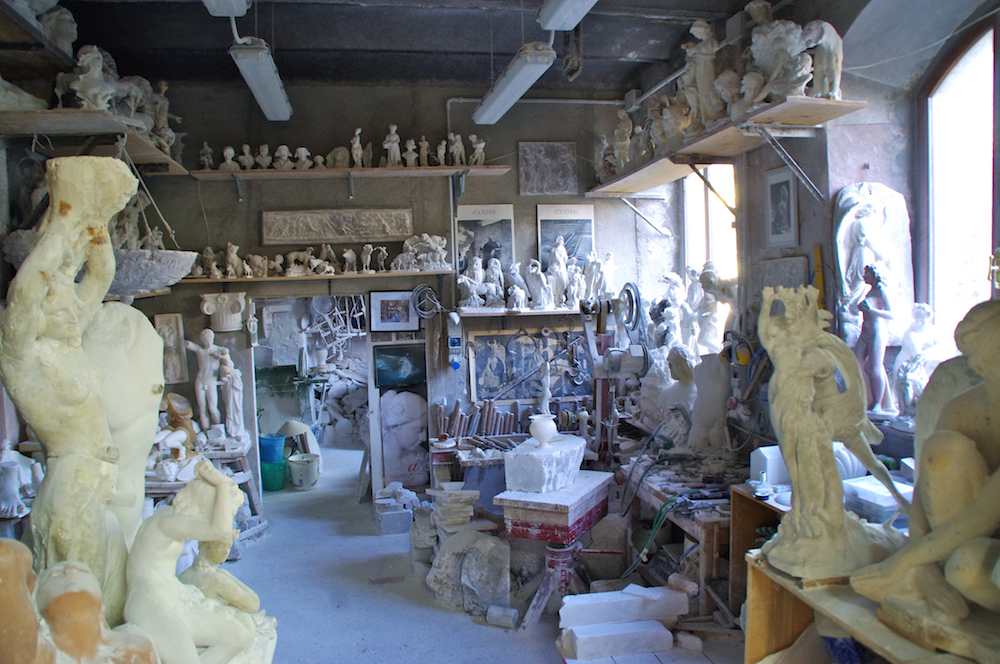 And in Florence itself, a few master craftspeople carry on the historic technique known as pietre dure or commesso, a specialized technique that involves inlaying marble and colored semiprecious stones valued for their brilliance and saturated color into furniture and wooden panels. This painstaking art is closely allied to mosaic. A great place to start is the small museum of inlaid stone, the Opificio delle Pietre Dure (via degli Alfani, 78, 50121 Florence; 055 26511). And when you're ready to buy, head over to I Mosaici di Lastrucci (via dei Macci, 9, 50122 Florence; 055 241653).
CERAMICS
When most people think of Italian ceramics, they think of maiolica—the rich, colorful wares that became famous in the fourteenth, fifteenth, and sixteenth centuries across the Italian peninsula. You might be tempted to scarf up a colorful vase or set of dishware on your trip to Florence or Siena, but the best advice is not to buy ceramics in the cities at all.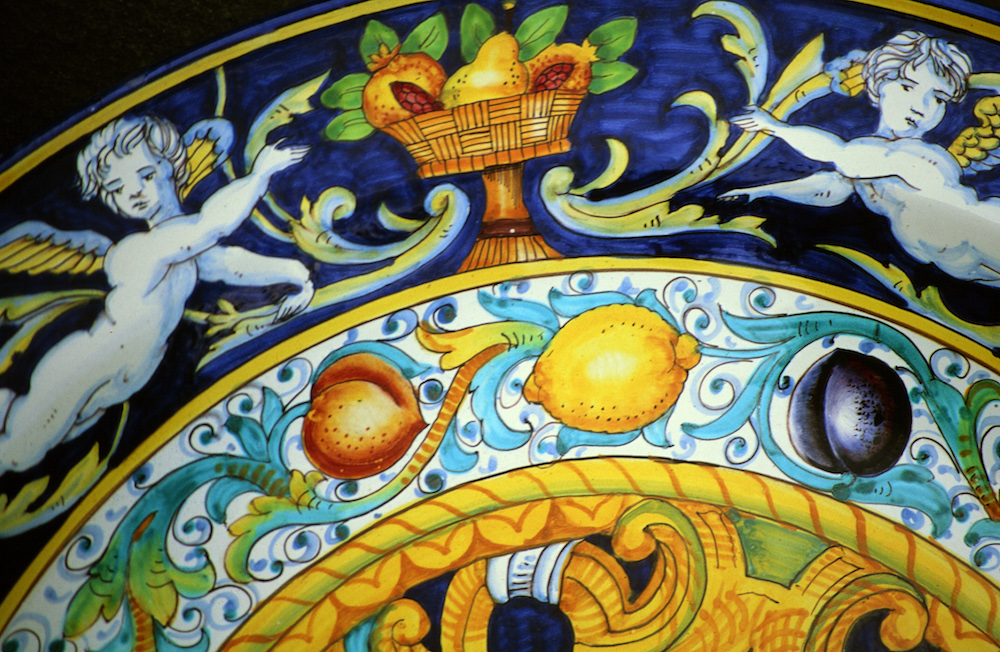 [Maiolica, photo credit: Laura Morelli]
That's because historically, while Florentines and Sienese consumed maiolica in great volume, the fear of fire breaking out in the kilns was so great that most ceramics centers developed far from the cities. Some towns in the Tuscan countryside grew up around ceramics production. One of the most important of these is Montelupo Fiorentino.
Located thirty kilometers west of Florence and accessible via car or train, Montelupo Fiorentino supplied the demand for maiolica, and their wares were shipped on barges down the Arno to Florence and beyond. Today, you can trace the history of this important Tuscan ceramics tradition in the Museo Archeologico e della Ceramica (piazza Vittorio Veneto 10/11, Montelupo Fiorentino, 0571 51352).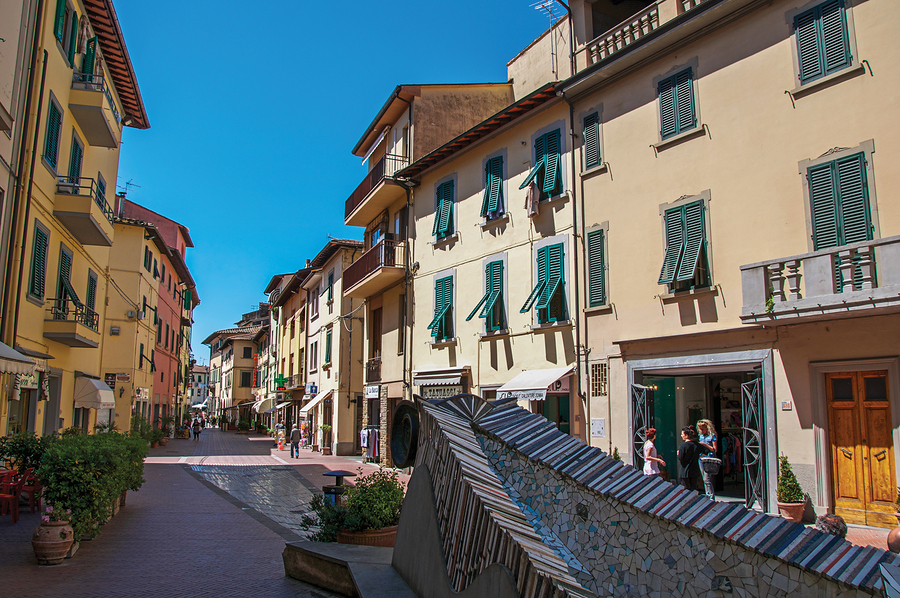 [The center of Montelupo Fiorentino]
After your visit to the museum, shop among the wonderful ceramic artists still at work:
Bartoloni (via del Lavoro, 31, Montelupo Fiorentino, 0571 913569)
IMA Ceramiche (via Tosco Romagnola, 41-43, Montelupo Fiorentino, 0571 910117
Maioliche Otello Dolfi (via Tosco Romagnola Nord, 28, Montelupo Fiorentino, 0571 541298)
Ceramica ND Dolfi (via Tosco Romagnola Nord, 59, Montelupo Fiorentino, 0571 541204)

FRAMES AND WOODCRAFTS
If I had to recommend a single traditional art to bring home from Florence, it would be one of the ornate, gilded woodcrafts that fill the dusty workshops of the Oltrarno's narrow alleys. You won't find anything more unique in this city full of souvenirs. Considering the quality and uniqueness, lamps, frames, and other small wooden or gilded items are a great value and can be a wonderful choice for an authentic, high-quality souvenir that may also prove easily portable.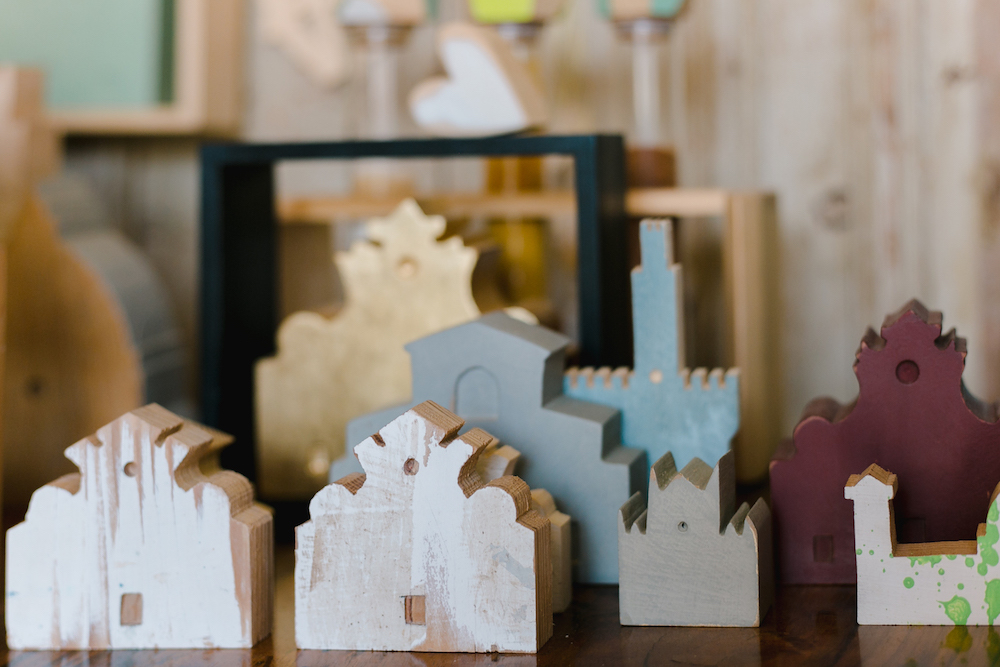 [Wooden souvenirs featuring local church facades by Jane H. Restoration on San Frediano, Photocredit: Christine Juette Photography]
Everybody knows that Florence is famous for painting, and it's no wonder that frame-making has been a big business in Florence for centuries. The town's many art museums, including the world-class Uffizi, keep the city's frame-makers and restorers busy. In the Middle Ages and Renaissance, Florentine craftspeople lavished gold on everything from altarpieces to jewelry and frames. Today, the art of gilding wood is still highly prized.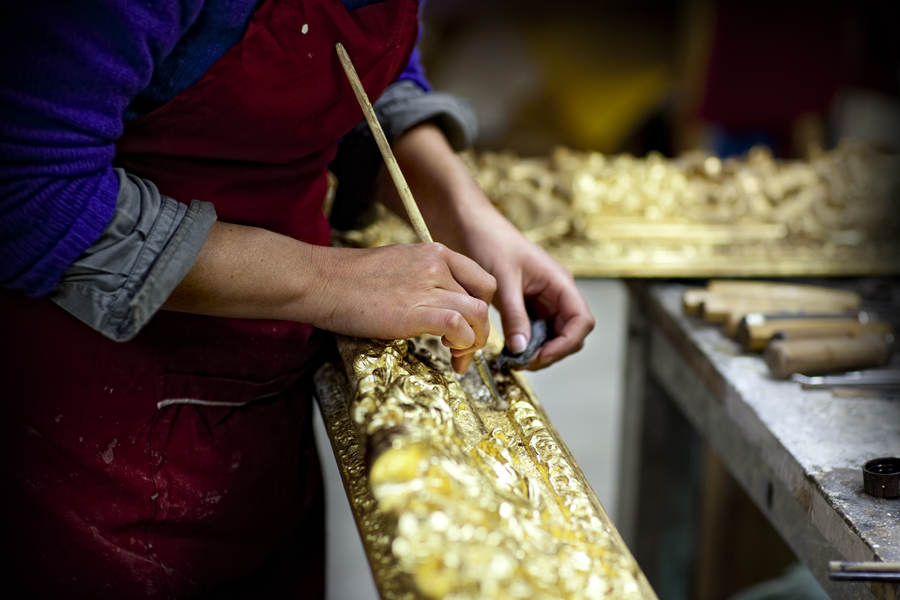 [Gold leaf applied to a frame in Florence, photo credit: Giuseppe Moscato, Flickr, creative commons]
Lamps are another creative outlet for those trained in the art of woodcrafting and gilding. Florence boasts some of the most unique, most wonderful creations in the world of lighting. That mastery of wood also translates to furniture. A healthy number of these woodworkers, some tracing their heritage back several generations, keep this trade alive. Here are a few:
Frames
Gabriele Maselli (via dè Ginori, 51r, Florence 055 282142)
Leone Cornici (via il Prato, 46r, Florence 055 282090)
Oro e Colore (via Toscanella, 18r, Florence 055 289415)
Furniture
Autentiqua di Leonardo Cappellini (via del Presto di San Martino, 20r, Florence 055 282935
Renato Olivastri (via dei Velluti, 21r, Florence 055 2396934)
Lamps
Casa di Bambola (via Alderotti Taddeo, 26/B, Florence 055 432660)
Il Paralume (Borgo San Frediano, 79r, Florence 055 2396760
Other wooden wonders
Laura Morelli is an art historian and historical novelist with a passion for Italy. You can find much more about what to bring home from this region in her guidebook series, including Made in Florence. Also be sure to check out her book, Made in Italy, as well as her Venice-inspired historical novel, The Gondola Maker, in the Italy Magazine shop.