In a city as wonderfully well known in Florence, knowing "what can we do" goes so far beyond the top 10 list on Tripadvisor. As someone who has based here for 10 years, I'm often humbled by the sheer array of activities, museums, eateries and shops that even I had ignored as I comfortably stroll the streets that never seem to change over time. Despite being often labeled as a touristy hotspot or a sort of quintessential Renaissance Disneyland, it's an incorrect label as this city is home to a heck of a lot more than meets the eye. You have to know about it.
In spirit of this month's featured region of Tuscany, I asked a few local experts to share places that they feel don't get enough attention in our Renaissance enclave. You'll find interesting museums, eateries and a plethora of boutique shops showcasing places to add for your next visit to Florence, Italy. Enjoy! 
Where to go
A curated list by private guide Alexandra Lawrence. 
Bardini Museum
Stefano Bardini was a 19th c. restorer and art dealer who left the city his own personal collection of everything from medieval sculptures, incredible decorative Renaissance decorative frames, a mixed-medium Donatello relief, dainty pairs of 15th-century shoes, opulent marriage chests, a huge armory, and much more! Housed in Bardini's former showroom, the museum is never crowded and offers lovely air-conditioning in the summer—it is a must for those looking for a side of peace and quiet with their beauty. Address: Via dei Renai, 37. 
Museo degli Argenti (Silverworks museum)
The most boring name ever for one of the city's most interesting collections—the treasures of the Medici family. Highlights include ancient chalices used by Lorenzo the Magnificent, Renaissance cameos featuring the profile of fiery preacher Girolamo Savonarola, unbelievably intricate ivory sculptures, a decorative ostrich egg, and bejeweled crowns belonging to Tuscany's Grand Duchesses. Once the Medici's summer apartments, the ground floor is entirely frescoed with historic scenes and some innovative illusionistic ceiling decoration as well. Address: Palazzo Pitti, Piazza de' Pitti. 
Museum of San Marco
Renaissance Florence's greatest fresco painter was a Dominican friar known as Fra Angelico, who lived and worked at the convent of San Marco in the 1430s and 1440s. This under-visited museum preserves several of his panel paintings as well as stunning frescos painted inside each individual friar's cell. A remarkable opportunity to see sacred convent art. Address: Piazza San Marco, 3.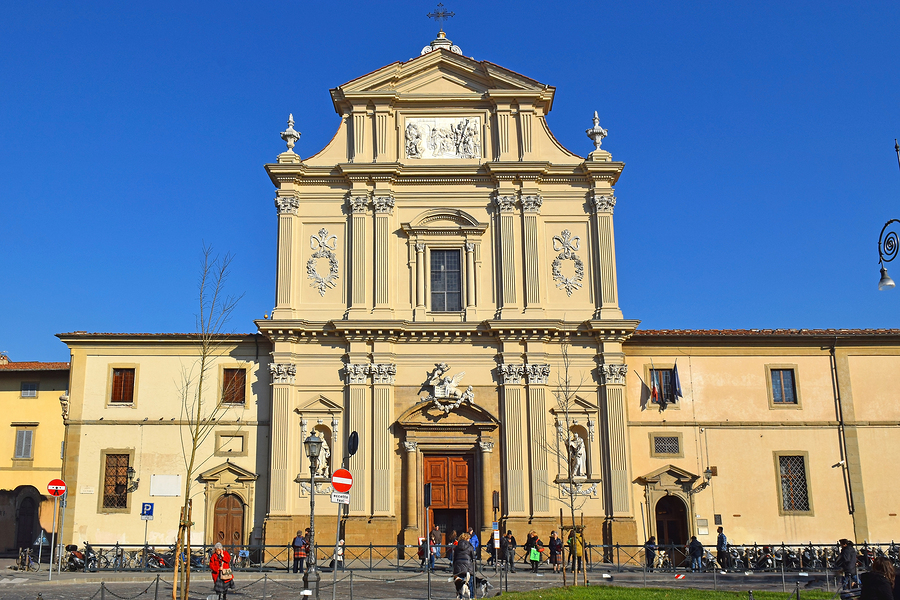 [The facade of San Marco]
Casa Buonarroti
Michelangelo Buonarroti was raised in the Santa Croce neighborhood, and following his early artistic successes he bought several adjacent properties in the area with the intent of creating one large Florentine family palazzo. The space now hosts two of his earliest works in marble relief (done while he was still in his teens), as well as numerous drawings and several clay and wood models of later sculptures. Pair it with the Bargello Museum just down the street which houses four works by the Renaissance master. Address: Via Ghibellina, 70. 
Buonomini di San Martino
Tucked down an unassuming side street are the headquarters of the Buonomini di San Martino confraternity, founded in 1441 and still active today. The fascinatingly detailed Ghirlandaio frescos were completed in the 1480s and illustrate the works of this unique organization created to provide assistance to the city's poveri vergognosi —ashamed poor—wealthy citizens who had run into financial difficulties but were too embarrassed to ask for charity. Watch the opening hours (10am-12pm; 3pm-5pm on weekdays, closed Friday afternoon).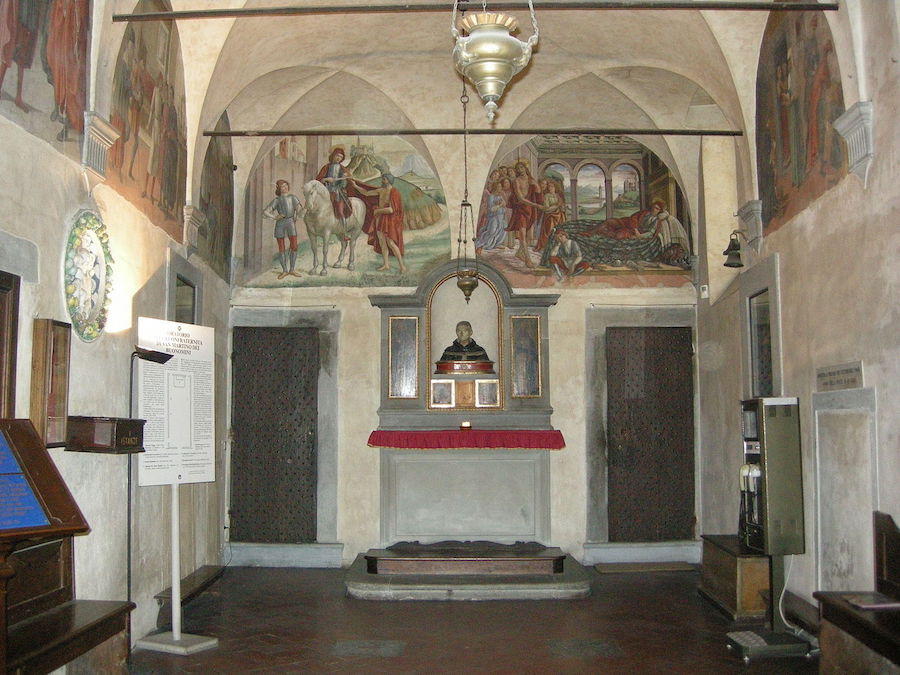 [Oratorio dei Buonomini di S. Martino, Photo by Sailko via Wikimedia Commons]
*With the exception of Casa Buonarroti, these museums provide little to no information about the objects on display, so a guidebook is absolutely imperative. The Blue Guide Florence is a great resource for those looking for more in-depth historical and art historical information. address: Piazza di S. Martino. 
Where to Eat
This delicious roundup is by Coral Sisk, food writer and founder of Curious Appetite Travel. 
Panificio Brunori
One of borgo pinti's best kept secrets and somewhat difficult to find, this bakery blasts Antico Vinaio out of the water for panini. The only drawback is that there is not wine but they can get a bottle of beer. They bake all their bread onsite and the panini massively delicious and fairly priced. Plus, they have little salty schiacciatine and sweet pastries that are dangerously delectable.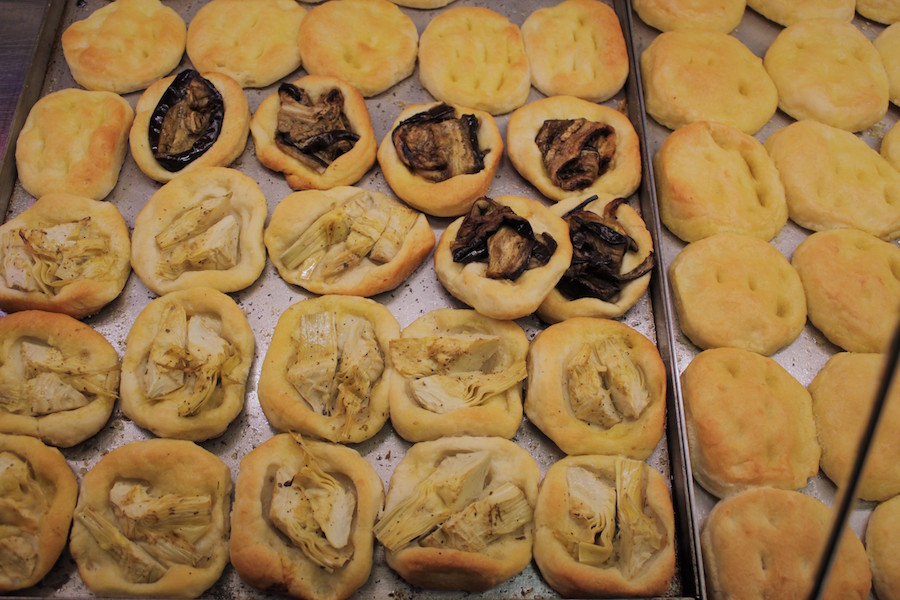 [Many different types of schiacciatine, photo by Coral Sisk]
Enoteca Bonatti
On Via Gioberti, this wine shop is a true gem. As a some student, I've been able to "study" with quality labels from all over the boot, plus they have a caviar fridge, select spirits and French wine & bubbly. Most of their wine are from small, vineyard-owned producers and they have the best selection of natural wines in the center while being somewhat hidden off the beaten path.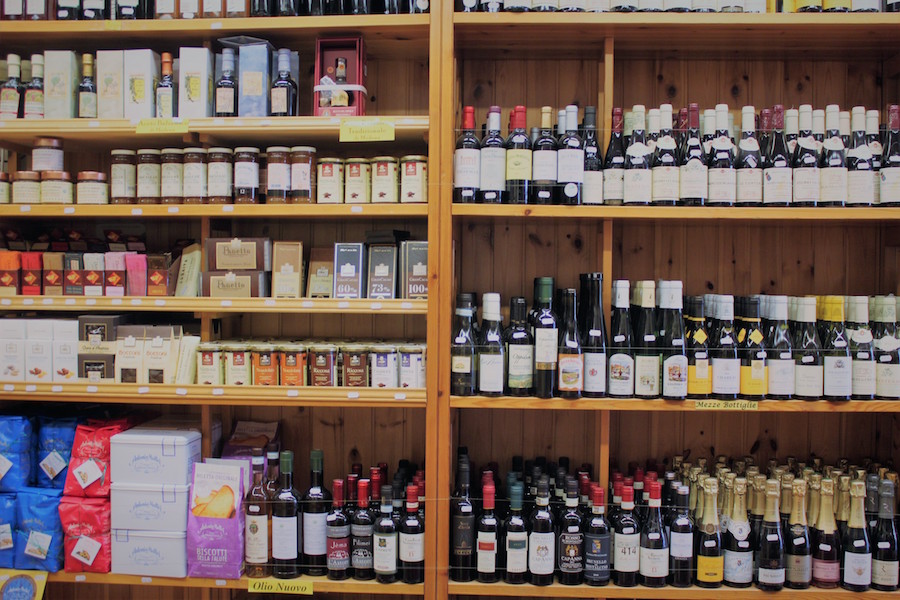 [Interior of Enoteca Bonatti, photo by Coral Sisk]
This restaurant is definitely appreciated by locals in the know, but it's a place that deserves more recognition in terms of passion in the kitchen and integrity towards Italian regional cuisine. The staff goes out of their way to procure high quality raw materials and to present foods that are diverse to the Italian culinary repertoire such as Umbrian Bringoli, a thick hand-made spaghetti-like pasta. Florence has become a food city that panders too much to foreign expectations of lasagna and pizza, while Club Culinario is offering visitors and locals the opportunity to dive into real deal regional Italian cuisine. address: Piazza dei Peruzzi, 3R. 
Where to Shop
When asked about shopping in the city of Florence, both Sara and Anna responded with "what we love about Florence right now are the incredible collaborations and international community. Artists and designers from all over the world come to study and be inspired by the city, many stay, many open businesses, some on their own, some apprentice to Italian masters, others collaborate and partner with the local community. New and exciting things are happening honoring the historic Italian tradition of hand-crafted, high quality art and design."
This is something I've happily seen with my own eyes; there is not just a will to create and be known, but also a will to share and help others, something worth noting within the Florentine community that doesn't get as much credit as it deserves.
Via del Ghirlandaio 18
Why we love them: New Kid footwear is quirky and fun, young and fresh. High quality shoes and clothing with a unique perspective. Rachel and Letizia are super friendly and approachable and their pup Reggie is adorable. All of their shoes are 100% made in Tuscany in collaboration with family run businesses.
Via Salvestrina 1
The space alone is reason enough to visit. Located in a 15th century greenhouse with gorgeous light and beautiful views of a historic garden. The textiles of MK are light, fresh and colorful. High quality linens are always used and their designs are all original. Everything is made and printed in house.
Via dei Bardi 17
Erin Ciulla maintains the traditions bookbinding that she learned as an apprentice from Il Torchio's original owner, but she also uses her knowledge and craftsmanship to innovate with new forms and materials. Her books are anything but usual. She loves to experiment and collaborate with other artists and designers in the city incorporating everything from leather, wood, paper, fabric, and even old bicycle tires to cover her book. To Erin no book is impossible. Combine her knowledge and expertise with your imagination to create a one-of-a-kind book.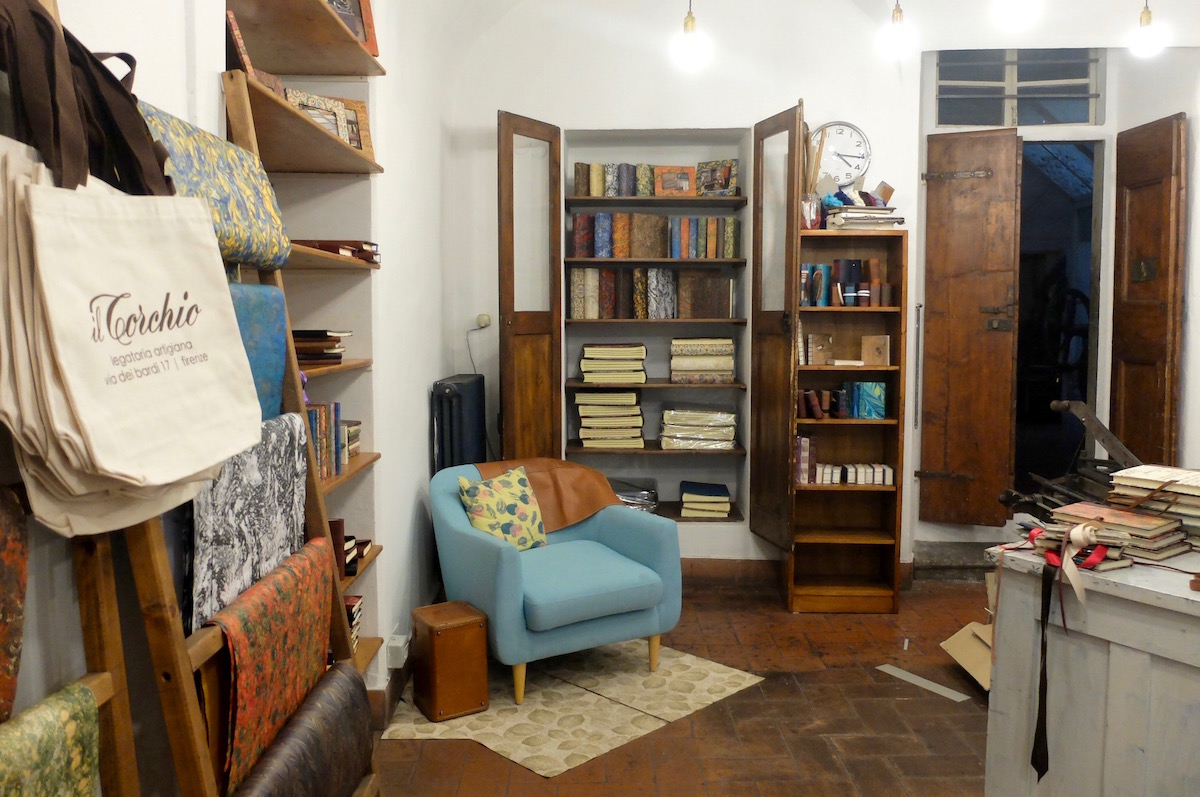 Via Lorenzo Bartolini, 1/3R
Clean, colorful, whimsical, and fun. Jane and Giuditta create all kinds of goodies made from wood. Housewares, jewelry, and other objects hand cut and painted from reclaimed wood. They are also delightful. Another great example of creating contemporary work from a traditional Florentine craft. Wood carving has been part of Florentine history for centuries and Wood & Cut honors those traditions while creating their own recognizable style.
Via Maggio 64
Brunella and Luna have created a beautiful, bright, contemporary art gallery and workshop in the Oltrarno focusing on contemporary art and illustration. They hold frequent workshops in the rooms behind the gallery as well as regular art openings and artist talks and presentations. This is a place where you can find original artwork and illustrations by local contemporary artists in a beautifully restored space.
Via dello Sprone 9/11r
Sara Amrhein creates colorful jewelry inspired by Florence, the city of flowers and her always sunny home of LA. Combining the history of Florence with contemporary design, she uses traditional techniques such as millefiori to create one of her signature pieces. She also looks to Renaissance costume and traditional wood frame carvings to create unique and original pieces consisting of large, colorful, and often floral designs. Sculptures for the body.
Borgo San Jacopo 11
Joy's workshop is truly hidden, tucked away in an ivy-covered building just off the Ponte Vecchio. In a space she shares with other master jewelers, she makes intricate and delicate pieces inspired by patterns she collects from her travels. Joy's work is all about details and decorative elements. Her new gold and diamonds collection is breathtaking.
Via Bronzino 19r
Eva's style is entirely her own. She combines conceptual design with wearability and comfort, using high quality textiles. The bold shapes and volumes will make you stand out. Versatile fashion with a sense of humor.
Via dei Preti 2-4r
A beautiful, welcoming, collaborative jewelry space located just a block off of Piazza Santo Spirito on a small hidden side street. The studio is owned and operated by Margherita de Martino Norante who creates her own line of delicate jewelry in silver and gold. She rents out benches to other artists and has created a small international community right in the studio. You can find designers from, Italy, Slovenia, Japan, and the United States all in one beautifully organized space. There are also temporary benches that are rented out by the day, week, or month. You never know who you might find working there, it could even be you!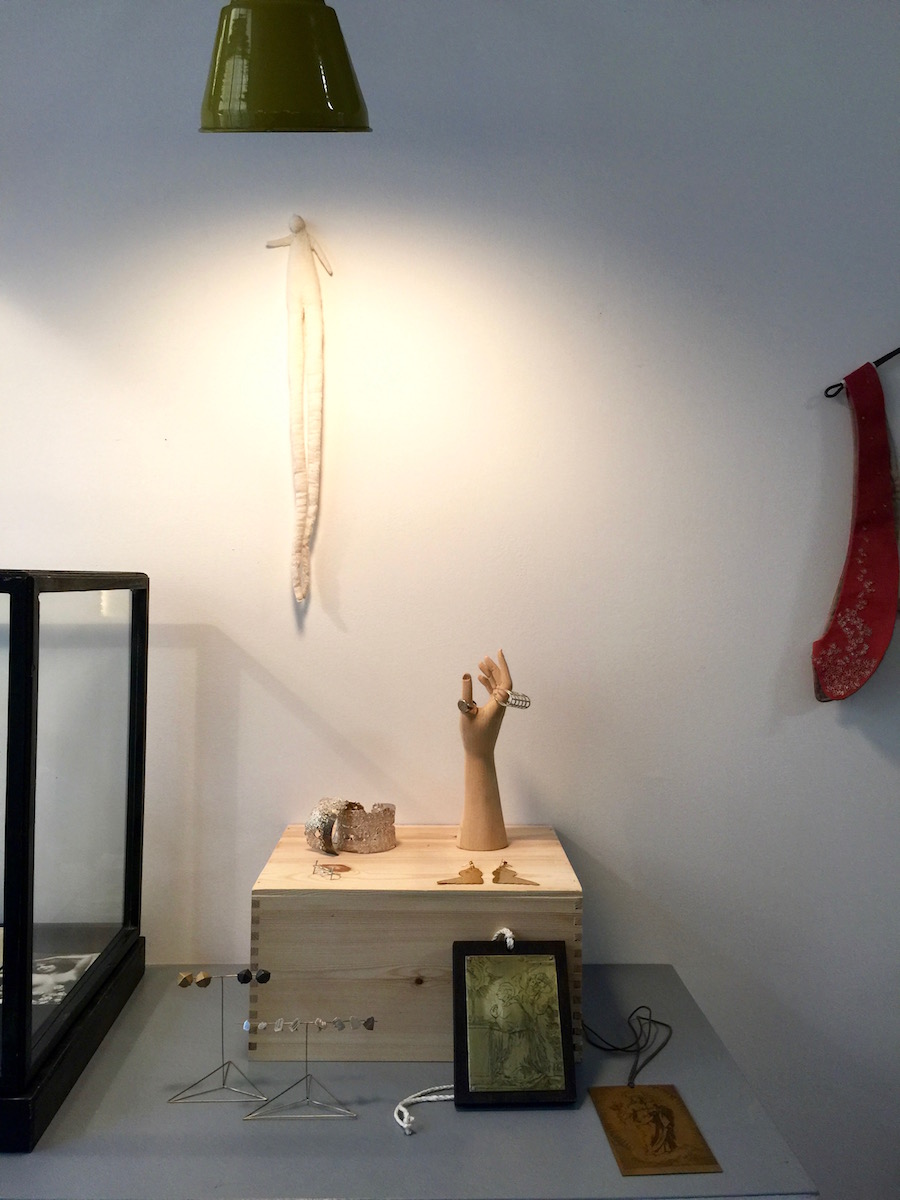 [The delightful handcrafted work by one of the artisans at Officine Nora]
A few personal recommendations 
Some places that I know people would delight in discovering include Caffé Letterario Le Murate, sandwiched between via Ghibellina and via dell'Agnolo in Piazza delle Murate. This eclectic space is part of the renovated urban fabric of the city; once a convent, turned prison and then public housing coupled with this cool indoor/outdoor café that often features book presentations, live concerts and of course most importantly, aperitivo hour.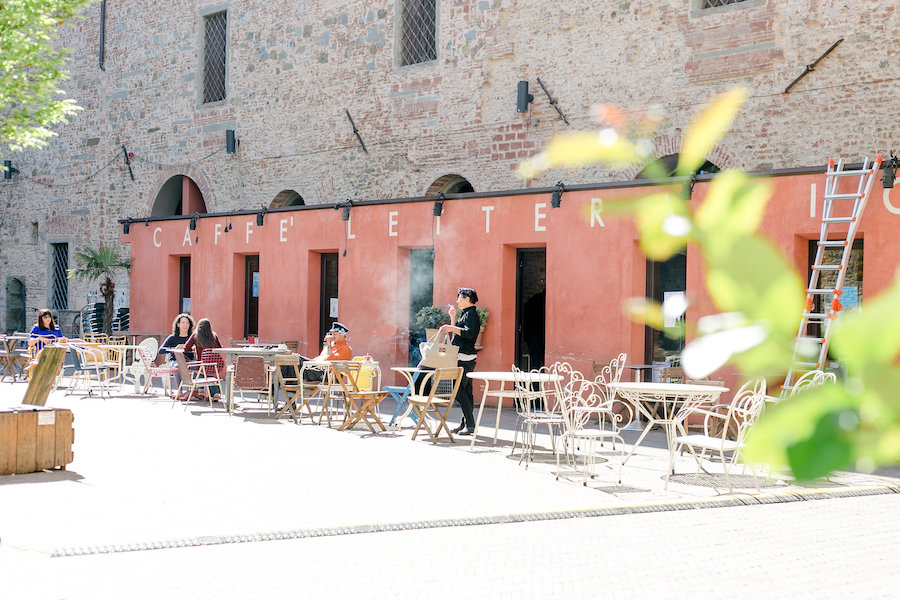 [The outside courtyard of Murate, perfect for a morning lingering cappuccino and come nightfall filled with people enjoying a before or after dinner drink, photo by Christine Juette Photography]
I also encourage you to have a look at Florence's street art scene, often woven seamlessly into city streets and squares (as depicted below), you can read this post outlining just who you're looking at but the top names you typically see around the city include Blub (La Arte sa Nuotare) and Clet (modified street signs turned social discussions).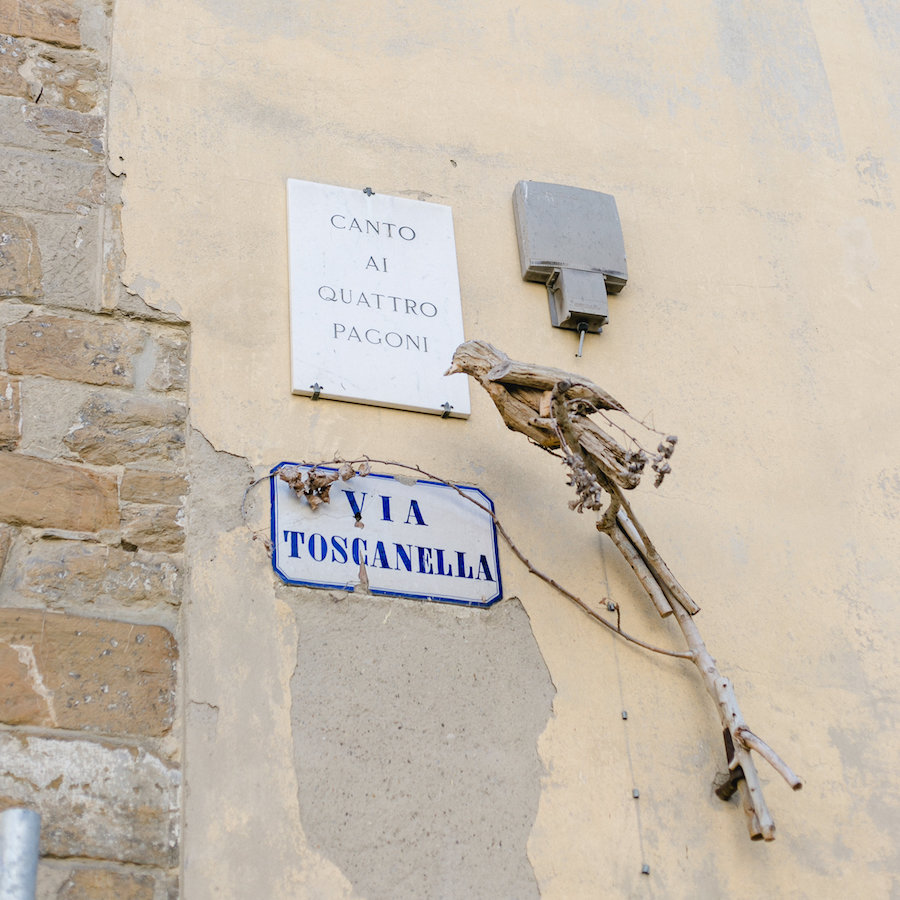 [The work of street artist Il Sedicenti Moradi in Piazza della Passera, photo by Christine Juette Photography]
I wholeheartedly encourage a wander along Borgo San Frediano, a neighborhood once known for being rough-around-the-edges but also home to expert craftsman such as Takafumi Mochizuki whose wooden creations bring art to life on via dei cardatori 20r.
Or Atelier Giannini & Kuwata of Lapo Giannini and Michiko Kuwata, makers of bespoke books – bound in the traditional way and completely personalized. I especially love their detailed boxes and slim hard-backed leather business card holders.
On the same street, you'll find craft cocktails by expert mixologists Julian and Neri at Mad - Souls & Spirits. Or dive into tasty Bao Buns at Kawaii, great pizza at Gherardo or Berbere. In Piazza Cestello, nearby, is a lovely off broadway community theater, Teatro del Cestello, next to a place offering innovative cuisine, Essenziale, by one of the best young chefs in Florence. Being near so many passionate and talented people of all genres is why I chose to live in the Oltrarno.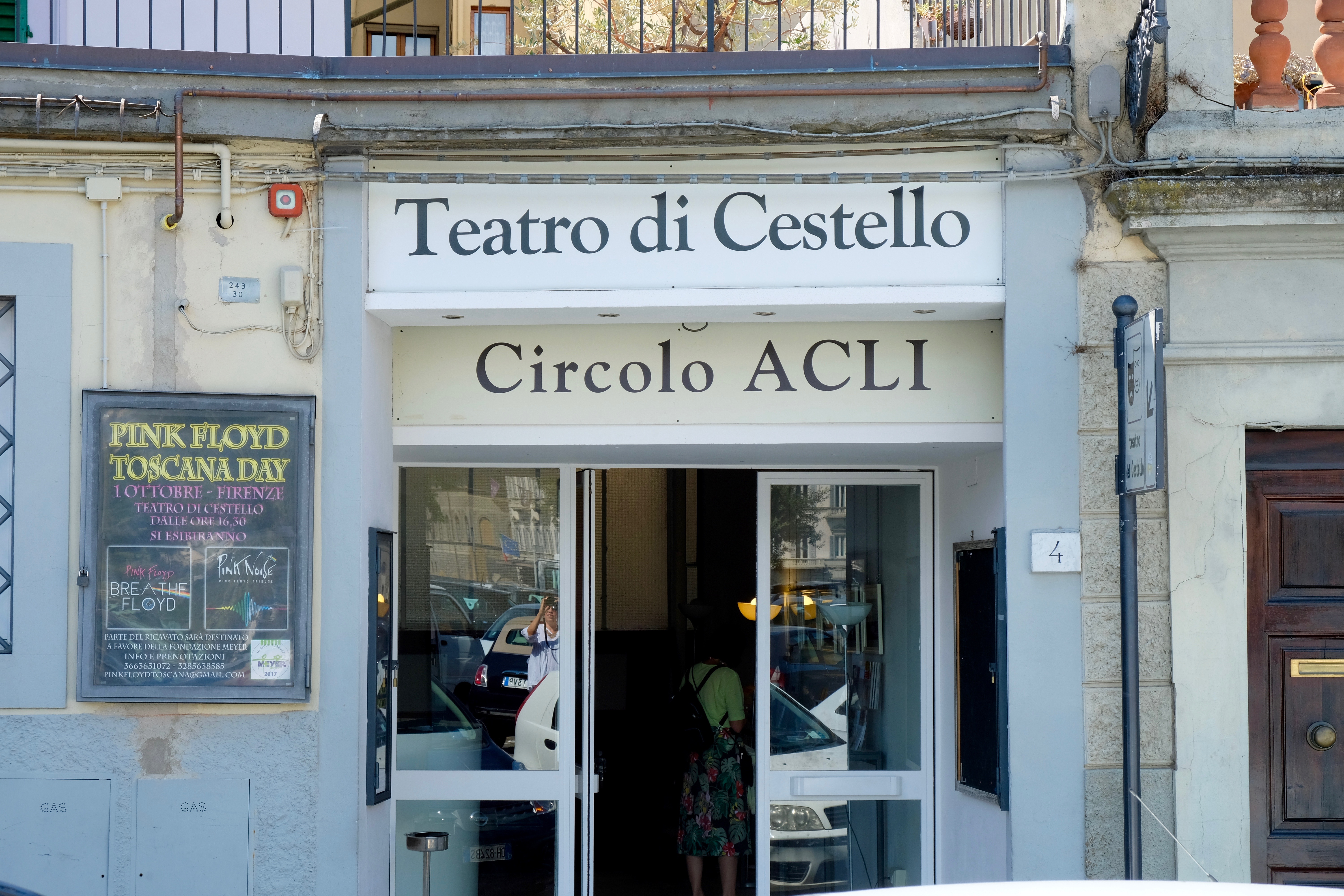 In the backstreets of Santa Croce head to Borgo Allegri 7r, where you will find the small shop of Paolo Carandini. Inside are the wondrous handcrafted memory boxes that Paolo produces, some empty, some filled with thematic treasures. Everything here is made with painstakingly care and passion, each item telling its own unique story, and one that won't soon be forgotten.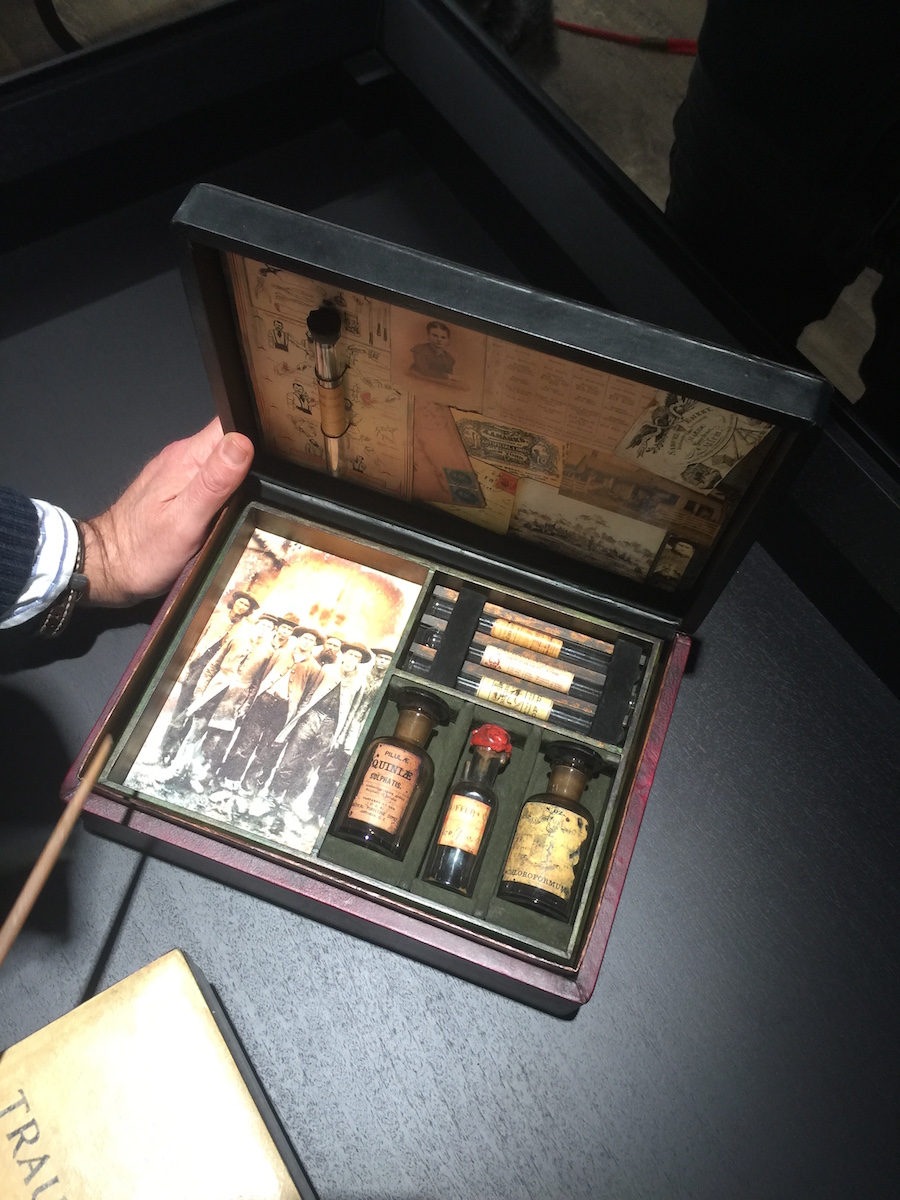 [This particular box tells the story of a 19th century traveling doctor, handmade and researched by Paolo Carandini]
Contributors include Alexandra Lawrence, private tour guide, lecturer and teacher, Coral Sisk, creator and founder of Curious Appetite Travel, tours dedicated to dedicated food lovers who are seeking a small-group, curated gourmet tour experience and Sara Amrhein and Anna Rose of Creative People in Florence who are both artisans and artists cultivating a community of local creatives.