By: Jessica Graybill 
Italy has a long, rich history with ceramics, one that is revered by many all over the world. Handmade, hand painted maiolica is an incredible thing to behold, especially in a time where minimally decorated or mass-produced ceramics flood the global market. It's important to remember that pottery is not just for basic functional ware, but is also a form of artistic expression, and one that has been a major way of life for the Italians for centuries. 
Italian maiolica was first produced around 1350, but it wasn't until the height of the Renaissance that the pottery reached its artistic peak. Early maiolica had a limited color palette; a classic white base with manganese (brown) and copper (green) glaze designs. By 1460, the technological advancements in kilns and glazes combined with the flourishing artistic prowess of the artisans brought us the vibrant, polychrome ceramics that we associate with Italian pottery today. By the end of the 15thcentury, small towns were renowned for their high-quality maiolica and each town had developed their own distinct styles. Some were larger cities, such as Siena, but more often they were small towns whose market was a large nearby city to which they were politically affiliated. Two prominent examples were Deruta, near Perugia and Montelupo, near Florence. Both of these towns are located along riverbanks – the Tiber in Umbria and the Arno in Tuscany – where there are natural clay deposits, perfect for the production of maiolica. Once the Italians became experts in the craft, Italian ceramics became world-renowned; an incredible feat in the days in which information traveled by ships!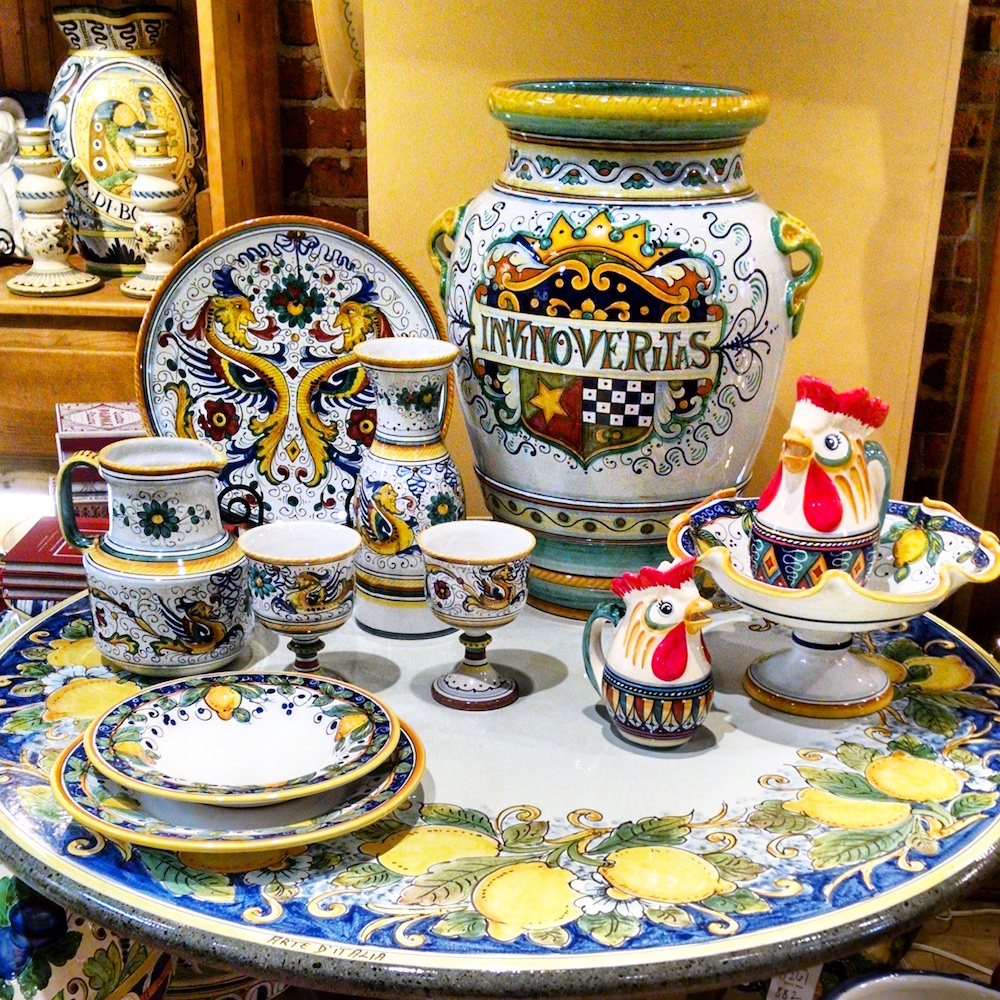 [An assortment of popular patterns from Deruta]
Traditional Maiolica Designs
Many of the designs that originated during this prolific era of ceramic artistry have stood the test of time and can still be found today. The hillside town of Deruta, in Umbria, is one of the biggest producers of maiolica and they've been perfecting their artistry since the early Middle Ages. During the 16thcentury, the Raffaellesco character became a popular design in pottery. Raffaellesco is the namesake of one of the Great Masters, Raphael (full name Raffaello Sanzio da Urbino, 1483-1520), a painter and architect. His frescos featured a creature which came to be known as a "grottesque", a design that combines human, animal, and botanical forms. An example of this sort of creature can be found in Raphael's "St Michael Trampling the Dragon". Though the version of the dragon in Raphael's painting is a dark, sinister-looking beast, the romantic Italians allowed the image of the dragon to evolve into a much lighter, more benign creature. The Raffaellesco we know today is a benevolent deity, bestowing good luck and fair winds to all who cross his path.
Another familiar theme in Italian ceramics are the regal portrait platters that depict Italian nobles. Naturally, portraiture has been commonplace for centuries throughout many different cultures, but the remarkable skills necessary to produce these ultra-refined paintings on ceramics is truly impressive. These portrait platters (and sometimes bowls, urns and vases) came about due to dramatic development in the art of portraiture during the Renaissance in 15th century Italy. This was part of a larger cultural phenomenon in which the stature and accomplishments of the individual were increasingly celebrated; growth of trade, and a new emphasis on self-governing created a growing number of wealthy and politically powerful individuals who wanted to honor their stature and preserve their likeness for posterity. A portrait was a complex correspondence in which the subject's piety, virtue, learning, and prosperity — even one's soul were highlighted.
Like this article? You don't want to miss "The Fine Art of Ceramics in Sicily." 
[One of the expertly-rendered portrait platters from Deruta]
Giovanni DeSimone and Mid-Century Appeal
The mid-century era brought about a completely different artistic style that has gained quite a cult following. Giovanni DeSimone was born in 1930 in Palermo, Sicily to a pair of Italian aristocrats. As a child he and his family traveled to Somalia, and his experiences there clearly stuck with him and inspired his life's work, which demonstrates an appreciation of primitivism and the cubist movement that was popularized by Picasso, Matisse and Gauguin in the early 1900s.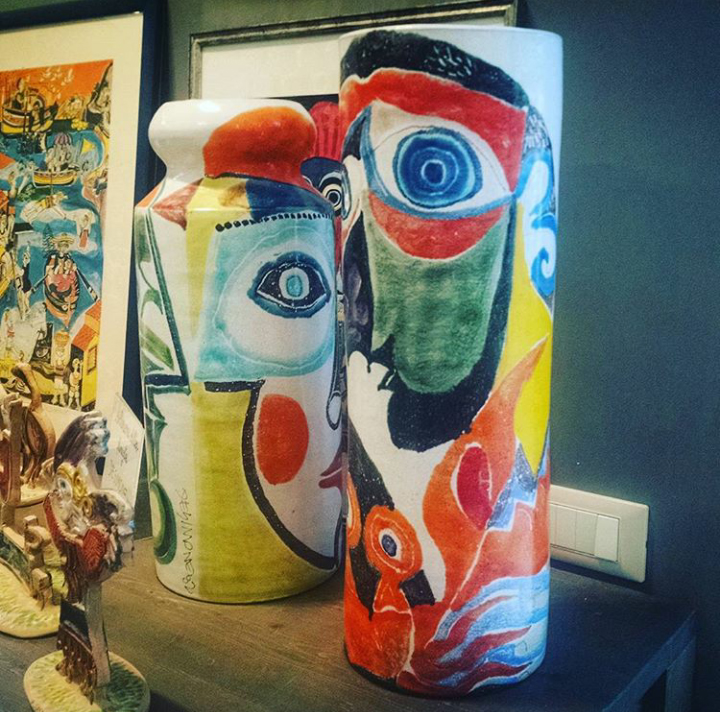 [Pieces from the DeSimone family's personal collection, made by Giovanni, in their showroom in Palermo]
DeSimone relocated to Emilia-Romagna following WWII where he enrolled in the famed Istituto d'Arte per la Ceramica in Faenza. It was there he found his life's calling; pottery became his passion. After completing his studies, he and his family returned to Sicily. Nostalgic for his native land now seen through adult eyes, Giovanni finally felt at home. It is here in Palermo that DeSimone meets the love of his life, Eliana, who eventually becomes his wife. Together they created three beautiful daughters, Susanna, Margherita and Rosita.
The DeSimone ceramics studio began in the 1960s and produced both dinnerware and serving pieces as well as decorative tiles and larger panels. During his most prolific period, there was anywhere from four to six artisans who worked for him and helped with production. The colors and themes were consistent throughout, though each decorator brought their own style to the table. Giovanni would typically sign his work "DeSimone" in a location that would be visible without having to turn the piece over.
Giovanni passed away in 1991, but his legacy continues through his daughters Susanna and Margherita, who operate La Fabbrica della Ceramica which is still located in Palermo, Sicily. Their work is very much inspired by the creations of their father, and, like his work, each are individually handmade and hand painted. His brightly-colored pottery is recognized and sought after by collectors, but the honest accessibility of his work draws in new devotees every day.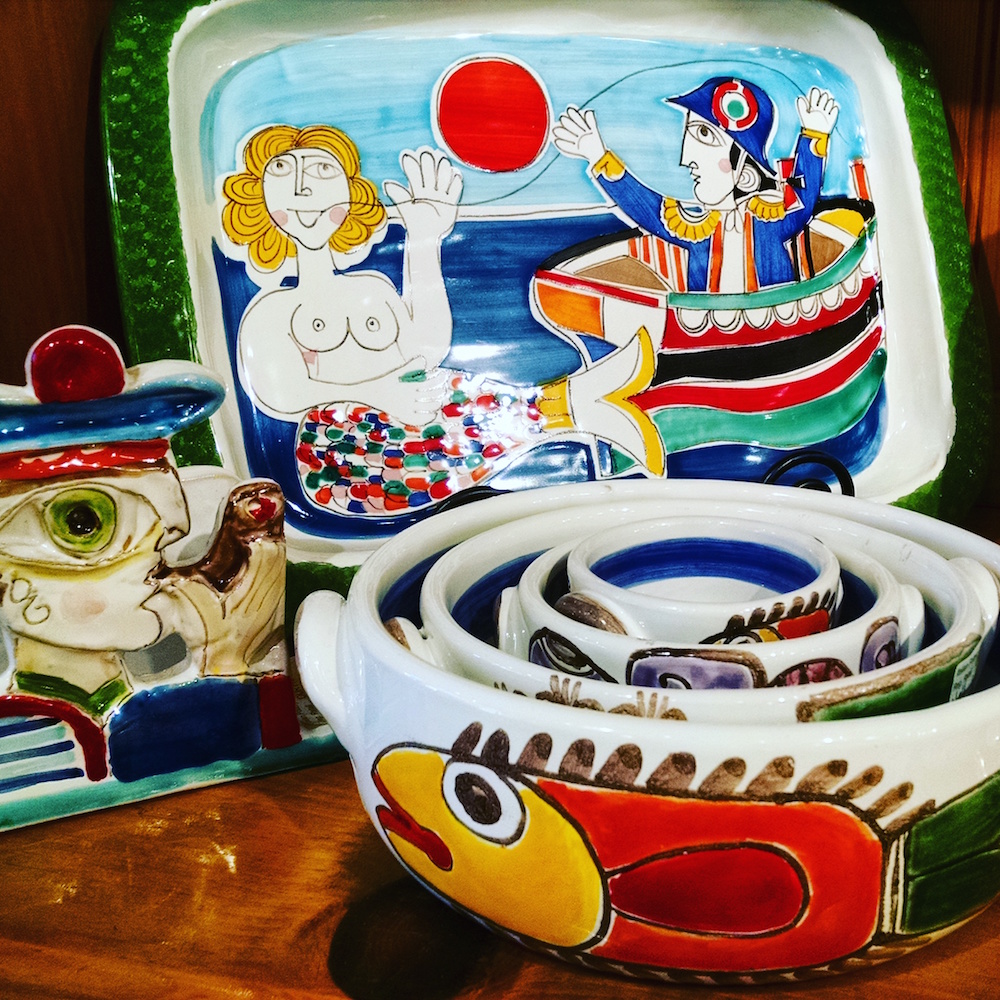 [Susanna DeSimone's colorful ceramics]
Volcanic Stone Tables
Incredible Italian ceramics craftsmanship doesn't stop at pottery. Beautifully handcrafted volcanic stone tables from Sicily are a breathtaking example of the advancements in the craft. Highly skilled Italian artisans create a volcanic composite surface onto which traditional patterns are painted. Once glazed, the final product is loaded into a kiln and during the high-firing process, it is transformed into a dense, durable tabletop that is not only hard as granite, but which also features the intricate artistry that has made Italian ceramics famous for centuries. Italian Pottery Outlet is one of the few companies in the States who keep these tables in stock, making them available for immediate delivery to those in the continental US. By the time they are listed on their website, all the legwork getting them from Italy to the US has already been done, so your wait time is much shorter than ordering elsewhere.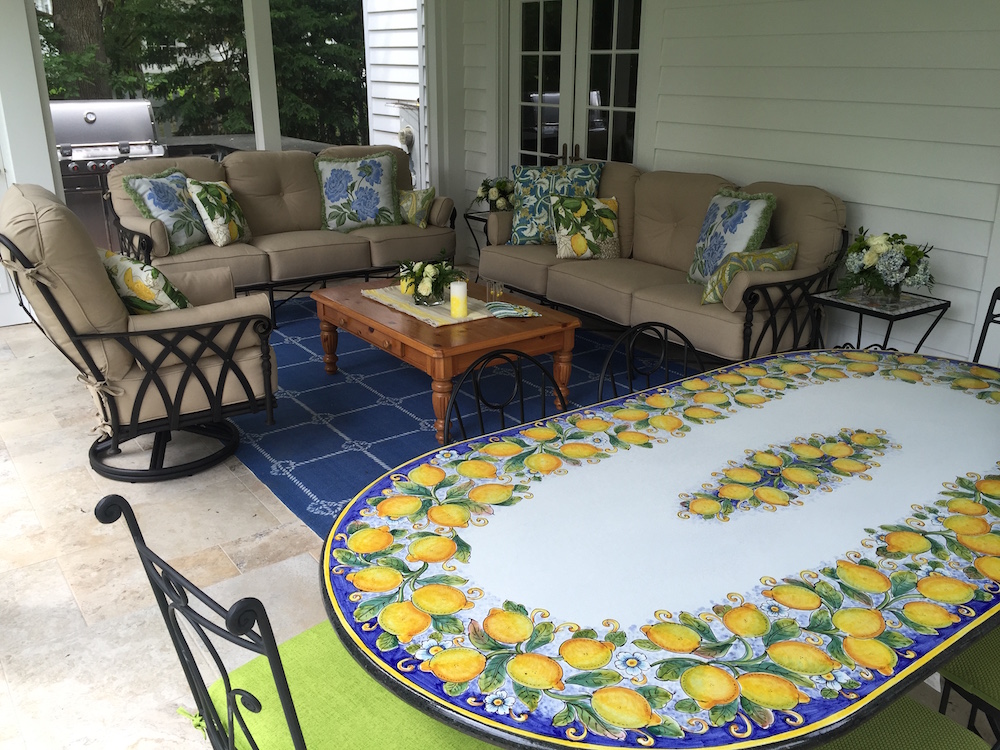 [A stunning example of the volcanic stone tables from Sicily]
Ceramics in Italy Today
Today, pottery continues to be the livelihood of thousands of potters and their families throughout the country of Italy. The heritage extends to America, where one first-generation family has been importing these incredible works of art since 1982.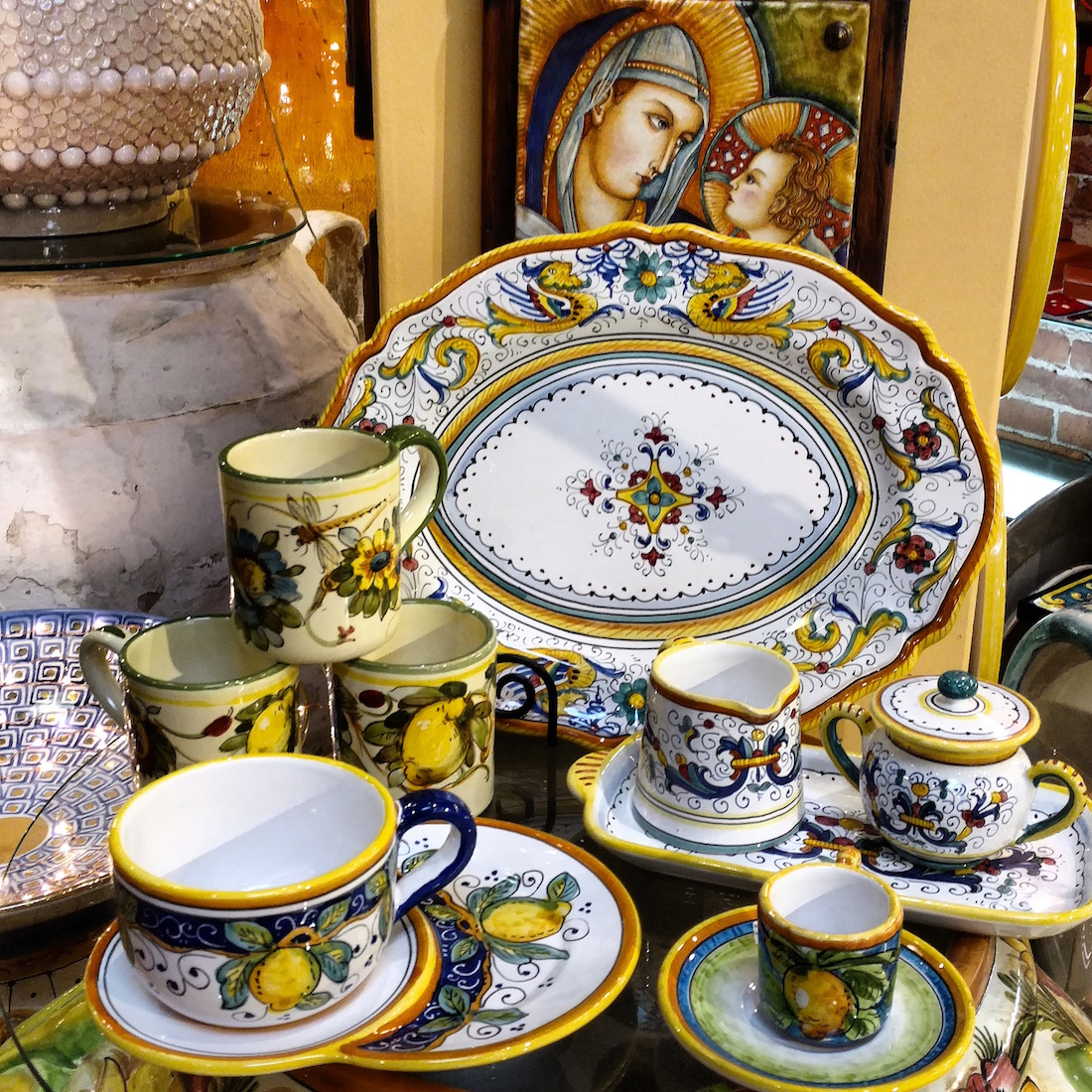 [Some of Italian Pottery Outlet's most popular patterns]
After retiring from his electronics business in his early forties, Ben Spalluto and his wife Carol began looking for their next chapter. After a few attempts in various directions, they discovered their shared passion in handmade Italian ceramics. Raised in Puglia, Ben often traveled home to visit family, and he and Carol loved bringing the hand painted treasures they found on their travels back to the states. They then realized that they had a great opportunity to share their love of handmade ceramics with the rest of the United States. The business began strictly as a wholesale distributor, but quickly grew as the Spallutos found more and more irresistible work from small, family-owned factories throughout Italy. In 1993, they opened their warehouse to the public and Italian Pottery Outlet was born. Three of the four Spalluto children eventually joined their parents, and today the business is still completely family-owned and operated.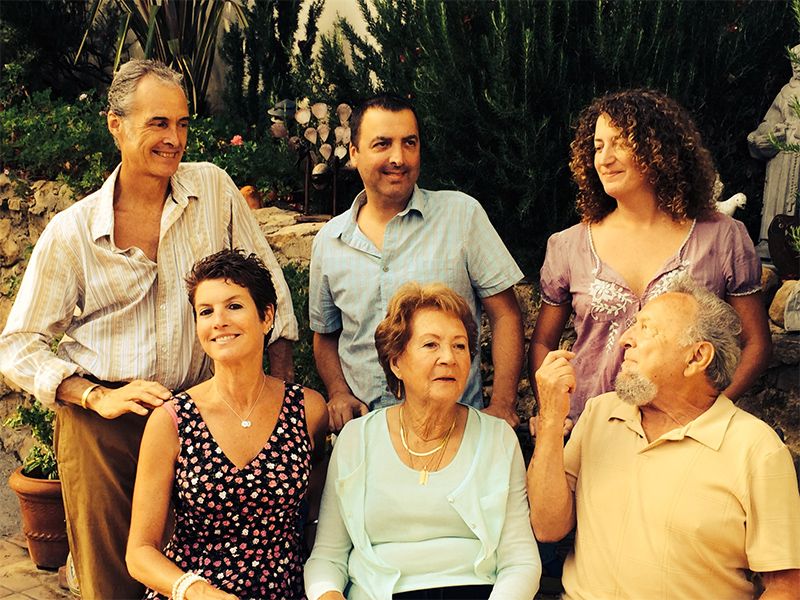 [The Spalluto Family]
The pottery of Italy can be found in many Italian-American households; it is part of our heritage, deep-rooted in our family traditions, and passed down from generation to generation, much like the techniques that created it. The lineage of expertise has been refined over hundreds of years of inspired artistry in the hands of accomplished Italian artisans, and the quality of their craftsmanship is undeniable. This attention to detail and incredible workmanship is evident in the pottery imported by the Spalluto family at Italian Pottery Outlet.