April flowers this year with a bumper crop of events and festivals steeped in tradition and culture. John Bensalhia is your faithful guide...
April's a busy time for Italy. It's a month that sees the country coming together to mark Liberation Day. It's also the month in which Rome and Venice mark two special events too (in the case of Venice, the 25th of the month is considerably busier than normal!).
There are also other milestone events taking place this month, including a jubilee edition of the Rome Marathon and Vinitaly reaching its 50th edition. Crafts, wines, history, running – it's all packed into Italy in April, so let's run through some of the best events and festivals taking place in the next few weeks...
TOAD THE LINE
PALIO DELLA RANA, Fermignano, 3rd April 2016
On the Sunday after Easter, the Palio della Rana comes to the Marche town of Fermignano. It's an event that really is one of a kind – as frogs are raced along on wheelbarrows, with the ultimate mission to make it to the finish line without the frog jumping off.
It's a quirky and enormously enjoyable event, and Fermignano takes pride in building up the momentum, with costumes, music and a blessing of the frogs which takes place in the morning.
Originally, Palio della Rana began in 1607 to mark the first municipal council of Marche. Even today, this event revels in journeying back in time, with its period costumes, entertainers (including jugglers, musicians and artists), antique markets and openings of ancient taverns.
As the heats and semi-finals build up, the big climax comes on the Sunday as the competitors (the scarriolante) run for 170 metres towards the finish line. What's required? Agility, determination, and when it comes down to it, luck – pick the frog who stays on regardless, and there's a greater guarantee of winning. More info here. 
DISCOVER THE FINE ARTICHOKE
ARTICHOKE FESTIVAL, Ladispoli, 8th - 10th April
As Spring enters the building, that means it's a fine time for sampling the freshest and the best vegetables. And one example that Italy prides itself on is that of the artichoke.
If you're a big artichoke fan, then 8th - 10th April should be pencilled in your diary. The 66th Festival of the Roman artichoke is held on these dates in Ladispoli. The three-day festival will be devoted to free tastings and sales of specialities. Attend the stands, and sample some of the finest Italian artichokes and products from regions such as Sicily, Lazio and Puglia. The families of local producers will also be preparing specially fried artichokes for that extra bit of flavour.
Ladispoli makes a big deal out of its annual artichoke festival and really goes to town on ensuring that a good time is had by all. In addition to the stalls and tastings, other forms of entertainment will be provided. These include an exhibition of paintings, works of art and craft by Filippo Conte, called "Viale Italy as Via Margutta", chess games, performances, and also a celebratory Spring Carnival, which is full of fun, colour and pizzazz! More info here.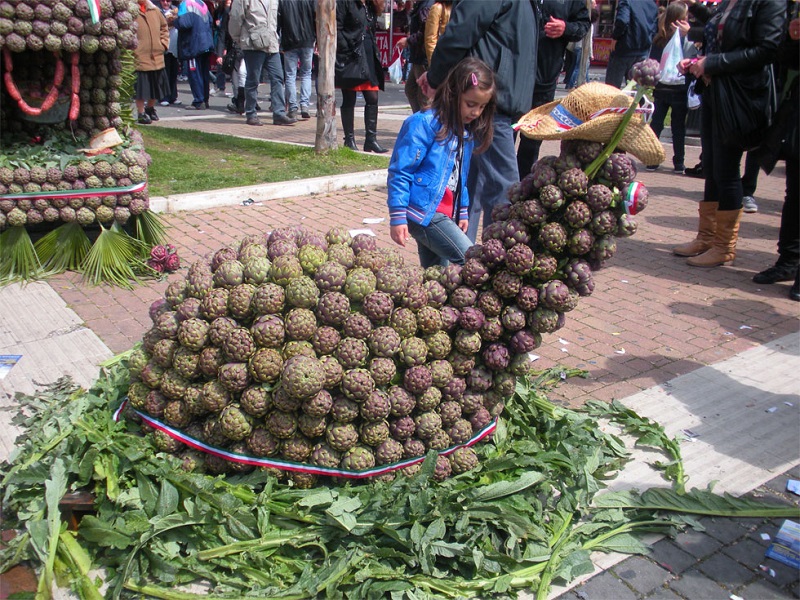 ''carciofi sagra" Photo credit: http://www.terzobinario.it/
RAISE A GLASS AT VINITALY's 50th EDITION
VINITALY, Verona, 8th - 13th April 2016
Vinitaly reaches a landmark milestone this year as it celebrates its 50th edition.
Originally, the event started life as Italian Wine Days when it was hosted by Palazzo della Gran Guardia in 1967. Four years later, it became known as Vinitaly, the trade exhibition and International Wine Growing Show. During this time, the trade section was devoted to the tools and equipment required to make wine, as well as the first edition of the DOC Wines Exhibition Catalogue.
While the official trade show of the international wine and spirits exhibition kicks off on 10th April, two days before, the public can enjoy the very best in wine in the heart of Verona. There will be also be food tastings, cultural performances and DJ sets.
The 50th edition continues in style at the trade show where there will be a series of special shows to augment the general exhibition. These include Vininternational, which looks at wine production from international countries such as Australia, France and Spain. There will also be a tasting area for buyers and business meeting facilities.
Meanwhile, VinitalyBio will devote its time and space to certified organic wine made both in Italy and overseas. The stands in this event will also feature the 'Bio' Wine Bar, with greater attention spotlighted on producing wine organically.
All in all, Vinitaly looks set to mark its 50th edition with great style – for wine buffs, this is a certain must-see event, more info can be found here.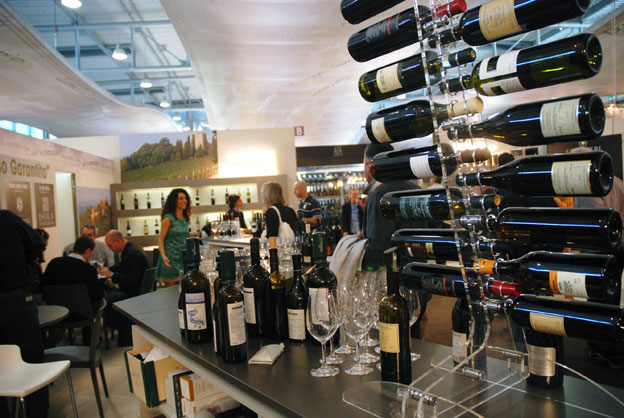 RUN AND PRIDE
ROME MARATHON, 10th April 2016
Who's going to claim victory at this year's Rome Marathon? That's the question that will be on spectators' lips as Rome Marathon marks a special jubilee edition this year.
Beginning at the Via dei Fori Imperiali, the Marathon runners make their way though the city. They will be passing infamous sights and landmarks including the Pantheon, the Trevi Fountain and the Piazza di Spagna.
It's a worthy event to look out for every year – and there is also the chance to attend an after-event party (spectators can also attend in addition to runners and friends – see the website for more details). The party takes place at Nur Bar, and will be crammed full of entertainment, music and food. More info here. 
WISH ROME A HAPPY BIRTHDAY
NATALE DI ROMA – April 21st - 24th 2016
Every April, Rome invites you to celebrate its birthday. Holding the birthday party to end all birthday parties, Rome stages a number of large-scale events, recreations and other initiatives for everyone to enjoy.
One of the nice things about Natale di Roma is its educational side. Young 'uns can learn about the history of Rome, its culture, traditions and values. The best kind of entertainment is the one that educates at the same time, and Natale di Roma is no exception.
At the time of writing, this year's programme is bursting at the seams with some excellent shows. These include a superb recreation of Rome's foundations 2769 years ago; an awesome representation of the Palilia Festival, which recreates the religious ceremony that purifies flocks and shepherds; and to cap it all off, a spectacular historical parade that leads from the Circus Maximus (the location for the aforementioned events) to parade in front of the Teatro di Marcello, the Capitol, Piazza Venezia and Via dei Fori Imperiale. After arrival at the Coliseum, the parade returns to the Circus Maximus where a grand finale of a re-enacted battle for the conquest of Britain occurs with more than 300 participants.
TAKE A CRAFTY LOOK
MOSTRA MERCATO INTERNAZIONALE DELL'ARTIGIANATO - 23rd April - 1st May, Florence
When it's birthday time or Christmas, a visit to a superstore will no doubt get you the gift that you want to give (or maybe even keep). Odds are that your chosen present will have been made in a factory. Fast. Convenient. Made to a high standard.
But sometimes you want that extra personal touch. An item or artefact made with loving care by hand. That's why craft fairs are always a welcome visit – packed full of innovation and detail.
One of the best large-scale craft fairs in Italy is Florence's Mostra Mercato Internazionale dell'Artigianato – which this year, takes place between 23rd April and 1st May. Mostra Mercato Internazionale dell'Artigianato lines up the finest in handicrafts as experienced crafters display their unique products. All kinds of styles are here – whether you are interested in traditional, classical or contemporary pieces.
This year, the fair will also play host to a wealth of special events and showcases. A health and beauty event, Bellezza e Benessere, will return for its third year, featuring an array of products for both women and men. 100% Nature will see a new opening for organic, natural foods that include vegan, macrobiotic and freeze-dried offerings. You can also get some great ideas for your home, courtesy of Casa In & Out – Contemporary Home Living, and a feel for all things vintage whether it's clothes, accessories or design, at Vintage Rendez-vous In Fortezza.
Come along to the event and check out the finest in handicrafts, as well as picking up other lifestyle ideas from the above special events, which are just a sample of the full roster. Click on this link for more details.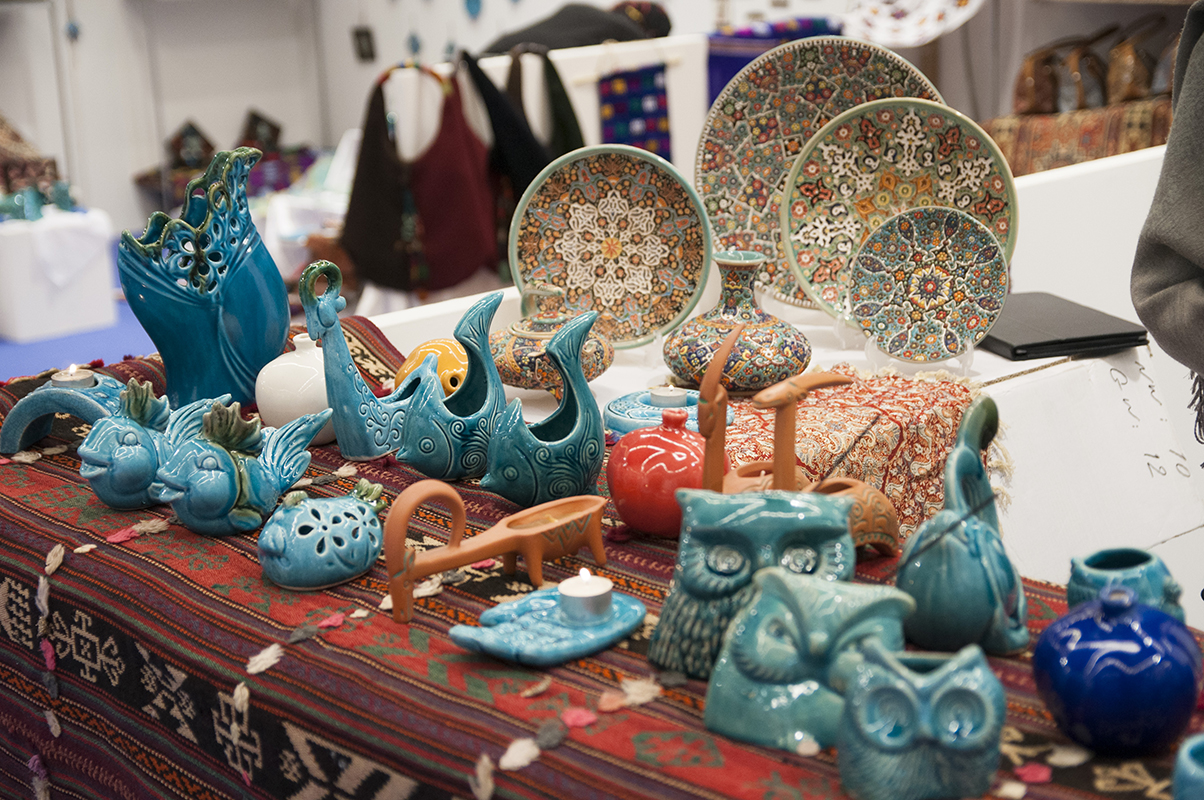 Photo credit: Mostra Artigianato
LOOK BACK ON LIBERATION DAY
LIBERATION DAY – Throughout Italy, 25th April
April holds a special place in Italy's hearts as it includes the national holiday for marking the conclusion of the Italian Civil War and also the end of Nazi occupation during the Second World War.
Originally, the date was selected as the commemoration because 25th April was when the National Liberation Committee of Upper Italy (CLNAI) officially made the announcement on the radio: The CLNAI had seized power, with a death sentence declared for all fascist leaders. In 1946, the first national holiday was proclaimed to mark the event.
Italy unites to remember those that gave their lives in the wars. Memorials offer the chance to reflect and remember, and in addition, bands, concerts and festivals will celebrate the moment that freedom was announced.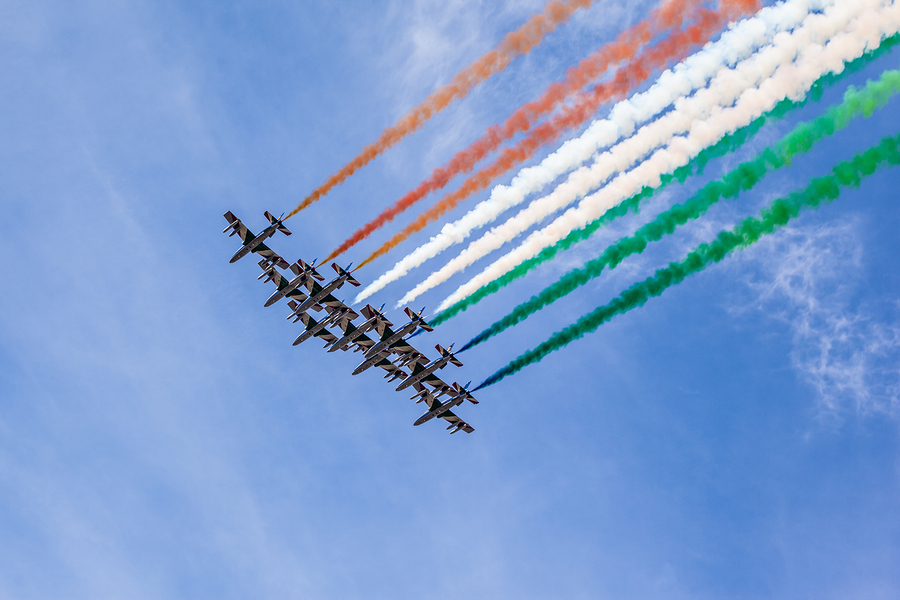 REMEMBER SAINT MARK
FESTA DI SAN MARCO – Venice, 25th April
Venice is doubly busy on 25th April.
Because not only does Venice mark Liberation Day along with the rest of Italy, it has its patron saint to remember on this day too.
Saint Mark is the patron saint of Venice, and the city honours him with much flair and spectacle. It's a day that combines tradition, commemoration and colour. A service is held at St Mark's Basilica, while St Mark's Square becomes a hive of activity as the festivities kick in. Bands, carnivals, markets – plus much more, will be around to grab everybody's attention. And there's also the  boat race, Regata di Traghetti, which pits teams of gondoliers against each other (while carrying passengers) to grab the first prize.
And chaps, don't forget: today's' the day in which tradition means that you give your wife or girlfriend a special bloom of a red rose (or a bocolo). And also, you can give your mum a lone rosebud on this day too!