For more than 1000 years a local cheese has been made in the verdant, rolling pastures of Northern Italy's Altopiano di Asiago from where Asiago PDO cheese takes its name. Time seems to stand still in the Asiago Plateau where traditional cheesemaking huts called malghe, still used for the cheesemaking process in the summer months, dot the landscape. Today, made under strict production guidelines that mirror those of centuries ago, Asiago PDO is one of the most ancient, and most famous cheeses in the world. 
A visit to the town of Asiago, in Italy's Veneto region, is a lush, mountainous, storybook of a trip where cows roam with ample open space and munch on the area's local grasses and wildflowers. Once the site of a major battle between Austrian and Italian forces during World War I with historic sites to prove it, today it is a popular ski resort destination. However, behind the charming cafes, quaint inns and snowy hills, the locals are hard at work preserving their most important export.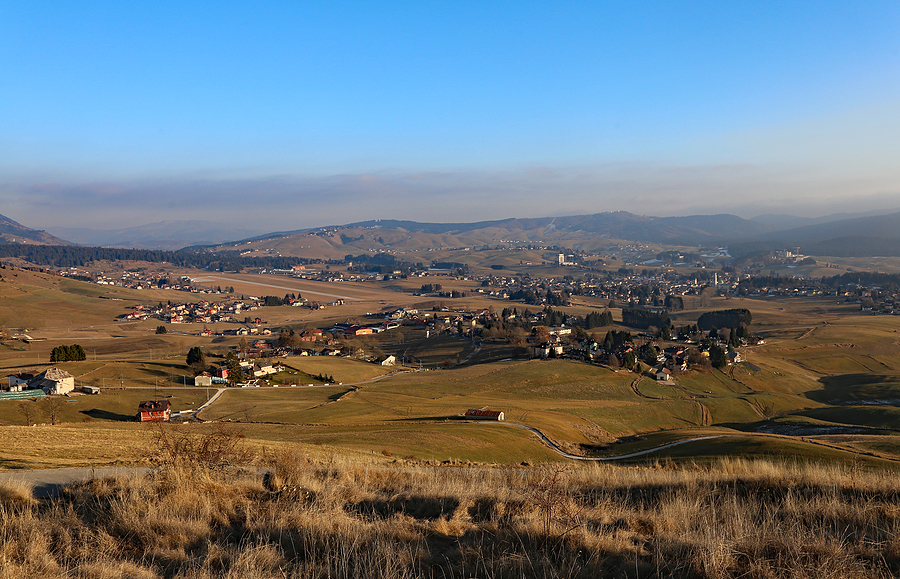 There are challenges that come with such storied success. Asiago is one of the most commonly found "Italian style" cheeses found outside of Italy, often in packaged goods like salad dressings, bagels or crackers. Rarely are any of these authentically made with Asiago PDO from Italy leading to consumer confusion. Adding to this is the fact that few outside Italy know that there are actually two different types of Asiago PDO, the aged variety, stagionato, and the fresh, or fresco.
The Consortium for the Protection of Asiago Cheese is an association of cheese makers and agers tasked with the protection and promotion of the cheese. Despite the strenuous work that goes into cheesemaking, the Consortium's mission is to forever protect Asiago PDO, thereby protecting those who make it.  Fortunately, the passion continues to be passed down, generation to generation.
Sara Strazzabosco, 23, works for her family's Malga Larici, located high on the plateau. Her uncle is the master cheesemaker, and her mom and brother also work at the malga where they produce only aged Asiago Stagionato. Producing aged Asiago is a long process, meaning more time is needed to produce and then sell the cheese, compared to the fresh version. However, this family is completely dedicated and hold steadfast to their carefully guarded segreti that produce a cheese they feel is truly special.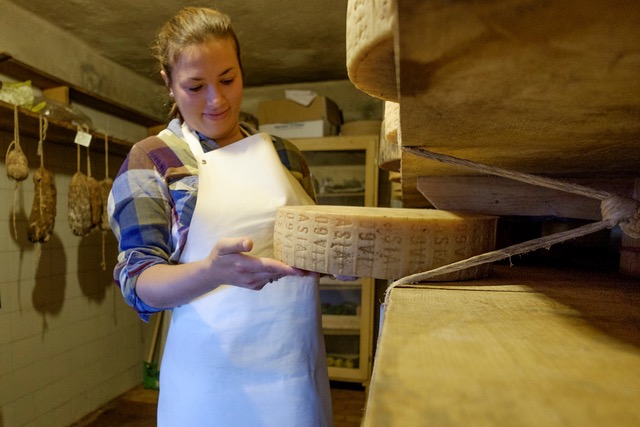 "We work with raw milk, and wood tools and stir the milk by hand without using the "agitatore," Sara proudly says. "Our work is extremely important to educate and preserve this patrimony and the environmental balance. If the malga is utilized, it means the woods are being cared for and the pastures, and we avoid it all going to ruin."
Every fall the area still celebrates a traditional transumanza. Literally meaning "crossing the land," this is the seasonal twice-yearly migration of livestock from the highlands to the lowlands, and back, as the weather changes. Close to 500 beautifully decorated cows are driven by hundreds of people, some on horseback, proudly parading through the town of Asiago as the cows are brought down from higher elevations before the weather turns cold. This year the crowded and festive Transumanza celebration could look a little different, though either way, the animals will move from higher ground down to lower pastures come fall. Either way the work continues as does the passion and dedication.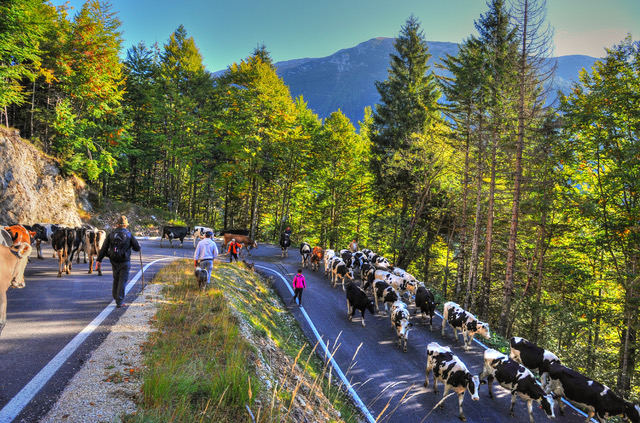 Every September, after a long summer high in the remote mountains, faced with the daily challenges of alpine cheesemaking, producer Davide Nicoli, 28, thinks about giving it all up. "Enough, this is my last year," he thinks at the end of each summer. "Then in November the nostalgia sets in and I want to get back to the malga. When someone asks me how is my work I always reply that being a cheesemaker is easy, but the profession is tough." 
Wanting to create a career that blended his passion for cheese with his love for the mountains, Davide reopened his family's Malga Serona, after graduating from high school. He proudly hires young employees wanting to get into the business, despite the challenges.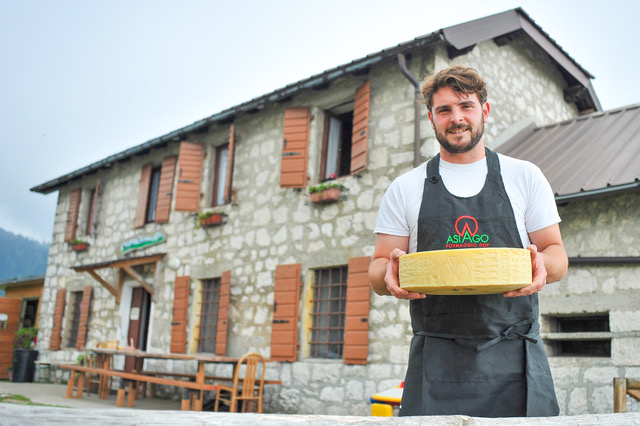 Asiago cheese gained PDO status (protected designation of origin) in the mid 1990s but it is here in Asiago cheese's namesake area that the Consortium for Asiago Cheese was established in 1979 with the goal of protecting the cheese that has long been the number one formaggio of the area. Producers and locals are proud that their cheese has been embraced around the world, but the consortium today works hard to make sure consumers and retailers outside Italy know that in order to truly be considered Asiago, it has to come from this specific area. 
The PDO European quality symbol guarantees that collection of milk and the entire cheesemaking process take place exclusively in the provinces of Vicenza, Trento, and parts of Padua and Treviso, spanning parts of the Veneto and a small section of Trentino. The PDO symbol protects both types of Asiago.
Aged Asiago PDO or "stagionato," once used for milk preservation over the long winter months, can be aged varying lengths of time producing a range of characteristics. Yeasty and sweet Asiago Mezzano is aged 4-6 months, nutty and fragrant Asiago Vecchio is aged at least 10 months, and spicy and intense Asiago Stravecchio is aged at least 15 months. Depending on the age it ranges from yeasty and delicate to nutty or spicy. It's an ideal grating cheese while locals, like Sara Strazzabosco, say they enjoy eating little wedges of it on its own with the locally renowned honey or marmalades.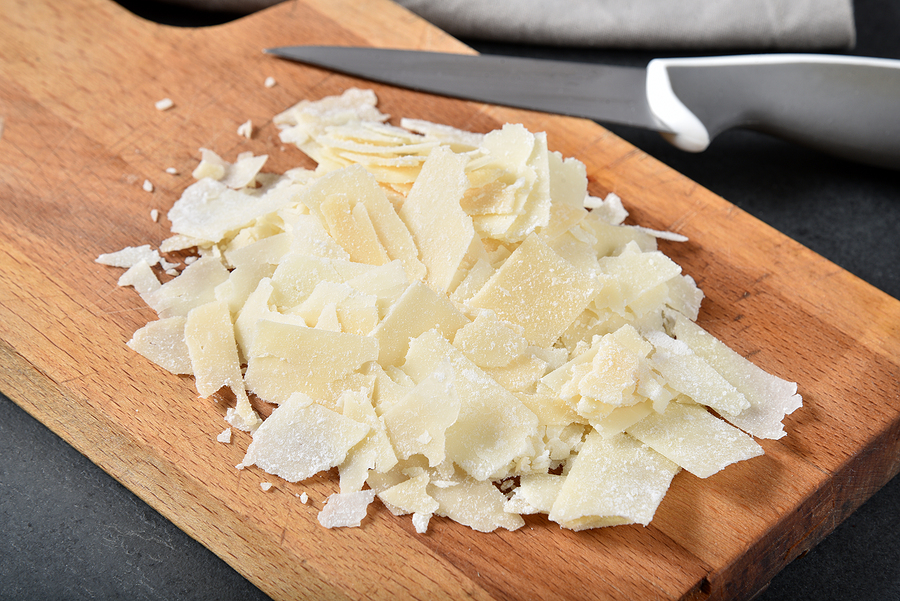 Young, fresh Asiago "fresco" made from whole milk is aged just 30-50 days lending a wonderfully buttery, mildly sweet flavor. A favorite of children, it is a wonderful melting cheese, breakfast cheese or delicious paired with charcuterie.
Asiago Prodotto della Montagna, or "Product of the Mountain," is an additional distinction given to Asiago PDO where the entire process, from the grazing of the animals, to the milk collection and cheese making process takes place between 600 and 2,300 meters.
While all producers of Asiago PDO, both fresh and aged, follow strict production guidelines that are safeguarded by the Consorzio, each cheese is said to have its own special characteristic. Locals say that for centuries cheesemakers in the area have been able to predict how that day's cheese would taste based on where the cows were grazing, what grasses they were eating, and the position of the sun. Protecting the traditional practices of making Asiago PDO, in its area of origin, is fundamental for the protection of the farmers, producers, consumers and for the cheese itself. 
While a visit to the area to taste Asiago in its place of origin is an unforgettable experience and one that we'll be able to enjoy again when the time is right, now is the time to support the producers by seeking out shops that sell Asiago PDO in your own communities. 
"Choosing Asiago PDO means purchasing a superior quality, artisan Italian product," says Fiorenzo Rigoni, President of the Consorzio for Asiago Cheese PDO. "Though right now," he continued, "in these times, it also means you are supporting over 1200 businesses made up of producers, farmers and families who work every day to produce this inimitable cheese, a reflection of its territory and its antique traditions."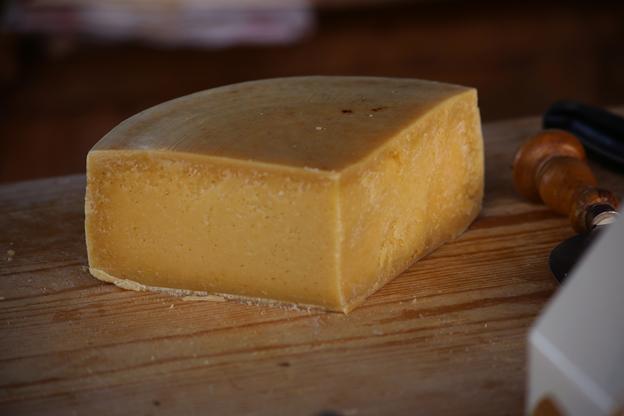 Where to Buy Asiago PDO outside of Italy:
Eataly Online & In Stores: www.eataly.com
Ditalia Italian Imports: https://www.ditalia.com/
A Visit to Asiago
The town of Asiago stands on the namesake plateau, called an altopiano in Italian. The area is known as the altopiano dei sette comuni (plateau of the seven municipalities). The area boasts 43 lifts and over 80 kilometers of slopes for alpine skiing. Summer visits to the area mean beautiful nature walks and a focus on the fresh (and famous) honeys and jams of the area, which happen to go very well with Asiago cheese of course. The town of Asiago has lovely food shops to buy local foods to bring home and restaurants to sample traditional fare. Two local favorites are Locanda Stella Alpina and Alla Vecchia Stazione.
Buying and Cooking Asiago PDO
All of the cheese shops in the area, most cheese shops in Italy and many cheese shops outside Italy carry Asiago PDO cheese. Aged Asiago can be referred to as "Mezzano" (medium aged), "Vecchio" (aged) or "Stravecchio" (extra aged) depending on the length of aging. It pairs beautifully with a slice of Speck Alto Adige PGI and a crisp glass of local prosecco. Fresh Asiago, or fresco, is creamy and heavenly on its own with sliced fruit and a crisp beer, but also lends itself well to being melted down in potato or onion soups or melted on sandwiches. A full collection of recipes that highlight Asiago's versatility in the kitchen is made available directly from the consortium for Asiago PDO. 
Visit a Producer
A visit to an Asiago producer is unforgettable. Getting to those located high in the mountains is a truly gorgeous, and authentic experience, while those located lower down in the rolling hills will be less of a challenge to reach but no less special. Many producers of Asiago PDO, like Sara at Malga Larici and Davide at Malga Serona welcome visitors by appointment. Other passionate small producers that enjoy talking about their traditional production include Milady Cortese at Malga Verde and Matteo and Valentina and their family at the Malga I Lotto Valmaron. For a full list including contact information for each producer visit the Asiago Consorzio website.