Tuscan ND Dolfi Lion Candlestick, Set of 2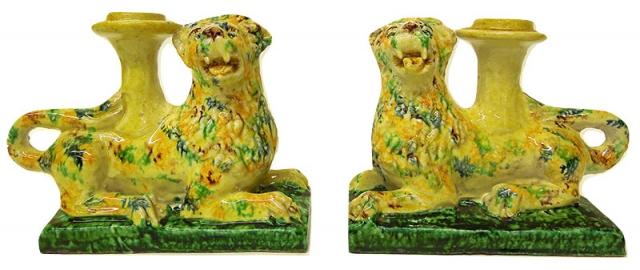 These candlesticks were handcrafted and hand-painted by ND Dolfi in their studio in Montelupo Fiorentino, a hill town in the province of Florence, Tuscany, Italy. The lion is a symbol of Florence in the form of the Marzocco, and one can imagine these two lions proudly guarding a treasure. The ideas and creativity of ND Dolfi are represented by the originality and quality of their fine Italian majolica. They handcrafted and hand-painted each candlestick in their studio in Montelupo Fiorentino, Tuscany, Italy.
Each ND Dolfi Lion Candlestick is 5" in height and 7" in length. Measurements are approximate.

This product is guaranteed "Made in Italy"
Dimensions
4X 7X5 in 4.4 lbs.
Countries Availability

United States
You may be also interested in...