Tuscan ND Dolfi Tall Pigna Pine Style Vase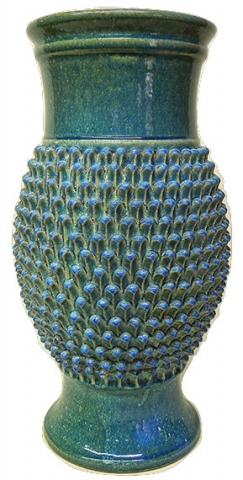 This is such a grand piece of Italian decor that would bring Tuscan elegance and style to any room. It was handcrafted by ND Dolfi of Montelupo Fiorentino, a hill town in the province of Florence, Tuscany, Italy, out of the finest Italian pottery, or maiolica. The work of the artisan is visible as their thumbs pressed into the vase to make the pine cone shapes. Its color is a dusty blue. It is a true beauty.
This ND Dolfi Vase is 20" in height and has a 9.5" diameter at its widest point. Measurements are approximate.

This product is guaranteed "Made in Italy"
Dimensions
9.5X20 in 17.8 lb.
Countries Availability

United States
You may be also interested in...