Sweet tooth? John Bensalhia finds some of the best desserts to chew on in Italy, whatever the occasion...
THE SUMMER DESSERT – GELATO
By the time you read this, the sun will be putting on his hat for the Summer season! With sizzling temperatures and heatwaves for everyone, there's only one dessert that can do the job.
Gelato is an ideal companion to cool you down on a hot summer's day. And here's the good news – compared to ice cream, the levels of sugar, fat and calories are lower. Although the Gelato dates back to the days of ancient Rome and Sicily, when a prototype would be made from snow and ice on the mountain tops, in fact it didn't take off until the 1920s when the first Gelato cart was wheeled on to a swiftly demanding customer base.
Nothing beats a tasty fruit Gelato, with those delicious natural flavours coming through. There's the potential for adding exotic flavours into the mix such as fresh figs or wasabi. In addition, the chocolate flavoured Gelato still proves a popular choice with cocoa powder or butter added to the recipe.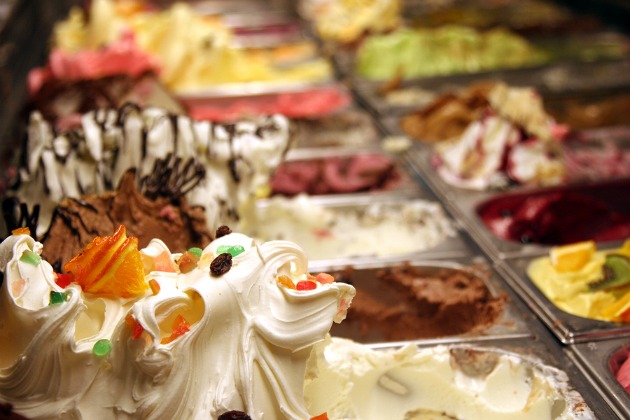 THE SUMMER BREAKFAST – GRANITA
Whether you're setting off to work or on holiday, in Summer, a perfect Italian breakfast combination would twin a Brioche and a Granita. Semi freezing water, sugar and a multitude of different delicious flavours, the Granita offers a refreshing dessert experience. In fact, it can be served as a refreshing slushy drink to enjoy on the go.
All sorts of flavour ingredients can be chosen from oranges to lemon juice and from coffee to mint. The Sicilian Granita takes great pride in preparing the finest ingredients for consumption, using goodies such as bitter almonds or home-grown lemons for that pleasant floral sensation on the palate.
A notable element of Granita preparation is the texture. Depending on the freezing process, a Granita can have a smooth or slightly abrasive texture. The rougher Granita, for example, can be achieved by periodic agitation during the freezing process with the mixture being scraped to make separated crystals.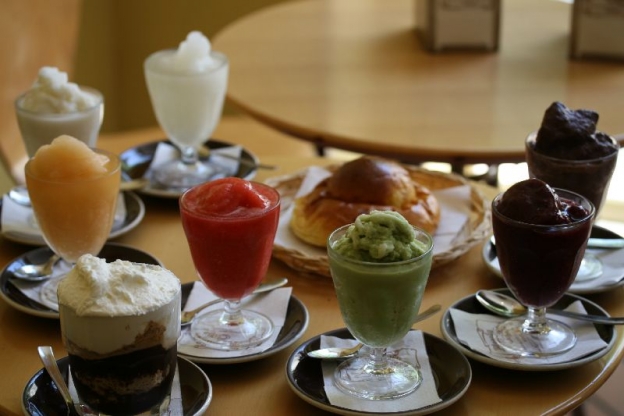 ST JOSEPH'S DAY SNACK – ZEPPOLA
IN 1840, a Neapolitan baker called Pasquale Pintauro initiated the tradition of eating the Zeppola in Naples. The tradition of eating the Zeppola occurs on 19th March, during St Joseph's Day. Whether bought from a street trader or given as a gift to a friend or loved one, the Zeppola is a tasty snack that will be eaten with great gusto.
This deep fried dessert has much in common with the doughnut – it's topped off with a smidgeon of sugar with a choice of fillings including cream, jam, custard or a mixture of butter and honey. It's particularly popular in Naples, Rome and Sicily, and remains a must-have dessert not just on St Joseph's Day, but all the year round as a tasty treat.
PICK ME UP – TIRAMISU
Bad times? Rough day at work? Then it's Tiramisu to the rescue!
Tiramisu translates as a 'Pick Me Up' of a dessert and it's that irresistible blend of coffee, ladyfingers and the whipped mix of Mascarpone, eggs, sugar and cocoa that make it a perfect lift me up dessert.
Although some historical arguments suggest that a similar style of dessert was devised to honour the Grand Duke Cosimo III, the Tiramisu is said to have taken off in the 1960s. There is no limit to the way in which modern day Tiramisu is made. It can be made with many kinds of ingredient, whether it's fruits such as strawberry or lemon or chocolate or coconut variations. Likewise, while the Tiramisu wasn't originally conceived with alcohol in the recipe, today's variations can include subtle traces of liquors such as rum, port or Marsala wine.
PARTY TIME – ZUPPA INGLESE
I'm typing this article in the climes of rainy old England, and if there's one popular dessert eaten round these shores, then it's the good old-fashioned trifle.
With this in mind, a historical argument puts forward the case for this particular delicacy being enjoyed by the Dukes of Este while on a trip to the Elizabethan Court of England. It's said that the Dukes enjoyed it so much, they wanted their own cooks to come up with something similar to enjoy back home.
Today, Zuppa Inglese is a very unique Italian take on the trifle. To give it that extra kick, the sponge cake or ladyfingers base is commonly dunked in a red herb liqueur called Alchermes. Layers of crema pasticcera are then placed over the base (egg custard with a hint of lemon zest) – a common choice of mix to layer is crema alla cioccolata, which is a special treat for chocolate fans! Once the layers have settled, Zuppa Inglese is topped off with cream, meringue, chocolate sprinkles, almonds... the choice is yours!
It's a favourite at parties with its delicious evocation of the traditional English classic.
HONOURING SAINT AGATHA – CASSATA
Catania holds the Festival of Saint Agatha, and one of this festival's customs is to serve a variant on Cassata.
The Cassata cake traditionally hails from the regions of Palermo and Messina, a sponge cake filled with tasty ingredients such as sweetened ricotta, chocolate or vanilla (and sometimes Gelato) and then decoratively topped off with marzipan, coloured icing and candied fruit pieces.
The common school of thought is that Cassata takes its name from the Arabic name for the bowl that's used to shape the cake – it's said that the cake was first made in the 10th century during Muslim rule.
The Festival of Saint Agatha variant tends to serve the dessert as smaller, individual cakes with a piece of candied cherry capping it off. It's known as Cassatella di Sant'Agata and sometimes as Minni di Vergini which acknowledges the terrible torture that Catholic martyr Saint Agatha endured.
CARNIVAL TREAT -  CANNOLI
A popular sweet during carnival season, Cannoli pastry desserts are eaten with relish. The name comes from its shape – 'little tube'. The fried pastry dough tubes are filled with delicious sweet cream filling, usually made with ricotta.
Like Cassata, the Cannolo is alleged to have its roots in Arabic culture, in this case during the Arab Emirate of Sicily. It's claimed that similar dough tubes were enjoyed in this period of time. Today, it's a common sweet enjoyed in the areas of Palermo and Messina.
A notable variant on the traditional Cannolo is to use Pizzelle cookies which are wrapped around a dowel to create the familiar tube effect. Once the cookie cools down and hardens up, it's removed from the dowel and filled with the cream mixture.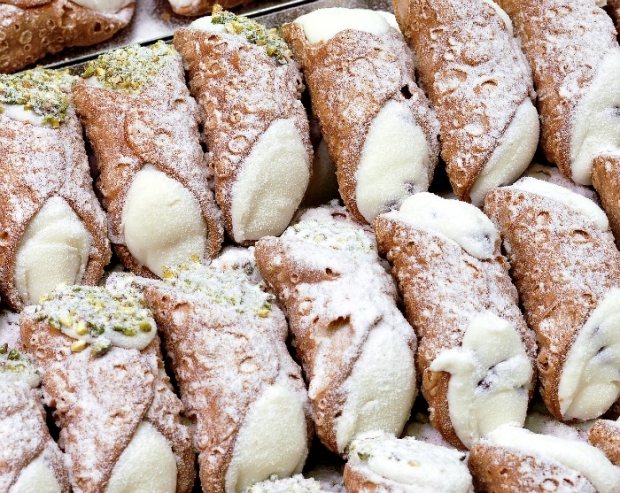 CHRISTMAS/NEW YEAR – PANETTONE
It may be Summer but somehow the Christmas season has an uncanny habit of creeping up on you without warning. At which point, the Panettone sweet bread loaf will be on many a table.
It's a popular seasonal favourite and one that hails from Milan. The Panettone got its first festive mention during the 18th century, contained in literature from the pen of philosopher and writer Pietro Verri who described it as 'Pane di Tono'. A more romantic notion comes from the legend surrounding an Italian nobleman called Ughetto Atellani who, in the 15th century had fallen for the charms of Adalgisa, the daughter of a baker, Toni. The legend has it that Atellani disguised himself as a baker, and devised the cake that became Panettone. The ploy seemed to work as union between Atellani and Adalgisa was said to have been approved by Ludovico II Moro Sforza, the Duke of Milan – the Duke also endorsed Pan de Toni (the cake of Toni), which indicates the origins of the name of this dessert.
Panettone enjoyed a particularly fruitful start to the 20th century when Angelo Motta and Gioacchino Alemagna produced their respective brands. It became one of Italy's most popular festive desserts on account of its ready availability and affordable price. And of course, its delicious taste!
PIECE OF THE PIE – CROSTATA
One of the most popular pies in Italy is
It takes the form of an open fruit tart pie or with a lattice criss-crossing the top. It can use either friable dough or shortcrust pastry as the base with all sorts of fillings to whet the appetite – the common choice is a selection of fruit preserves such as berry, peach or apricot.
Crostata is said to have originally been championed by culinary guru Martino da Como around the mid 15th century when a recipe was included in his cookbook Libro de Arte Coquinaria.
There are variations, including the option of combining cream with a topping of fresh fruit pieces (known as Crostata di Frutta) or a modern day choice using the nutty spread (Crostata di Nutella). And of course, it's also common to serve Crostata as a savoury option for a main meal.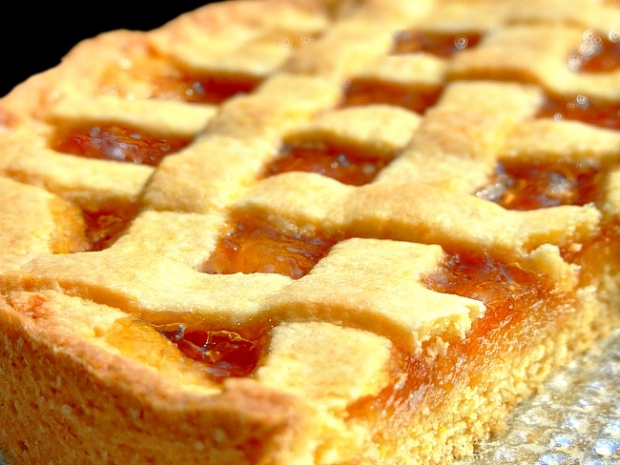 ULTIMATE RESTAURANT DESSERT – PANNA COTTA
Eating out in a restaurant? A popular presence on the menu is Panna Cotta, the dessert that translates as cooked cream.
It's a traditional dessert in the Piedmont region and one that's enjoyed all over the globe. In order to produce the required result, the cream is warmed up, then sugar is dissolved to sweeten the cream. After this, the chosen flavour is added (common flavours include rum, vanilla and coffee), and is then thickened with gelatin. The mix is poured into moulds to set and then served in style with a side coulis or sauce.
A TASTE OF GENOA – GENOISE
For a taste of Genoa, then this tasty sponge cake is a good choice.
Genoise cake is a good multi-tasker. Not only can it be enjoyed in its own right as a tasty dessert, it can also be used to make other cake sources such as ladyfingers, Jaffa Cake bases or madeleines.
For the Genoise cake, this golden yellow sponge can be served with fillings such as buttercream, jelly or chocolate. A chocolate variation of this cake uses cocoa powder in the mix, and is called Chocolate Genoise.
EASTER EAT – PIZZELLE
What a load of waffle! And this waffle cookie dessert is certainly enjoyed by millions. It's a popular selection in the seasons of Easter and Christmas, and originally hails from the Abruzzo region of Ortona.
The Pizzelle has similar properties to the pizza (the name comes from the Italian for flat), and depending on the way it's made, it can have a soft texture similar to the popular savoury dish. Alternatively, it can be made to have a crisp, hard texture. The regular way of making Pizzelle is to place the batter or dough in a special Pizzelle Iron which then heats the mix (either electronically or the good old fashioned way – over a stove). The Iron can also brand the mix with a traditional snowflake motif on either side. The Pizzelle can either be enjoyed on its own or as a sweet sandwich with cream or spread between the two pieces.
Browse our recipe page for Italian desserts you can make at home.