Milan is one of the most underrated cities in Italy. It has the bustling monument-filled capital and renaissance Florence and her golden light to compete with. But lately, it's like everyone wants to be Milan's friend and post Expo, it seems to have become just that little bit cooler! Not only has this injection of money and ideas had an impact on infrastructure but on art, culture, community life and business too. It's a great metropolis, where art and design collides with shopping, and good food and wine. So what's not to like really? Many travellers find themselves in Milan for a short stint, so here's a quick guide on what to do in Milan for 24 hours.
9:00am Breakfast
Head to one of the city's historic bars and cake shops for a Milanese breakfast. The Pasticceria Cova (Via Montenapoleone 8) is right by the famous opera house, La Scala on the fashionable Via Montenapoleone. It's been here since the 1950s after the original shop was destroyed by World War Two bombings. Rub shoulders with the Milanese here, as they sip on espresso or cappuccino and order a brioche or cornetto. If you're in town during the festive season don't miss the Christmas cake, panettone - made around Italy but made famous in Milan.
10:00am Duomo di Milano
Now that you've had your morning energy hit, walk over to Piazza Duomo to visit the famous cathedral, il Duomo di Milano. Its striking gothic spires can be seen from a distance and its sheer size up close is imposing. It's free to walk in every day between 7am and 7pm. Be sure to head up to the terrace for a unique perspective of the duomo and unrivalled views of the city (€9 for the stairs and €13 for the elevator).
12:30pm Galleria Vittorio Emanuele
Walk out of the Duomo and you can't miss the Galleria Vittorio Emanuele - one of the world's oldest shopping malls. Featuring a glass dome, cast iron roof and mosaic tiles, it's a true architectural marvel. Stroll through, take some photos and don't forget to look up!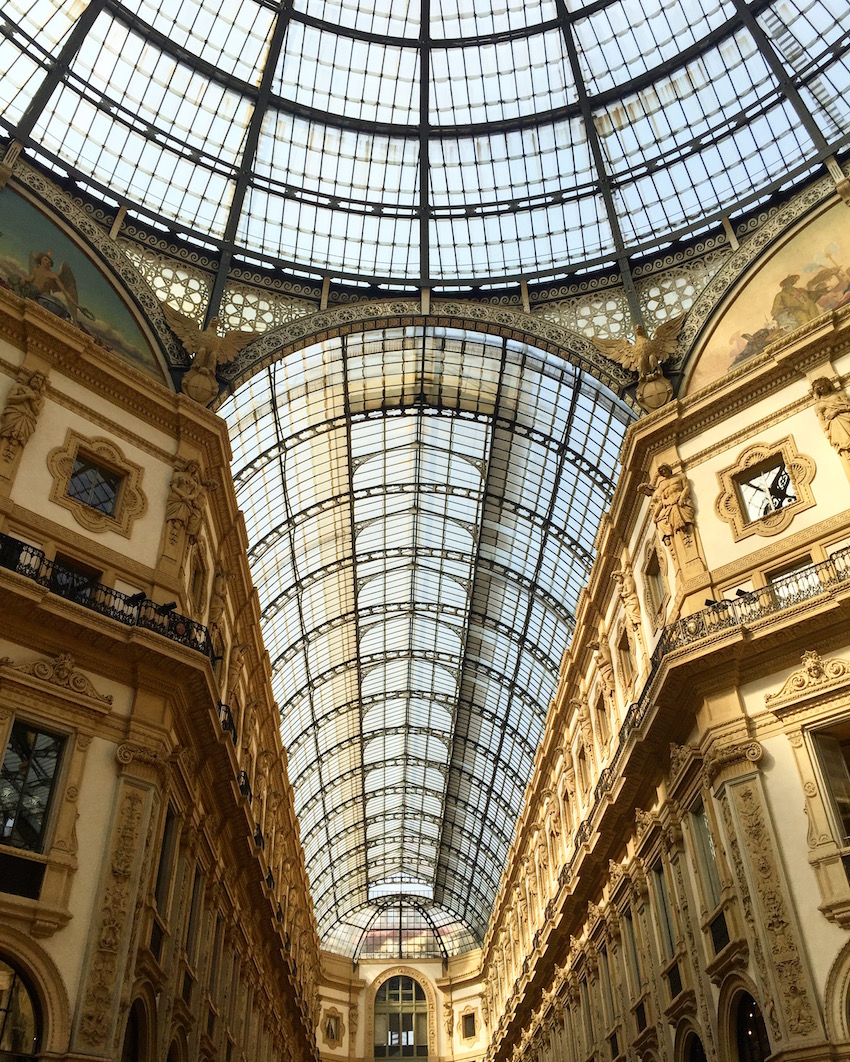 Photo credit: Maria Pasquale
1:00pm Lunch with a view
Located in the Galleria, and for lunch with a view that you just cannot beat, the Aperol Terrace (Piaza del Duomo, Milan) is perfection for a quick lunch. The classic Aperol Spritz costs €8, pasta and risotto ranges from €10-€14 and sandwiches from €8- €14. So it would seem views like this don't have to break the bank!
2:00pm Shopping break
No visit to Milan is complete without a spot of shopping! Pick your location from the numerous districts in town and hit the shops for a couple of hours! The quadrilatero d'oro (the golden rectangle) refers to the four streets that house the best in Italian and international haute couture and fashion houses like Prada, Armani, Gucci and you know the rest (Via della Spiga, Via Manzoni, Via Sant'Andrea and Via Montenapoleone). For high street brands head to Corso Buenos Aires or Corso Vittorio Emanuele II. And for the more independent or alternative, the Brera area will have what you're looking for.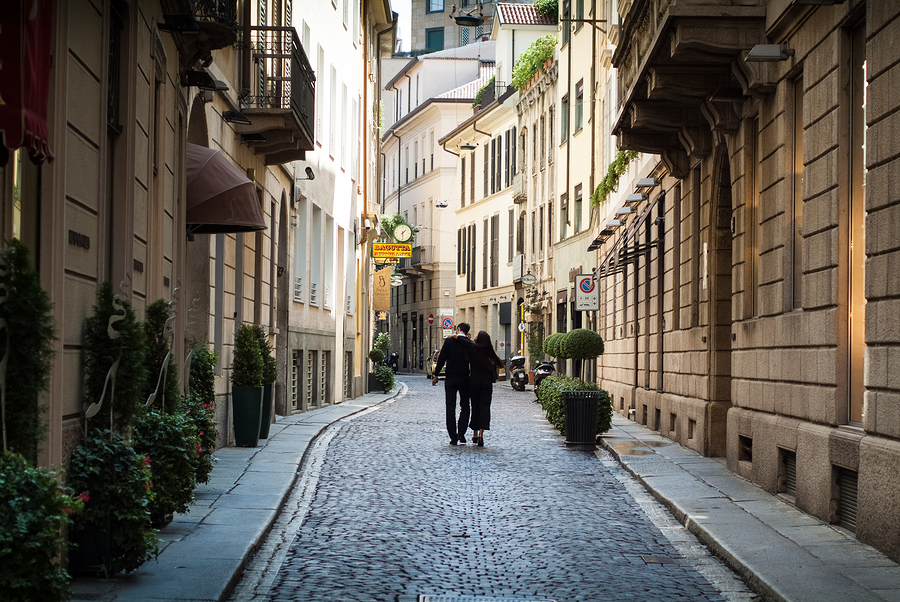 4:00pm Fondazione Prada
So you've shopped 'till you drop but now it's time to take fashion to another level. The Prada complex, Fondazione Prada (Largo Isarco 2, Milan), moved to a new location about a half hour drive south of the city. With a 24-carat gold-covered building, this place is as flashy as you'd expect from one of the most famous fashion houses in the world. Featuring expansive exhibition space, a museum and a cafe, it's not to be missed.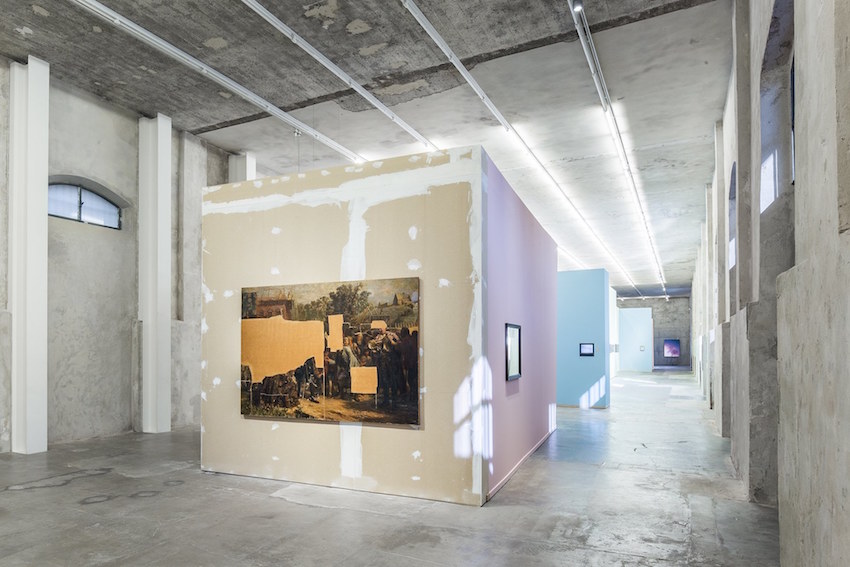 Photo credit: Delfino Sisto Legnani Studio
6:00pm Aperitivo at Bar Luce
It doesn't get much more stylish than an aperitif at the Prada building. Bar Luce (Largo Isarco 2, Milan) was designed by film director Wes
Anderson and symbolises the classic Milanese bar and cafe. It's all high ceilings, discreet design furniture pieces and fun wallpaper. A cocktail here will set you back €10.
8:30pm Dinner
Treat yourself to a special dinner at a Milan dining institution. Il Baretto (Via Senato 5, Milan) is located in the Baglioni Carlton Hotel and is just as popular with the locals as it is with hotel guests. This is refined Milanese cuisine and all the classics from the Risotto alla Milanese to the Cotoletta alla Milanese are on the menu.
11:00pm Milan after dark
Head to the Navigli area in the south west part of the city for one of the best cocktails in town at Mag (Ripa di Porta Ticinese, 43, Milan). Right along the main canal (yes Milan has canals too!) this elegant bar is open until 1am daily and the bar staff will be only too happy to help you choose your poison.
Where to Stay
For shopping:
The Carlton Hotel. address: Via Senato, 5, 20121 Milano. 
For nightlife:
The Yard Suite and Dependence. address: Piazza XXIV Maggio, 8, 20123 Milano
Born to Italian parents, Maria always knew Rome was her destiny, although she was raised in Melbourne. With a formal background in political science, policy and history, she is now a food and travel writer and contributes regularly to USA Today and Fodors. She has worked with other major brands including Dubai One TV, Rocco Forte Hotel Group, Paris Tourism Board and many others. Her popular lifestyle blog, HeartRome is read in over 120 countries and has been featured in BBC and Vogue Travel among other. In Rome you'll find her walking the streets of Trastevere, checking out the latest bar for an aperitivo or dining with friends.
SaveSave
SaveSave
SaveSave