Visiting Italy, and getting the chance to eat home-cooked food by sharing it with locals, is definitely the best way to get to know Italian cuisine. But if being on location isn't an option, here are a few of our favorite cookbooks to discover different regional culinary traditions. This collection of our top seven favorites not only inspires, but also gives an interesting look at each of the writer's eyes into Italy. One is slated to be published in June of next year so we highly recommend inquiring on a pre-order. Try your hand at cooking Italian style with the help of local experts and fill your house with Italian flavors. Just in time for the holiday season!
Kristina Gil's Tasting Rome- Fresh Flavors & Forgotten Recipes from an Ancient City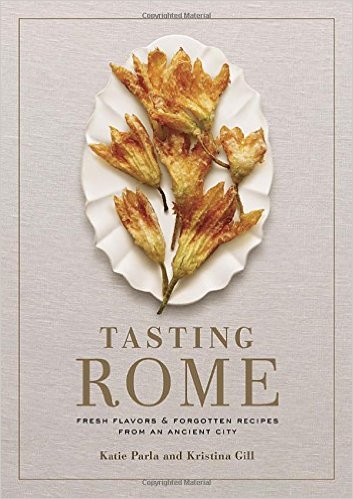 A Yale graduate, with a sommelier certificate and a master's degree in Italian gastronomic culture from Tor Vergata Rome University, Katie Parla moved to Rome in 2003. Since then she has been plumbing the Eternal City's food scene from genuine trattorias to innovative street food, plumbing Roman food and beverage culture for The New York Times, The Guardian and more. In 2016, together with Kristina Gill – food and travel photographer who has lived in Rome since 1999 – she summed her experiences up in this beautiful book devoted to her adopted city, with forewords by Mario Batali.
Recipes of hearty traditional dishes such as gnocchi or castagnole (small sweet fried dough balls usually made and eaten during a short time before Lent) and century-old traditions such as the Roman-Jewish cooking and quinto quarto (offal preparations) go along with short tales of their origins or the history of the ingredients, linking the cookbook to travel memoirs and taking the reader on a discovery tour of Roman cuisine.
Published by Clarkson Potter, Get the book here.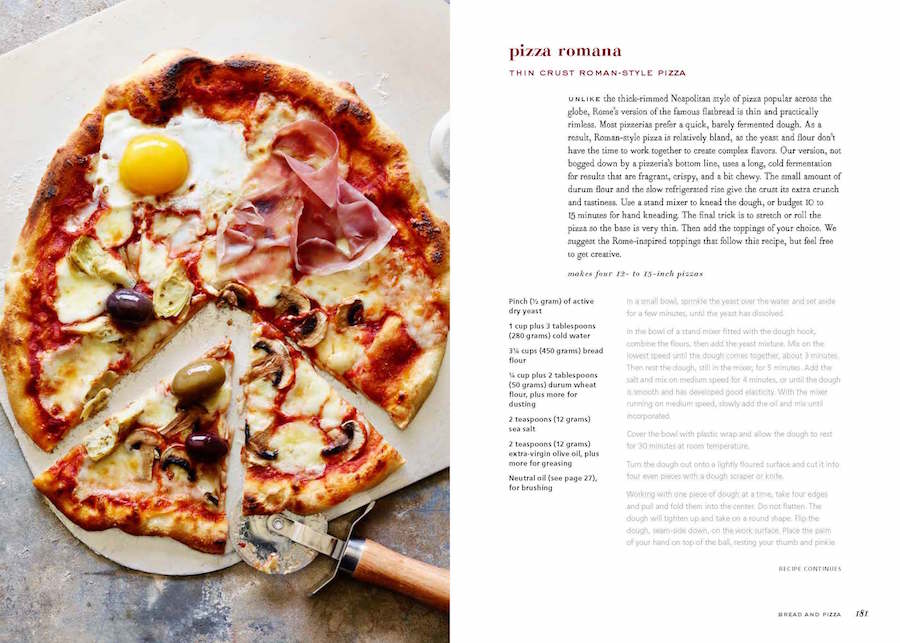 Photo from Tasting Rome Cookbook by photographer Kristina Gill
Rachel Roddy's My Kitchen in Rome: Recipes and Notes on Italian Cooking
Rachel Roddy's kitchen sinks – the Roman one from her house in Testaccio, and then the Sicilian one of her husband's family house in Gela – have become a popular feature for the readers of her food blog RachelEats and her Instagram followers. Homely, intimate and with no sign of culinary pretentiousness, the sinks show up filled with fresh vegetables or other ingredients ready to wash and rinse, along with cutting boards, simply set tables and market stalls, being a prelude to traditional, genuine domestic Roman or Italian recipes. An actress, writer and cook, Rachel first visited Rome in 2005 as a stop over in her journey around Italy. Yet she eventually fell in love with the Testaccio neighborhood – where the quinto quarto tradition was born – and her discovery of authentic Roman cuisine started. Her "kitchen sink tales" then became a weekly column on The Guardian and eventually a book, Five Quarters: Recipes and Notes from a Kitchen in Rome, winner of the Guild of Food Writers First Book Award 2015 and of the André Simon Food Book Award 2015. 
With a full set of home-tested recipes (from antipasti to dolci, including daily pasta dishes, beans soups and typical vegetables recipes) the book is a sort of enthralling culinary coming-of-age story, combining Rachel's love for Italian food with nostalgic memories of her British youth. The US edition of the book, published in 2016, comes under the title My Kitchen in Rome: Recipes and Notes on Italian Cooking. Rachel is currently working at her second cookbook, Two Kitchens (featuring recipes and stories from both Rome and Sicily) to be published in June 2017.
Published by Grand Central Life & Style, Get the book here.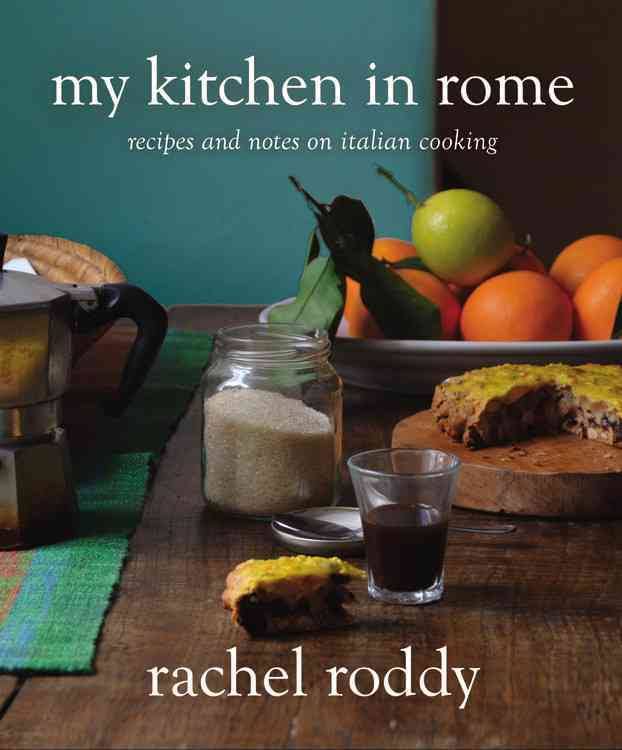 Patrizia Cantini's Patrizia's Italian Cookbook: 100 recipes from Tuscany and Emilia Romagna
In Patrizia Cantini's opinion, fresh pasta is the true secret of happiness in the family and making it is an act of pure creativity. This is why there is plenty of fresh pasta in her recently published ebook, collecting 100 recipes mostly hailing from the two regions with strong culinary traditions where her family comes from: Tuscany and Emilia Romagna. A food and wine journalist, who also holds cooking classes at her home in the center of Florence, Patrizia learnt how to make tagliatelle, lasagna and tortellini – which she personally considers the best traditional Italian dish – from her Emilia-born mother Mirella when she was a teenager and never stopped. Yet, the book also counts several meat and fish dishes such as the peposo beef stew or the red mullets livornese – mostly coming from the Tuscan family of Patrizia's father, Giorgio – as well as recipes for vegetarians and children and some classic Italian desserts such as tiramisu and panna cotta. Recipes, all repeatedly tested in Patrizia's classes and at family meals, are based on ingredients easily found in markets around the world.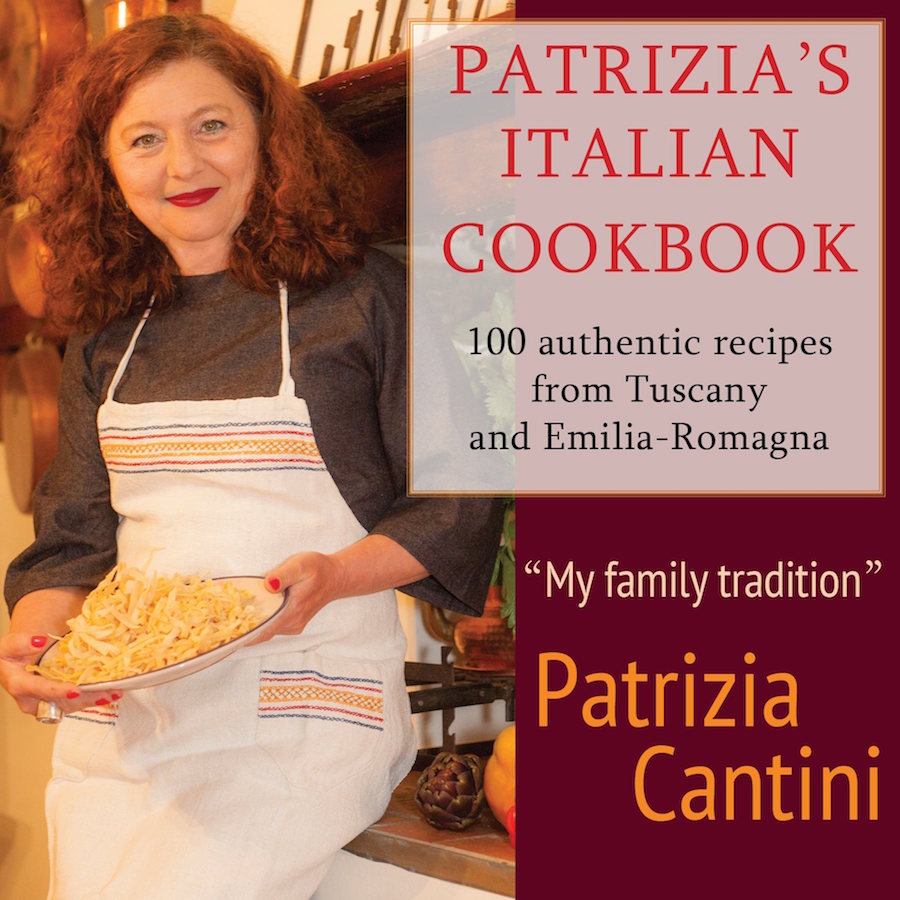 Eleonora Cozzella's Pasta Revolution (available in English from the end of November)
Pasta is, of course, the symbol of Italian cuisine and it's mostly linked to traditional dishes, from quick, daily recipes to more elaborated and time-demanding ones such as ragù or timballi. For a long time, Italian chefs have avoided using dry pasta such as spaghetti or rigatoni on their menus, considering it more as a domestic ingredient than one for creative cooking. This also due to the fear of the Italian client's wrath, since the al dente level changes from person to person and it's very hard to outdo the homemade mamma's pasta. Yet, in recent years things are changing and Italian chefs have started experiment with dry pasta. Food writer Eleonora Cozzella, working for L'Espresso Food&Wine and L'Espresso restaurant guide, witnessed this first hand, having hosted the pasta day at the Identità Golose culinary congress since it first edition in 2009. In this beautiful book, she has collected 40 among the most intriguing and risky recipes proposed by the participating chefs, from Andrea Aprea to Marianna Vitale and pastry chef Gianluca Fusto. Many of them are pure provocations, defying well-established taboos and proposing intentionally overcooked – or rather, long cooked – pasta or sweet versions of it. Not easy to make at home, the recipes are more intended as a source of inspiration and reflection about the product itself. Yet, the book goes further, with a very interesting introduction: from odd anecdotes to local habits, from the origin of the different pasta shapes to the right matching with sauces, Cozzella goes deep into researching the historical and cultural background of Italy's most beloved ingredient.
Edited by Giunti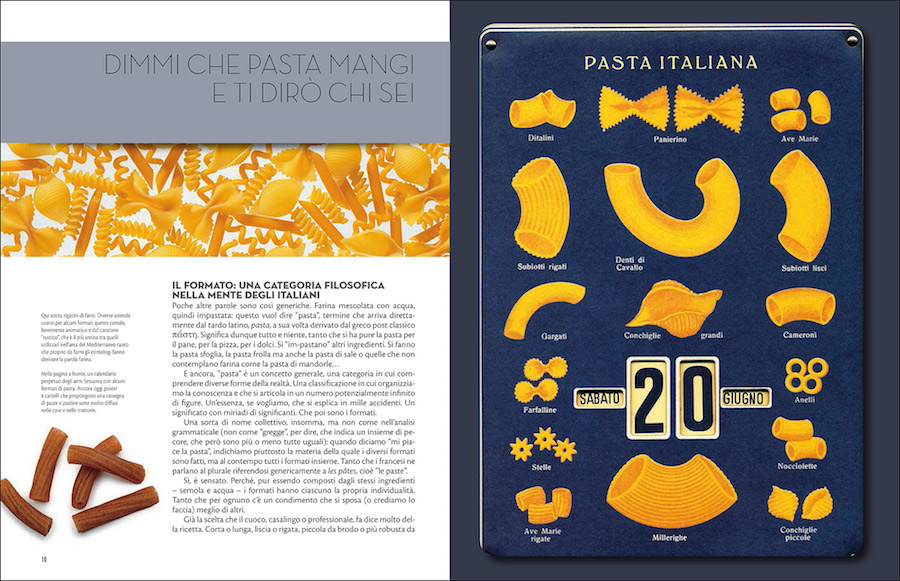 Emiko Davies' Florentine: The True Cuisine of Florence
Half Japanese, half Australian, Emiko Davies lived in China and US before settling in Tuscany, marrying a local sommelier and choosing Italy as her new country. She then started exploring local food and catching the differences between different regional cuisines. She mainly dedicates her time to the rich and fascinating Tuscan cuisine, and often finds a source of inspiration in Pellegrino Artusi's cookbook dating back to 1891, the first consistent attempt to ratify and catalogue the huge heritage of Italian cuisine. Emiko has been sharing anecdotes, techniques and history behind regional recipes on her blog for over 8 years, besides contributing to Food52.com and to the Italian newspaper Corriere della Sera. Now has finally collected many of these and new ones in her first cookbook, Florentine: The True Cuisine of Florence, mixing authentic traditional recipes such as schiacciata all'uva (grape focaccia) or gnudi (spinach and ricotta dumplings) with evocative glimpses of Tuscan life and beautiful pictures; the black & white photos of places and locations have been taken by herself while the recipe photographs were styled by Deb Kaloper and taken by Lauren Bamford. Emiko Davies is currently working on her second cookbook, Acquacotta, which will be out 1 March 2017.
Published by Hardie Grant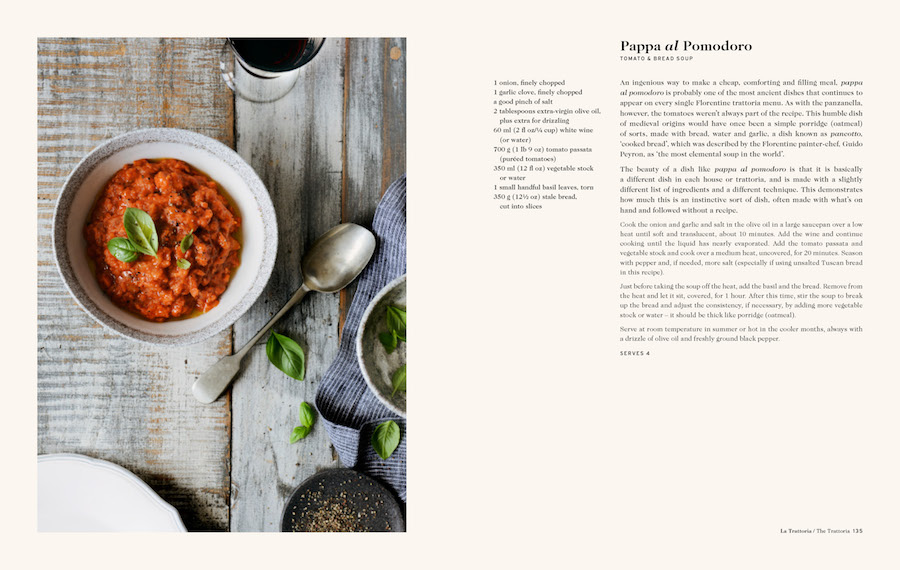 Photo by Lauren Bamford
Valeria Necchio's Veneto: Recipes from an Italian Country Kitchen
Grown up in the Venetian countryside, often switching from her toys to cherry-picking or tomato canning, when Valeria Necchio moved to Padua to study she had to commit herself to preparing her own meals. Since then, she quickly turned into an "obsessed gastronome" and enrolled in a Masters program at the University of Gastronomic Science at Pollenzo. There she met her future husband, and the two moved to London soon after without changing their food lifestyle: local and seasonal food and Italian-inspired dishes, especially from Veneto and the Mediterranean. Since the first attempts as a University student to the London-based culinary experiments, she shared her recipes and stories on the blog Life Love Food, documenting them with beautiful pictures. She has now collected a number of Venetian inspired recipes in her first cookbook, Veneto: Recipes from an Italian Country Kitchen, to be released in June 2017. 100 recipes ranging from traditional to reinvented, including sarde in saor (marinated sardines), lasagne al radicchio e salsiccia (radicchio and sausage lasagna), baccalà alla veneta (stockfish stew) and gnocchi di zucca al Burro e noci (pumpkin gnocchi with butter & walnuts), are introduced by stories, anecdotes and insights about Veneto region and its food, in a personal, memoir-style perspective.
Published by Faber&Faber
Associazione Verace Pizza Napoletana's Flour, Water, Yeast, Salt, and Passion
Everybody knows pizza, but does everybody knows that Neapolitan pizza is considered the forerunner of the world's most loved food? Thin and soft, with an airy and well-grown cornicione (crust edge) so to fold it and eat it with your hands, Pizza Napoletana is an art handed down from one generation to another by local pizzaiolos, whose mastery has now been proposed to enlist in the global cultural Unesco Heritage.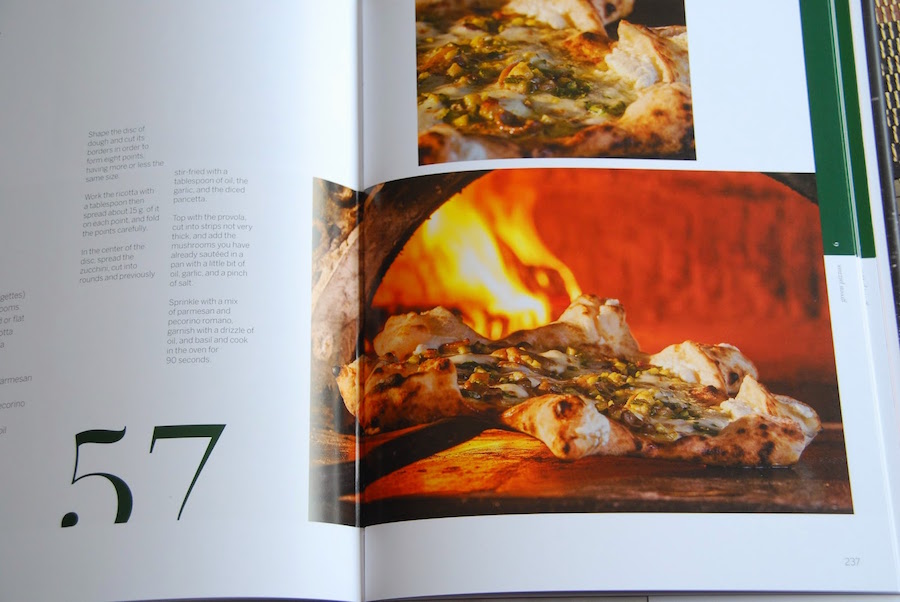 The AVPN Association is committed to spread not just procedures, but also the culture, wisdom and tradition behind this antique profession, safeguarding the authentic tradition of Neapolitan pizza worldwide. At this purpose it also comes the publishing of this beautiful book, featuring 65 delicious recipes from the masters of the Association, with over 300 evocative photos by Vittorio Scioscia. Recipes are flanked by 50 short stories related to pizza and its indissoluble relationship with the city of Naples, where it is both a daily meal and an iconic item part of the local culture and lifestyle.
Published by Malvarosa
In other news, we at ITALY Magazine have this free eBook with 12 top Christmas recipes available to you by subscriving to our newsletter.