John Bensalhia looks at some of the events and festivals seeing out Spring in 2018
Spring's about to give way to Summer, so there's a strong emphasis on appreciating the wonders of outside eating and drinking this month. A good selection of food and drink festivals can provide advice on what to choose for your al fresco meals and parties this Summer! There are also plenty of nods to the past this May, whether it's children's entertainment, races or parades. So let's Spring into action!
Till 1st May 2018, Licola di Pozzuoli
Today's modern pubs guarantee a good time out. After a hard day's work, where better to go and relax with a cheeky glass of wine or beer?
But for a slice of history, there's an event at the tail end of April and the start of May that shows you how Italians used to enjoy themselves in the Ancient Taverns.
The Licola di Pozzuoli Ancient Taverns Festival will reach its eighth edition as this compilation of events hits the web. Seven taverns will recreate some classic Neapolitan dishes for you to enjoy, with the likes of Taverna del Chianchiere,  Taverna del Marenaro and  Taverna del Casaro utilising a specific recipe or ingredient (such as cheese, seafood and Neapolitan Ragù).
The festivities spread to the streets, with a selection of stands showcasing classic street food recipes and products. Traditional music and dancing will also be performed, and also taking you back in time are over 300 traditionally dressed people. Kids, meanwhile, can enjoy a small farm area, where they can hang out with rabbits, geese, sheep. And if they want, they can also enjoy pony or donkey rides!
Carrese Race
Early May 2018, Ururi
The traditional Molise ox cart race takes place in early May.
Specifically, you get two races for the price of one. First up is a race in which teenagers compete in a calf cart race. After this warm-up event, the main ox cart race commences 4km from Ururi, making its way to the finish line in the main town outside of the church of Santa Maria delle Grazie. The victor gets to take part in a procession, bearing a piece of wood from the Holy Cross.
Prior to each race, a blessing takes place.
DrinkEat
4th- 6th May 2018, Savona
As you may gather, this month is working up an appetite with some great food and drink events. One good example is DrinkEat, which celebrates the finest Italian cuisine at Savona's Priamar Fortress in early May.
With equal helpings of stands devoted to the 'Drink' and 'Eat' aspects of any good Italian meal, the 'Drink' segment will include stands for quality wineries and refreshing hand-created Italian beers. The 'Eat' portion of the fair will feature freshly produced cheeses, fruit and vegetables. Street food will also be an important part of this event, mixing in all kinds of foods and snacks, sweet and sour.
Special tastings, conferences, laboratories and displays of culinary expertise will also be on the menu at this year's DrinkEat, so come and tuck in!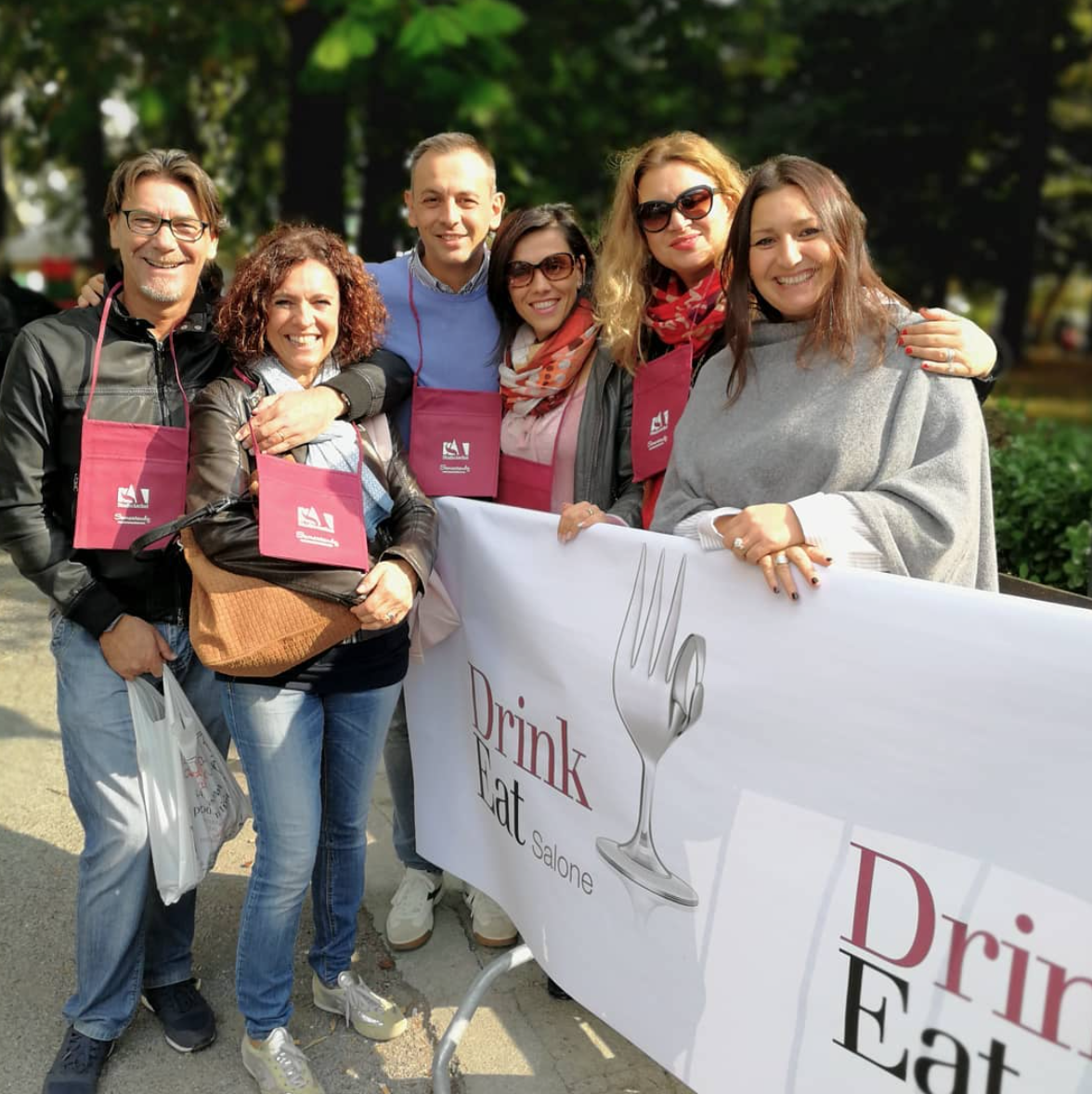 [Photo via Instagram]
Taste of Milano
10th- 13th May 2018
Carrying on the culinary flavour this month, why not come and sample a Taste of Milano?
Spanning four days from the 10thto 13th May, Taste of Milano will be held at The Mall in Porta Nuova, Milano. Day and evening events are guaranteed to tantalise the taste-buds and may even inspire some of you to enter the world of professional cooking. Professionals from this sector will be on hand to guide you through the smartest and tastiest cooking techniques through shows and masterclasses.
There will be a tasting menu devoted to the best in Lombardy cuisine, prepared by some of the finest Michelin-starred chefs. Meanwhile, visitors can also attend meetings to find out more about the latest culinary trends, and can sample Blind Tasting for a spot of mystery!
12th- 13th May 2018, Vigevano
Forget your modern electronic games and videos to keep your kids entertained, this was the real deal for youngsters in the medieval era.
Today's kids can sample medieval-style entertainment at this two-day event in Vigevano. Special games are organised, including hand-cart and circle ring races and a task to construct a tower. These, and more, make up the Children's Palio. Whoever emerges the most successful from these games and contests will be judged the winner in a special capping off of the event.
Kids can also be entertained by a slew of other great events and attractions, including food tastings, dances, music and also a bonfire. They will also love exploring the host location of the activities and games, Sforzesco Castle!
Cerevisia Craft Beers Festival
18th- 20th May, Fondo
Homer Simpson may love a pint or two of this much-loved beverage, but at Cerevisia Craft Beers Festival, it's a very classy deal indeed.
Celebrating the practice of craft beer production, this method mixes in the finest raw ingredients and natural maturity time to create a high quality, organic and refreshing beer.
So come and learn about this great beer production method at this three-day festival. It contains a number of free workshops, as well as a special dinner to kick off the event, in which the foods provided are matched up with specific types of beer. You can also put in a vote for your favourite kind of beer before the winner is crowned on the Sunday.
Infiorata di Noto
18th - 20th May 2017, Noto
During the third Sunday of May, the city of Noto becomes a memorable flowery masterpiece. Infiorata di Noto takes place in the street of Corrado Nicolaci, where artists create masterpieces using flowers. The event was introduced more than 35 years ago by artists Genzanesi and Netini, and each year, more budding artists showcase their own flower-made creations. Over the days of the 18th to the 20th of May, you will be able to witness the works of flowery art at the location of Via Corrado Nicolaci.
The works themselves are made with special organic soil (used for the outline) and flower petals (that fill in the finished stained glass window-style result). These won't be around for long – only the weekend, so if you're in the region, come and see this unique take on the traditional work of art.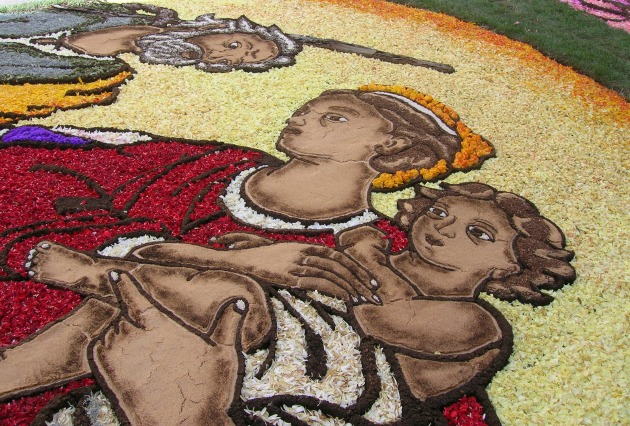 19th- 20th May, Sala Baganza
On the other hand, if your drink of choice is a cool glass of wine, then try the Malvasia Wine Festival in Parma's Sala Baganza.
The delicious and unique dry taste of Malvasia Colli di Parma Wine will be celebrated at this two-day event, with workshops, exhibitions and cooking displays also mixing in the best of local cuisine. Professional sommeliers will be around to advise you on what wines are in season and which work best with certain local products.
20thMay 2018
More May-time traditions come your way in Sardinia. The emphasis of Cavalcata Sarda in Sassari is on costume. The concluding parade of this event sees the participants dressed in traditional Sardinian clothing and jewels. It's an event that's been around since the early part of the 18thcentury, when a special tribute was dedicated to Spain's King Philip V back in 1711.
In the build-up to this event, the festivities prepare with traditional music being played and displayed in the region. And as the event concludes, visitors can revel in the period musical instruments (such as the accordion) and the traditional dancing in Piazza Italia.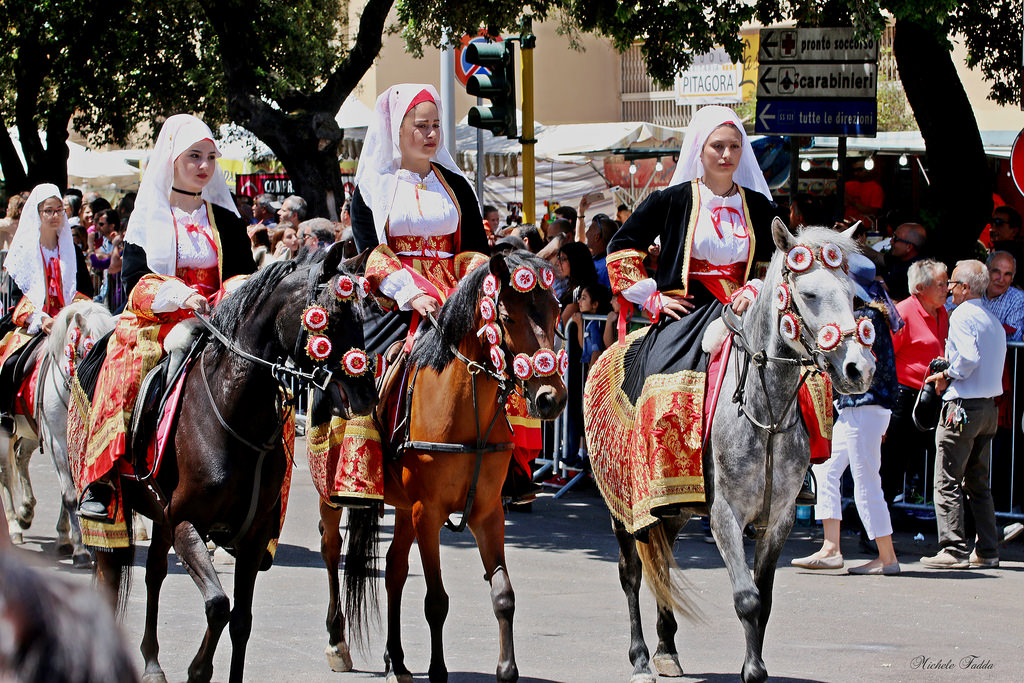 [Photo by Michele Fadda & Giulia via Flickr]
26thMay 2018, Rocca di Mezzo, L'Aquila
As the sun sets on May, the L'Aquila village of Rocca di Mezzo celebrates the Feast of Narcissus.
The centrepiece of this event is a delightful parade that comprises specially designed wagons bearing aromatic Narcissus flowers that are a common feature of the region.
A great deal of time is spent getting the Narcissus wagons to be as special as they can, with hours of preparation time spent on these unique vessels. The work will hopefully pay off, as a competition is held annually to find the best wagon,
taking into account the flower arrangement, the structure and scenic design.
A beautiful way to spend the last weekend of May, come and see the hard work that has been put into creating the wagons, while appreciating the smell of Narcissus Spring.