This week we chatted with the travel blogger, writer and photographer behind the wonderful website Points and Travel,  Dr. Cacinda Maloney. Cacinda has been traveling every 6 weeks of her life with her family after getting some wise advice from a medicine man in Bali over twenty years ago. She writes about "value luxury", which to Cacinda is not about the price tag of the accommodation, but rather about the value found in a luxury travel experience. She also happened to win "Best Single Art & Culture Post" in our 2013 Bloggers Awards.  
Cacinda, where are you from originally?
I am from a small town in Texas, called Pampa, but I have not lived there in years, although I consider it a place of wonderful memories, family and friends, and my childhood home. I currently live in Phoenix, Arizona.
What made you fall in love with Italy and how often do you visit?
I honestly don't see how anyone cannot fall in love with Italy. To me, it is the quintessential country, the most beautiful country in the world! I absolutely adore it. I went to Italy three times last year and hope to make a repeat visit next year!
You write about value-luxury travel, what do you think about Italy's options in this sector?
I think there are plenty of options. Luxury is a personal choice – and that "value" means maximizing dollars for the greatest experience. It is not necessarily about the price tag, but more about knowing the value you would spend for the luxury experience.
What originally gave you the travel itch and how do you manage to do so every six weeks? 
Originally it was because I had hired a trainer for my clinic as a physician. The trainer was the one who told me that I needed to travel every six weeks of my life, because otherwise, I would get burned out since I was working so much.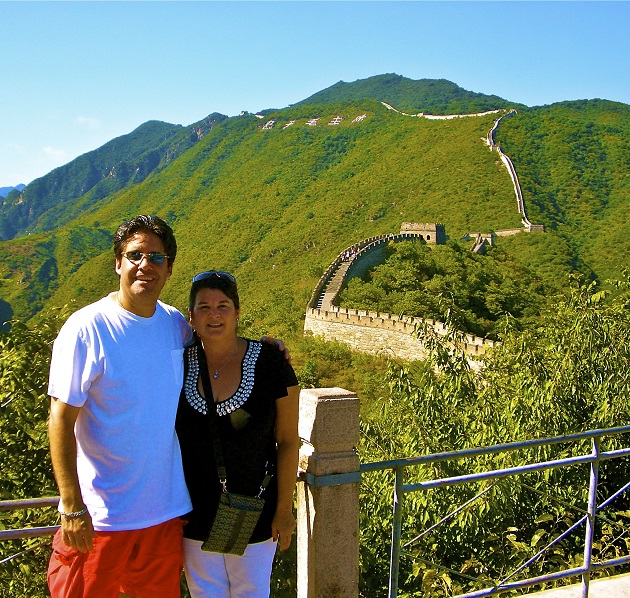 [Photo: Cacinda at The Great Wall of China with husband Patrick] 
You won our 2013 Blog Award for 'Best Single Art & Culture Post', 'La Bottega del Legno: The Wood Shop in the Forlì Region of Italy'. Can you tell us more about that experience?
It honestly was one of the most memorable ones I have had while traveling.  I love meeting people who are passionate about what they do for a living and what Giuseppe Lombardi does in Forlì is such a beautiful craft: violin making.  Yet, I worry about the disappearance of these professions that have been handed down from times past, especially since technology has become so extensive in our lives. Giuseppe is an inspiration to all who meet him.
When and why did you start your blog?
I started in August 2012.  I was looking for a second career and trying to think of something I was good at and decided that it was travel!  I had very little training to make a website, but had thousands of photographs and stories I wanted to share with someone.  One day I came across a listing for beginner travel bloggers to stay in a villa in Spain, to train up on how to be a better travel writer/blogger.  I jumped at the chance, only I didn't quite make it, as I missed the deadline to get my website up.  But it was the catalyst to get me started.  However, one year later, that same company offered a similar experience in a castle in Toronto (not quite the same) and I applied and was accepted into their program, which helped me network and learn new skills.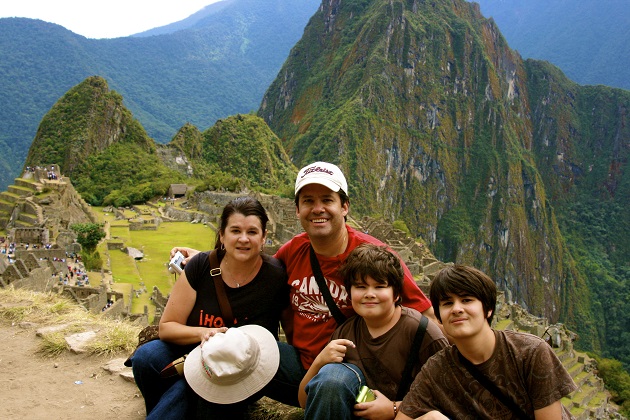 [Photo: Cacinda at Machu Picchu, Peru with her family]
Who follows your blog? Tell us about your readers.
My readers are typically 35-65 year old, educated females from North America, married to affluent men with older kids. They are adventurous and love to travel to exotic locations.  I constantly get questions about places to go, where to stay and which are the visit sites there.
What do you blog about?
I try to stay true to my motto of "Value Luxury" which is "finding the sweet spot where luxury and value intersect." I love to explore a city, but when the day is done, I like to come back to luxury accommodations.  I search for value, anything from reward airline tickets to amenities offered like a free breakfast, anything that can add value to the luxury experience. I also include adventure - rappelling down 100-foot waterfalls in Costa Rica to diving in Belize and Cancun, to hiking to Machu Picchu, to visiting remote islands in western Finland.  I also love to tell a story either of the destinations themselves, history, culture or of the interesting people that I meet on my travels, like Sergio Castillo of Chile and Giuseppe Lombardi of Forlì, Italy.
What would you advise people to do if they were looking for a luxurious vacation in Italy?
First, if you have never been to Italy (and believe it or not, I still meet people who haven't), you should start in the 4 main cities of Rome, Milan, Florence and Venice.  They are fabulous, especially Rome and Venice.  But once you get those out of the way, the next few trips should be starting to branch off to the lesser known areas of Italy. I will break them down by region:
Liguria:  I love Genoa, but venture off and go to Nervi, Santa Margherita, Camogli and Portofino.  Maybe even take a day trip to the Cinque Terre region.  But the must stop in this region is the Belmond Hotel Splendido and then from there walk down to the main beach of Portofino. It is a must.
Tuscany:  Ahh, Tuscany!  I loved Siena for the Palio history, but staying in Tuscany always requires a countryside villa and the one I would choose in a heartbeat is Montestigliano.  A small private village owned by a family, where you can stay and feel like a part of an Italian community.  It is simply gorgeous.
Emilia-Romagna: She stole my heart the minute I stepped foot in Cesena, more of a graceful, yet working class city.  From here, of course, you can contact the violin man himself and take a tour of his place in Forlì.
Le Marche: Here, you may need a guide, as you are starting to get off the beaten path, but don't worry, the charm is in each of the small towns in the countryside.  I recommend Mercatello Sul Metauro, as a charming, quaint town off the beaten path and to stay at Palazzo Donati.
Campania: The golden Amalfi Coast is just that, golden!  It is such a gorgeous drive from Rome to Positano with many stops in between, I am sure I wrote a story about that!
Puglia: The vacation spot for most Italians, so you know it is good. 
The islands of Capri, Sardinia and Sicily are not to be forgotten, as well. 
There are many more regions, but I still need more time in Italy to explore them!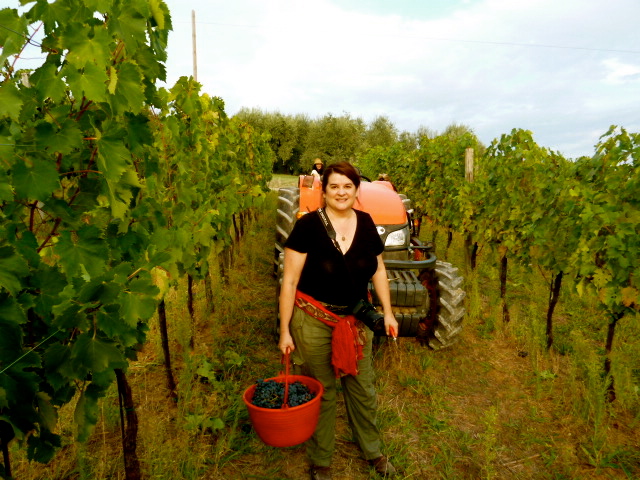 [Photo: picking grapes at a winery in Emilia-Romagna]
All your blog posts are interesting, but can you recommend one or two especially for ITALY Magazine readers?
Just search ITALY on the PointsandTravel website, as I have literally 25 articles on Italy alone!
If you loved the violin maker's story, you will also enjoy the story of the young man behind the lost art of print blocking from Carpegna. There's a post where I talk about my visit to Europe's oldest library that has been left untouched, one about the group of men that make up the Accademia Del Padlot, and one about that time I explored the secret lair of Siena's contrade system.
Thank you for talking to ITALY Magazine, Cacinda! Happy blogging.
Keep in touch with Dr. Cacinda Maloney's travels via Pointsandtravel.com,  Twitter, Facebook or Pinterest.