[Artisanal bread from Forno Mollica. Photo credit: newseventicomo PR.]
Forno Mollica is a labor of love. This bakery/bistrot/pizzeria/café in Sasso Marconi (Bologna) is run by brother-and-sister team Massimo and Aurora Mazzucchelli, who are also at the helm of the adjacent one Michelin-starred Ristorante Marconi, respectively as the restaurant manager/sommelier and the chef.
Their work begins long before the actual preparation of breads and pizzas, pies and pasta; it starts with the careful selection of ingredients and food suppliers, which is given just as much weight as the actual cooking. "We believe in genuine products and prefer to work with smaller food artisans," says Massimo, who you'll often find behind the counter, happy to illustrate the products on offer and share his tips with customers.   
Most of the experience at Mollica revolves around bakery products, with bread taking center stage. Bread is exclusively made with mother yeast, organic flours and different types of grains, including ancient varieties (such as Verna from Tuscany), spelt (farro), kamut, multi-cereal with seeds, and more. "Bread has always been made at home, and has always been part of people's daily lives," Massimo says. The idea is to highlight the ancient tradition of bread-making, with a contemporary spirit.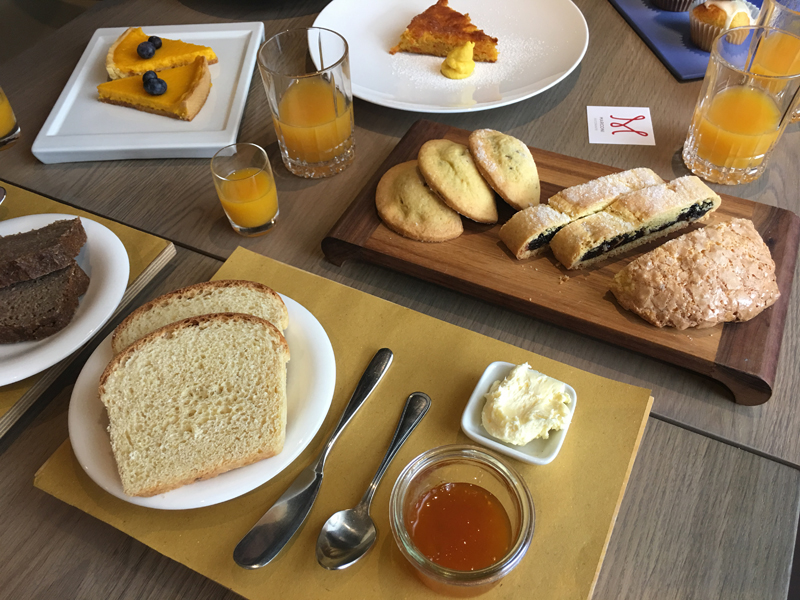 [This is breakfast at Forno Mollica. Photo by Silvia Donati.]
The other main draw at Forno Mollica is the pizza. Made with mother yeast like the bread, the dough is left to rise for at least 24 hours, so that it's light and easy to digest, resulting in a crust that is soft yet crunchy. Pizzas are topped with ingredients after they're taken out of the oven; here, the creativity of Aurora comes into play, with toppings that highlight local traditions and products. Think 'Prosciutto Crudo S.Ilario (ham aged 24 months from the Parma area) and buffalo mozzarella', or 'tomato, pecorino cheese, onion and guanciale (cheek lard)', or 'fiordilatte mozzarella, caramelized onion, dried tomato and olives'.
The ambiance:
Contemporary design, welcoming and bright, well attended. Friendly, convivial atmosphere, mostly frequented by locals, who come in for breakfast; to buy freshly-made bread; for lunch (many on their lunch break from work), where they can enjoy either pizza or a dish prepared in the kitchen of Ristorante Marconi; for aperitivo or dinner, when it's popular to share a number of pizzas, accompanied by a glass of organic wine (ask Massimo for recommendations) or artisanal beer.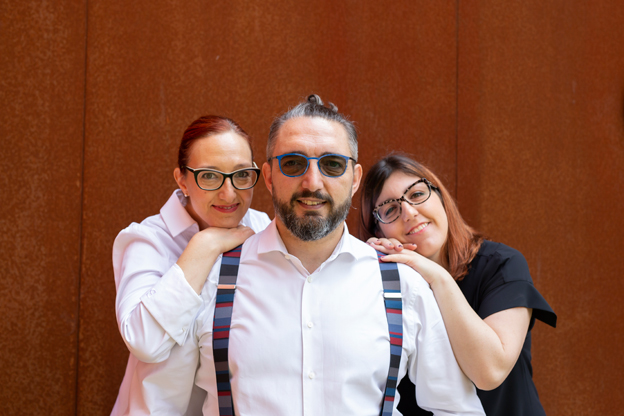 [A family affair: from left to right, Aurora, Massimo and Mascia Mazzucchelli, of Michelin-starred Ristorante Marconi and Forno Mollica. Photo credit: newseventicomo PR.]
What's on the menu:
Breakfast items (available starting at 7:30 am) such as cakes, pies, cookies, pastries, brioche, classic ciambella, pinza bolognese (local cake filled with mostarda jam), the very classic pane burro e marmellata (bread butter and jam), sweet breads like 'chocolate chip pan dolce'; freshly baked bread from 8 am.
Different kinds of pizza rossa (with tomato sauce) and pizza bianca (no tomato sauce), all topped with super tasty combinations of ingredients once out of the oven ("designed and tested to give you maximum pleasure" - yep).
Gourmet sandwiches (such as savoy cabbage, speck and sweet mustard sauce), quiches (varying according to what's available – outside the restaurant is a orto, vegetable garden), cured meats.
For lunch, some pasta dish and second course from the restaurant kitchen.
Menu: http://www.fornomollica.it/Menu_Mollica.pdf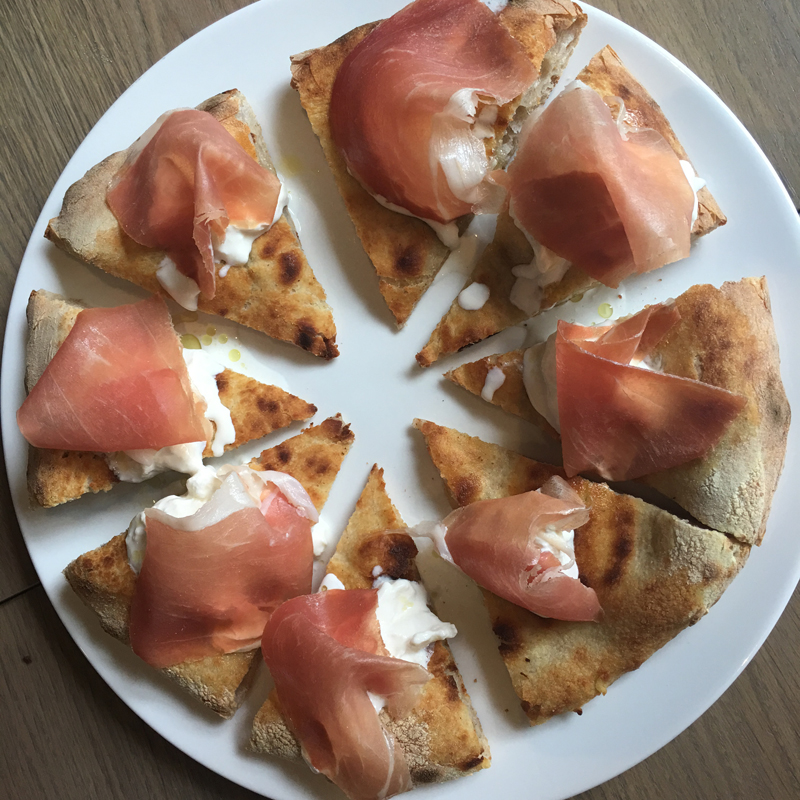 [Pizza leavened for 24 hours with prosciutto crudo from Parma area and buffalo mozzarella. Photo by Silvia Donati.]
Favorite item(s) on the menu:
Black rye bread with French butter and red fruits jam
Pan brioche with apricot jam
Pinza bolognese
Carrot cake
Pane burro e alici - Black rye bread with French butter and anchovies from Cantabrian Sea
All the pizzas! We suggest you get a few to share.
Price: $$ (moderate)
Why go:
Experience the ancient tradition of bread-making; enjoy a long leisurely breakfast with top-notch products; hear the stories behind the products; try some of the best pizza in Bologna; mingle with locals.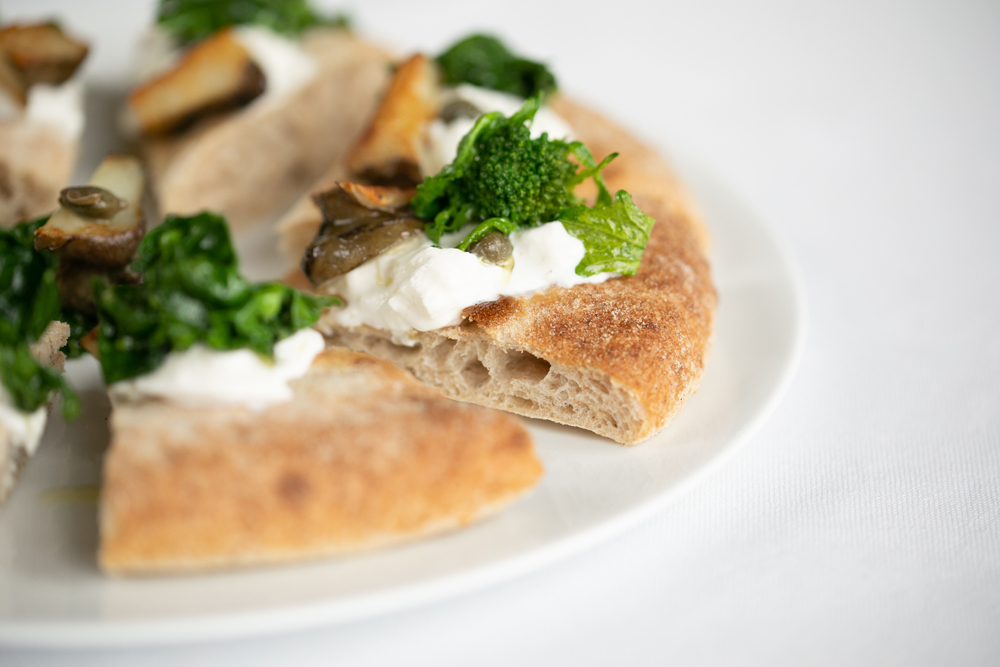 [One ain't enough - try a few of the inventive pizza toppings at Forno Mollica.]
Getting there:
Forno Mollica, Via Porrettana 291, Sasso Marconi (Bologna). A 20-minute car ride from Bologna's city center. Bus 92 from Bologna's train station, but that'll take you almost an hour. Local train from Bologna train station, get off at Sasso Marconi, the station is 2 km from the bakery.
http://www.fornomollica.it
Open Tuesday-Sunday, 7:30am-2:30pm and 6pm-10pm (Saturday and Sunday opens at 8am).
Ph. +39.373.7192259
Summer closure: August 12-September 11.
What's nearby
- Villa Griffone, home to the Marconi Museum, dedicated to radio pioneer and Nobel prize winner Guglielmo Marconi, who grew up in the villa, and to the origins and development of radio communications.
- The Etruscan site of Kainua, founded in the 5th century BC.
- Rocchetta Mattei, the strangest castle in Emilia-Romagna, with an intriguing history.