Chocolate's history, beginning with its "discovery," is uniquely tied to Italy, responsible for many chocolate firsts. 
Chocolate's journey to the Old World from the New began with Christopher Columbus.
During his fourth and final voyage to the New World, Columbus docked at Guanaja, an island 30 miles off mainland Honduras, Columbus became the first European to set eyes on cocoa beans.  On August 15, 1502, he and his crew encountered a large Mayan trading canoe filled with an assortment of goods including tools, weapons cotton clothing,  and food.  Never having seen cacao beans before and calling them "almonds," Columbus and his men were impressed with the obvious high value the natives placed on them.  "They seemed to hold these almonds at a great price; for when they were brought on board ship together with other goods, I observed that when any of these almonds fell, they all stooped to pick it up, as if an eye had fallen," wrote Columbus's son Ferdinand in 1503 in an account later published as The Life of Admiral Christopher Columbus by his Son Ferdinand.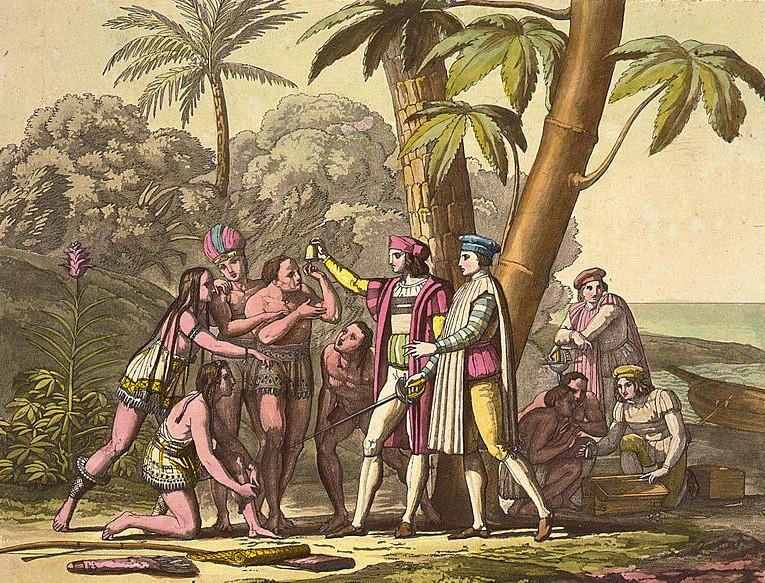 ["The Landing of Columbus," from the Library of Congress, via Wikimedia Commons. "]
Italians write about chocolate: 
Columbus, although Italian, was sailing for Spain, so cacao beans first made their way to Europe through Spain. Many Italians such as Pietro Martire d'Anghiera (1457-1526) was among the first Europeans to write about chocolate.  In his book History of the New World, Girolamo Benzoni (1518-1570), a historian and Milanese native, described the chocolate drink offered to him by the natives as:  "somewhat bitter, it satisfies and refreshes the body, but does not inebriate."  Francesco d'Antonio Carletti, a Florentine businessman who spent time at a cacao plantation in El Salvador, wrote a detailed description of the cacao growing and chocolate making processes, which he presented to Ferdinando I de' Medici in 1606.  Paolo Zacchia, a Roman-born physician, authored Of Hypochondriacal Sicknesses (De' Mali Hipochondriaci) in 1644, in which he notes that chocolate can relieve gastric distress and serve as an aid to digestion. 
Francesco Redi (1626-1697), physician to Cosimo III de' Medici, poet, philologist, and scientist, wrote about and even experimented with chocolate.  (He also famously disproved spontaneous generation, the obsolete notion that life springs forth from inanimate matter, a belief popular in Europe since Aristotle's time.)  Redi documented that the Florentines were the first to add perfume aromatics such as amber and musk, as well a citrus flavors such as citron and lemon peel to chocolate. Redi himself was the first to add a floral flavor to chocolate and he created a jasmine infused chocolate that became very popular in Cosimo de'Medici's court. He refused to divulge his formula except to advise that one should not use jasmine water as it did not blend well with chocolate. His recipe, which indeed employed fresh jasmine petals, was not discovered until after his death in 1697. 
Like this article? You don't want to miss "The Medicis' Favourite Jasmine Chocolate is Recreated in Sicily."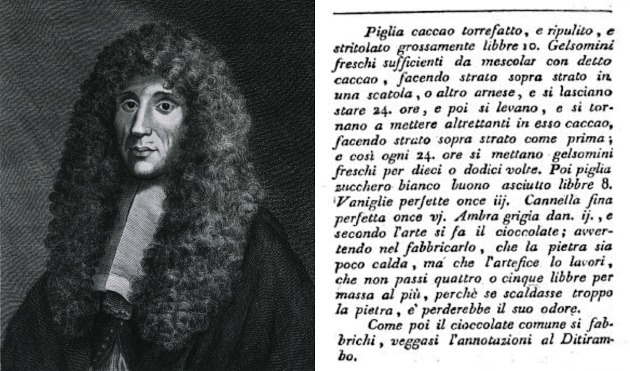 Italian Culinary Chocolate Creations: 
Italians are responsible for the invention of many chocolate dishes, among them chocolate dessert soup, chocolate custard, and even chocolate sorbet, which was created in Naples in the mid 1700s.  They were also the first to combine chocolate with coffee, in both cakes and drinks.  In 1678, the then king of Italy licensed a Turinese baker, Antonio Ari, "to sell a chocolate drink" topped with a layer of cream and espresso. The drink, served in a small glass with a metal base and handle, later became known as bicherin ("little glass"), and remains popular today in Turin.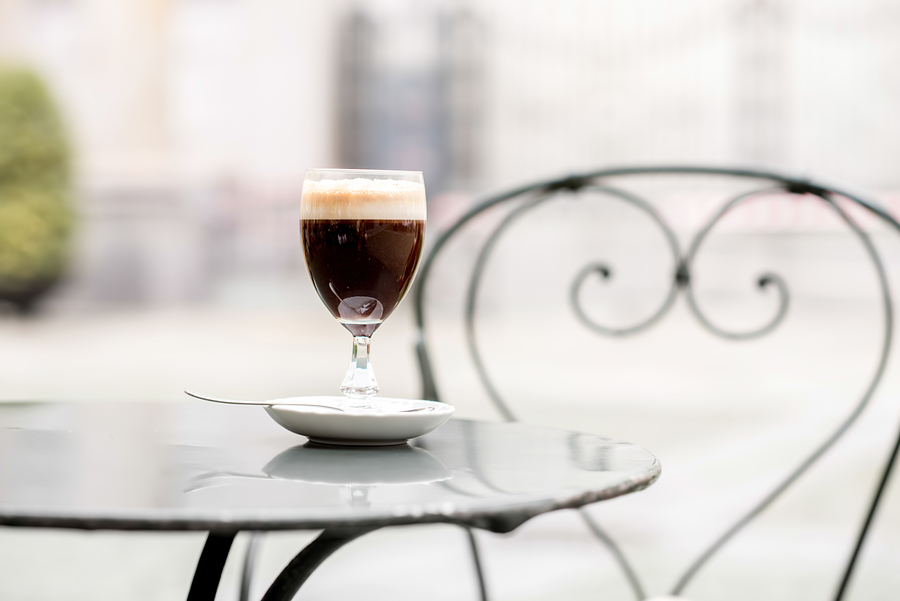 [The famous bicerin]
Most of us think of chocolate as something only for dessert, but Italians have been adding it to pasta, risotto, polenta, and meat dishes for centuries. "To understand why Italians created savory chocolate dishes, it's important to remember that cacao beans are seeds. Like many other seeds---cumin, fennel, cardamom and caraway—they are not sweet and may be used as a spice," stresses G.B. Mantelli, Director of Marketing and Sales, of Venchi Chocolates, an artisanal chocolate company from Italy's northern Piedmont region. Italian chefs understood this when cacao beans first arrived from the New World and immediately began experimenting, adding it to many savory dishes. 
"It's only the addition of sugar that makes chocolate sweet. Fine dark chocolate, like fine wine, has an amazingly complex taste profile, with hundreds of distinct nuanced aromas and flavors," continues Mr. Martelli. "Chocolate is, or should be, in everyone's spice rack."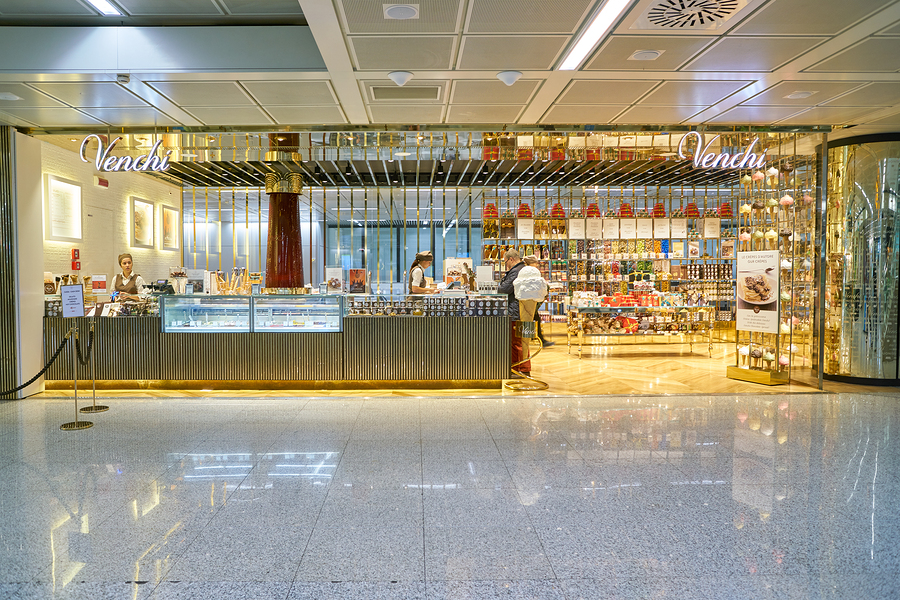 Recipes for savory dishes with chocolate were published in Italy as far back as 1680 and include lasagna in anchovy, almond and chocolate sauce, papardelle in rabbit and chocolate sauce, fried liver accented with dark chocolate, and polenta topped with chocolate breadcrumbs, almonds and cinnamon.  It was such a common practice to season foods with chocolate that the Francesco Arisi, in his 1736 poem, Il Cioccolato, even pokes fun at cooks who overuse it. Pellegrino Artusi's 1891 cookbook, Science in the Kitchen, includes a delicious recipe he calls Torta alla Milanese, Milan Pie, which is made with minced beef, chocolate, pine nuts, and raisins. Even though Artusi attributes the pie to Milan, similar chocolate meat pies, called 'mpanatigghi, have been eaten also in Sicily since the late 1700s. 
Savory chocolate dishes remain common today in Italy.  Chocolate is incorporated in fillings for ravioli, such as the Italian autumn favorite--- pumpkin-chocolate ravioli served with a brown butter sage sauce.  It is also used to season pasta sauces and even pasta itself is made with chocolate and served with meat or cheese sauces. 
One of Italy's popular savory chocolate creations is agrodolce, "sour and sweet" sauce for pork or wild game, made from reduced vinegar or wine seasoned with dark chocolate. 
In Tuscany, chocolate is a key addition to recipes for venison and wild boar.  Like wine, vinegar and lemon juice, chocolate provides just the right touch of acidity and acts as an emulsifier, adding natural thickness to sauces. 
Fabio Picchi, owner and chef of Florence's famed Cibreo restaurant, fondly recalls, "Cooking with chocolate has a long history here in Tuscany. My grandmother always cooked savory chocolate dishes on Sundays during the winter."  Chef Picchi serves an updated version of his grandmother's "chocolate rabbit," a delicate stew of rabbit seasoned with hints of candied orange peel.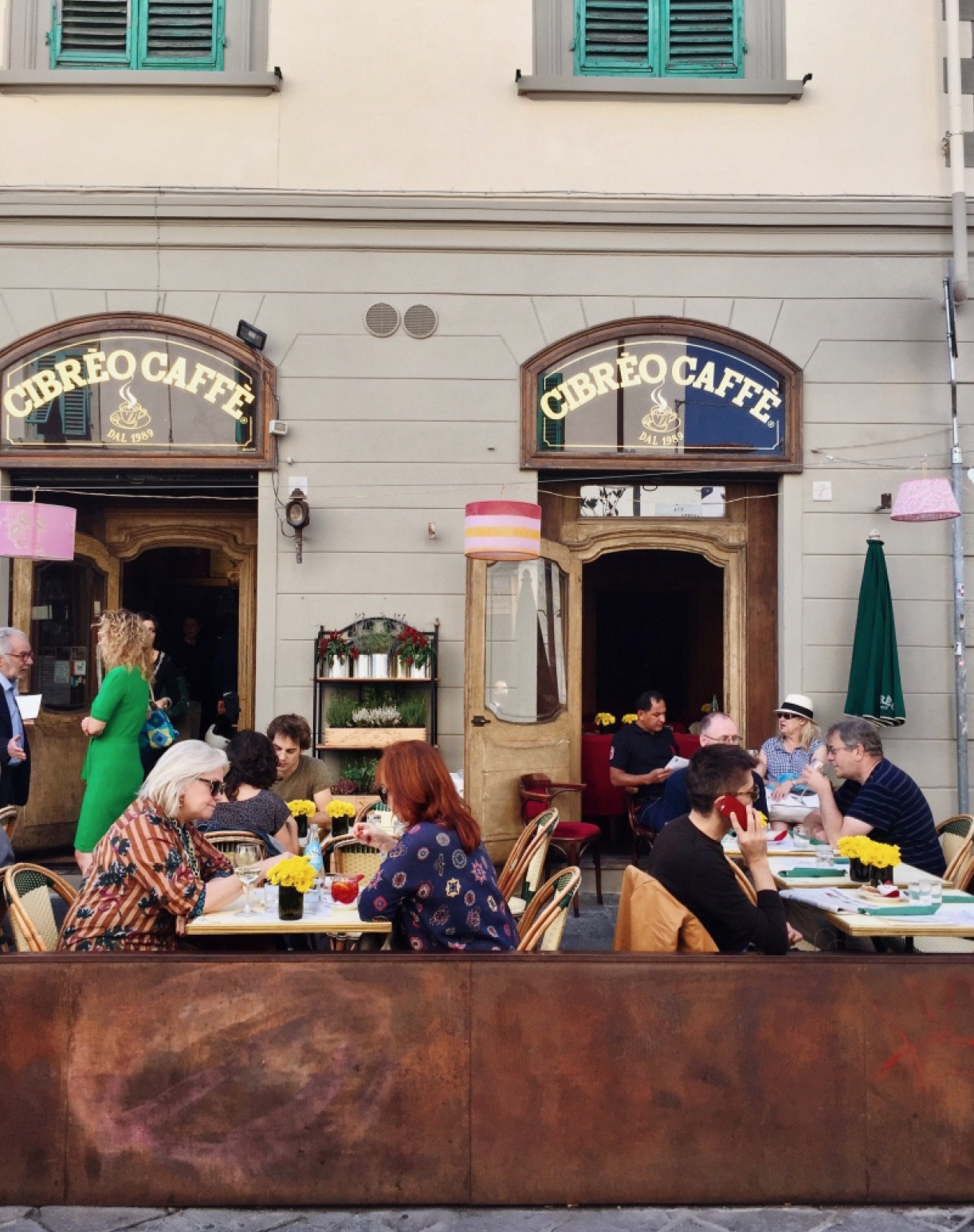 [Caffè Cibreo, adjacent to Cibreo Restaurant, Teatro del Sale, Cibreo Trattoria and Cibleo, photo by: Georgette Jupe-Pradier]
Picchi waxes poetic on the subject of cooking with chocolate, "Chocolate's flavors persists for hours; it's one of the only foods with such lingering after-taste. Besides its spectacular flavors, chocolate also has emotional resonance. Chocolate for dinner? Yes! It's every child's dream, a dream we Italians have made come true for centuries!" 
Sweet Chocolate Recipes
Torta Tenerina
Italy's Flourless Chocolate Cake
From—DOLCI:Italy's Sweets by Francine Segan (Stewart, Tabori & Chang)
Serves 8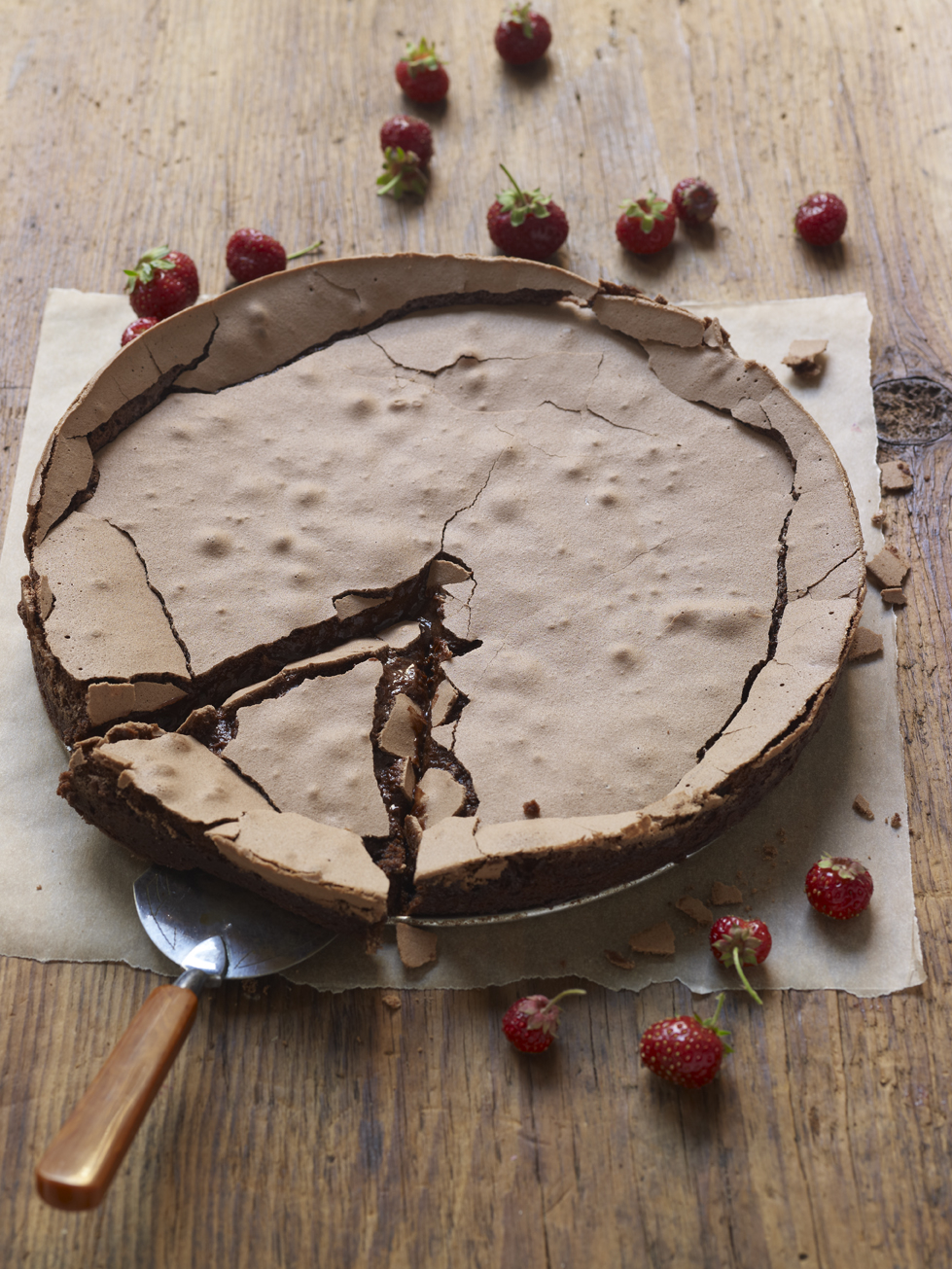 This flourless cake has a crisp, macaroon-like outer layer and a dense, incredibly moist center, is by far one of the best tasting chocolate desserts I've ever tried. As the cake cools, it collapses just a little, creating a pretty webbing on the delicious crust.
It's made with only 5 ingredients, so be sure to use only quality chocolate, as it really stands out. A must-try classic from Ferrara, a city in Emilia-Romagna.  
7 tablespoons, 3 1/2 ounces, unsalted butter, plus more for the pan
7 ounces dark chocolate, 60% cacao or higher
1 cup granulated sugar
4 eggs, separated
2 tablespoons potato or cornstarch
Preheat the oven to 350 degrees F. Butter a 9 1/2-inch spring form cake pan.
In a large bowl beat 1/2 cup of the sugar with the egg yolks, using a whisk or electric hand mixer, until creamy and light yellow. 
Put the chocolate into a small bowl and melt, either in the microwave or over a double boiler. Cut the butter into small slices and stir it into the chocolate until completely melted. Add the warm, but not hot, melted chocolate to the sugar-egg mixture and beat until well combined. Mix in the potato or corn starch.
In a separate bowl, beat the egg whites until they begin to become firm, then add the remaining 1/2 cup sugar and beat until stiff. Gently fold into the batter, a third at a time, and pour the mixture into the prepared pan. Bake for 19 minutes. Not longer! The cake will be soft in the center, so a toothpick will not come out clean. That's normal. The cake will dry a little as it cools. Allow it to rest for at least 20 minutes before cutting it.
Serve warm or at room temperature.
Torta dei Becchi 
Bird's Beak Pie
Serves 8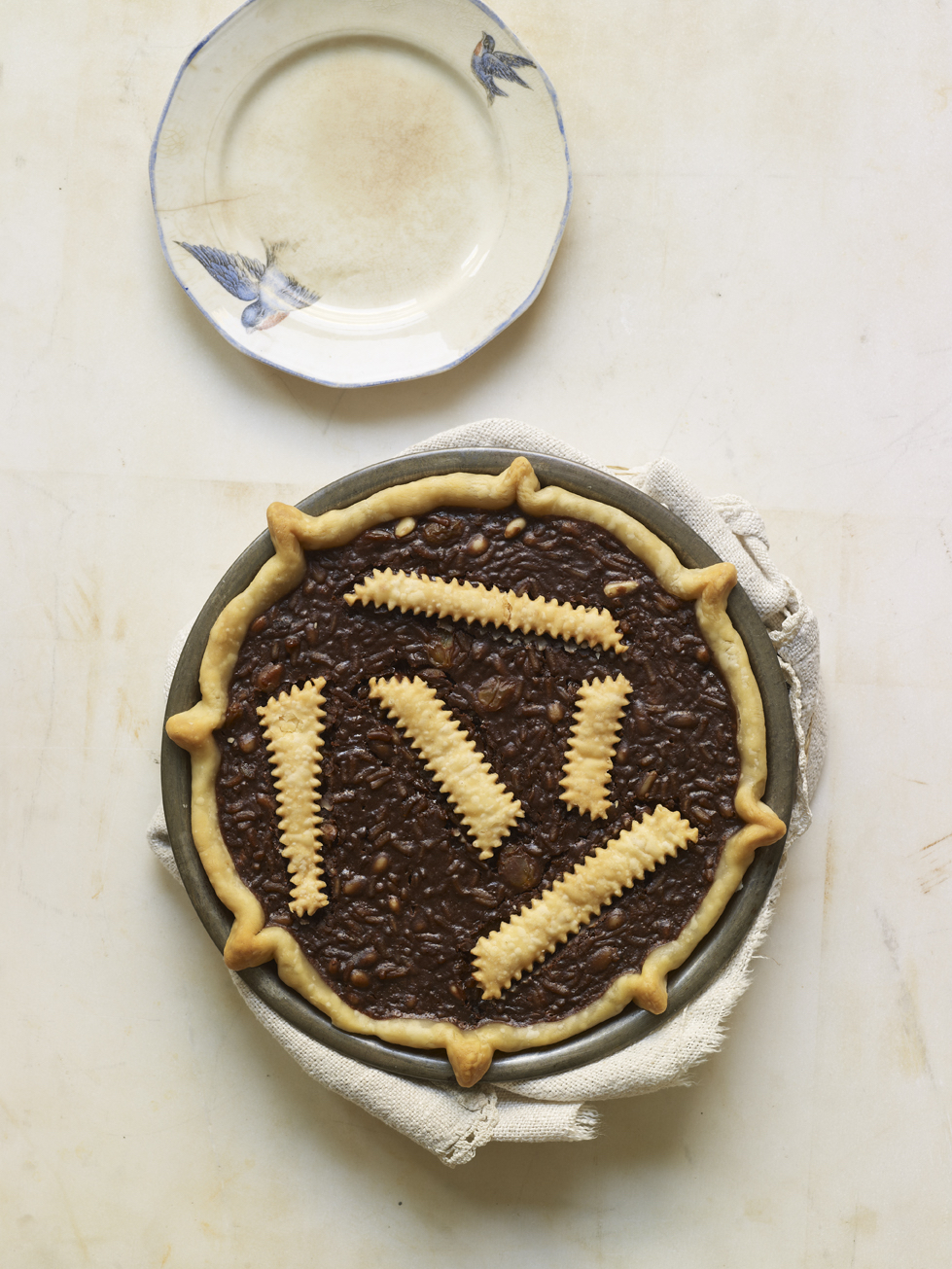 Rice pudding slow-cooked to creamy perfection, then baked with dark chocolate, pine nuts, and hints of orange---it not only tastes astonishing, but also has an adorable crust and cute double entendre name.
Becchi literally means bird beaks, and the name comes from the fact that the dough around the pie is pinched into thick beak-looking points. But, becco is also slang for "cuckold" in Tuscany, where this pie is always served with a wink. 
1 deep-dish pie crust, 9 or 10-inch, either store-bought or recipe page X
5 cups milk, plus more as needed
1 cup rice, not Arborio
3/4 cup granulated sugar
Salt, to taste
3 1/2 ounces dark chocolate, chopped
1/3 cup golden raisins
1/2 cup pine nuts, toasted in a dry pan
1/4 cup diced candied orange or citron peel or zest of 1/2 orange
2 tablespoons unsweetened cocoa powder
1/4 cup orange liqueur such as Aurum* or Grand Marnier 
3 egg yolks, beaten
Prepare the piecrust, if homemade, and refrigerate, covered with plastic wrap, for at least 2 hours.  
Combine the milk, rice, sugar, and salt to taste in a medium saucepan and bring to a low boil. Reduce heat to low and let simmer, covered, stirring occasionally, until the rice is very soft, about 30 minutes. Add more milk, if needed, as the rice should be loose.
Stir the chocolate into the cooked hot rice, until dissolved. Mix in the raisins, pine nuts, candied peel or zest, cocoa powder and liqueur. Allow the mixture to cool. 
Preheat the oven to 350 degrees. Grease a 9-inch pie pan.  Roll out the dough, and cut off 3 or 4 one-inch strips of dough for toping the pie. Make the dough large enough so that you can pinch "beak" points all around the torta. Fold edges of dough and shape into thick bird beaks by pinching the dough between thumb and forefinger. Space the beaks around the torta so that each slice features one centered beak.
Beat the egg yolks and stir into the cooled rice. If the mixture is too thick add a little more milk. Spoon the mixture into the piecrust and top with the reserved strips of dough. 
Bake for about 50 minutes, until the crust is golden. Serve at room temperature. 
Savory Chocolate Pasta Recipes
Garganelli al cioccolato in salsa di mascarpone 
Chocolate Pasta with Orange Basil Mascarpone
From: PASTA MODERN: New & Inspired Recipes from Italy by Francine Segan (Stewart, Tabori & Chang, October 2013) 
Serves 4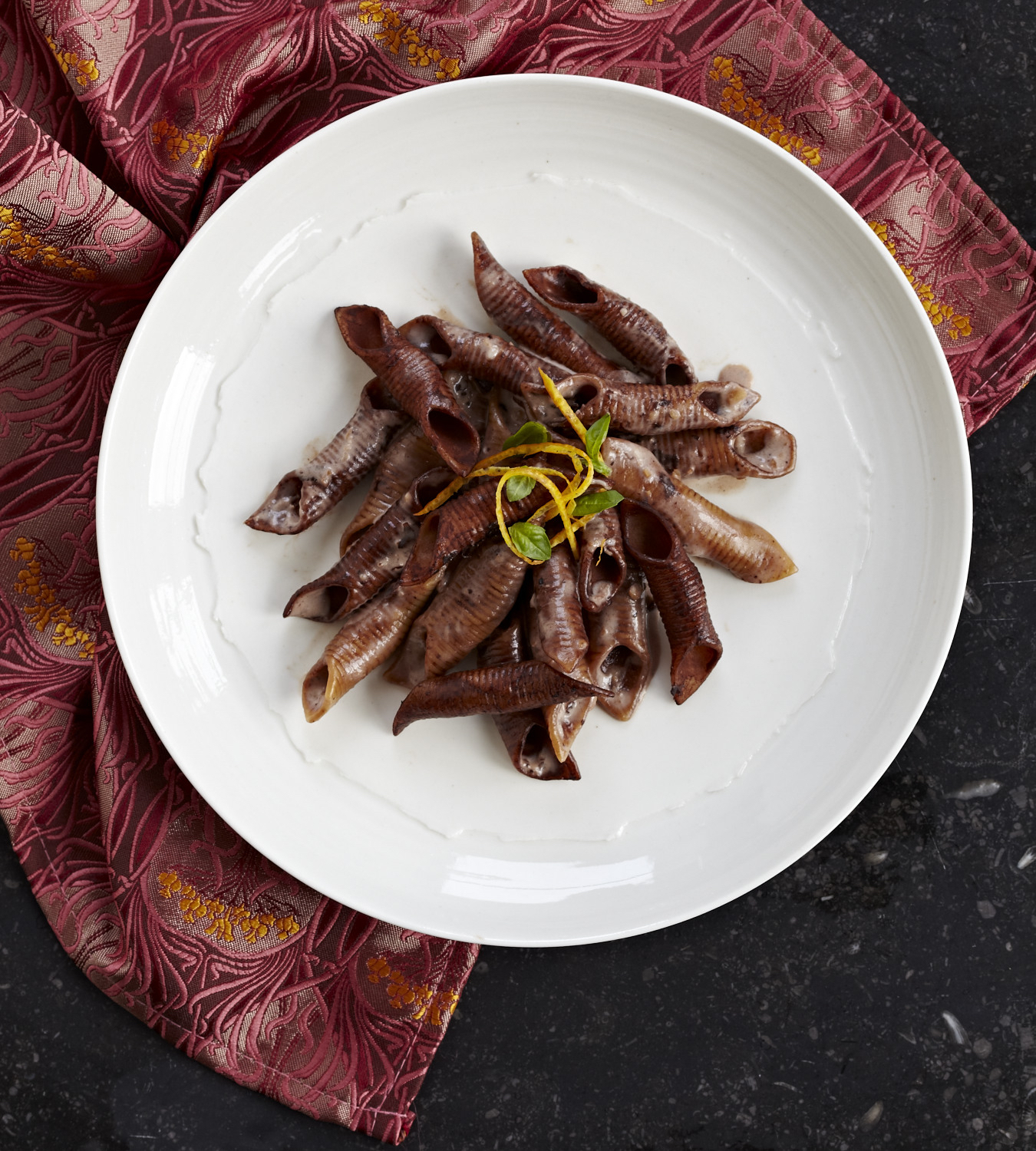 You'll love this Italian trick of adding a little cocoa powder to the water when boiling pasta. It makes instant chocolate pasta, rich and earthy. Delicious, nuanced, and surprisingly savory—the chocolate pasta is combined with creamy mascarpone infused with hints of orange liqueur, fragrant basil and crunchy hazelnuts. Simple to make, yet tastes special-occasion gourmet! 
Salt
3/4 pound garganelli or any pasta shape
1/3 cup unsweetened cocoa powder 
1/3 cup finely chopped hazelnuts
2 tablespoons butter
1/3 cup Grand Marnier or other orange liqueur
3/4 cup heavy cream
4 ounces mascarpone cheese
Parmesan or Grana Padana cheese
10 large fresh basil leaves
2 ounces dark chocolate 
1 ounce milk chocolate
Zest of 1 orange, cut into long strips
Bring a pot of salted water to a boil. Add the pasta and cocoa powder and cook until al dente. 
Meanwhile, in a frying pan large enough to later hold the pasta, toast the hazelnuts in the butter over medium heat about 5 minutes, until aromatic. Pour in the Grand Marnier and stir a few seconds to burn off the alcohol. Reduce the heat to low, add in the cream and mascarpone cheese and stir until creamy.
Drain the pasta and toss with the sauce. Add grated Parmesan cheese and salt to taste. Serve topped with basil cut into thin ribbons, grated dark and milk chocolates, and long strips of orange zest.
Sciabbó 
Pork Ragu with Hints of Chocolate 
Serves 4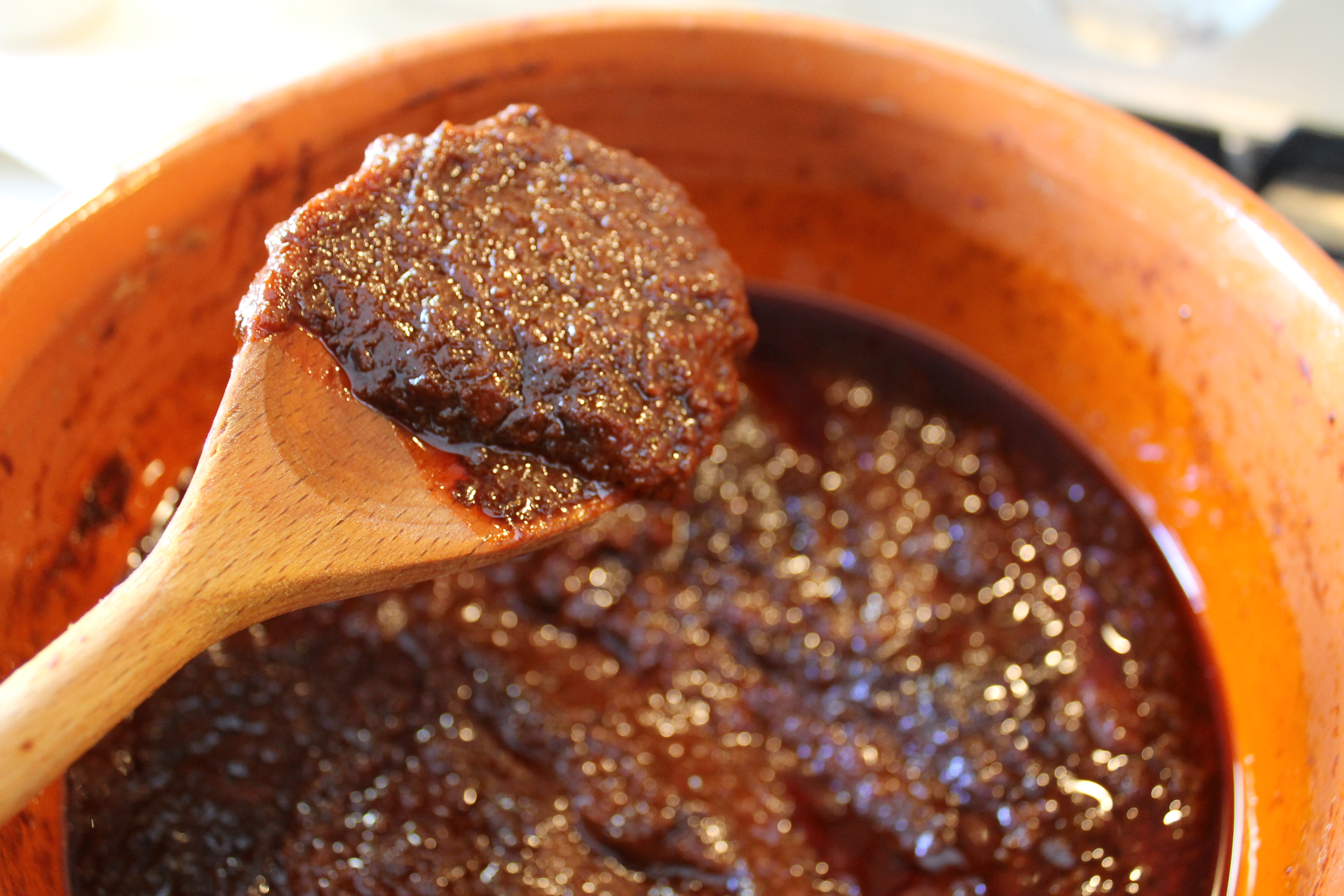 This specialty of Enna, a province in Sicily, is served in the winter, especially during the Christmas holidays. The touch of chocolate and cinnamon adds aroma and richness and the dash of dessert wine imparts a deep mellow sweetness to this remarkable ragu.
This dish, which dates to the 1700s is traditionally made with pretty curly edged noodles called lasagne ricce, which look like the ruffles that were popular on men's shirts back then. The name of the dish, sciabbó, is in fact, a Sicilian corruption of jabot, the French word for those shirts.
Olive oil
1 large yellow onion, minced
1/2 pound lean pork loin, finely diced
1/2 cup dessert wine like vin santo or Marsala
1 (28 oz) can tomato puree or strained tomatoes
1 (2-inch) cinnamon stick
2 ounces dark chocolate, chopped
1 to 2 tablespoons sugar
Salt and black pepper
1 pound any pasta
In a large saucepan, heat 2 tablespoons of oil over medium high heat. Add the onion and sauté until soft, about 12 minutes. Add the diced pork and cook until browned, about 5 more minutes. Add the dessert wine, turn down the heat to medium low, and simmer for several minutes to burn off the alcohol. Stir in the tomato puree, cinnamon, chocolate and sugar to taste. Season with salt and pepper, cover, and simmer for 1 hour, stirring occasionally. Remove the cinnamon stick.
Cook the pasta in salted, boiling water until al dente. Drain and toss into the sauce until well amalgamated. This pasta is not traditionally topped with grated cheese, but you can if you like.