Spend Christmas at the home of any family in the region of Emilia and you can be sure to find cotechino and zampone at the table. Let me tell you that you are in great company if you love the dish, but you are not alone if you'd rather skip this course!
These two pork meat dishes from Modena boast a tradition going back centuries. Just consider that cotechino is deemed the father of all cured meats. The practice of using animal's guts as a container to preserve meat is in fact very old.
Cotechino is made from the noble parts of the pig and the rind. The meats are ground and delicately flavored with spices and herbs, including cloves, pepper, nutmeg, cinnamon and wine, and then stuffed into a natural casing, meaning budella - intestines.
As strange as it may sound, I am a true Emiliana, but not a meat lover... this means that I am still puzzled about the fact that this dish has long been considered a true delicacy of Emilia, as I would rather go for a simple Tortelloni di Ricotta e Spinaci instead! Whether I like it or not, among its many celebrity fans was even composer Gioacchino Rossini, famous the world over for The Barber of Seville, who often ordered them from his friend Mr. Bellentani, among the first and most important producers of cotechino di Modena.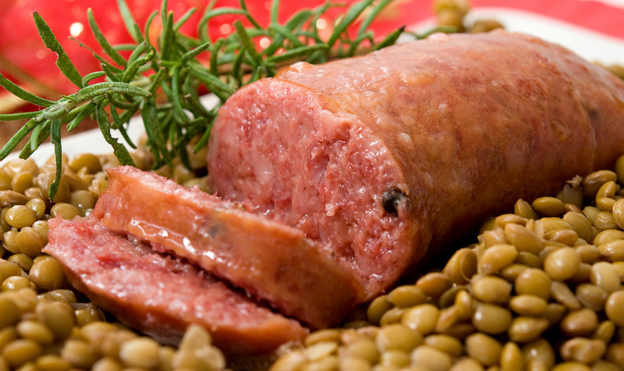 Cotechino is often mentioned (and eaten) alongside what is considered its "son", zampone. Rather than using the intestines as a casing for the meat, zampone uses the skin of the trotter, zampa in italiano, hence the name, zampone. 
According to legend, the birth of zampone dates back to 1511. At that time, the troops of Pope Julius II Della Rovere besieged Mirandola, a small town near Modena. As the siege continued, the inhabitants were close to starvation. All that there was left was pigs. So a cook came up with an idea: slaughter them and stuff the skinnier meat in a casing formed by the skin of their own trotters. This way the meat would not rot and it could be preserved for longer. Perhaps, the popular Italian proverb that says "del maiale non si butta via niente" (pigs are used till the last bit) may originate from this episode!
Zampone has always been considered quite an exquisite product, therefore it was especially reserved for the festivities.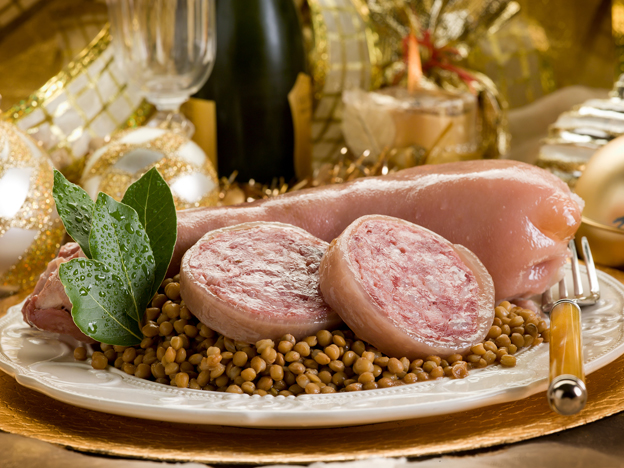 Today, both cotechino and zampone, often accompanied by lentils (especially on New Year's Eve as they are thought to bring good fortune for the coming year) and mashed potatoes, are the classic second course dishes of a Christmas meal in Emilia; they are also eaten on cold winter Sundays in other areas of northern Italy.  
And let's not underestimate their nutritional qualities: they have a high content of proteins, have more unsaturated fats than saturated, in line with the current nutritional recommendations, they lose part of the fat after cooking, and they are rich in B vitamins and minerals, especially iron and zinc.
Still, I am not a fan - but what do I know? Cotechino and zampone have a celebrated appraiser, who is surely more authoritative than me: chef Massimo Bottura, owner of the three Michelin-starred Osteria Francescana in Modena, who considers them as a symbol of Modena and the region of Emilia; being a Modenese himself, he often uses them for the preparation of many special dishes in his restaurant. Bottura recently attended the annual festival dedicated to both products, the "Festa dello Zampone e del Cotechino Modena", held in Modena and Castelnuovo Rangone from 5-8 December.
The economy of the small town of Castelnuovo Rangone revolves around the production of pork cured products, especially zampone and cotechino, and holds the Guinness Record for the world's largest zampone: the Super Zampone, weighing 1,038 kg. No wonder they even have a monument dedicated to pigs in the town's main piazza!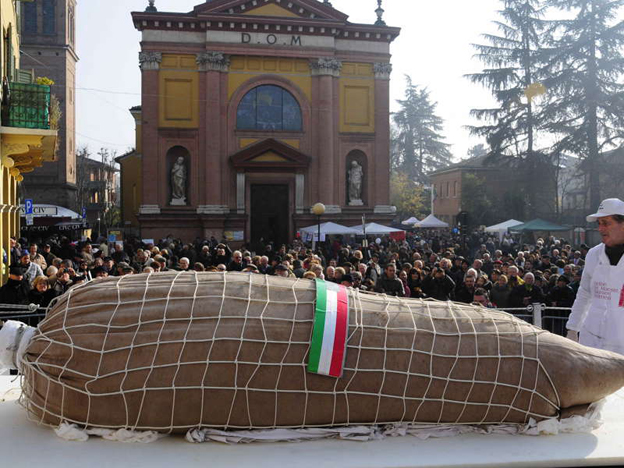 So back to Christmas festivities, I know this year, as in previous ones, the same scene will play out again at my family table on Christmas day:
"Would you like some cotechino or zampone?" some family member will ask me.
"No thanks," I will reply.
"Non sai cosa ti perdi!" (You don't know what you're missing).
I will smile politely and stick to lentils, knowing it doesn't make me any less Emiliana after all!