Rather than planning dreamy summer holidays, we are more consumed with plotting mask-clad trips to the grocery store these days. Conversations over plates of seasonal vegetables and favorite recipes have replaced discovering signature specialities at the latest dining haunt. "Can I replicate that dish I ate in Crete last year?" I wonder as I peruse the cheese aisle in search of feta. Admittedly, I've never felt this much interest in cooking. It's a new habit that will certainly continue to evolve, with a little help from the Italians.
I recall the many visits to Italy where passionate conversations with my husband's family often began and ended with food. While I barely took notice of what stuffed anchovies—a traditional specialty from Liguria—were filled with, or how many ways this local fish can be prepared, these days I'm taking notes. And that means consulting the experts. 
Italian nonnas have been busy preparing two meals a day since long before the existence of cookbooks. From morning until night, their kitchens fill with familiar scents inherited from centuries-old family recipes. The fresher the ingredients, the simpler the cooking techniques. 
My sister-in-law Anna Maria Poggi, born and raised in Monterosso al Mare, shares wisdom passed down from her mother Franca Cavallo. "One of the most practical things I learned from my nonna and my mamma is to have respect for the ingredients. To exalt the taste of what you are cooking and not add ingredients that cover it." With a serious tone, she adds, "But the most important thing is to have passion for what you are doing. The secret is to put love into cooking. Even without a recipe, you can create a wonderful dish."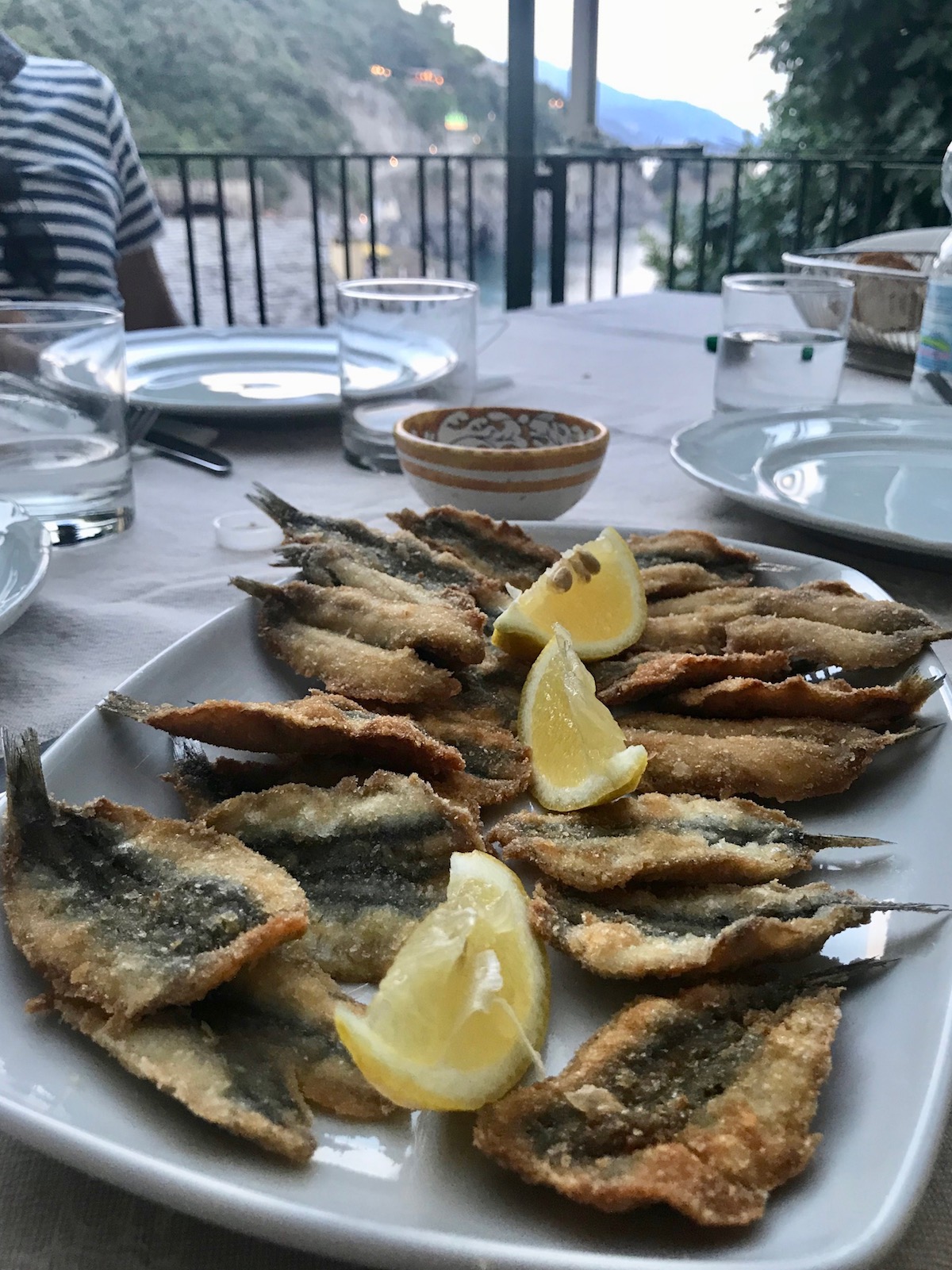 Anna also enlightens me on an essential cooking tip learned from her nonna, the art of reusing. She explains, "If you make a meat broth, instead of throwing away the meat that flavored the broth, you can use it the next day to make stuffed vegetables or meatballs by adding a few simple ingredients (eggs, cheese, mortadella, garlic, parsley, and herbs)." She also stresses the use of aromatic herbs in her well-seasoned kitchen, homegrown of course. Visions of a blooming family garden overlooking the ever-changing blue and green hues of the sea fill my mind. I make a mental note to stock up on fresh capers, figs, and tomatoes, as well as bunches of basil, sage, parsley, and rosemary during my next visit. 
Native Italian and gluten-free connoisseur Chiara Russo shares that "Italian cuisine is as much about offering gratitude for the meal cooked as cooking is a sign of love." Her mother Concetta Astarita of Sorrento begins her mornings consulting with her family on the daily menu. Sundays are saved for meat while the rest of the week includes regional vegetarian dishes pasta e ceci and pasta e fagioli. Astarita's son is in charge of baking fresh focaccia. Chiara continues, "It is also about sourcing local foods and seasonal ingredients. This is the way Italians eat. This is the way my family eats."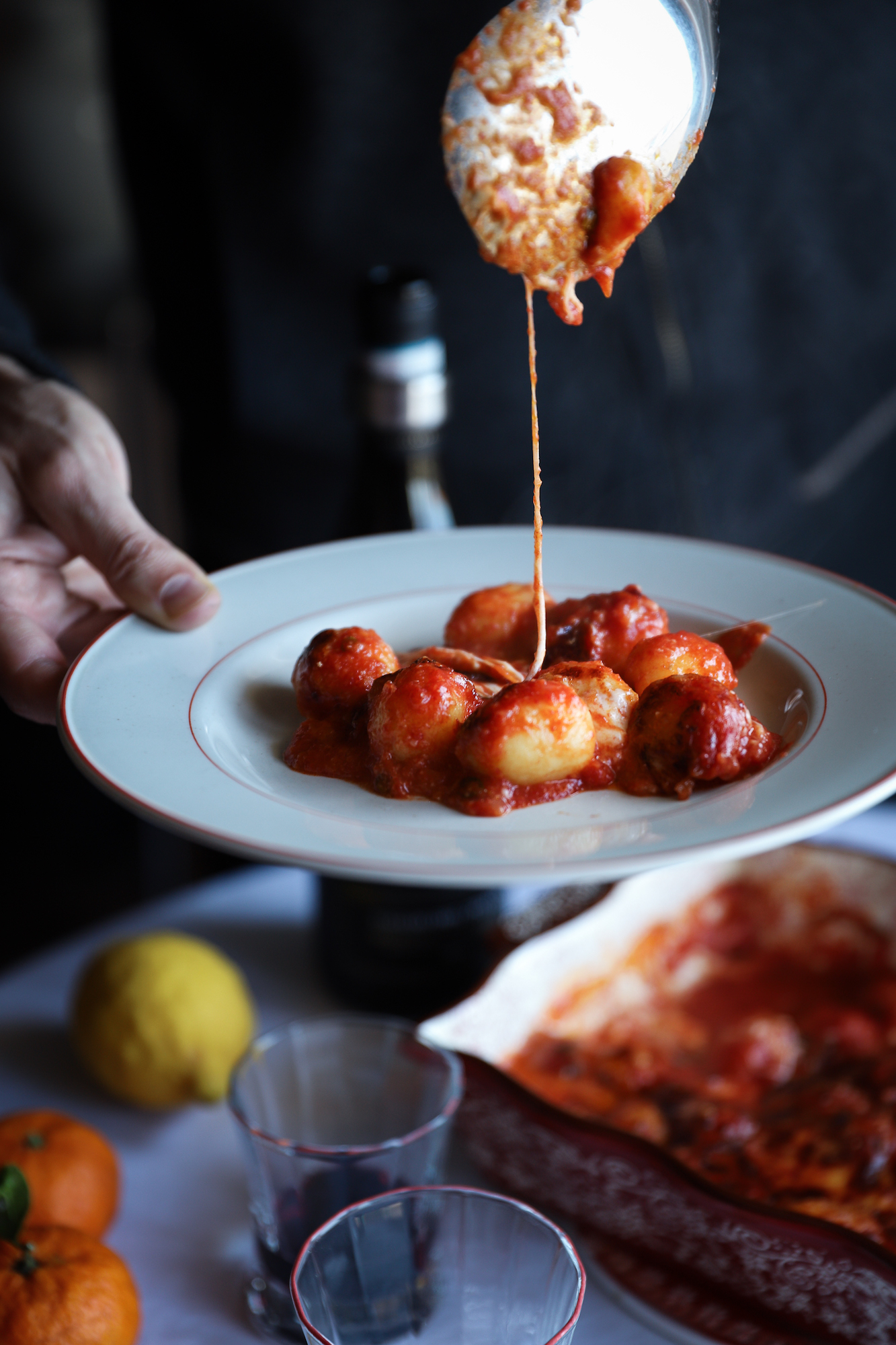 For veteran home cook and nonna Carla Nicolussi of Vicenza, her first step of the day is planning for lunch. "My style is that of my mother and grandmother. No microwave, nothing frozen, all prepared fresh at the moment." She also makes it clear that the family gathers at the table twice a day at very defined and solemnly respected times. These days, with her children living outside of Italy, her specialty is organization. "I can prepare good food at the right time to sit at the table and enjoy the company and when it happens from time to time, the family." For her, as for many Italian nonnas, the people she is preparing food for are as important, if not more so, than the dishes she is preparing. 
When it comes to cooking like a nonna, my sister-in-law admits that it takes a lot of time. "To make a good ragù (a traditional pasta sauce composed of finely chopped vegetables and ground meat) you need about three hours," says Anna. This I know well, as my husband has cooked their nonna's ragu recipe on many an occasion. Anna continues, "The quality and freshness of the seasonal products are very important. In the modern world, it is easier to buy ready-made products but the taste is completely different. A fresh homemade tagliatelle or gnocchi is not comparable to one bought in a supermarket." Being a regular at la cucina di Anna, whose home-cooked meals often outshine those in Ligurian restaurants, I would have to agree. 
Taking into account the astute advice of the nonnas and the old adage as reminded to me by Signora Nicolussi, "you were a good wife if you were a good cook", I craft an enticing menu for the week ahead, opting for one home-cooked meal a day. But first, I follow their lead with a mid-afternoon nap.