The festive season in Sicily is always such a suggestive time of year to visit the island, where you will find the locals in full traditional Christmas mode. It is a prosperous season, if you don't mind the cold, as there is always something to see, taste or experience. 
Every major city has a Christmas event's calendar to explore, and the colours of Sicily in the winter are a unique joy to witness.
December in Sicily offers visitors fewer tourists and a more authentic celebration based on religious traditions and other European habits associated with the winter months.
A White Christmas
This winter in Sicily is promising a good skiing season with the snowfields of the Parco delle Madonie, Etna (North at Piano Provenzana near Linguaglossa and South at Nicolosi, Catania) and Piano Battaglia at Palermo already preparing for abundant snow and looking forward to hosting a fun 'Settimana Bianca', winter break for those who love winter sports. The months of December, January and February offer the best opportunity to play around in the snow.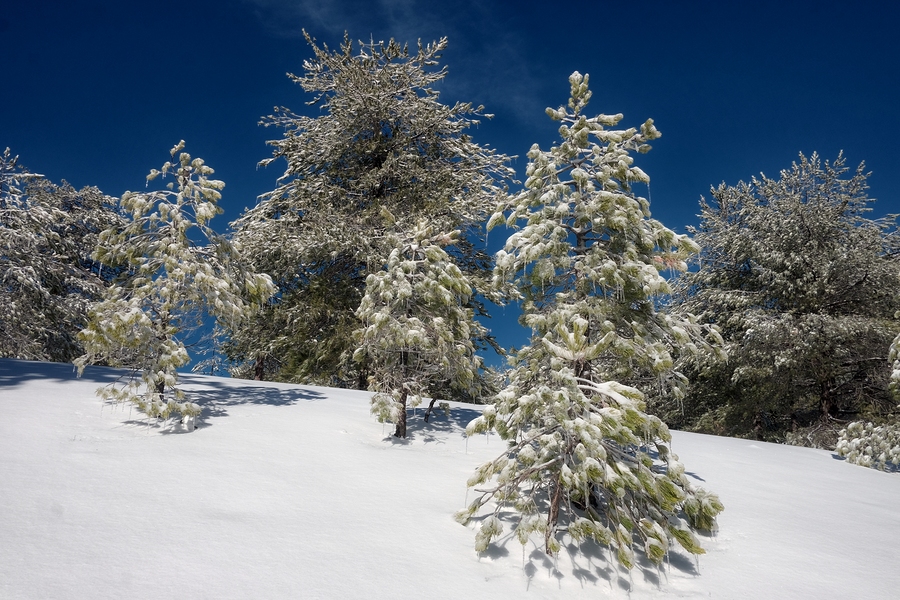 Food Traditions
The advent calendar is always focused on food and traditions. Christmas decorations and nativity scenes are usually set up in Sicilian homes on the feast day of the Immacolata, dedicated to the Virgin Mary on the 8th of December. In Sicily it marks the official start to Christmas, where you will see every town, city and village begin to transform themselves with elaborate trees, markets, the square will come alive with stalls and people selling roasted chestnut snacks, bonfires and meandering musicians who play on piano accordions and the traditional Sicilian zampogna bagpipes common at this time of year.
The food festivals or sagre continue like at any other time of year, but now they are focused on seasonal fare like citrus fruit, chestnuts, walnuts, pork, salami, sweet and savoury fried dumplings, chocolate, mulled wine and other typical products.
Religious art and performance is always a firm part of Christmas in Sicily with many exhibitions of detailed dioramas of the Nativity and popular live performances of the Presepe vivente throughout Sicily. Cities like Caltagirone (Catania), Palazzolo Acreide (Syracuse), Acireale (Catania), Alcamo (Trapani) and Piano degli Albanese (Palermo) host significant events dedicated to the Nativity from December through to the fest of the Epiphany on the 6th of January. 
Christmas Eve and New Year's Eve at the table
Adding to the general decadence of the food culture in Sicily, the celebrations begin and end at the table which is exploding with abundance, while celebrating the apex of the ecclesiastical year together with family and friends. Both Christmas and New Year's Eve are considered the most important meals of the year, and so no expense is spared. In fact, even during the past years of Economic crisis Italian's and Sicilians alike have been known to cut back on their gift giving yet refuse to stinge on their food expenses.
Christmas Eve in Sicily is about endless appetisers and antipasti from bruschetta, arancini, fried bread dough dumplings, canapes, cheeses and cold cuts which the island does so well. Not to forget the freshly preserved fare is usually begun now from olives under brine, to mushrooms and artichokes placed under oil ready to be tasted on special occasions like this one.
The second course is naturally pasta based from lasagna, cannelloni, farfalle, fusilli, tagliatelle, linguineor an array of local pasta types served with a variety of rich sauces from bechamel to smoked salmon.
The main course can consist of a combination of anything like roast beef, pork, lamb, kid, wild boar, stuffed pig feet (Zampone) or fried Baccala' (salted cod).
Many islanders insist on making their menu one hundred per cent fish based which is an easy thing to organise in Sicily as it is famous for its seafood plates.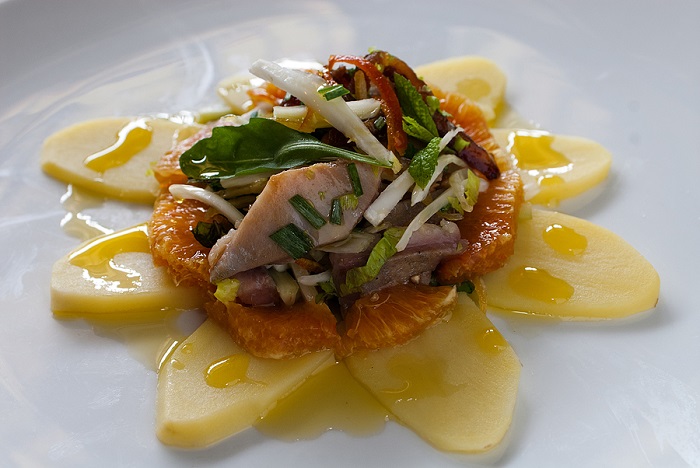 Everything from to bucatini con le sarde, a long, hollow pasta in a thick sardine sauce made green and yellow by wild fennel and saffron, squid ink flavoured pasta. Everything on the Sicilian seafood menu can and will be featured from: swordfish, sea snails, clams, eels, mussels, bluefin tuna, anchovies, sarde al beccafico (stuffed sardine fillets), deep sea prawns from Mazzara del Vallo to spaghetti tossed with sea urchin or with neonata (teeny just-born whitebait), or with slivers of bottarga (salt-cured tuna roe), to name just a few.
Whether you choose mare or monte (seafood or meat), everything is washed down with a variety of excellent local wine, spumante or fortified dessert wines and other liquors like Zibibbo, Moscato and Grappa which are perfect antidotes for the definite winter chill in the air.
Just when you think it is all done, you cannot miss out on dessert. Thank goodness Christmas and New Year's Eve meals last until well into the night, to give you a chance to pace yourself. Thank goodness these dinners are only once a year, as you unbutton your jeans and loosen a belt buckle to fit in dessert. 
It is obligatory to fit in a slice of the various local Christmas cakes made from ingredients like ricotta, candied fruits, pistachios, hazelnuts and other nuts. Sicilians love to nibble on sun-dried figs, filled with roasted hazelnuts, freshly shelled walnuts or exotic fruit like pineapple or oranges, mandarines and of course a slice of panettone or pandoro Christmas bread are a must to eat while sipping coffee and digestives at midnight.
The tradition says if you want a prosperous New Year you need to eat some lentil beans at midnight, so at least a spoon full with you're a slice of Zampone (stuffed pork trotter) at midnight, no too much as to be too greedy, and also probably too full to eat another bite.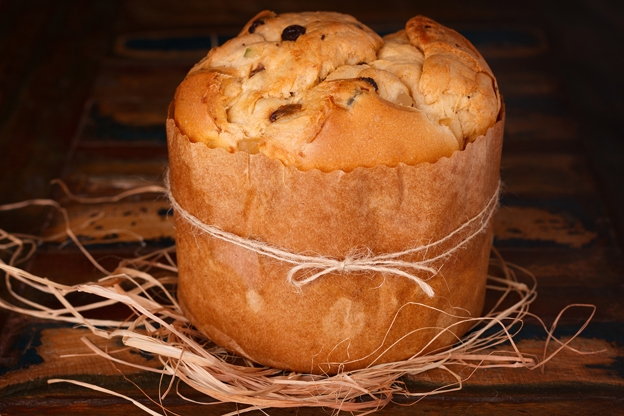 The colours of religious traditions
Local children in Sicily are encouraged to participate in the Novena di Natale, which begins on the 16th of December and goes up until the 24th. These traditional celebrations are a series of suggestive services held in all churches throughout Italy, dedicated to the spiritual side of Santo Natale. Children light candles, sing traditional carols while being reminded of the story behind Christmas through scripture readings.
Most churches are filled with choirs, music, decorations, lights in a playful mix of colour and sound. A typically beautiful Sicilian cathedral in the festive season is turned into a stunningly evocative setting which will be a precious memory from any Christmas spent in Sicily.
Sicilian Saints
Major saint day celebrations in Sicily are always a firm part of the calendar, no matter what time of the year and December gives us many colourful patron Saint to witness in the build-up to Natale. The usual flare of these traditional parties with their processions, fireworks, music and markets are made evermore magical by the approaching holidays.
Saint Day celebrations reflect an ancient Sicilian tradition, flare, dedication to local history and are wonderful things to witness a mixture of religion and paganism.
Beginning with the festivities dedicated to Santa Barbara on the 4th of December who is the patroness of the cities of Paternò (Catania), Francavilla di Sicilia (Messina) and Ragusa.
And continuing with the major celebrations for San Nicolo di Bari on the 6th of December which is celebrated on the first Sunday of December at Trecastagni (Catania). Also in different places all around the island from Salemi (Trapani) in western Sicily to Palazzo Adriano and Albergheria in the province of Palermo to Castelmola, Goisa Marea and Taormina in Messina province to Nicosia in the central region of Enna.
Saint Lucy and Agatha
One of the most important Sicilian born Saints is celebrated at this time of year.  Born and raised in Sicily Santa Lucia is the patron saint of Syracuse and is adored throughout the world.
Lucy's feast is associated with many culinary traditions, as is quite common in Sicily, food preparation becomes a manifestation of the seasons and the deeply rooted religious festivities during the year. For Santa Lucia, it is common to prepare arancini rice balls and a special cereal based savoury or sweet soup known as the Cuccia.
The Cuccia recalls one of Lucia's miracles which occurred during the Spanish period when Palermo was suffering through a famine after a disastrous wheat harvest left the city without its main staple, bread. The people begged Santa Lucia for a miracle and were promptly granted one in the form of a mysterious ship carrying a load of wheat which the locals took, boiled up and ate to avoid starvation. So every year on the thirteenth of December the Cuccia of Santa Lucia is consumed in memory of this miraculous event.
At Syracuse the hometown of Saint Lucy the locals make a sweet wheat based dessert, their Cuccia is made of grains softened after being soaked in water for a few days, then boiled and flavoured according to personal taste. This Cuccia dolce is combined with ricotta and chocolate cream, vincotto (wine conserve), cinnamon, chocolate powder, pistachio and candied fruits.
Each province has its variations of St Lucy's commemoration, for lovers of hearty, savoury soups, in the area of Messina the Cuccia is prepared with thirteen different lentils each with its own special dedication to this saintly Sicilian woman. 
In reality, Santa Lucia is one of two female Sicilian born saints who are an integral part of the islands traditional heart, together with Catania's patron Sant Agata celebrated on the 5th of February whose celebration is one of the most famous religious festivals in the world.
The whole city participates in the parades, processions and prayers and tens of thousands come from afar to express their gratitude or to pray for intercession, and many others just come for the incredible atmosphere, the fireworks and the food
The Catanese celebrate Sant' Agata two times a year, the most important celebration take place from 3rd - 5th February and recalls her martyrdom, while the second, on the 17th of August, records the return of her remains to Catania from Constantinople in 1126, after an absence of 86 years.
Sant'Agata's terrible martyrdom is remembered by her own a special cake: a mini breast-shaped Cassatella which is a sponge cake covered in white marzipan and topped with a suggestive red cherry known as Sant Agatha's breasts, reflecting the unique way she was tortured.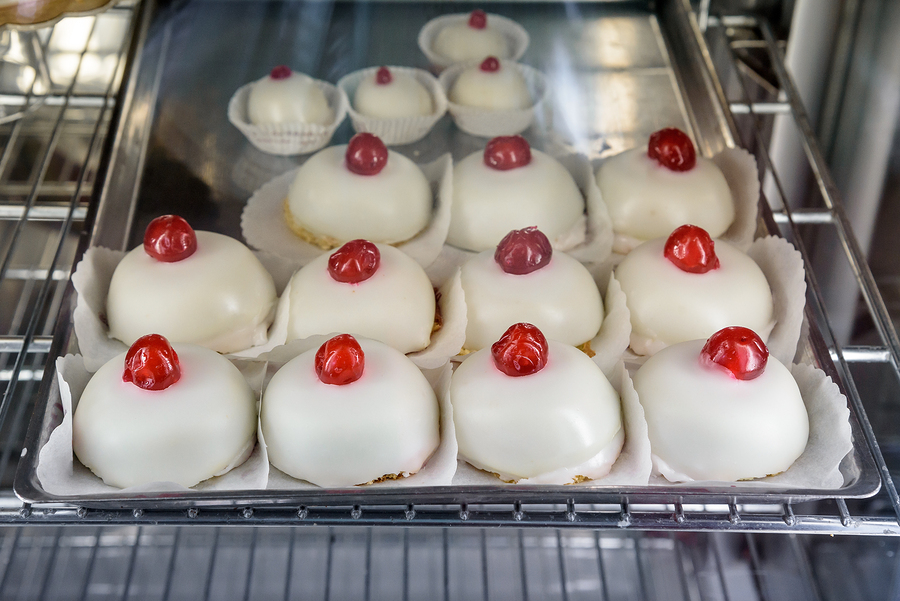 The beauty of a winter landscape
The landscape of Sicily is always spectacular exploring it without the sticky humidity of the hotter months gives you an opportunity to take in its subtle details and beauty. 
A walk along the beach in the winter won't give you a chance to swim, but you will have everything to yourself, and the seaside in the winter is even more spectacular and brighter than you could possibly imagine. 
Many seaside towns with beaches nearby to the city centres will give you the chance to walk and breathe in the salty sea air, a suggestive walk around Cefalù (Palermo) or Isola Bella (Taormina) will provide you with a sense of the tremendous beauty of the panorama.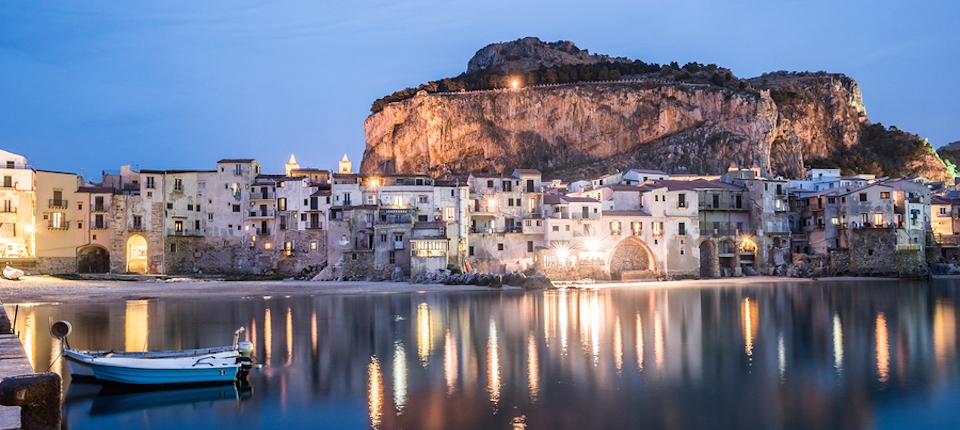 Visiting any of the beautiful cities of the Sicily in the winter will give you sense that you have the whole place to yourself, the piazzas will be sunny, the locals will be comfortably themselves, and everything will seem fresh and new to experience in an intimate way without rush or confusion. An abundant snowfall always gives the Sicilian highlands an even more Romantic and majestic touch.
Carnevale
The Carnival season in Italy is a perfect bookend to any winter trip to Italy and indicates the end of winter with colour, music and celebration before the beginning of Lent and the promise of an Easter Springtime. 
When people think of Carnevale in Italy they mind automatically goes to Venice or Viareggio in Northern Italy but Sicily is also the home to the oldest celebration and the most unique floats which evoke the best political and current affair satire you will ever see.
From the 17th Feb - 15th March 2019 the magnificent floats from Acireale, in the province of Catania will light up the city in a fantastic sea of colour, lights and sounds. In a spectacular endless party, the satire and sense of humour of Sicily will be on display as each large float plays out its form of theatrical performance. The creations take all year to create, are coordinated with intricate choreography, light shows, mechanics, costumes and streams of confetti which cover the spectators in colour and awe.
While at Sciacca from the 2nd to the 5th of March in Agrigento province has the distinction of being one of the most elaborate Carnevale celebrations in Sicily. The city's parade specialises in dark political satire and features prominent Italian and international figures in the most unexpected settings as if the most creative, cutting-edge and favourite political comic come to life.
The carnival at Termini near Palermo is believed to be the oldest celebration in Sicily and has its origins in the 1800s.
And if you still haven't gained enough weight from the feasting at Christmas and New Years, Carnevale will tip you over the scales with endless sweet and usually fried treats to taste.