John Bensalhia samples some of the best traditional cuisine of Mantova and looks at some notable foods and restaurants in the area...
Next year, Mantua (or Mantova) will be awarded the title of 'European Capital of Gastronomy'. It's an award that's richly deserved, given Mantova's history and reputation for producing some of the most acclaimed cuisine not just in Italy, but in the world.
The food of Mantova has been regarded as the "cuisine of princes and people". Many of its dishes date back to the days of the Gonzaga family: the talents of the cooks at the Gonzaga court ensured that a good number of dishes and recipes have lived on. The above comment gives a good clue as to the reason for the popularity of Mantova cuisine. It uses simple ingredients that all can enjoy but puts a rich, detailed spin on the recipe to create something full of thought, care and attention.
One of the most iconic dishes of Mantova sums up this notion to a tee. Tortelli di Zucca – or pumpkin tortelli – is a classic meal that draws on the old Northern Italian tradition of stuffing pasta with tasty ingredients. Tortelli di Zucca is right on the money in this regard. The egg pasta is traditionally filled with boiled pumpkin, parmesan cheese, mustard, nutmeg and amaretti – although there are other seasoning variants such as a butter-based sauce with onion and tomato. This mixture of flavours allows for a delightful and varied taste: you get the sweet pumpkin, the spice of the mustard and the salty balance brought in by the cheese.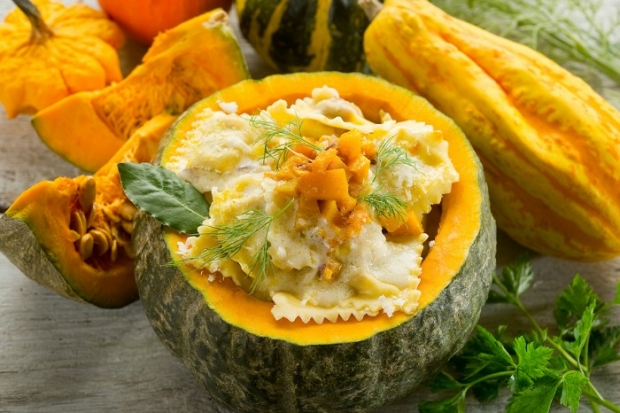 As a dish that contains no meat, Tortelli di Zucca is a favoured choice to be enjoyed in Italy on Christmas Eve. In order to cleanse the palate before the feast of the following day, it's customary to eschew meat dishes on 24th December in favour of light, lean meals. Despite no meat, Tortelli di Zucca is a hugely popular dish that hits the spot on any day of the year.
Bigoli con le Sardelle runs along the same lines as Tortelli di Zucca in that it's a simple dish that's still delicious. Bigoli is a very close bedfellow of spaghetti, with this type of pasta using a press to draw out the dough. Its simplicity is seen in the minimal list of ingredients on the list: Bigoli. Fish. Garlic. Anchovies. And a sauce using fish oil. That's all that's required, and yet this combination comes together to create a sumptuous dish that's both easy and enjoyable to eat. It's a dish that's traditionally consumed on the first day of Lent.
Another popular fish dish is Luccio in Salsa. Pike in Sauce's origins can be traced back a long way: apparently to the days of the Treaty of Stefani which extolled the virtues of pike as a good source of nourishment. It added that to get the best out of pike, it was best served up with oil, lemon juice and vegetables.
Luccio in Salsa is another dish that is both simple to make and absolutely delicious. It's one of the more adaptable dishes in that it can be eaten either warm or cold, or as an appetiser or as a main meal. The seasoned and boiled pike is traditionally mixed with a sauce that includes oil, parsley, garlic, capers and anchovies. You can also season the pike with other ingredients such as peppercorns, bay leaves and even a slug of white wine!
Sausages are popular in Mantova. One such example, Cotechino, has attained Protected Geographical Indication status. Cotechino sausage is typically made by filling the casing with a mix of rind, bacon and seasonings of salt and spices which is then cooked at a low heat for a long time to make sure that the rinds stay soft. It's traditionally served up with lentils and is another simple but tasty meal.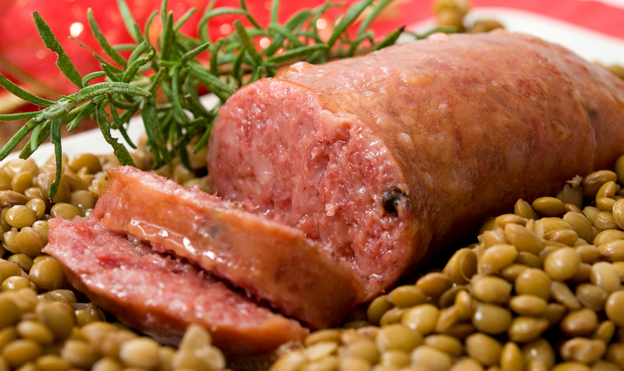 Salame Mantova is another popular choice of meat. Its distinctive taste comes down to the addition of peppers and fresh garlic to the pork meat. The pork is traditionally minced and then seasoned with the garlic and pepper and then stuffed into casings. Maturation of this sausage can take quite a long time, depending on the size – it can last between three and six months.
Sausages can also be key components of popular Mantova dishes – sausage and ratatouille is a good example and one that's commonly served with polenta and lentils. Agnoli is another one in which sausage, along with beef, chicken, breadcrumbs and Grana Padano cheese are filled into pasta parcels. A traditional recipe of Mantova is to serve the pasta in broth and red wine.
Meanwhile, sausage is a popular choice of meat to be used in Risotta Alla Pilota. The dish's name translates as 'Rice To The Pilot' which connects with the pilots who were the workers assigned to rice husking. The rice for this dish is prepared in such a way that the end result is grainier than usual than the average risotto. The precise combination of water and rice is prepared and is then timed to rest off the heat with equal precision. This is another dish that's both simple and delicious: ingredients such as butter, salt and cheese along with meats such as sausages or pork chops are used to great effect.
Sweet tooth? Then a good choice is Cake Elvezia. This is a dessert that comprises three circular layers of egg white, sugar and almond paste. These discs are baked and then combined with layers of whatever filling takes your fancy. Eggnog and chocolate are regular options, although whipped cream is also a worthy selection. The recipe is said to date back to the late 18th century when Mantova welcomed pastry chefs and restaurateurs from Switzerland. The family of Samson Putscher is said to have been responsible for some appetising pastries, one of which was Cake Elvezia.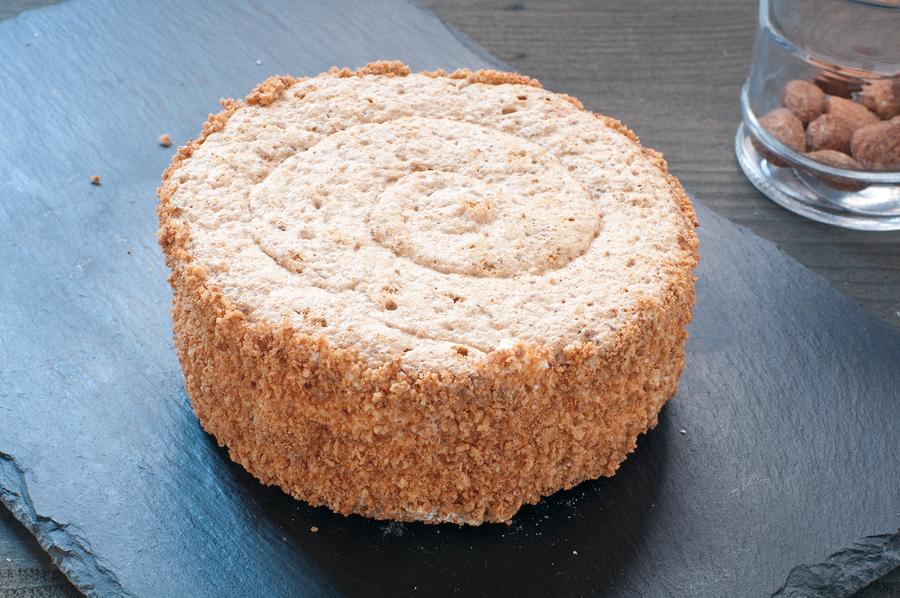 But arguably the best-known dessert of Mantova is Torta Sbrisolona, a crumbly, brittle cake that's a big hit both in Italy and abroad. Its crumbly texture means that rather than using a knife to cut into slices, it's broken up with hands.
While Torta Sbrisolona is another simple dish to prepare, it's still rich in flavour thanks to the combination of flour, butter, eggs, almonds, lemon peel, and vanilla seed. Initially, the dish was said to be of peasant origins, but over time, spices and almonds have been added to the basic recipe to add that extra boost.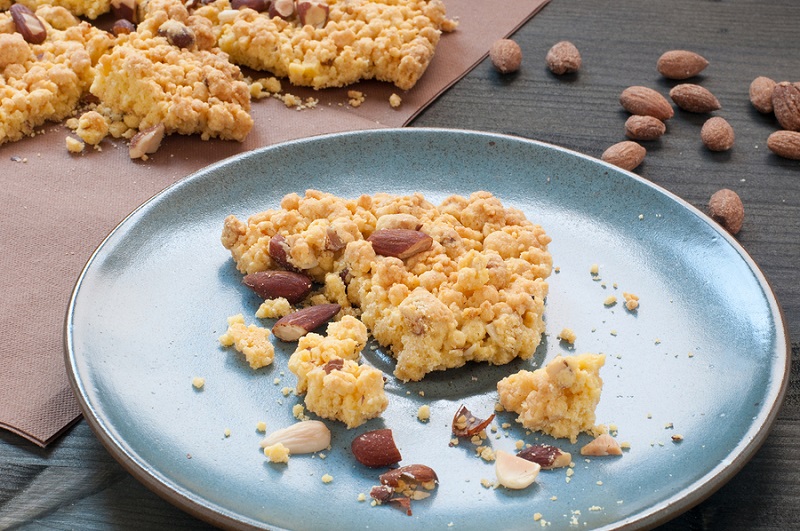 PLACES TO EAT IN MANTOVA
CARLO GOVI RESTAURANT
This is definitely worth a visit – if only to sample high quality food in the delightful outside area that the restaurant provides. It's a haven of 300 year old olive trees, peace and tranquillity away from the numbers.
Carlo Govi offers its diners a warm, friendly welcome and a relaxed atmosphere. It's the perfect backdrop for sampling some top drawer food that draws on classic Mantova cuisine. You can enjoy the likes of Agnoli, pike with sauce and handmade spaghetti with Lake Garda sardines. Highly recommended.
Address: Viale Gorizia, 13, 46100 Mantova MN. Phone: +39 0376 355133. 
IL CIGNO DEI MARTINI
If you're a fine dining aficionado, then Il Cigno Dei Martini is a safe bet.
Located in a 15th century building packed full of style and quality, Il Cigno Dei Martini carries on the family tradition that has been present for five decades.
In addition to the large, spacious interior, there is also a garden area. The menu offers classy and tasty offerings including ravioli, pasta and truffles and stuffed guinea fowl.
Address: Piazza Carlo D'Arco, 1, 46100 Mantova MN. Phone: + 39 0376 327101.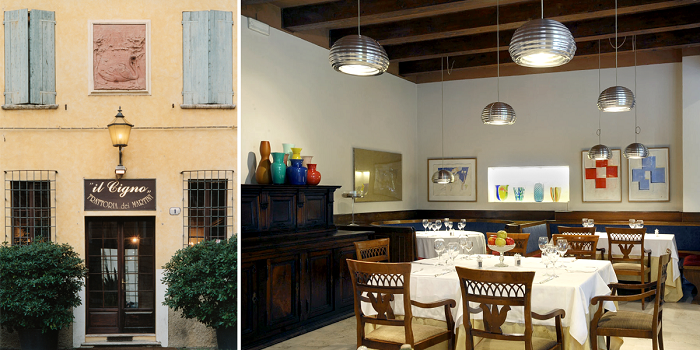 Trattoria Il Cigno dei Martini. Photo credit: http://www.megliomantova.com/
TAVERNA CINQUE CENTO
Taverna Cinque Cento prides itself on some brilliant service. A happy, relaxed and convivial atmosphere is conjured up – an ideal locale for enjoying some delicious fresh food.
There's something here for everyone. The traditionalist can enjoy perfect pumpkin filled ravioli. The dessert fan can revel in a wide range of puddings that include Sabayan and Mille Feuille. And the wine buff can marvel at the wide, varied choice on offer from a well stocked cellar.
Address: Via Giuseppe Bertani, 78, 46100 Mantova MN. Phone: +39 339 267 0007
LO SCALCO GRASSO
This restaurant is a wonderful destination if you're seeking amazing food at great value prices. The service is professional and friendly, welcoming you into a culinary world that draws on both Mantova traditions and innovative, highly effective takes on classic dishes.
Among the delights to savour are gnocchi with smoked ricotta, duck breast and pumpkin sauce, fish with cous cous, and squid ink pasta with scallops and pancetta.
Address: Via Trieste, 55, 46100 Mantova MN. Phone: + 39 349 374 7958
TRATTORIA LA STELLA
Trattoria La Stella puts a great emphasis on the home-made tradition. It's a fine source of home-made specialities that include bread, pasta, chutneys and sweets: all lovingly prepared by hand.
A hospitable and friendly atmosphere is provided at Trattoria La Stella, which boasts excellent local cuisine, local wines (plus wines from other regions) and some liquors that include Limoncello, Luisa Grass and licorice.
Address: Via della Libertà, 129, 46047 Soave Di Porto Mantovano MN. Phone: +39 0376 300635
For more about the Italian city of Mantova, click here.