Since the Industrial Revolution, many of Italy's important industries—textiles, automobiles, fashion, banking, telecommunications, and manufacturing of every incarnation—have claimed the region of northern Italy known as Lombardia as their home. Milan and its surrounding towns are the center of much of this commercial activity.
Many of Lombardy's historically artisanal trades—furniture, shoes, and silk, for example—have been largely industrialized in the last 150 years. For example, the town of Vigevano, southwest of Milan, is the shoe capital of the world; one company there is even famous for crafting shoes for the Pope. Although some of the finish work is done by hand, the process is mostly industrialized. Lissone, northwest of Milan, boasts a long heritage as a furniture-making capital, though most of the enterprises are large-scale and commercial, rather than small-scale or artisanal.
With all this industry, is there any room left for goods handmade by artisans? The answer is yes, but you have to look a little deeper. Here are a few hidden pockets of artisanal tradition in Italy's most commercial region.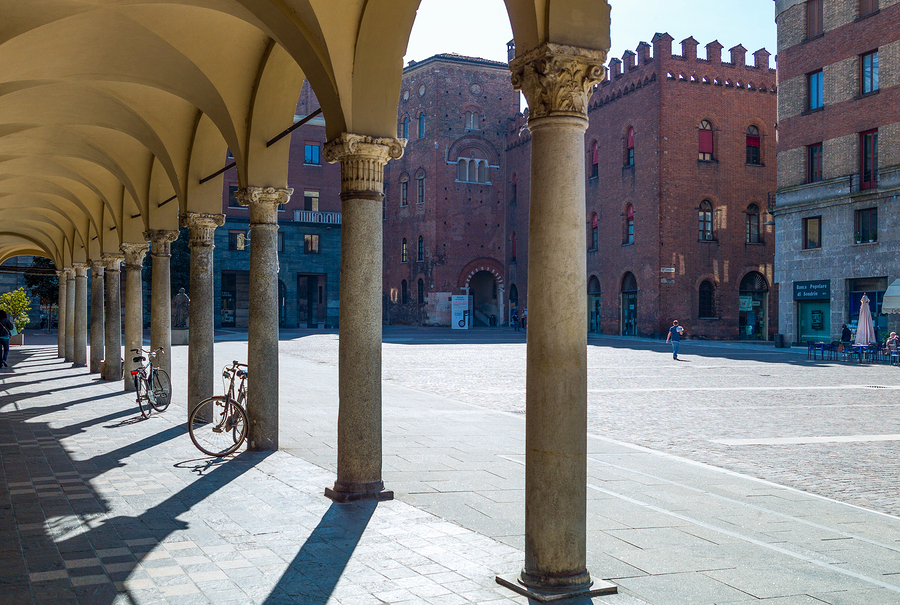 [The arcade of Stradivari square in Cremona]
Violins of Cremona
Cremona's native sons put this town in central Lombardy on the map by crafting the world's earliest and best violins. In the 1530s, Andrea Amati began developing an early form of the violin, one that was solidified by around 1600 in Cremona. But it was Antonio Stradivari (1644-1737)—known as Stradivarius—who elevated this instrument to new heights. Stradivarius was born in Cremona and apprenticed with Amati. After the master's death, he began to experiment with new forms and new varnishes, which resulted in a perfected instrument. The Stradivarius violin remains the bench­mark by which violins are measured.
Today, Cremona's craftspeople look to the historical models for inspiration, and restore antique models, but they also put their own personal stamp on the works. Many of Cremona's violin makers were born and raised locally, but others have made Cremona their adopted home, drawn from as far afield as Germany, France, Colombia, and Japan by the international reputation of this town. For them, a diploma from Cremona's International Violin-making School is a require­ment for success, as is recognition from one or more of the world's most presti­gious violin-making competitions.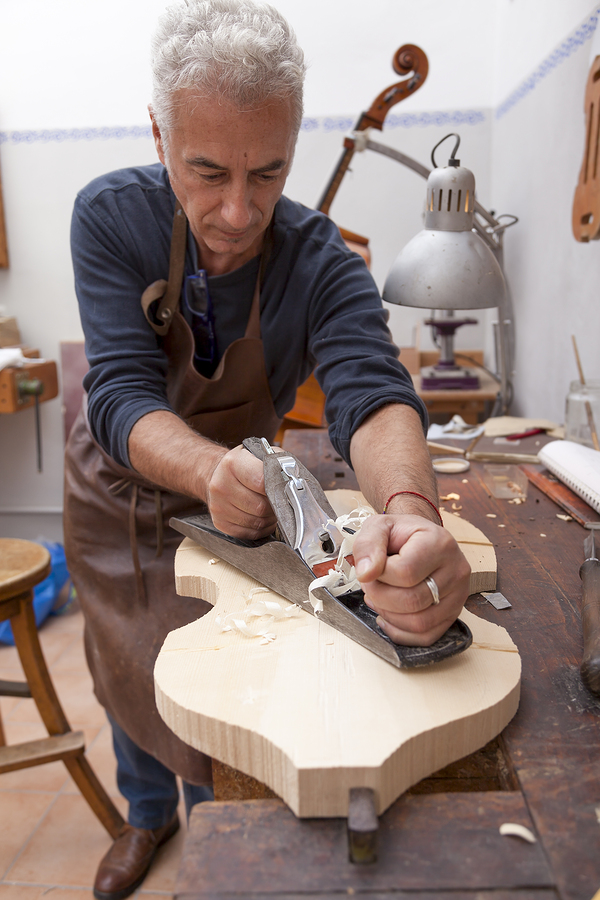 [artisan lutemaker working a violin in his workshop]
The art of the liutaio, or stringed-instrument maker, begins with the right wood. Legend has it that Stradivarius hiked in the Dolomites in search of the perfect wood for crafting violins. Spruce is the standard wood for the top, or soundboard, while maple is preferred for the back of the instrument. While the inside workings of the violin are fairly standard, the exterior is a blank canvas, and artisans fill it with elab­orate inlays, varnishes, and different kinds of woods, making each violin unique. It can take more than 200 hours to craft a single instrument by hand.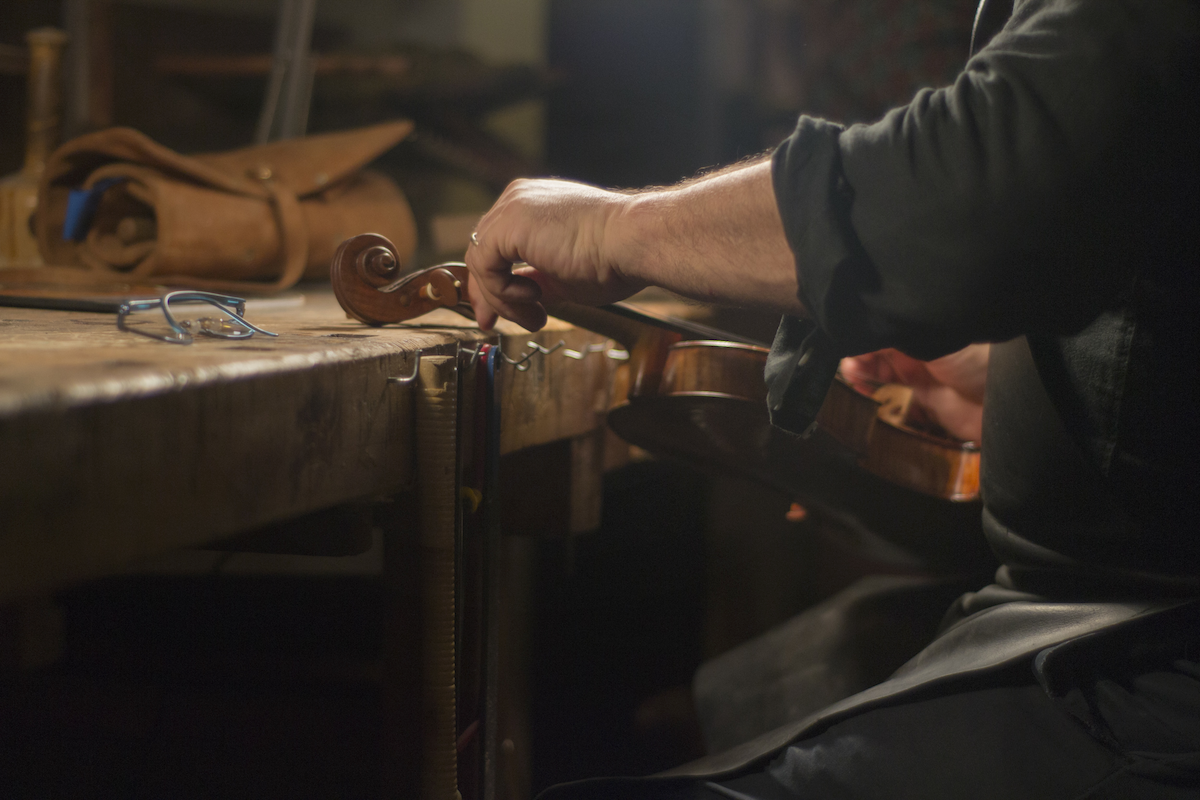 [Liutaio violin maker (c) Silvia Benedet CC via Flickr]
Luthier's Consortium, Consorzio Liutai "Antonio Stradivari", Piazza Stradivari, 1, 26100 Cremona, 0372/463503, www.cremonaviolins.com. 
The Cremona violinmaker's consortium displays special instruments in its evocative showroom, and can provide you with all manner of information about the town's famous craft. Here you can also arrange a visit to one or more of the private studios of the town's many master luthiers.
Violin Museum, Museo del Violino, Piazza Marconi, 26100 Cremona, 0372/801801
This is an impressive collection of Cremona instruments from the seventeenth century to the present, including some made by Stradivarius himself.
Violin-Making School
Scuola Internazionale di Liuteria "Antonio Stradivari", Palazzo Raimondi, Via Colletta, 5, 26100 Cremona, 0372/38689, www.scuoladiliuteria.it
Anyone serious about becoming a violin maker need look no farther than Cremona's world-class Violin-Making School, which has gradu­ated the world's top liutai from Italy and around the world.
For more about artisan luthiers in Cremona, read on.
Silk of Como
The beautiful lakeside city of Como lies just a few miles south of the Swiss border. Once a magnet for weavers working fabric on antique looms, Como silk now relies almost entirely on industrial production. It remains Europe's silk capital, however, with silk houses producing patterns for Versace, Gucci, and other luxury designers in Milan and Paris. A scarf, tie, or other accessory made of Como silk remains one of Italy's most coveted souvenirs.
[view of Lake Como]
Silk came to Como for two reasons. First, alpine streams and the lake itself provided a supply of water for the manufacturing process. Second, the Po River Valley was already a rich area for the cultivation of mulberry trees, which function as the silkworm's natural habitat and its diet. Since the mid-twentieth century, most of the mills have imported silk thread from Asia. Although most of the production is now done by machine, a few finishing processes are still carried out by hand.
Today, Como boasts some 800 companies tied to the production, distribution, and marketing of silk, and the industry employs more than 20,000 locals. The ubiquitous silk mills are not generally open to the public, but specialty boutiques and a few factory stores offer an opportunity to put your hands on the goods.
This small museum chronicles the history of silk in Como and offers a helpful overview of the silk production process. A variety of looms, bobbin weavers, color blocks, and other antique equipment used in the silkscreen process are displayed. There is also a small shop with finished products for sale.
Seteria Ratti, Villa Sucota, Via di Cernobbio, 19, 22100 Como, www.ratti.it
Since 1945, when Antonio Ratti founded the Tessitura Serica Antonio Ratti, this enterprise has been one of the leaders in Como's silk production. You can browse among scarves, ties, and other accessories made for names like Givenchy and Christian Dior. The shop is located on the first floor of their beautiful villa.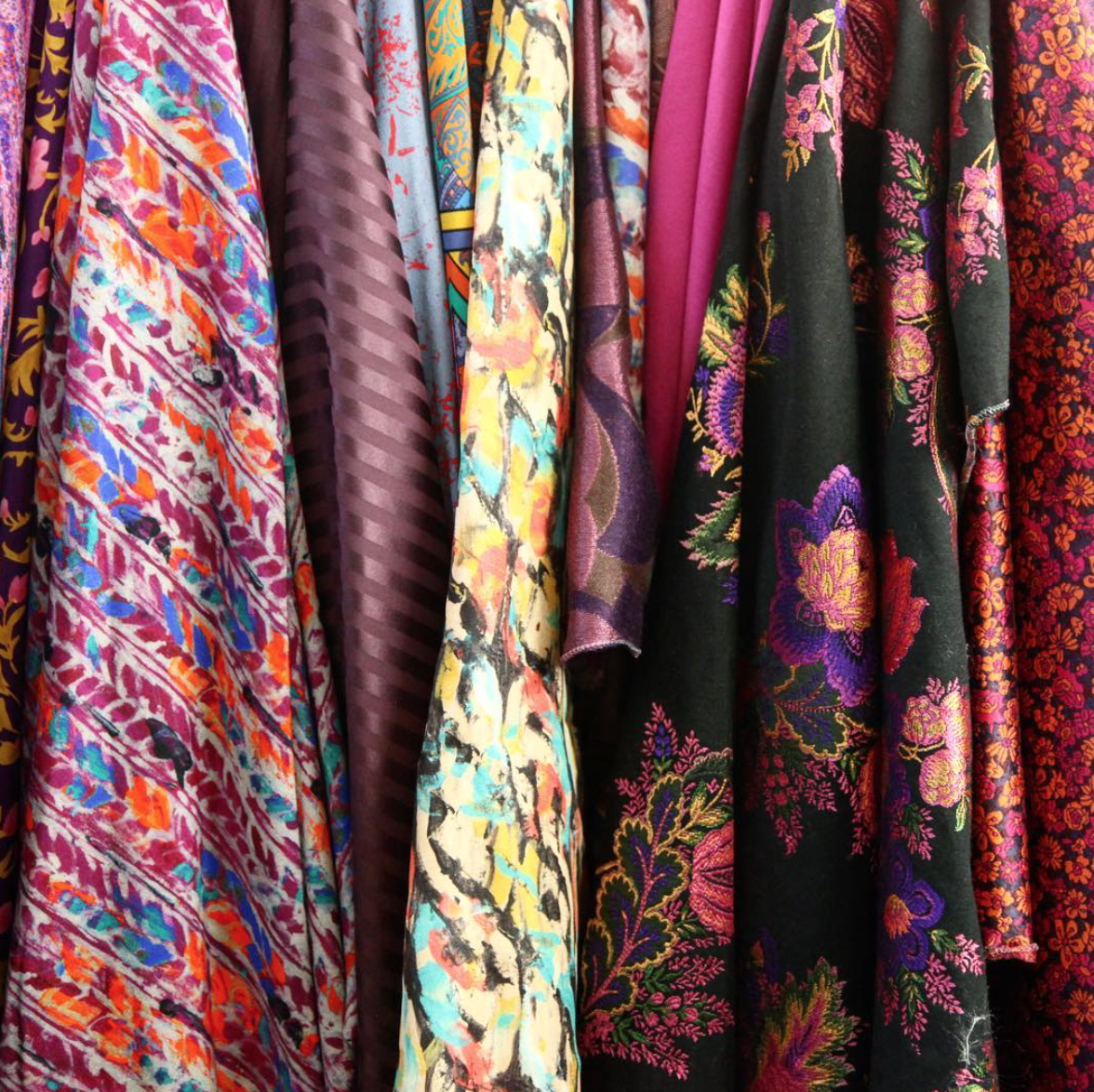 [Autumnal fabrics: photo by Ratti fabrics]
Mantero Outlet, via Riccardo Mantero, 4, 22070 Grandate, 031/454466, www.mantero.com
Mantero is one of today's premier names in Como silk. At the factory outlet in Grandate, you can find good prices on scarves and other accessories made for luxury fashion brands like Trussardi and Yves Saint Laurent.
Carved Soapstone (pietra ollare)
In Lombardy, people have made crafts from stone, plentiful in the mountains above Bergamo and Brescia, since the Iron Age. In a valley known as Valmalenco north of Brescia, prehistoric residents extracted a hard stone from caves that pierce the mountains.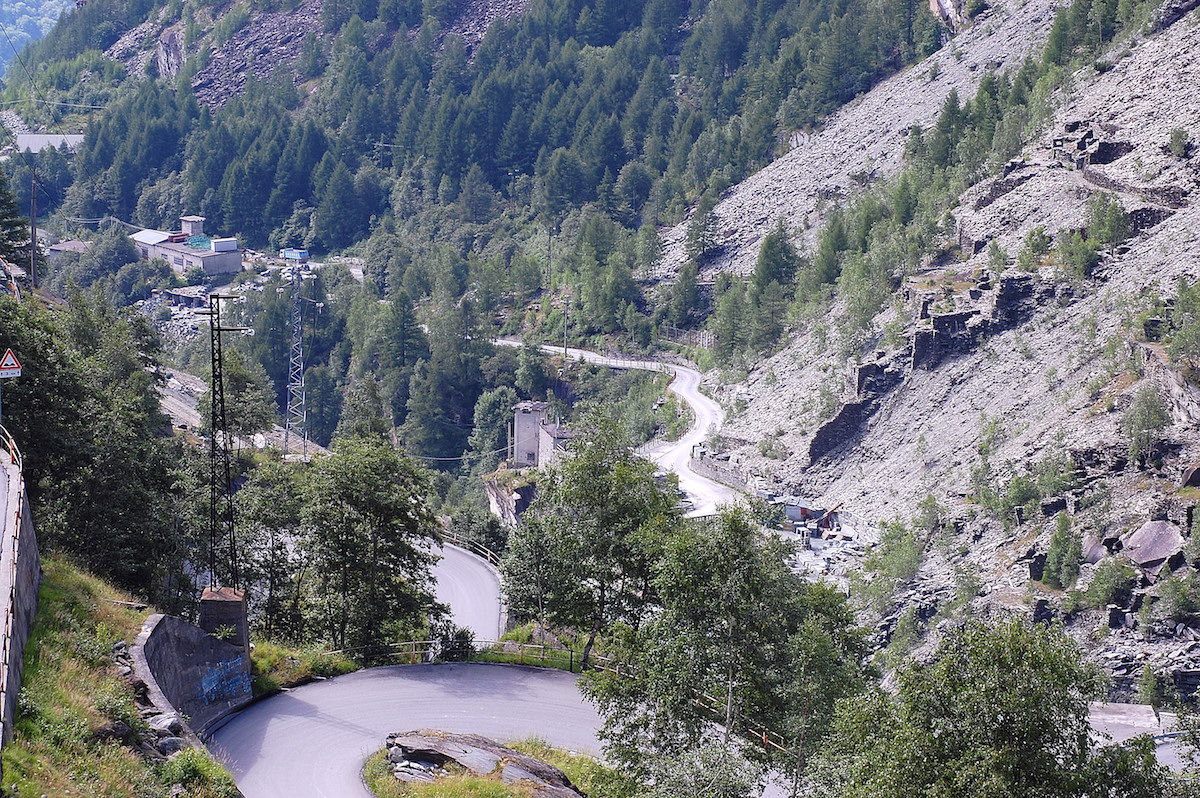 [Pietra ollare cave near Brescia CC via Flickr (c) renagrisa]
From this hard soapstone known as pietra ollare, they crafted bowls, plates, and utensils, presumably going to all that trouble because of the heat-retaining prop­erties of this stone. (It goes to show that Italians will always go to great lengths when it comes to good food!) It's perfect for making bowls and tableware that keep food warm for long periods of time. It's also been used to create works of art, utilitarian objects, and whimsical human and animal figures.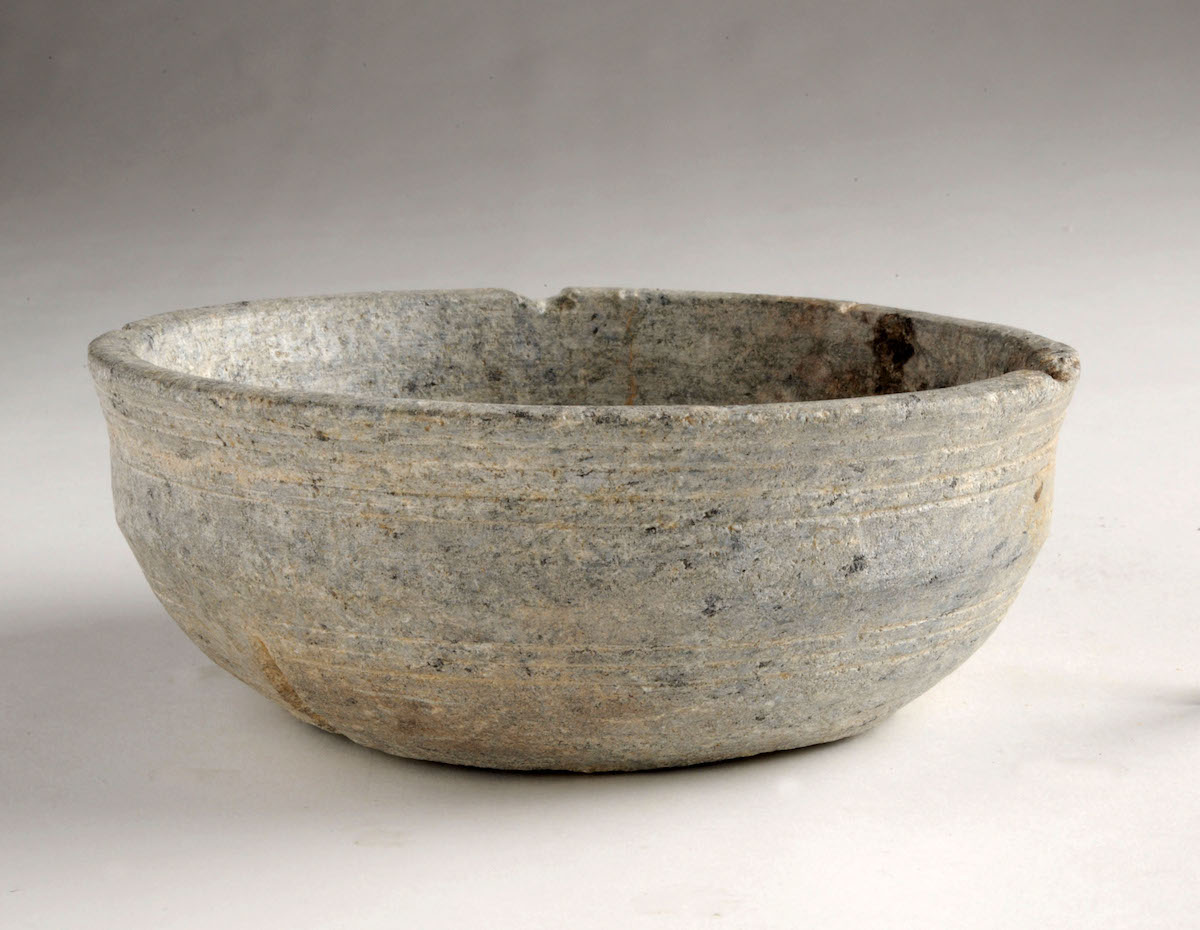 [Cup of pietra ollare (c) Museo Archeologico della Valchiavenna]
Today, many artisans mine chunks of the mountains themselves. While you're visiting the area, check out the fascinating drawings of people and ani­mals scratched into stones on the local mountainsides by our Neolithic ancestors. The national park of prehistoric carvings is located in nearby Capo di Ponte.
Roberto Lucchinetti, via della Chiesa, 5, 23020 Prosto di Puro, 0343/35905, www.pietraollare.com
Roberto Lucchinetti excavates the hard local soapstone directly from deposits in caves around his home, just outside of the mountainous village of Chiavenna, near Sondrio. In addition to utilitarian pots, pans, and even ovens, he crafts more creative, sculptural works from the ashy black stone. His wife, Paola De Pedrini, is an expert weaver with her own studio in the same complex.
La Pietra Ollare, Via Venosta, 5, 23100 Sondrio, 333/4365478, www.ollare.com
Floriana Palmieri crafts innovative household decorative objects from this material, looking to the past for inspiration. Her relief sculptures of human and animal figures recall the prehistoric cultures that inhabited the northern Italian mountains. From horses to figures, bulls on bowls, vases, and other vessels, her carvings seem like mystical evocations of primeval spirits.
Porcelain of Lodi
Lodi is a quiet, picturesque medieval town just beyond the southern fringes of Milan's urban sprawl. Ceramicists have worked here since Roman times, but Lodi's ceramic heyday didn't begin until the late 1700s. At that time, several local families made a name for themselves by supplying noble courts of Europe with refined, delicate wares inspired by Chinese export porcelain.
 The characteristic porcelain of Lodi features elegant floral motifs against a largely white background—a style more akin to Limoges and Meissen than to colorful maiolica wares of central and southern Italy. Expect to see lots of frills, basket pat­terns, figurines, statuettes, and ornate tea sets with a transparent white glaze. Today, a handful of families in Lodi still carry the torch of tradition for this centuries-old craft.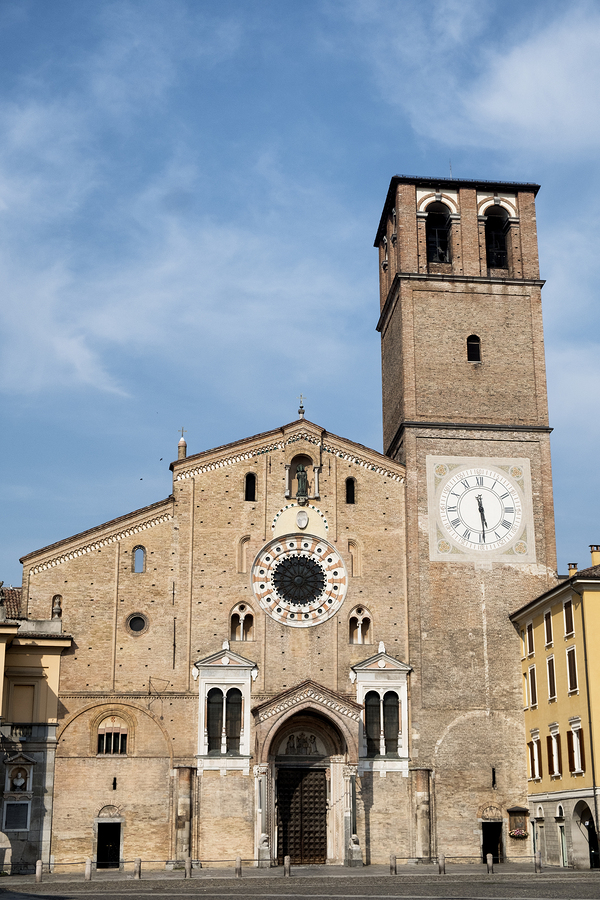 [Lodi (Lombardy Italy): the medieval cathedral (Duomo) facade]
Museo Civico di Lodi, Sezione Ceramica, Corso Umberto I, 63, 26900 Lodi, 0371/420369, www.comune.lodi.it
The museum holds an impressive collection of local porcelain chronicling the story of Lodi's great ceramics families. Start here to understand the broader historical context for the porcelain of Lodi.
Ceramica Artistica Lodigiana "Vecchia Lodi", Via San Fereolo, 9, 26900 Lodi, 0371/32575, www.calvecchialodi.it
Vecchia Lodi nearly single-handedly carries on the historic tradition of lodigiani porcelain, with their ornate forms, creamy background, and limited color palette. Their workshop, located in an industrialized area southwest of Lodi's center, nonetheless carries an excellent range of their fancy wares. I love the multi-piece plates that fit together to form a floral or decorative design; they make great serving plates for parties.
Laura Morelli is an art historian and historical novelist with a passion for Italy (and she lived in Lombardy for four years). You can find her guidebook series, including Made in Venice and Made in Italy, as well as her Venice-inspired historical novel, The Gondola Maker, in the