With its 7,500 kilometers of coastline, Italy is a paradise for beach lovers.
It's hard to make a list of Italy's most beautiful beaches because there are so many. We've selected a few based on their characteristics catering to sun fanatics, nature lovers, walking enthusiasts, and those who want to mix it up with cultural visits.
Read on and pick your favorite (or favorites). 
Remember that beach-going is a national pastime and can feel like a competitive sport! In July and August, plan to arrive early if you don't want to deal with fighting for a parking spot and even a place on the beach. 
Cala Violina (Tuscany)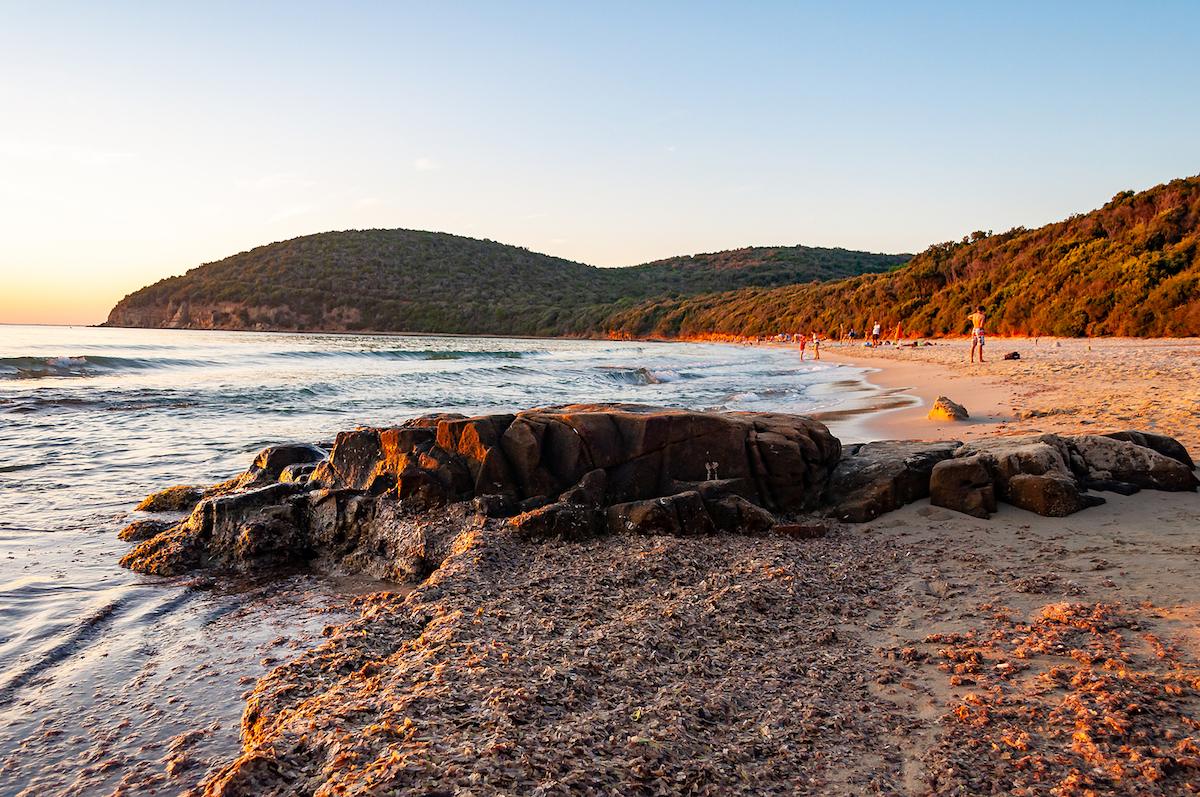 A large bay opens up onto the Tyrrhenian sea, while right behind are the scents of the thick Mediterranean shrub: Cala Violina is one of the Tuscan Maremma's most beautiful beaches, set within the Bandite di Scarlino Nature Reserve. 
Located between Follonica and Punta Ala on the western Tuscan coast, about two hours south of Florence, Cala Violina takes its name from its sand, made up of tiny quartz grains, which, when walked upon, produce a sound similar to that of a violin - to hear it, however, you need some  quiet, so, in summer, you need to get there early.
Cala Violina is reached in 20-30 minutes from the parking lot via a 1.8 km (1.1 mi) path amid a pine forest. Wear comfortable shoes. 
To protect the nature reserve and for safety reasons, from June 1 to September 15 2021, access is limited to 700 people per day. To reserve your spot, click here. 
Best for: nature lovers who love walking (a trail behind the beach winds its way along the coast for several kilometers).  
Torre Sant'Andrea (Puglia)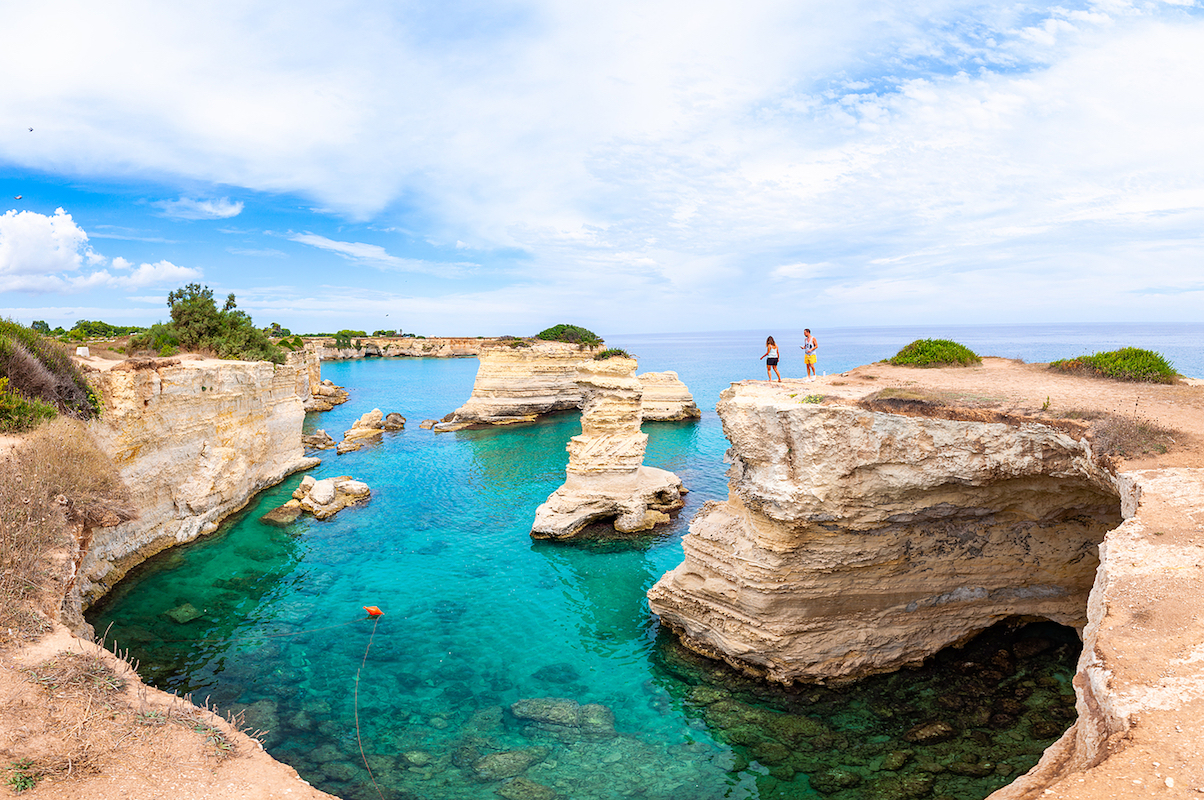 Just a little over 20 kilometers from Lecce, gateway to Puglia's popular Salento coast, Torre Sant'Andrea is a tiny fishing village set within a marine landscape of sea stacks, small caves and a rugged coast.
The sea stacks, or faraglioni, formed by the erosive action of the wind and sea on soft rock, are the distinctive feature of Torre Sant'Andrea. The most famous is the so-called Arco degli Innamorati (Lovers' Arch), which you can swim through. From the lighthouse, the more audacious dive into the azure waters.  
For something more relaxed, you can lounge on the beach located right in the center of Torre Sant'Andrea, which also serves as a small harbor for local fishermen's boats.
Best for: good swimmers. 
Sansone, Elba island (Tuscany)
Spectacular Sansone is a must visit on any trip to Elba island: a 250-meter long bay of dazzling white pebbles, overlooked by a high wall of white rock covered in part by the Mediterranean scrub, facing a crystalline sea varying from turquoise to an intense blue. No wonder it's been elected as one of Europe's most beautiful beaches. 
Sansone beach can only be reached on foot walking for about 10 minutes on an easy path. It is less crowded than other beaches nearby.
With a wide variety of rocks and ravines colonized by Posidonia meadows, where colorful fish swim around, Sansone is an ideal destination for snorkeling enthusiasts. The beach is flanked by a rock on one side which people use for diving, and by a large stack on the other, which can be reached by canoeing or kayaking.
Elba is the largest island of the Tuscan Archipelago, famous for being the site of Napoleon's exile. 
Best for: snorkeling, and for those who prefer wild nature to crowds. 
Castellabate (Cilento, Campania)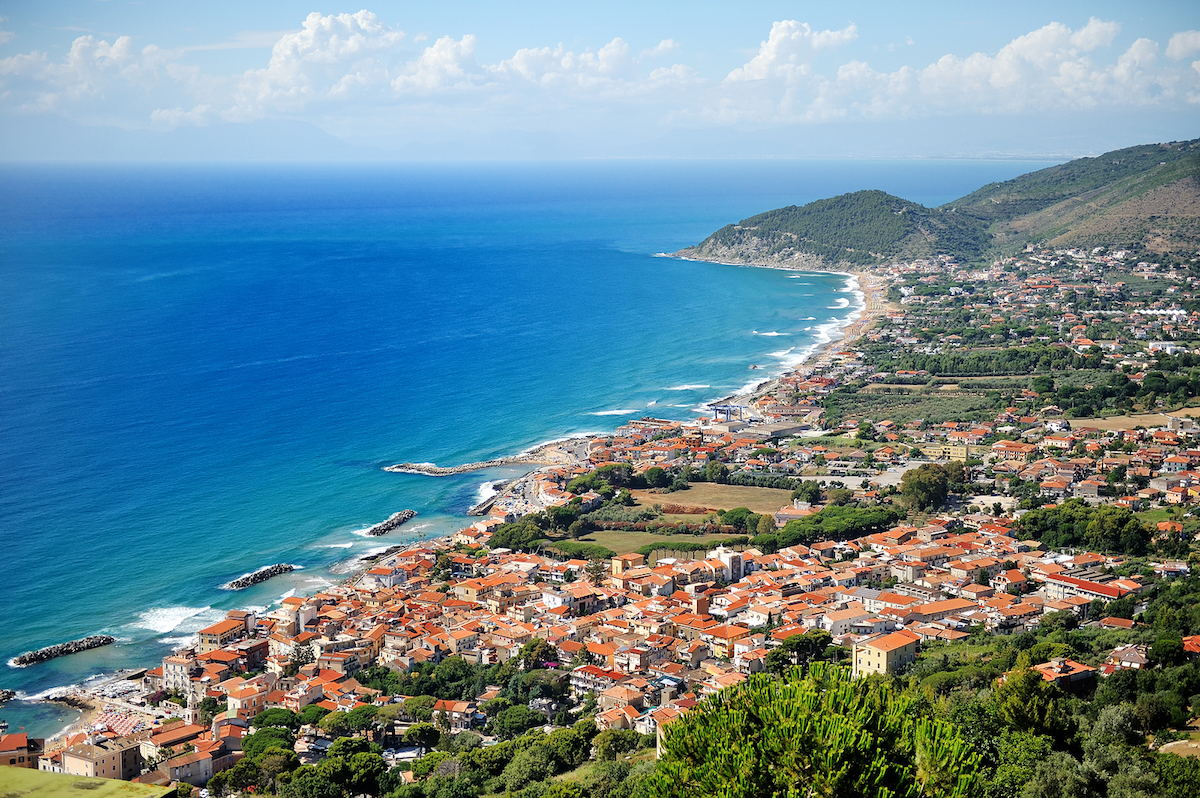 A little gem on the Cilento coast of Campania, Castellabate is considered one of the Naples area's most beautiful 'borgo.' Located within the National Park of Cilento, Vallo di Diano and Alburni, a UNESCO World Heritage Site, Castellabate rises 300 meters above sea level on a hill, where its castle stands out. 
Castellabate boasts a number of beaches to choose from, most of them under environmental protection. Besides the ones closer to the village, where you can enjoy some historic sights and good restaurants, there are some wilder ones, such as those at Punta Licosa, as well as Ogliastro Marina.
Best for: those who want to alternate days at the beach with visits to villages, archaeological ruins and enjoy the local cuisine of Cilento. 
Spiaggia dei Conigli, Lampedusa (Sicily)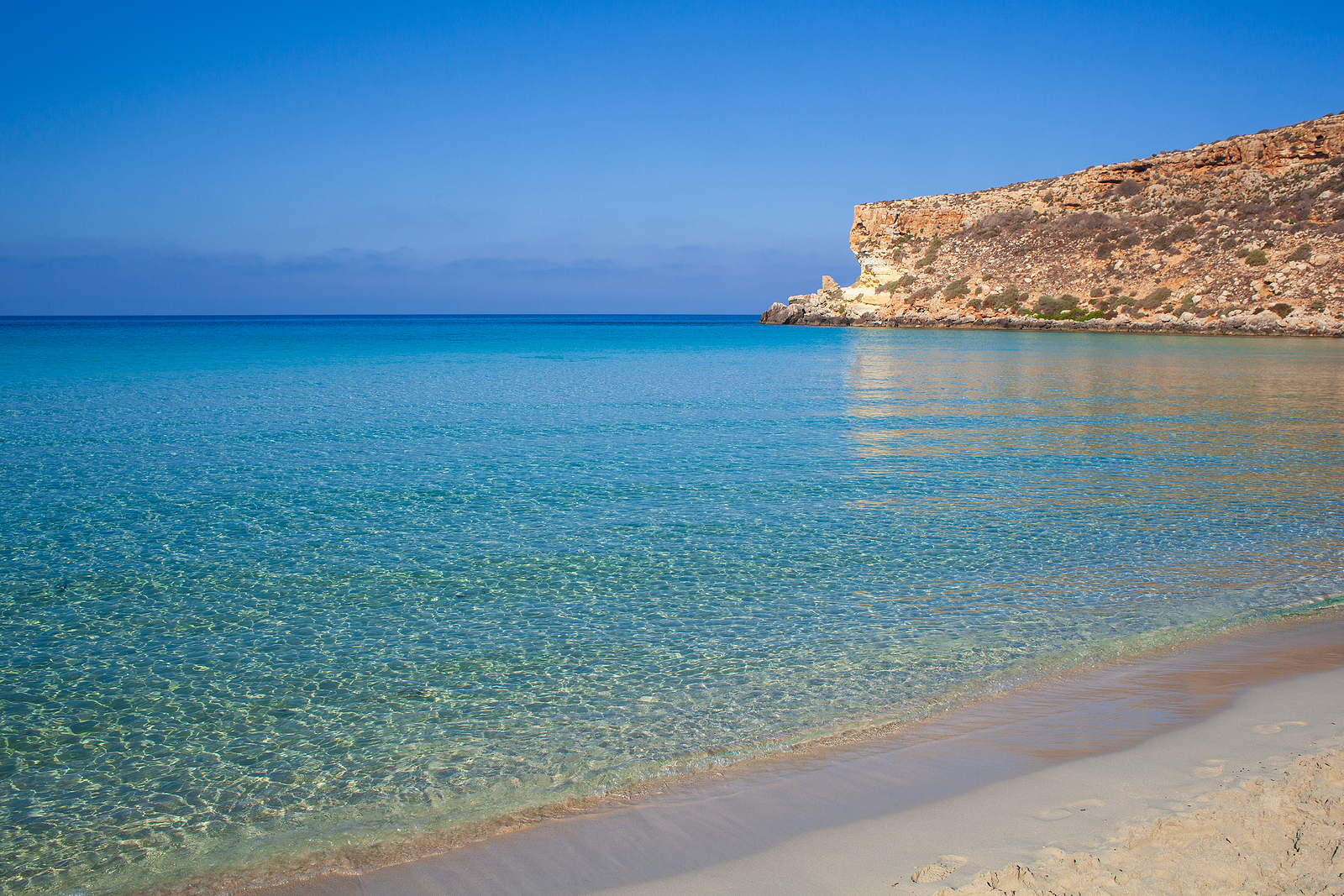 Often ranking among the world's most beautiful beaches, the Spiaggia dei Conigli on the Sicilian island of Lampedusa is simply stunning. 
Located in the south-western portion of Lampedusa, the largest of the Pelagie islands, closer to Africa than to the Sicilian coast, the Spiaggia dei Conigli is at the center of a large cove part of a protected natural reserve. The natural context and turquoise waters are its main draw - the beach is often compared to the Maldives.  
The Isola dei Conigli in front of the beach is home to the royal seagull. Every year, between June and September, the sea turtles Caretta Caretta, now, sadly, a threatened species, lay their eggs on the beach at night. For this reason, the beach is only accessible during the day, surveilled by volunteers.
Lampedusa in general is ideal for those who love snorkeling and diving.
Best for: swimming, snorkeling, scuba diving - for true beach lovers and sun fanatics. Definitely bring your own umbrella if you need some shade. 
La Pelosa (Sardinia)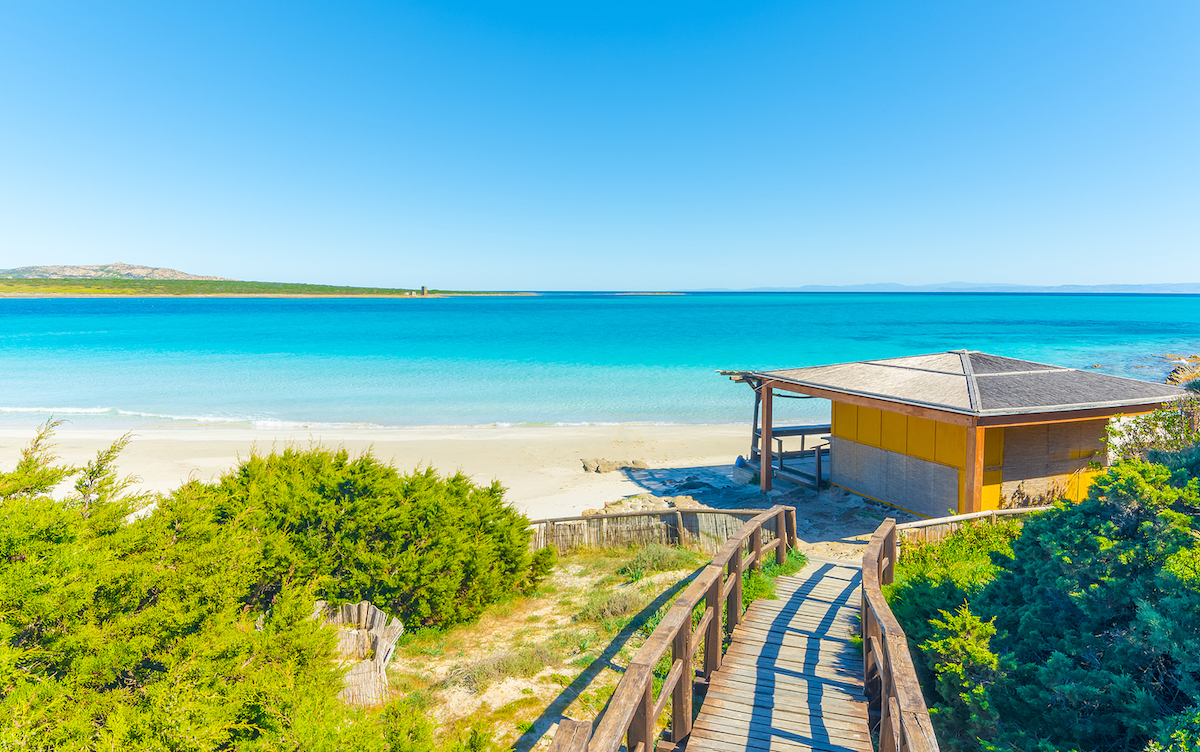 It's hard to pick a beach when it comes to Sardinia - they're all beautiful. One you may want to insert in your list of Italy's most beautiful beaches is La Pelosa, in the fishing village of Stintino, on Sardinia's northwestern coast. 
La Pelosa has white, fine, soft sand, light blue to turquoise waters that blend with the sky, and remain shallow for many meters even as you move away from the shore; in the distance is a 16th-century Aragonese sighting tower, one of the oldest in Sardinia.
Stintino is located in front of the Asinara Island, home to the Albino donkey and a former prison. The island is reached via boat and is best explored on a bike.
From 1 June to 30 September 2021, access to the beach is limited in order to prevent the erosion of the coast. The €3.50 ticket is valid for the day and can be purchased here. 
Best for: families with children given the shallow and calm waters and wide beach. 
Cala Coticcio (Caprera, Sardinia)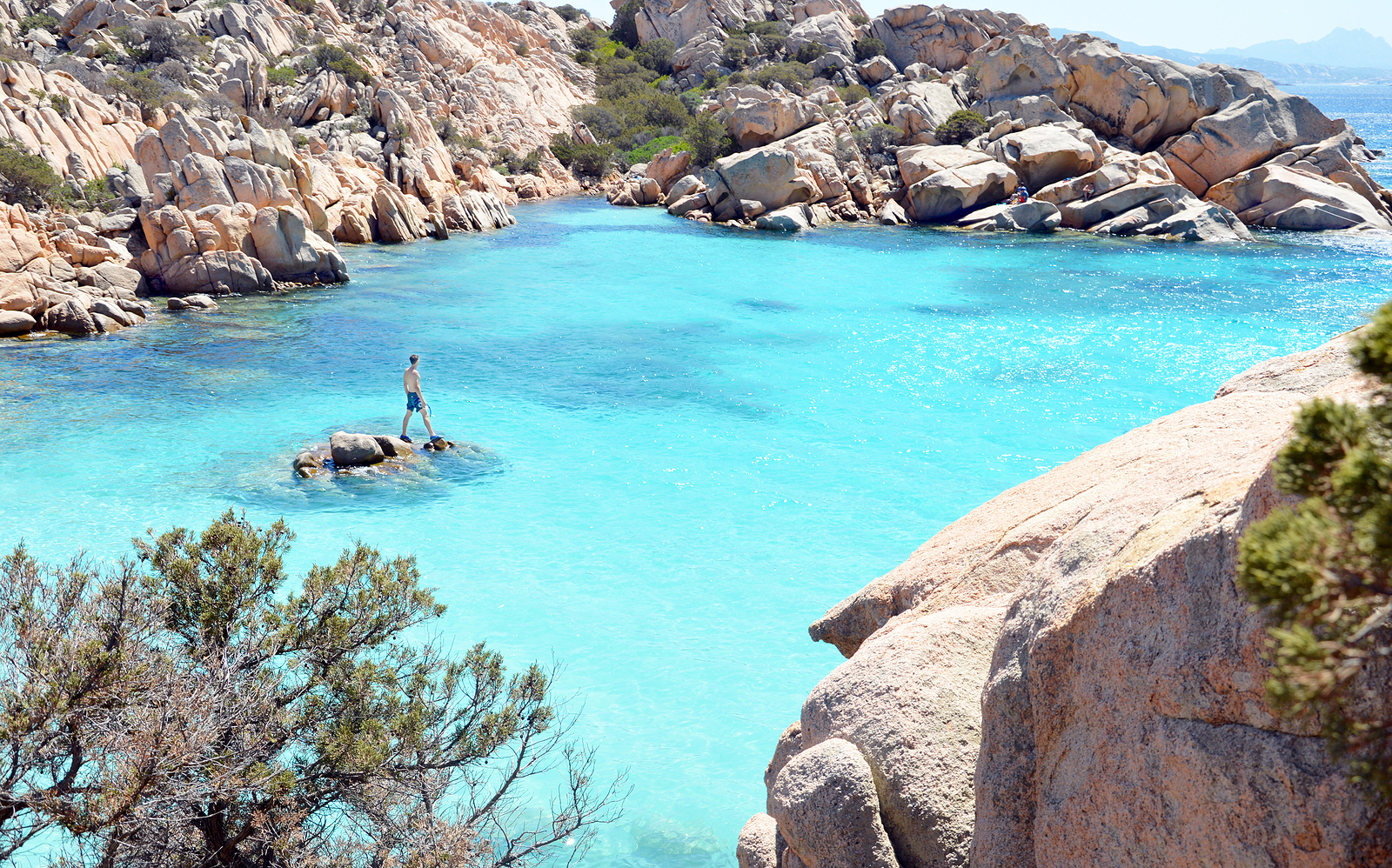 One of the most beautiful coves in the Maddalena National Park, Cala Coticcio is located in the north-eastern part of Caprera, the second largest island of the archipelago. 
Its sand is thin and white, almost dazzling, and the reflections of the crystalline sea are framed by pink rocks and shrubs of Mediterranean scrub.
Cala Coticcio, also known as 'Tahiti', is subject to environmental protection; it can be reached by sea on organized boat trips, or by walking for about 20 minutes on a trail amid rocks with variable incline, at times demanding, but worth the effort. Dive into its waters to admire the variety of fish and starfish. 
There are no facilities and no sun protection, so bring your own umbrella. 
Cala Coticcio is not the only coastal pearl of Caprera; not far to the south-east are Cala Portese, and the beach of the 'Relitto,' which guards an ancient ship wreck on the shore.
Best for: swimming and snorkeling and those who love a Maldives-like sea.  
Scala dei Turchi (Sicily)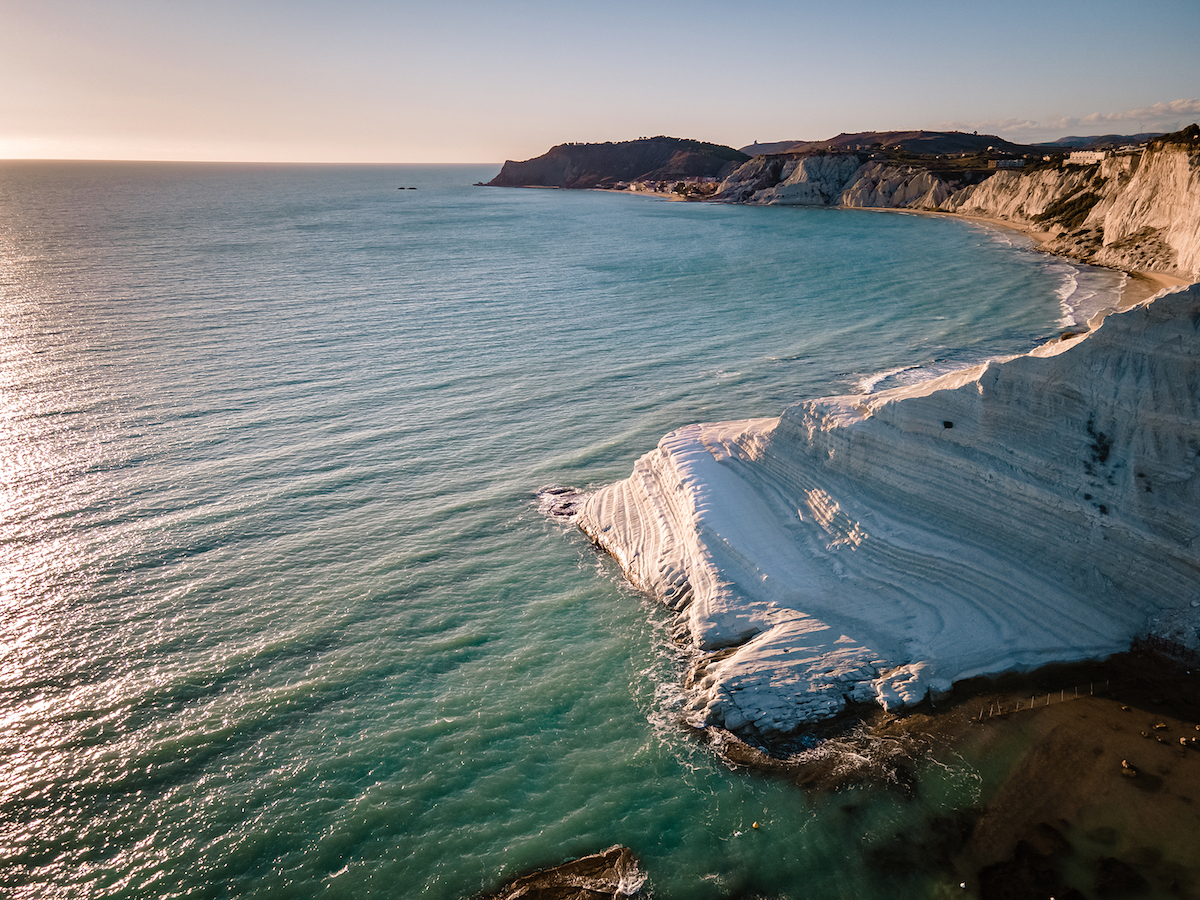 Along the southern coast of Sicily, Scala dei Turchi (Stair of the Turks) is a marl cliff that rises above the sea; its pure white color contrasts beautifully with the blue of the sea. 
It is said that Turkish pirates found shelter inside this bay, protected as it is by winds, hence the bay's name. Over time, it has become a tourist attraction both for the uniqueness of the cliff, and as a result of the popularity acquired following its mention in the Inspector Montalbano novels, written by Andrea Camilleri, a native of nearby Porto Empedocle. 
The beach, which can be accessed after a short walk along the sandy coast, has cavities that form natural armchairs, ideal for sunbathing; and the cold rock will provide a pleasant refreshment on hot Sicilian days.
Best for: those who want to mix beach days with culture as Agrigento's Valley of the Temples is nearby.
Erchie, Amalfi Coast (Campania)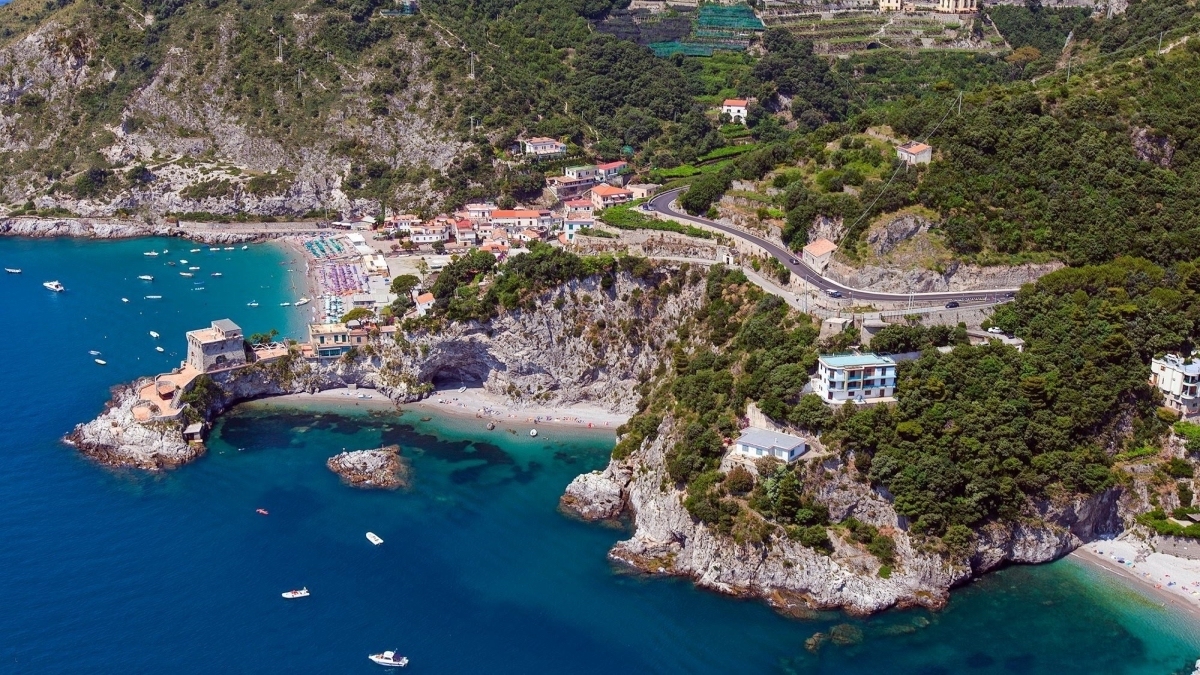 Ever heard of Erchie? Probably not, yet it's on the world-famous Amalfi Coast. Erchie is a tiny village with just a handful of inhabitants (about 120) located between Cetara and Maiori, set in a small cove.
The town can only be accessed through a narrow side street taken from the panoramic road of the Amalfi Coast, which can be easily missed. This is a place you'll find crowded mostly with locals.
In addition to the two equipped beaches located in the center of town, Erchie has two coves that can only be reached by sea, the most famous being Cauco Beach. 
Because the beaches are small around here, plan to arrive early or you may not find a spot. 
Best for: those wishing to mingle with locals and to avoid the glitz and crowds of most popular Amalfi Coast spots.  
Rimini (Emilia-Romagna)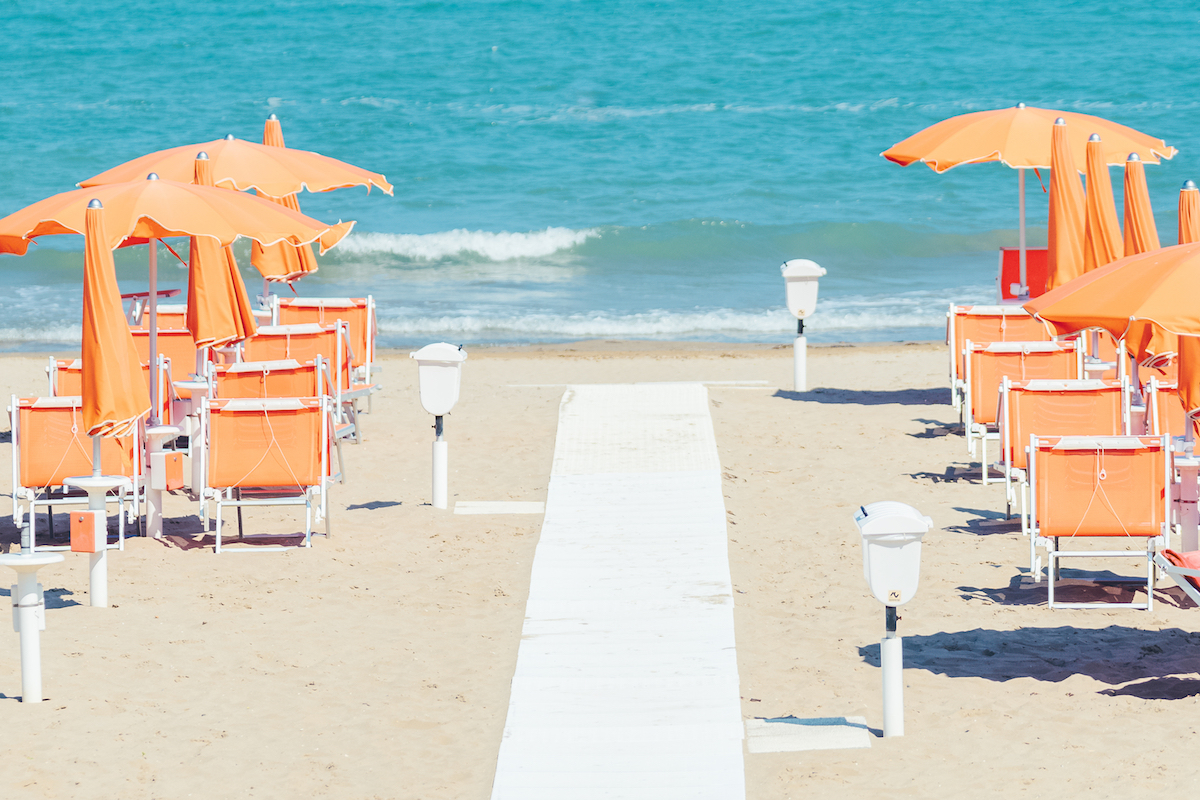 With 15 kilometers of sandy beach and hundreds of hotels, restaurants and discos, Rimini is one of Europe's most popular seaside resorts, equipped with facilities of all kinds. Not only that - venture away from the beach and you will discover a rich historic and artistic heritage. 
But don't come for the sea - it really is nothing to write home about.
In order to access the beach, you have to pay a daily fee to the bagno (beach resort) of your choice. This will provide you with an umbrella and a chair and the ever-amusing chance to eavesdrop on your neighbors' conversations; the umbrellas are lined in neat rows close to each other, so if you're looking for privacy, head somewhere else. 
If at some point you start hearing some loud music and see a group of people gathering by the shore, that's because a workout class or a dance session is about to begin, just one of the many services offered by the bagni. It's not unusual to see people in their seventies and eighties exercising or dancing with much gusto. That's just part of the charm of the Riviera. 
Many bagni have a bar in the back, so you don't have to venture far if you're hungry or thirsty; these bars often offer delicious lunches of seafood or piadina (the classic flatbread from this area) and aperitivo in the late afternoon.  
Best for: Italian beach lifestyle at its best. Ideal for families with children, for the elderly, and for the young.