While some form of ice cream can be traced to ancient times, the gelato and sorbet we know today have origins in a more recent past. A version of sorbet was served at Catherine de Medici's wedding to the King of France in1533, and in the17th century, Sicilian Francesco Procopio Dei Coltelli sold the first sorbets to the public in Europe. While Italians have been experimenting and refining their frozen desserts ever since, flavors have reached news levels of inventiveness in the past decade with everything from parmesan to white chocolate and garlic gelato on offer. We asked Rome-based writer Alexandra Bruzzese to share her favorite spots in the Eternal City and we report on the seven of these gelaterias below. 
Giolitti. Founded in the late 19th century as a latteria by Giuseppe and Bernardina Giolitti, the dairy shop was known for the quality of the milks farmed in the Roman countryside.The Italian royal family became customers, and business grew to include other addresses, among them the Via Uffici del Vicario site which thrives today as one of the most famous gelaterias in Italy. (Giolitti gained international renown when Audrey Hepburn famously sampled its ice cream in the movie Roman Holiday.) The Giolittis son Nazareno spearheaded the development of ice cream, creating closely guarded recipes that continue to be used today. Still owned by the Giolitti family, this historic emporium offers numerous flavors of ice cream (Malia and Sasha Obama visited the gelateria and whipped up a couple of varieties when their father, then president, was in Rome for an economic summit.) You can have your ice cream served in a variety of ways, including the basic hefty cone and cup varieties, on sticks, in biscuit sandwiches, as a semifreddo, or truffled ice cream. Via Uffici del Vicario 40 and Viale Oceania 90 (in the EUR district).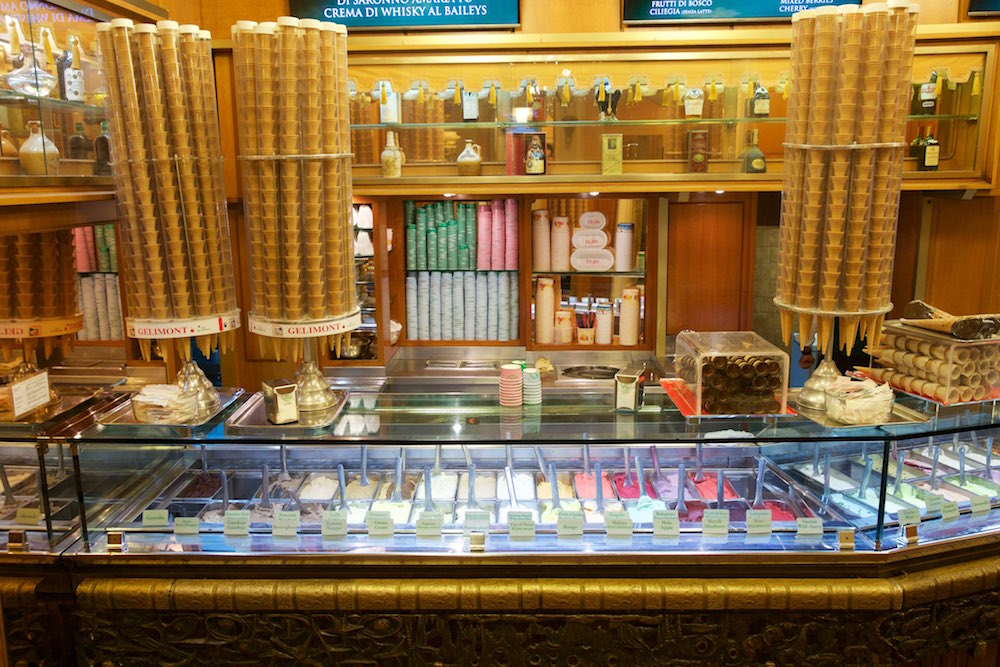 [Courtesy of Giolitti]
The Palazzo del Freddo by Giovanni Fassi. This family business also has roots in the 19th century (1880) when it began as a shop selling ice and  grattacheccha, or flavored shaved ices. 
although its present location in the Esquilino dates from the 1920s. Today, the fifth generation of Fassis oversees the landmark gelateria which turns out a scrumptious menu of gelato and ice cream desserts from artisanal recipes. Fassi is known for its outstanding semifreddos, among them varieties flavored with chocolate and zabaione (the Tartufone) or ganduja (the Gianduiotto). Its most famous semifreddo is the Sanpietrino, a now trademarked dessert made in the shape of the cobblestones that line Rome's streets. The classic version has a chocolate coating and a multi-flavor filling. Via Principe Eugenio 65.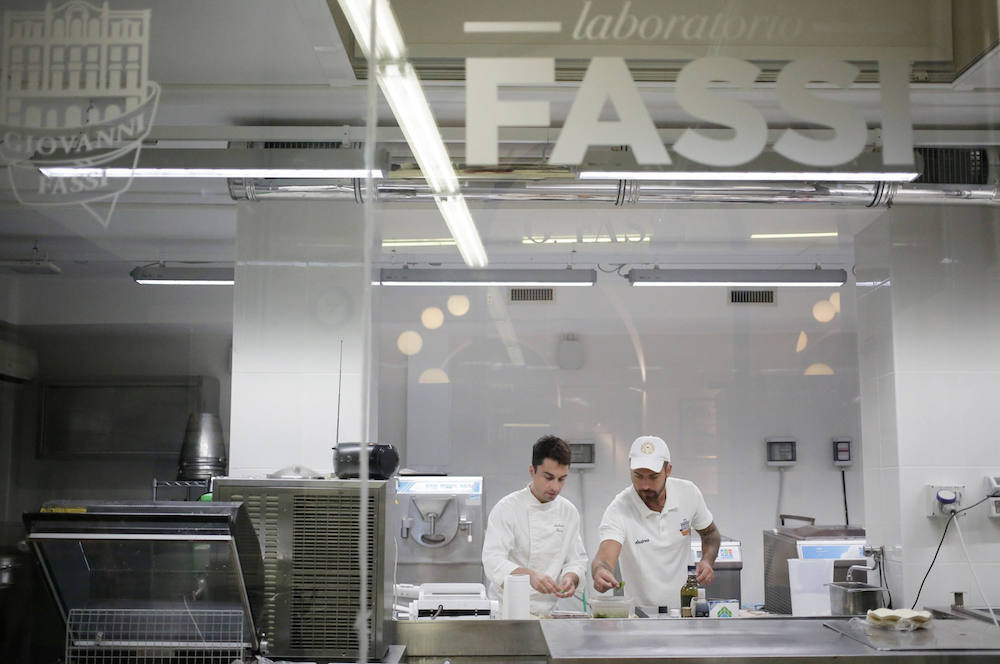 [Courtesy of The Palazzo del Freddo by Giovanni Fassi.]
Gelateria del Teatro. Having ice cream at the Gelateria del Teatro is like taking a flavor tour of Italy. Among the ingredients that go into the home-made ice creams and granitas are lemons from the Amalfi coast, citrus fruits and Avola almonds from Sicily, and Calabrian licorice. The classics here include an espresso-flavored coffee ice cream, vanilla, and stracciatella, but there are intriguing combos too, like lavender and white peach, and raspberry and sage. Stefano Marcotulli, who trained as a pastry chef and his wife Silvia opened their first gelateria not far from the Piazza Navona in 2006 working round the clock to launch their business, which as Marcotulli has recounted, began with €30 for first-day revenues, but quickly became a word-of-mouth success. The Marcotullis run a school for travelers and amateur enthusiasts (there are internships for professionals) that teaches the fine art of artisanal ice cream making, so you can recreate some of those extraordinary tastes back home. Via dei Coronari 65/66 and Lungotevere dei Vallati 25.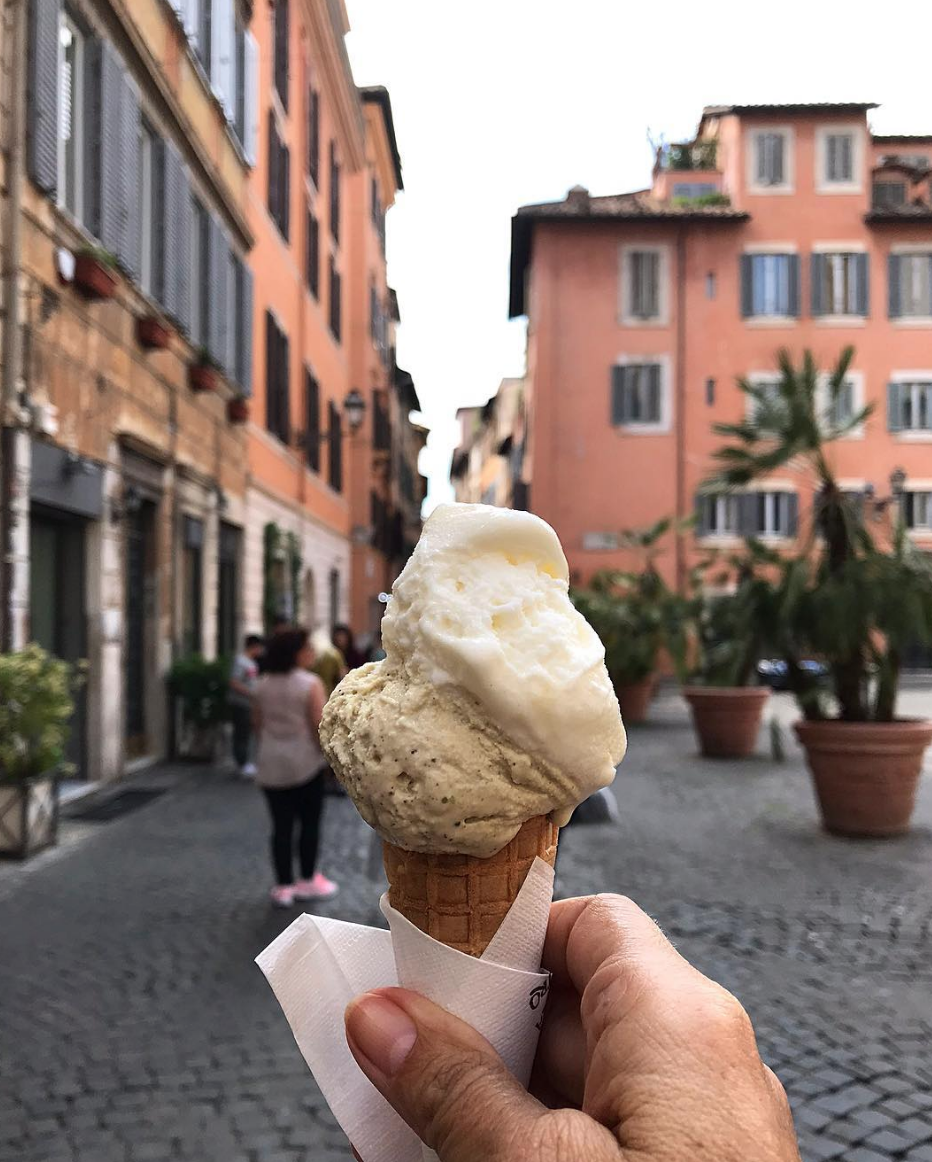 [Photo credit: Instagram, Sara Fruithandler]
Günther Gelato. Incredibly inventive pairings are the attraction at Punto Gelato, founded by Bolzano native Gunther Rohregger,  where you can order up such gelato combos as walnut and gorgonzola sauce; buffalo milk and pink pepper; and even a Caprese (yes with flavors of buffalo milk, basil, and tomato). But purists can savor such classics as vanilla (Grand Cru Mauritius) and Gianduiotto and choco-holics can work their way through a number of offerings like Extra Dark, made with very dark Venezuelan chocolate or Fondant Madagascar, created with the country's single-origin cocoa which has an aroma of red fruit. The first Punto Gelato opened on Via dei Pettinari 43  in 2012; there are now three shops in the city; another Punto Gelato at P.zza Sant' Eustachio, 47;  and The Taste Gelato at Via Due Macelli 108.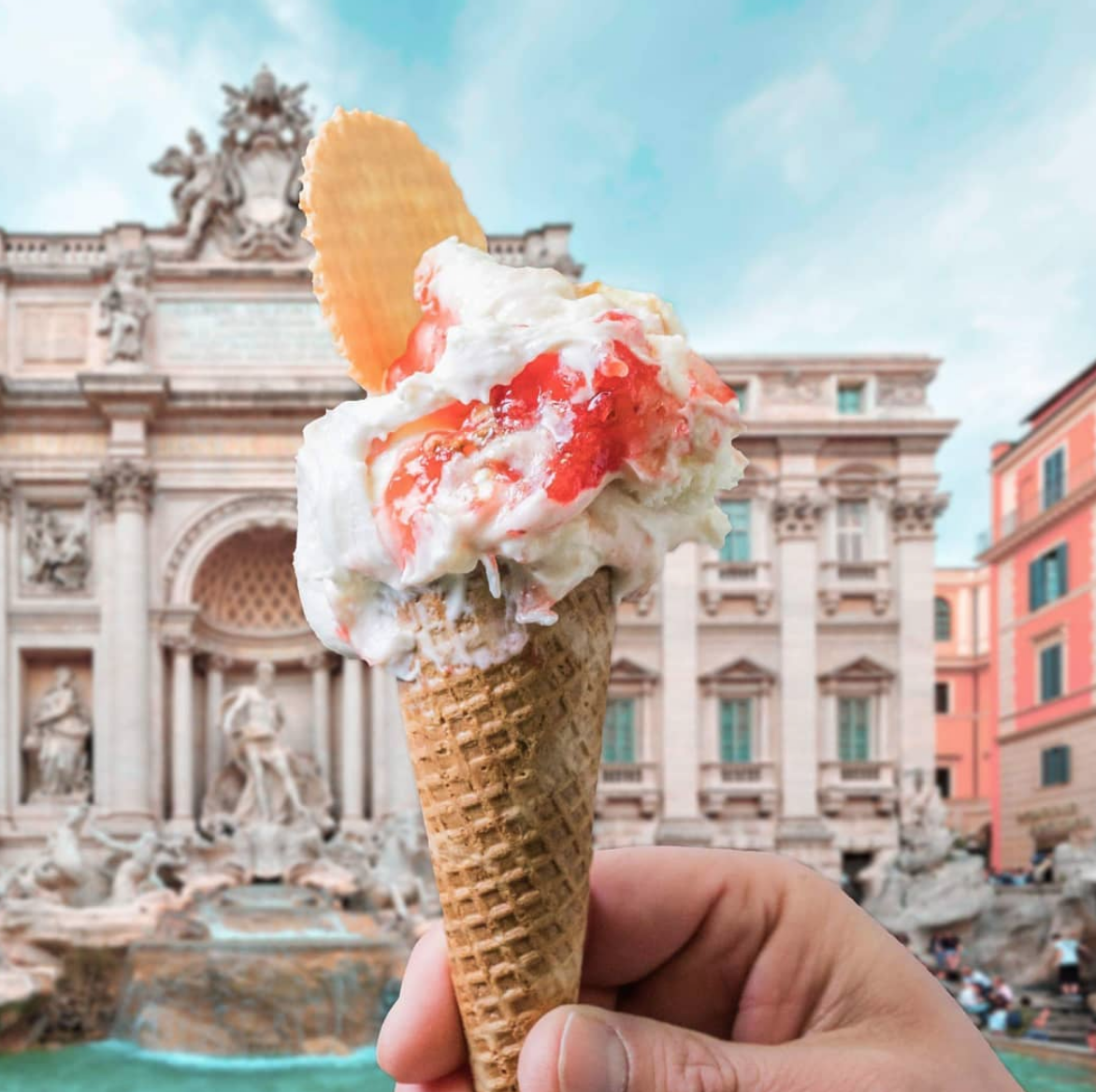 [photo credit: Instagram: Gunther Gelato]
Fior di luna. This small Trastevere gelateria prides itself on making gelato and sorbet with the fewest amounts of ingredients (to better maximize flavors), which are seasonal and locally and ethically sourced. For example, the majority of fruit used  comes from Lazio (although oranges are from Sicily). There are different types of exotic chocolate flavors;  gelato made from donkey's milk (which has health benefits), and a delicious persimmon flavor. Via  della Lungaretta 96.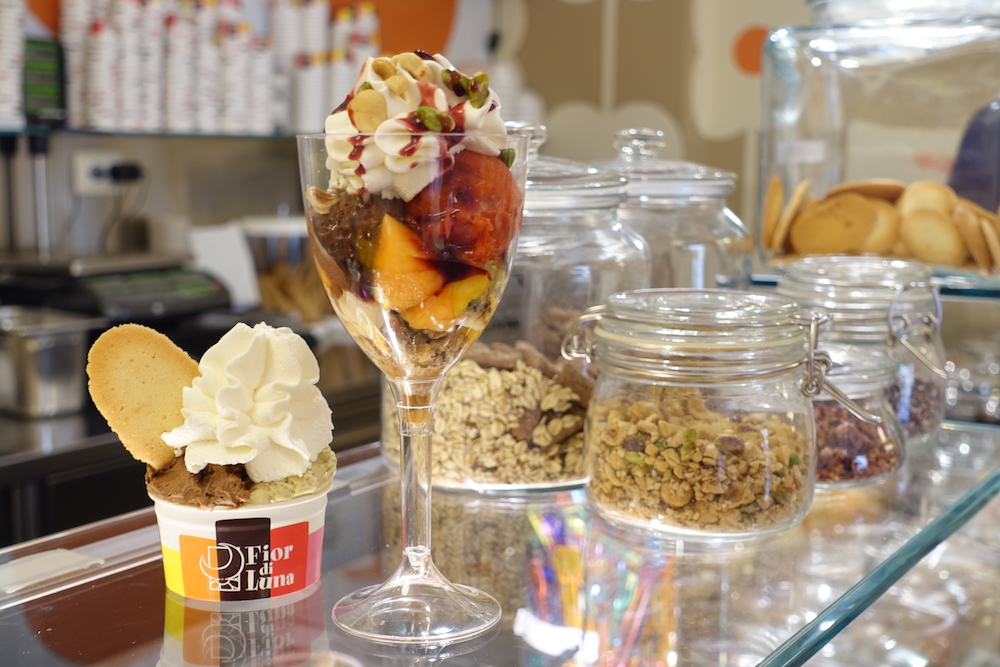 [Courtesy of Fior di Luna]
Gelateria dei Gracchi. Alberto Manassei, the founder of Gelateria dei Gracchi which first opened in the city's Prati district in 1999, is from Sardinia, where he experimented with formulas using all-natural ingredients that made his artisanal gelato an instant hit (there are now four stores in Rome). Gracchi does the classics, along with inventive combos like ricotta and pear, and honey rice. The pistachio ice cream is a  must—it's made with Bronte pistachios which are cultivated in Sicily and noted for their sweetness. Don't miss the chocolate-covered cremini, or on a hot summer afternoon the watermelon or lemon granitas. Via Dei Gracchi 272 in Prati and other locations throughout the city.  
[Photo credit: Instagram: gelateriadeigracchi]
Gelateria Fatamorgana. Founder Maria Agnese Spagnuolo has said that she's motivated by the discovery of "sweet new flavors," and in her eight shops in Rome she delivers them with finesse and frequently changing offerings. How about a scoop of parmesan, or basil, honey and walnut gelato? If your taste runs to more classic flavors, there's chocolate, of course, but why not try the Black and White that mixes white chocolate and black garlic?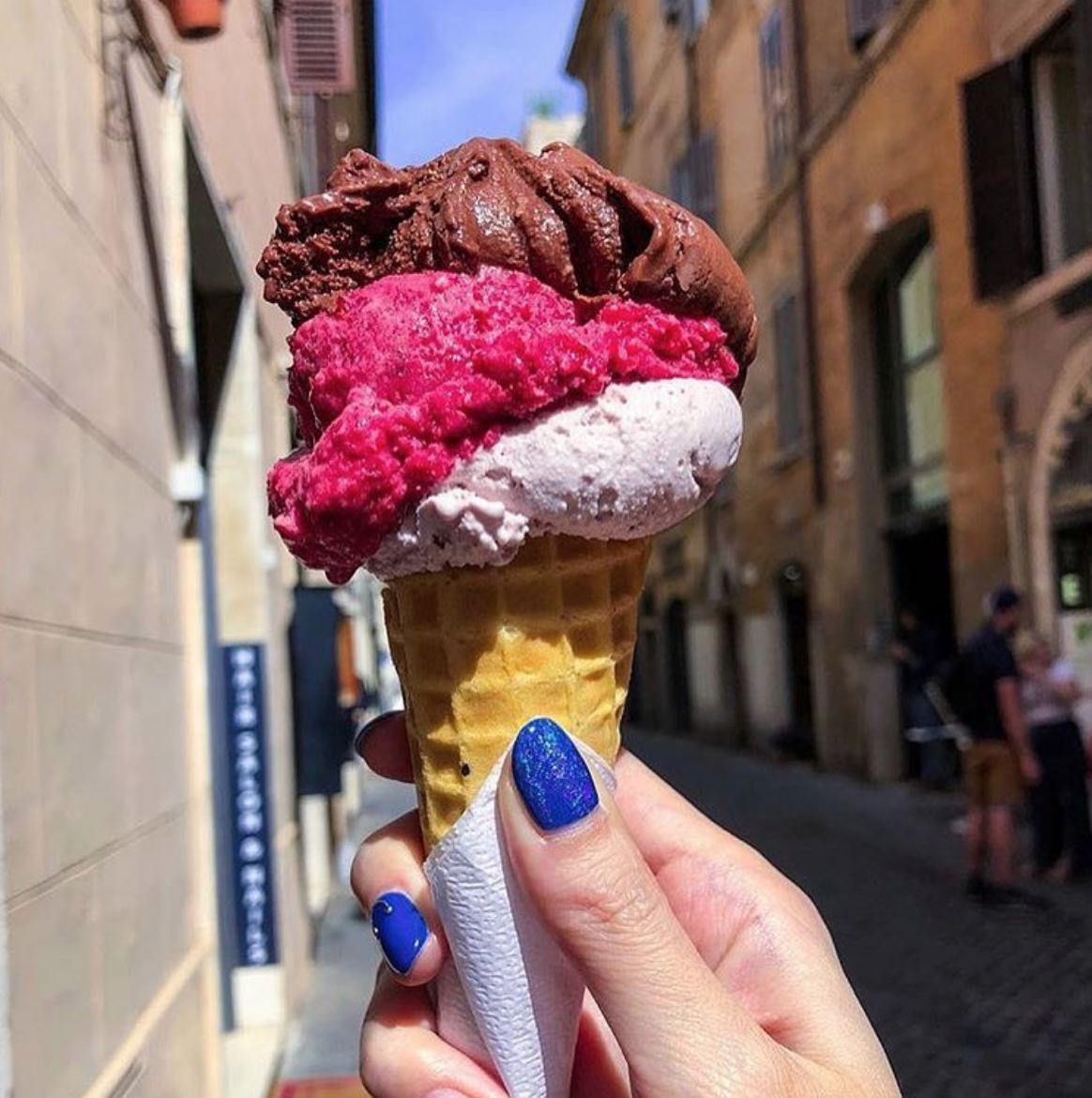 [Photo credit: Instagram, Fatamorgana]
Whatever you choose, it will be made from fresh, natural ingredients. Via dei Chiavari, 37-37A, a short walk from the Campo dei Fiori, and seven other locations in Rome (and one US outpost in Studio City in Los Angeles). 
SaveSave