A heatwave is sweeping across Italy, with a red warning issued for 18 Italian cities including Milan, Bologna, Venice, Florence and Rome, with temperatures expected to reach almost 40°C. If you're traveling around the country this time of the year, don't despair – there are cool ways to still enjoy your sightseeing. We've asked local experts for tips on where to find some respite from the heat in Italy's major destinations. Read on and eat a gelato.
MILAN – tips by Thea Prando, blogs at http://www.doingitaly.com/
Parco Sempione - Built in 1893, this well established garden in the heart of Milan is filled with secular trees, lush green walkways, several fountains, and offers lots of ways to stay cool and in the shade during the hot summer months.  Smack between Castello Sforza Castle and the Arch of Peace, with other important sites like the Gianni Brera aquarium and the Milan Triennale Museum on its borders, the park also offers several sites and historical monuments to see. During the summer months, numerous events and concerts are organized in the park.
Underground Milan - Go underground, it's a perfect way to ensure that it's cooler inside than out. There are a series of underground sites throughout the city of Milan. You can start your tour in Piazza Duomo by visiting the San Giovanni alle Fonti Baptistery, which is four meters below ground, and from there continue on to the former Santa Tecla Basilica. Other underground sites include the Crypt of San Giovanni in Conca and the Crypt of San Sepolcro.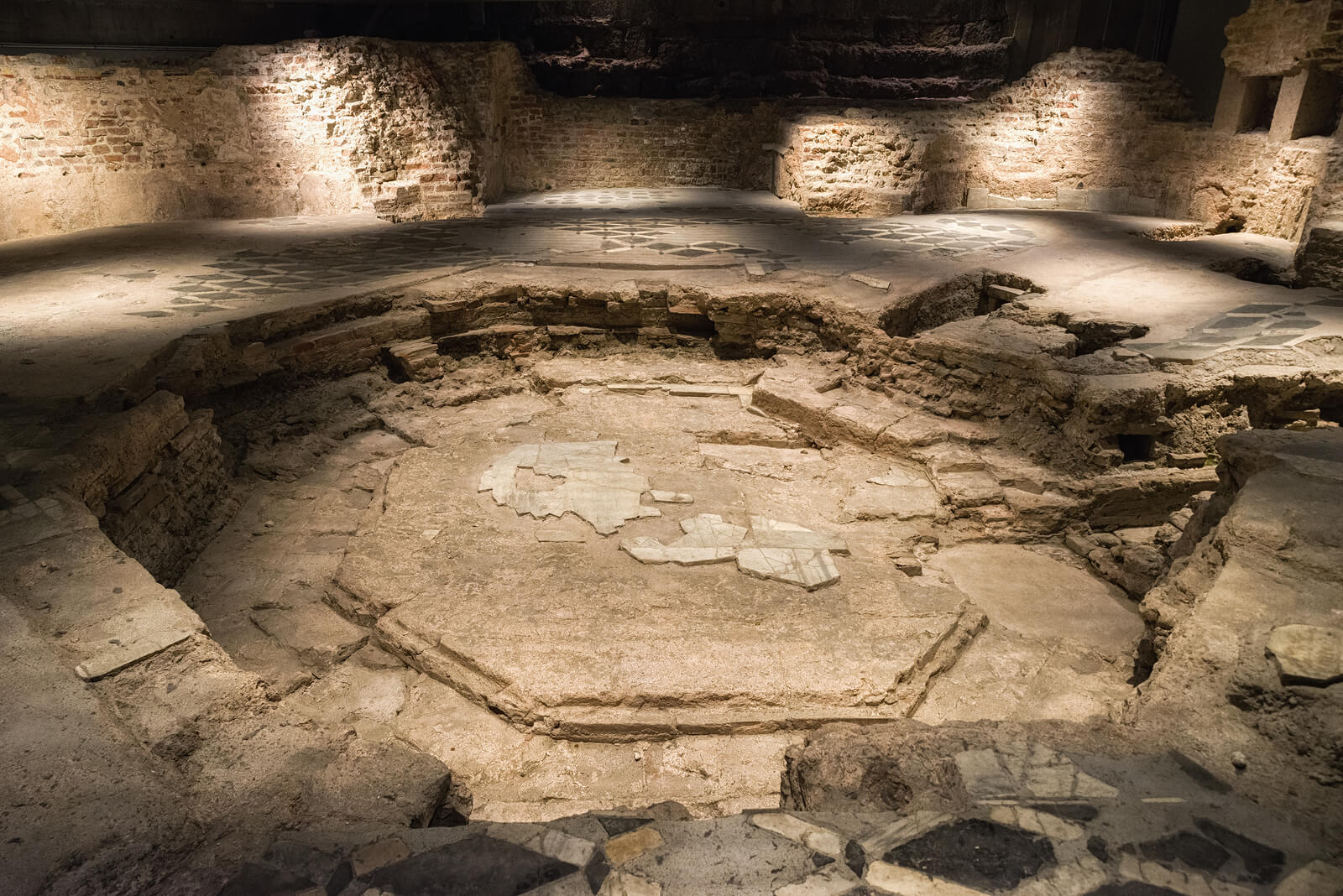 [Underground of Milan's Duomo.]
Open air cinemas - Another way to beat the heat is to go out at night. Over the summer months, the city of Milan, in conjunction with the Anteo cinemas, has open air viewing of various films in interesting historic settings like Palazzo Reale and Arianteo Chiostro dell'Incoronata.
VENICE – tips by professional tour guide Luisella Romeo, www.seevenice.it
If you happen to be in Venice on weekends, visit the Doge's Palace on a Friday or Saturday evening, when the museum is open until 11 pm (Museums by the Moonlight event).
Check out the museums that offer air conditioning! Querini Stampalia, Ca' Rezzonico, Guggenheim; and enter cool churches like Basilica dei Frari and Basilica dei Santi Giovanni e Paolo.
Find some shade at the Giardini della Biennale, public gardens made by Napoleon at the beginning of the 19th century, located in the Castello sestiere. The Giardini now host 29 pavilions of foreign countries.
Visit the Holy See pavilion at the 16th International Architecture Exhibition (Biennale di Venezia) on the island of San Giorgio Maggiore.
Go to the Lido where you'll find beach resorts.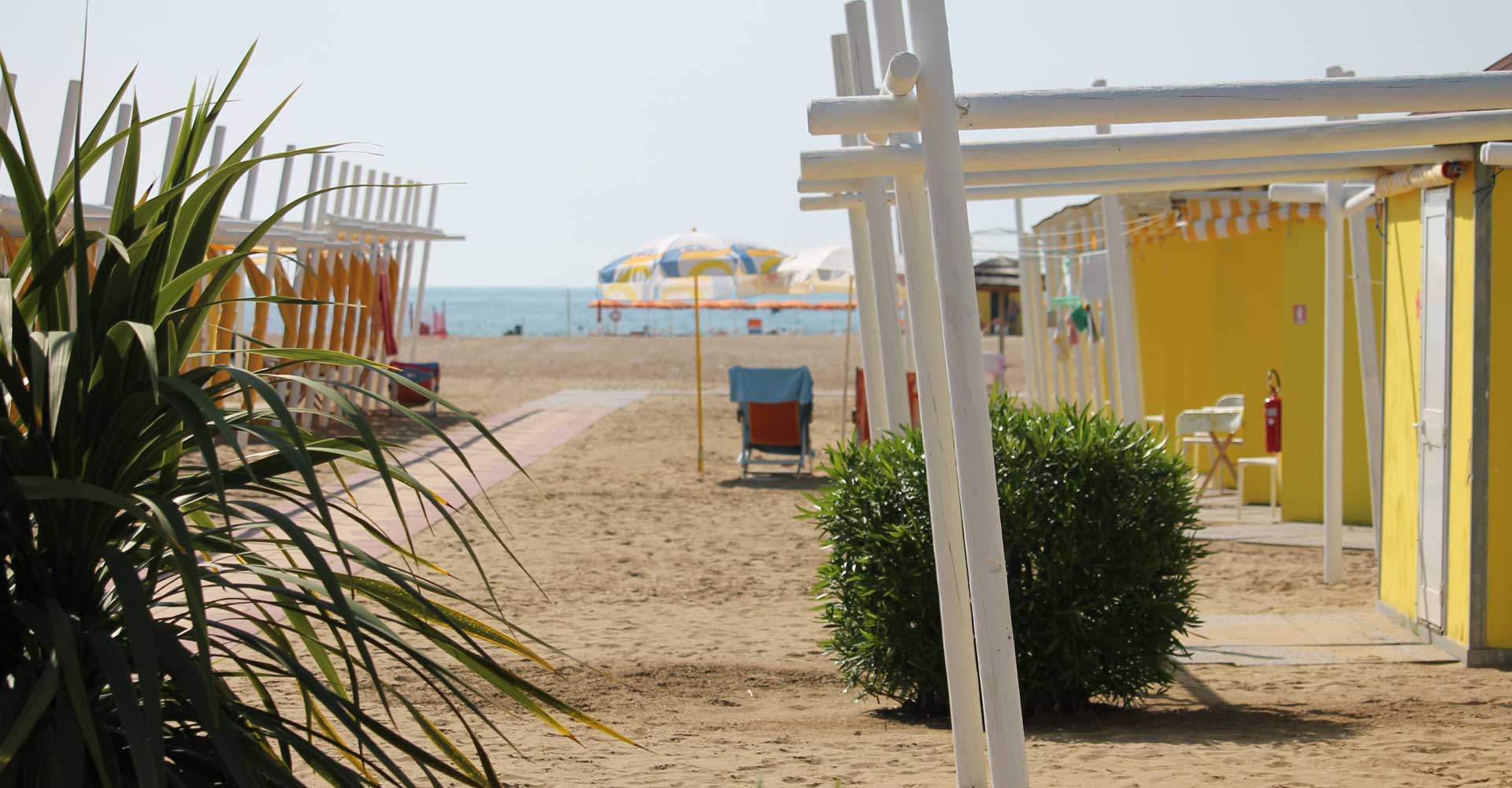 [A beach at the Lido in Venice.]
BOLOGNA – tips by Silvia Donati, Italy Magazine's contributing editor, blogs at https://bolognauncovered.com/ 
Le colline di sera - the hills at night: Bologna is among the worst cities in Italy when it comes to heat and humidity in summer and it's not uncommon for temperatures to be between 35C and 40C for days on end. However, Bologna has a favorable geographical characteristic: a hilly area begins to the immediate south of the city and, even just going up 100-200 meters does make a difference. So one of the most pleasant remedies to the summer heat is to head to the hills, preferably in the early evening with a bottle of wine, so you can also catch the sunset and admire some lovely views; there are also numerous places to eat, some of my favorites include Casa Vallona, Fienile Fluò, Podere Riosto, Ca' di Pippo.  
Churches & porticoes: Basilica di San Petronio – you have a chance to cool down a bit right in the heart of the city thanks to the Basilica of San Petronio, which is not only one of the city's most important monuments (for a bit about its history and what not to miss, see my post on Bologna Uncovered), but also one of the freshest places you'll be able to find in the city center. The Basilica of San Petronio stands on Bologna's main square, Piazza Maggiore, which is home to a nightly open-air cinema that enjoys pleasant breezes (until August 15). And don't forget that Bologna has 38 km of porticoes (covered walkways) that wind through the historic center, so, while it'll still be hot, at least you won't be directly in the sun!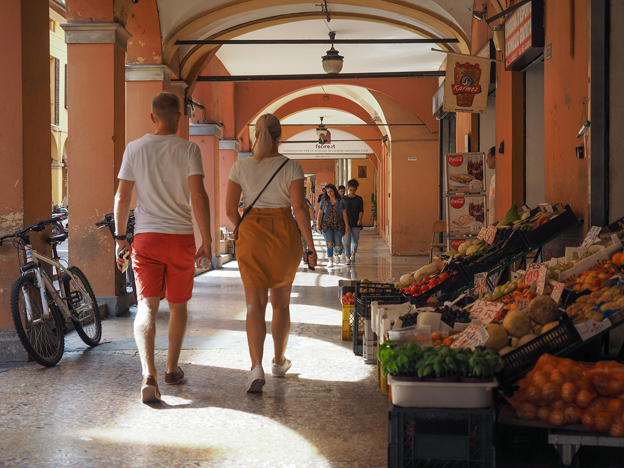 Museums and underground sites: There are many interesting museums that let you enjoy air conditioning while learning about the city's history. Favorites include the Museum of the History of Bologna (from Etruscan times to the present day, it doesn't get more comprehensive than that), the Medieval Museum (to learn about a seminal time in the history of the city, the Middle Ages), the Carpigiani Gelato Museum (outside of the city center, and grab a gelato in the nearby gelateria). Also, Bologna has an underground history not many are aware of, and there are a couple of recently reopened sites that are refreshingly located underground, such as Bagni di Mario, an hydraulic artifact built in the Renaissance to bring water to the fountains on the main piazza, and the Crypt of San Zama, a very ancient site that is thought to have been the first Christian cathedral of Bologna.
FLORENCE – tips by Italy Magazine editor Georgette Jupe, blogs at http://girlinflorence.com/ 
You might be dismayed to find out that the Renaissance city of Florence is well-known for being one of Italy's hottest cities. This week alone, we were privy to sweaty highs of 38 degrees Celsius and the humidity to match. However, there are a few ways one can stay sufficiently cool in the city along with plenty to do around town.
A reason to rise early! A walking tour of Florence is best enjoyed before 9am when temperatures remain bearable and most of the city is slowly wake up. One favorite walking path is from Porta Romana to the panoramic views of San Miniato al Monte on the leafy Viale Machiavelli. Reward yourself with a caffe and cornetto, or gelato, at a neighborhood café in San Niccolo
Green spaces can be hard to find in the center, there is the ex-hunting grounds turned public park Cascine that offers not only plenty of shady space to relax with a book or picnic but also a pool open to the public. Pavoniere pool is open from 10:30-18:30 and come nightfall offers cocktails or dinner poolside to keep the good vibes going. Otherwise, we recommend heading to Lungarno del Tempio 1 for live music and street food as local's dive into burgers and bbq along the river Arno.
Enjoy nightly (shows start at 10pm) open-air cinema until August 11th in the majestic surroundings of Piazzale degli Uffizi as Apriti Cinema showcases some of the Italy's most iconic films.
Many of the city's church-museums such as San Lorenzo Basilica, Santa Croce and Santa Maria Novella offer a cool refuge along with a dose of the city's religious and cultural history. Thanks to the ancient architecture, these marble attractions are a cool way to escape the sun, we would also add a stop at one of the oldest pharmacies turned museum shop in the world founded by Dominican friars shortly after 1221, Officina Profumo-Farmaceutica di Santa Maria Novella
Gelato for breakfast, lunch, or dinner? Why not? Skip the over-priced industrial gelato on the Ponte Vecchio and main central roads in Florence and head to Florence's best artisanal gelaterie: my favorites are My Sugar in San Lorenzo, Triangolo delle Bermuda on Via Nazionale, Gelateria della Passera and La Sorbettiera in Piazza Tasso.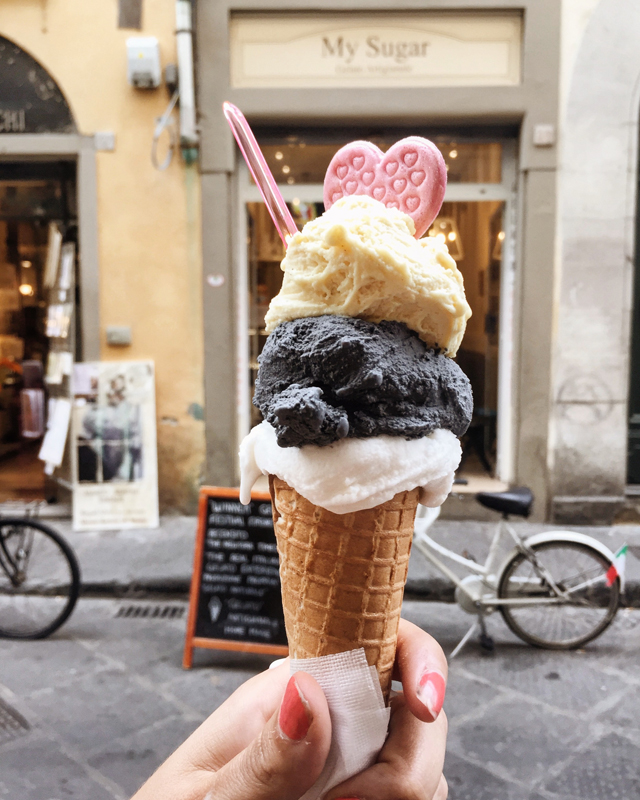 [Gelato from My Sugar gelateria in San Lorenzo neighborhood. Photo by Georgette Jupe.]
ROME - tips by food & travel writer Maria Pasquale, blogs at www.heartrome.com
Head to Villa Borghese, Rome's most famous park where you can find shady spots for a picnic or lie down and even relax on a row boat in the lake.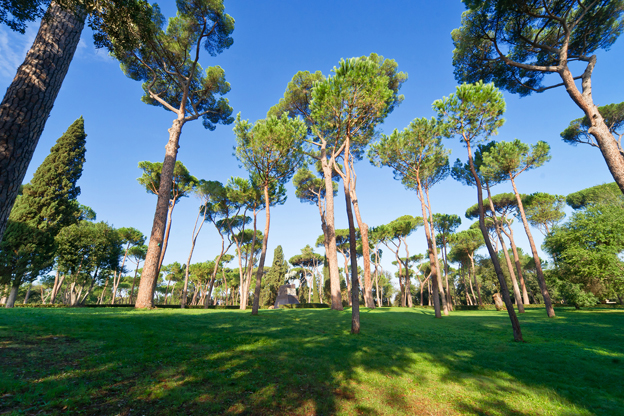 [Villa Borghese park in Rome.]
Go underground and see Rome's street level from thousands of years ago. The catacombs beneath the eternal city provide a unique cultural and archaeological experience and provide respite from the Roman heat.
In the evening, catch a movie at the outdoor cinema on Tiber Island. The tip of the island enjoys a cool breeze and afterwards grab a grattachecca at one of the stands along the river - these refreshing flavored ice drinks are the perfect treat on a hot summer's night.  
SICILY – tips by English language teacher and writer Rochelle Del Borrello, blogs at https://sicilyinsideandout.com
August heat waves in Sicily mean a combination of four elements: mare, sagre, montagne and granita (beach, food festivals, mountains and granita), all in equal doses.
Mare (beaches): Most Sicilians migrate to the beach in the summer. Even though some of Sicily's coast is quite rugged, there are many towns which offer stretches of beautiful beaches and connections to other places, either in the form of summer bus day trips or ferries to the islands. On the north coast, there are many places to stop at the beach running from Messina in the east to Trapani in the west: towns like Oliveri and their idealistic seaside lakes at Marinello; Capo D'Orlando with its new port connection to the Aeolian Islands; Cefalu's romantic seaside location, seafood restaurants and outstanding Duomo; Mondello, outside of Palermo, has one of the best beaches in Sicily. The Riserva dello Zingaro near the suggestive town of San Vito lo Capo will give you a bit of a hike, but it will be worth it when you discover your own private strip of beach. There are some beautiful beach going options moving clockwise along the Sicilian coast from outside of Trapani, beginning with Castellammare del Golfo, Favignana, Scala dei Turchi at Realmonte and ending at Fontane Bianche at Siracusa. The resort town of Taormina has Isola Bella, nearby Giardini Naxos and a succession of small resort towns in either direction. The rustic Rivera dei Ciclopi from Catania to Acireale is rugged, yet offers some of the best snorkeling and diving areas around Sicily.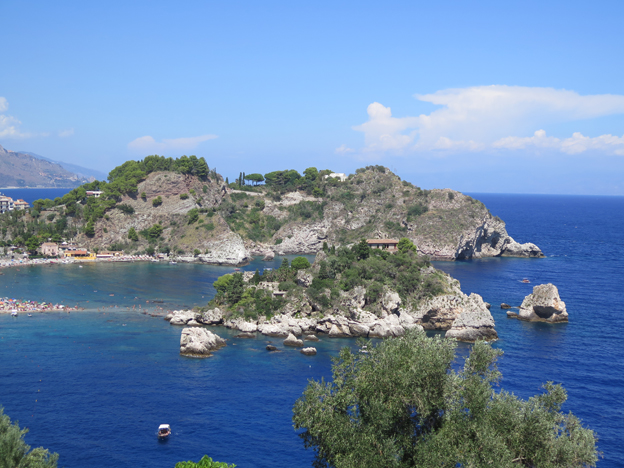 [Isola Bella, Taormina. Photo by Rochelle Del Borrello.]
Sagre (food festivals): After you have decided on your beach escape, it's time to make the most of the cool evenings by searching out local food festivals, free concerts and other events in the areas. A locally organized sagra will offer you a taste of local products and are proudly hosted by smaller villages outside of the major cities. This month alone Sicily hosts festivals dedicated to street food, maccherone (Aug. 17 at Calatafimi, Trapani), nocciole (hazelnuts, Aug. 17-19 at Polizzi Generosa, Palermo), tonno (tuna, Aug. 11-12 at Avola, Syracuse), pesce azzurro (bluefish, Aug. 11 at Capo D'Orlando, Messina), seafood at the Festa del Pescatore on Aug. 17, 19, 24 and 25 at Acireale, Catania, and many more. These events are usually advertised locally so be sure to give yourself time to explore, ask around and pick up flyers from local tourist offices.
Montagne (mountains): Sicily has five major national parks filled with many mountain towns to explore and trekking paths to visit and escape the heat; these include the Parco dei Monti Sicani, Madonie, Nebrodi, Etna and Alcantara. One great hidden spot for cooling off is in the Alcantara gorges at Motta Camastra (Messina). It's quite tricky to get out into the park, moving inland from Taormina, but once you get there and catch the elevator down to the base of the gorge, with its icy cold mountain river which becomes a private beach for locals, the background of the ancient lava rock formations is an unforgettable experience. For those who love the outdoors, the park also organizes canoeing and trekking through the park. This month the gorge will also host a suggestive theatrical performance of Dante's Inferno. A weekend at Etna or the Madonie, Peloritani, Nebrodi, Sicani, Erei, Iblei or Erice mountains will give you a pleasant break from the heat; there are loads of little rustic restaurants, camping sites, outdoor adventure parks and picnic spots dotted around each area.
Granita: For the hottest moment of the day, just find an open bar and slurp on endless granita. A Sicilian shaved ice granita is the ultimate way to survive any long hot summer. The flavors are continuous, from the classic coffee, chocolate, almond, pistachio, lemon or strawberry to fruity tastes like peach and mulberry. I guarantee a granita in Sicily will be the best you have ever had in your life.