Many Italy Magazine readers dream of buying property in Italy. It was my dream too, and I've never for one moment regretted my decision to do it. However, with the dream comes legendary Italian bureaucracy, demonstrated in this little ironic tale!
When I bought my appartamento in the Veneto 11 years ago, I was advised to open a bank account so that all my utility bills could be paid by direct debit. (Otherwise, as I discovered, every time I presented a bill for payment I had to pay €1.50 tax for the pleasure of paying it.) Banco Posta was apparently the cheapest bank, so I opened an account and all was well for a few years.
On the few occasions when I went there, it always seemed to be badly organised, and I was amazed at the patience of customers queuing for ages with officials in no hurry to be of assistance. The notice not to prop bicycles on the post office wall was of course ignored, as was any awareness that using a telefonino whilst being served was a nuisance to others and kept them waiting even longer. The bank wouldn't supply me with a card so that I could have access to my money from a cash machine. This was apparently because I didn't have a regular salary coming in each month, but it was still frustrating.
Very quickly the bank charges began to increase so that I was often paying more in charges than the price of the bills being paid. Admittedly it was convenient, but I reasoned that I could save (despite the payment tax) by paying each bill individually.
Finally, on 7th August this year, I decided to close my account with Banco Posta. The man behind the counter shook his head and informed me that I'd have to see the manager, so I asked if I could.
"You'll need to make an appointment."
"OK," I said. (In Italian, obviously.) "Can I make one?"
He told me she was busy, but then she came past behind him and overheard the discussion. I was invited into her office.
The forms were completed and I gave my passport number and English bank account details for a transfer. All seemed to be well… but I should have known better. Over the next 4 weeks, I kept checking to see whether the money had been transferred to my English account. Nothing. Niente.
Five weeks after my account was closed I returned to the post office. Only two people at a time were allowed inside because of Covid restrictions, so I waited outside patiently, along with several others. Some in front of me got tired of waiting and left. Eventually, I reached the counter and spoke to the same rather surly man I'd spoken to earlier. Luckily as he tried to fob me off, the manager again happened to be passing behind him and took over my case.
"Yes, Signora, your account was closed on August 28th."
"No," I replied. "The date on this form is the 7th, the day of our meeting."
"Certo, but the 28th was the day the account was officially closed."
Even so, the date was now September 10th and I pointed out that transferring money from my account in England to Italy took me at most 2 minutes. I asked if I could simply have the cash instead. After all, it was my money, not theirs. Not possible, apparently. She said she needed to make a phone call, and wandered off behind the metal filing cabinets to her office, leaving me next to a window marked chiuso.
Half an hour later, she returned to explain that the procedure had to go through Rome as it was a foreign transaction. My money should be in my account by Monday. If it didn't arrive, could I let her know by text message? I pocketed her card but wondered if this was another delaying tactic because nobody knew how to do it. I returned to England the next day.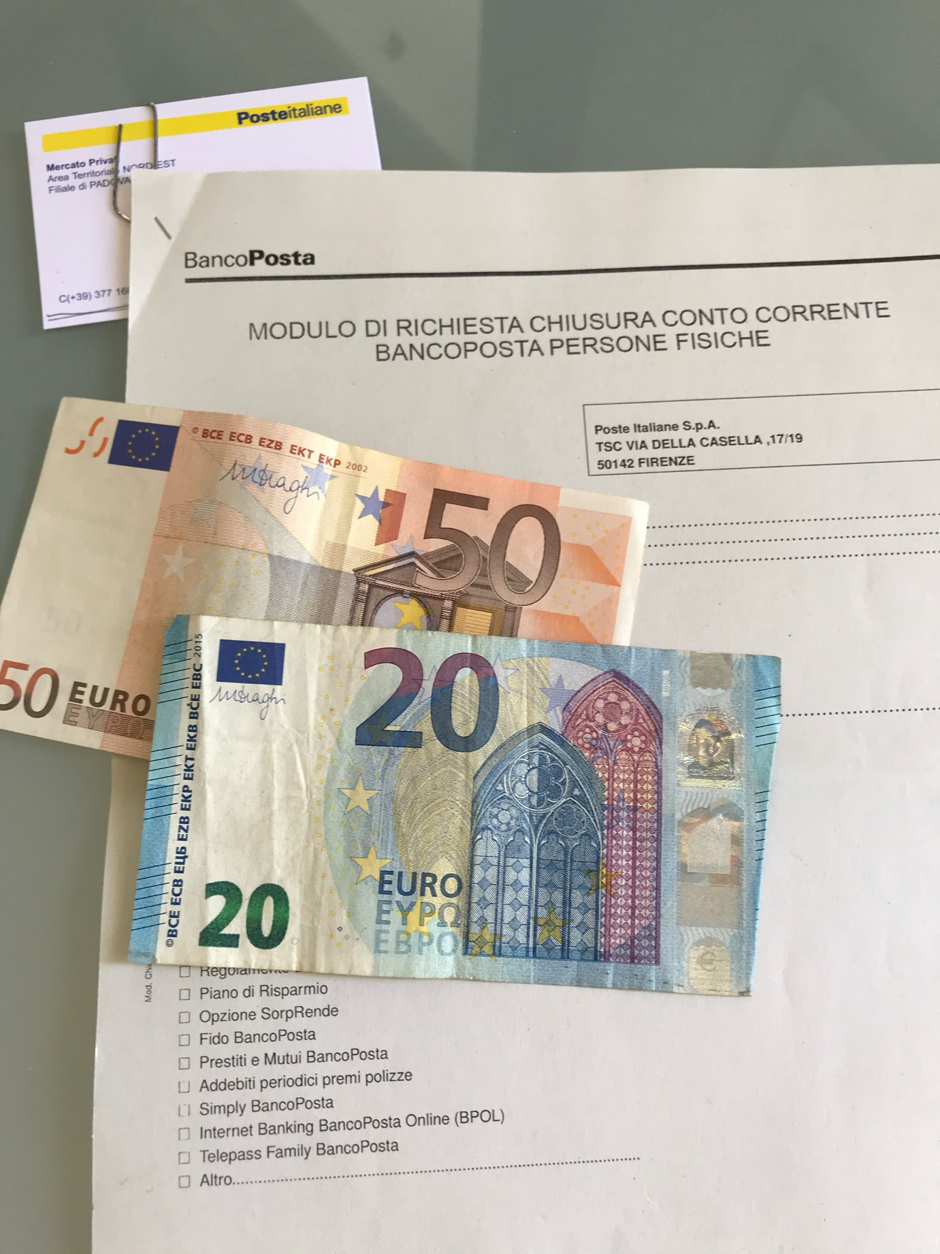 Monday came and went with no activity in my account. I've sent texts as she requested, but so far there has been no reply. A neighbour contacted the manager on my behalf. My friend's email update was terribly apologetic as if somehow she was responsible for the failings of Banco Posta. I have decided to write to the CEO of Banco Posta, Matteo del Fonte, in Rome. I'll be interested to see whether he replies. As yet, 8 weeks after they closed my account, the money still has not been transferred: only time will tell…
I love Italy despite its faults, but bureaucracy is certainly its biggest fault. In fact, I know a couple of owners of a trattoria in Monselice who recently emigrated to Australia because they could no longer endure all the paperwork. However, I prefer to look upon this experience as a comedy rather than a tragedy, and nothing – not even ridiculous bureaucracy - will prevent me from enjoying my happy life in Italy.
P.S. I'm glad that there's a 'P.S.' to this tale. The day after I finished writing this article in absolute frustration, I checked my bank account, and there was my money. Miracles will never cease. Forza Italia!