"Venice is in my blood," says tour guide Nadia Danesin, the founder of Friend in Venice, her small tour company which helps clients from all over the world discover Venice in all its layers of history, in all its hidden corners, and through Nadia's own eyes, the eyes of a Venetian. 
"Now that we're stuck at home, it's almost as if we couldn't see our mother, as if we couldn't embrace her, let her lift our spirits. Because when I'm feeling down, Venice lifts me up." 
Like many businesses in tourism, Nadia has been hit hard by the coronavirus emergency, with cancellations of all booked tours of the next few months, and the uncertainty of not knowing when business will pick up again.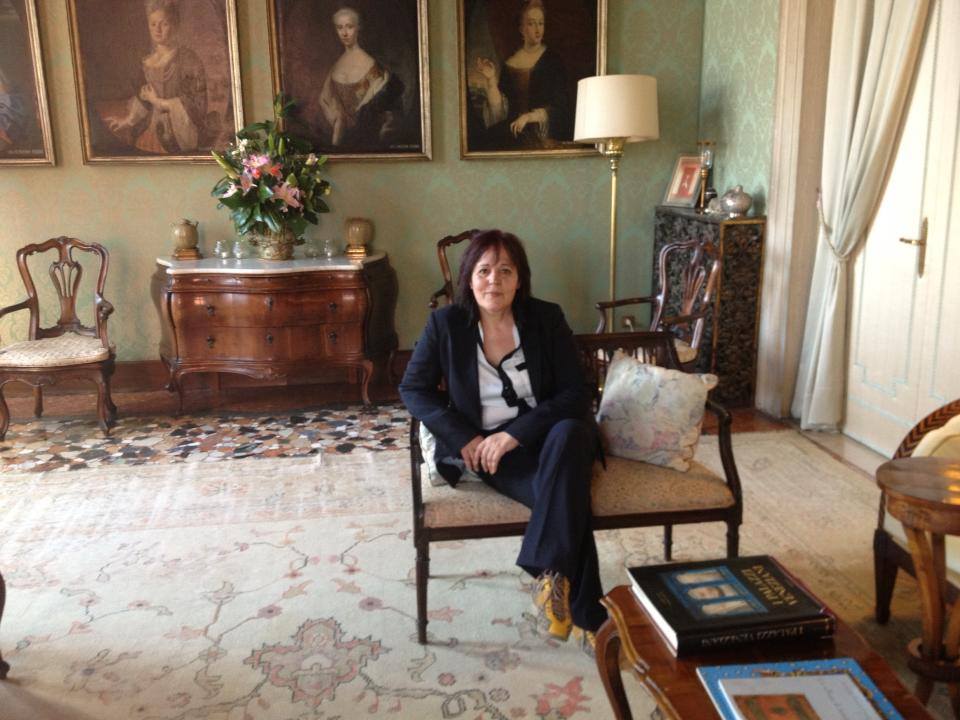 [Nadia Danesin is a tour guide in Venice.]
Nadia became a tour guide roughly 20 years ago, coming from a completely different business: she was a manager in the shipyard industry. Through that job, she had the chance to meet clients from around the world and to learn different languages. So when she felt the time had come for a change, for a new challenge, she decided to become a tour guide, a job that would allow her to interact with people and, from her side, show visitors the little-known treasures of Venice, a city that never fails to impress her, and to surprise her with new discoveries, even as a born and bred Venetian.
Nadia's tours are varied, touching on different subjects, telling the stories of places through characters from the past, traveling back in time in a city that has 1600 years of history. "The challenge for me is to constantly surprise my clients." Her tours may focus on the Lido, or the lagoon, or the Arsenale, on Marco Polo, food or artisans; she can also fully customize tours according to her clients' interests.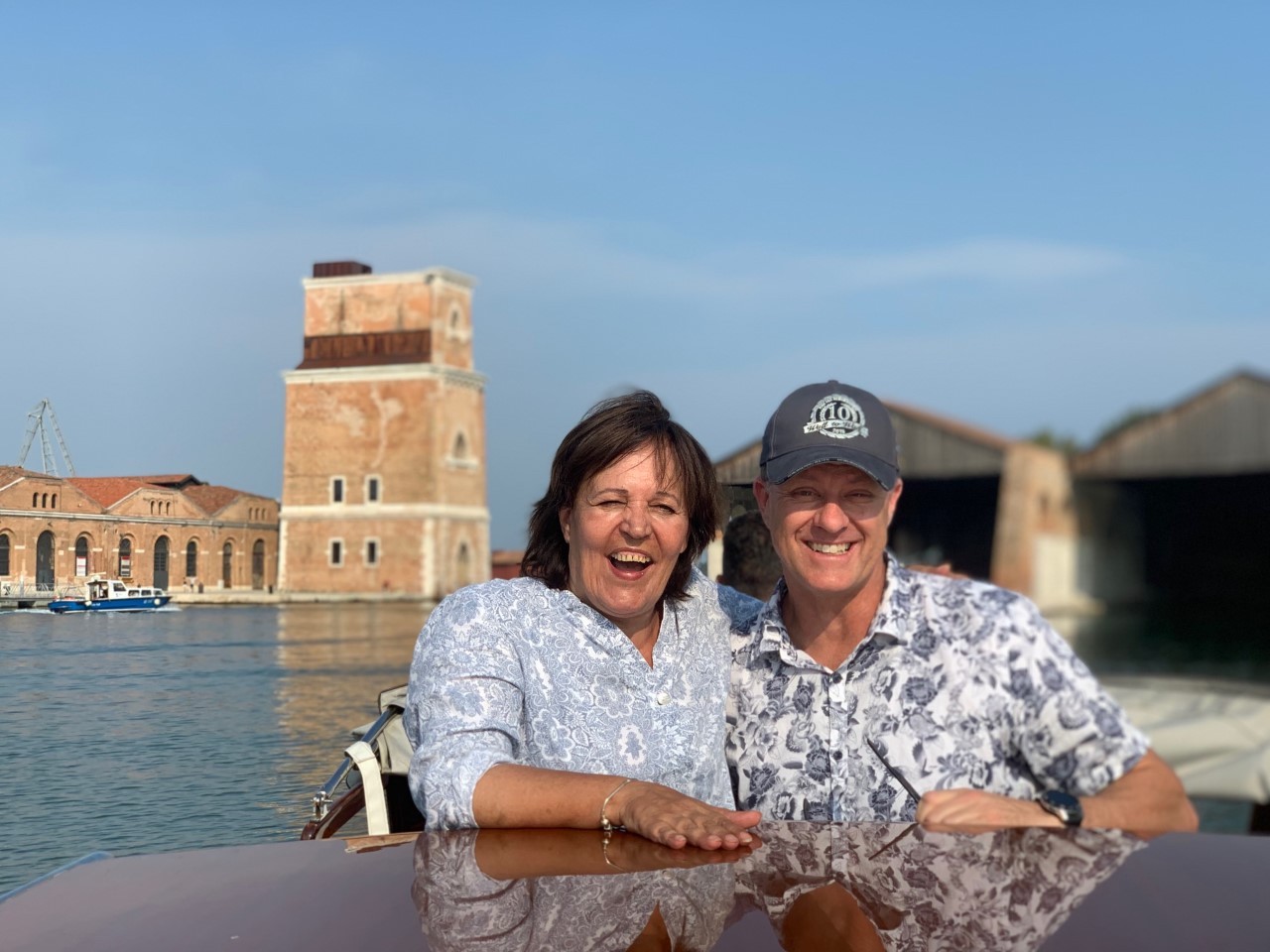 [Nadia with a client.]
One of her favorite subjects is that of the "cortigiane", courtesans, women who, only in Venice, acquired a status that was different from all other cities: they were respected, well-liked, cultured. On her "Venice's Courtesans" tour, she recounts the lives of these women through the places that tell their stories. 
Another tour Nadia loves to offer is by private motorboat, where clients can not only see "the most beautiful street in the world, the Grand Canal," she says, but also "all those big and small canals you wouldn't normally be able to see, where not even vaporetti can go." 
"My way of revealing Venice isn't just showing the Doge's Palace, which of course is sensational; it isn't just touring Piazza San Marco, which is the most beautiful square in the world," Nadia says. "Just to see that, you'd need an entire day, and people often just rush through the square, on to check off the next thing on their must-do list."
That's not they type of client she's after. She describes herself as a traveler, not a tourist, and hopes to attract other travelers, not those who think experiencing Venice is sunbathing in a swimsuit in Piazza San Marco, or checking items off a list as fast as possible. "You are born a traveler," she says. "Being a traveler is a state of mind; you can be a traveler even when you're in your own home. Being a traveler means having respect, being curious, and being open to being enraptured by the beauty of Venice, a beauty that still enraptures Venetians themselves." That's the kind of experience Nadia hopes to inspire through her tours.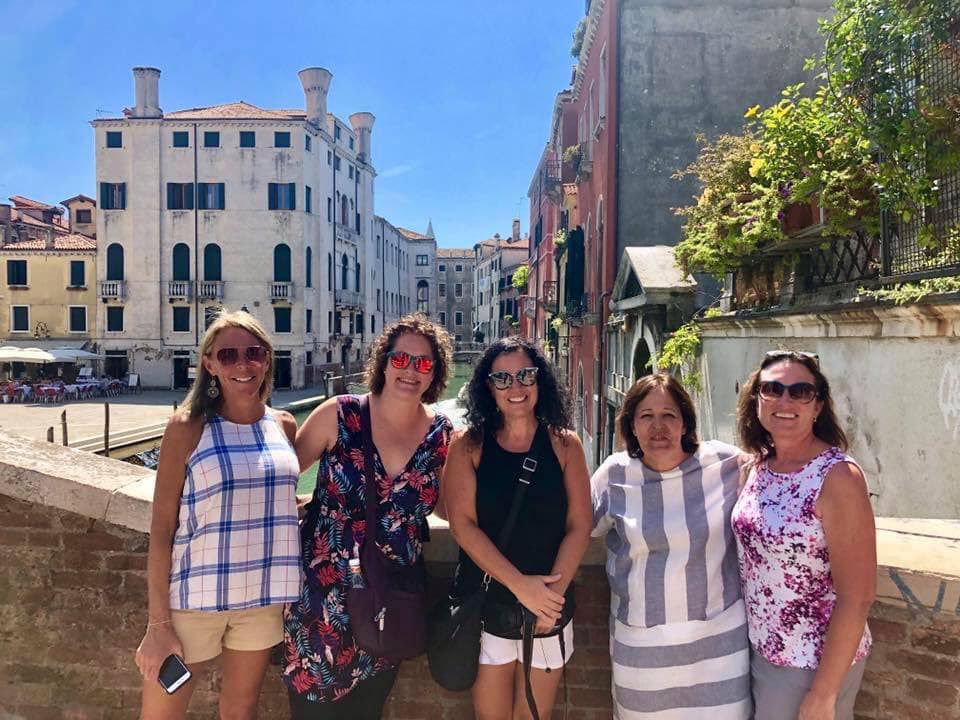 [Nadia - second from right - with a group of clients.]
"Right now it feels like being on the cornice of a skyscraper looking down into the void," she says.  "I find it hard sleeping at night. This is my business, my passion, my baby, and what feeds me. But we must not be overcome by fear. We should be dreaming about the next trip instead….and I hope those who choose to travel to Italy when things return to normal will share part of their journey with me!"
Find Nadia at http://friendinvenice.com/ and here. 
Nadia works closely with other tour guides in Venice: Linda Santin, Giorgia Stainer and Vilma Calzavara. Together they devised a new tour, "We Row Together", which you may opt to buy now for later fruition if you wish to help these Venetian tour guides during this difficult time. When you buy the tour for yourself or a loved one, you will receive a voucher which you can redeem anytime - it has no expiration. The tour can be customized according to your interests in advance, or you may choose to let the guide craft an itinerary for you when you meet in Venice for a pleasant surprise. 
Payment info: IBAN IT82B0503402012000000000265 or via PayPal to nadiadanesin@hotmail.com.
For more information you may contact Nadia directly at nadiadanesin@hotmail.com.