A Journey Through Verdi's Beloved Food Traditions
October 10, 2013 marks the bicentennial of Giuseppe Verdi's birth. Italy Magazine has paid homage to the celebrated opera composer throughout the year with a series of features on his life and work (see below for links). Today we focus on the outstanding foods of his native land, Emilia.
Verdi was born in the small countryside village of Roncole, near Parma, and throughout his life he kept his residence close to where he was born. A passionate farmer, he was also a gourmet, coming from an area known for some of the best Italian delicacies, such as Culatello, Parmigiano Reggiano, Grana Padano, Parma Ham, strolghino, coppa, salame Felino, Spalla di San Secondo, as well as excellent local wines.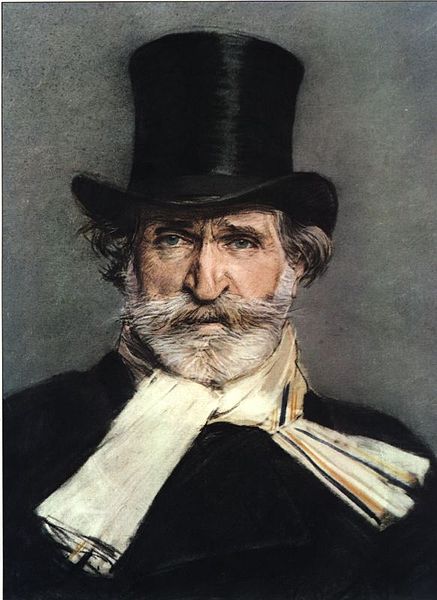 Verdi himself wrote about his passion for his native land's food in the myriad of letters he composed throughout his life, where he talked about cooking tips, recipes and anecdotes from the kitchen. As an ambassador of his land, he sent his friends charcuterie and cheeses and organized convivial lunches in his villa with typical Emilian genuine cuisine. This area of Emilia offers in fact many food- and wine-themed tours, such as the itineraries on the Strade dei Vini e dei Sapori. There are even museums dedicated to some of the local products, the Musei del Cibo (Museums of Food), celebrating the history, traditions and flavors of prosciutto, Salame Felino, Parmesan cheese and tomato (www.museidelcibo.it/ing); food festivals abound and there are always plenty of chances to taste typical products directly from the producers at caseifici (cheese factories) and prosciuttifici (ham factories); some of them organize guided visits of the production process as well as tastings. Following are some of the most typical products of the Parmense area that Verdi himself enjoyed:
CULATELLO DI ZIBELLO The king of cold cuts! Culatello is made from the leanest part of the thigh of selected local pigs. The Culatello is a DOP (Protected Designation of Origin) cold cut and its unique qualities are safeguarded by the Consortium of the Culatello di Zibello, which has determined that the processing of the meat can only take place in a specific area in the Parma province and only during the period between October and February, when the lowlands of the Parma area are foggy and cold. The skills of the pork butchers and the climate of Parma's plains determine the quality of this salume, which dates back to at least the 18th century. The aging period is a minimum of 10 months up to 14 months. Culatello is also listed among the Presidi of Slow Food Emilia-Romagna.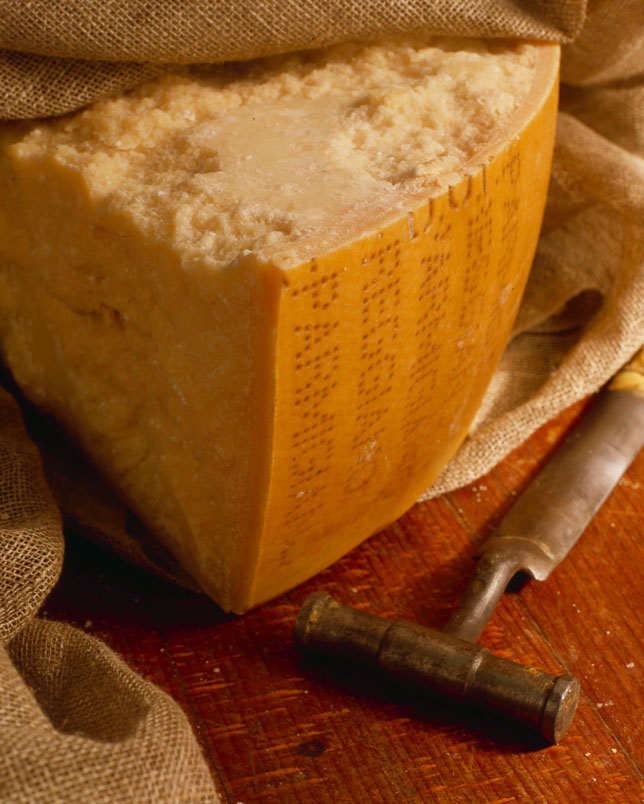 PARMIGIANO REGGIANO The king of Italian cheeses! Authentic Parmigiano-Reggiano can only be produced in one area of the world, specifically in the provinces of Parma, Reggio-Emilia, Modena, Bologna on the left side of the Reno river, and Mantova on the right side of the Po river. Only Parmesan cheese produced here can obtain the PDO certification (DOP in Italian, fire-branded on the wheel of the cheese), a guarantee of the quality of the product. Parmigiano Reggiano's production dates back to the 12th century. Nine centuries later, Parmigiano-Reggiano is still produced using the same techniques. Parmigiano-Reggiano is an all-natural product obtained by raw milk; it is highly digestible, rich in proteins, calcium, phosphorus, vitamins and minerals, with a low cholesterol content. Its qualities are safeguarded by the Parmigiano Reggiano Consortium.
STROLGHINO Strolghino is a small salami typical of the provinces of Parma and Piacenza, produced with the meat obtained from the processing of Culatello. In the past, many families raised pigs, which were considered holy animals; not one part of them went wasted. Strolghino was the first meat to be worked and eaten after the first few weeks of pork meat processing had taken place. The careful selection of meats and ingredients is essential for a successful result. Only high-quality meat should be used. Traditionally cut in thick diagonal slices, it is delicate, sweet and light in taste, and is perfect as an appetizer with fragrant croutons or bread and local wine Malvasia.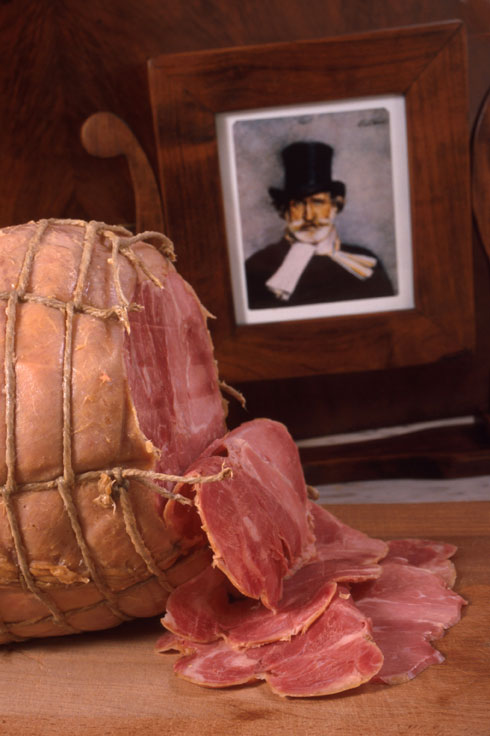 SPALLA DI SAN SECONDO Spalla di San Secondo, also known as Spalla Cotta, is the oldest specialty of Parma, dating back to 1170. Produced from pork shoulder, it is steamed and can be served hot accompanied by fried cake. It is a specialty of the town of San Secondo Parma. Spalla di San Secondo was one of Verdi's favorite dish, who liked to give it to friends and give advice on how best to cook it. Spalla is served with torta fritta (a mixture of water, flour and salt, made crispy by frying in lard - see below) and light wine like Fortana.
TORTA FRITTA Torta fritta (fried cake) is basically bread dough that is fried and then stuffed with meats and/or cheeses to taste. Although the recipe is only one, torta fritta has different names according to the region's areas: "crescentina" in Bologna, "gnocco fritto" in Modena, "chisulèn" and "burtleina" in Piacenza. The origins of the torta fritta are to be found in the culinary tradition of the Lombards, who passed on this recipe to Emiliani during their domination. The Lombards used a lot of lard in their food, especially for frying, and the original recipe of torta fritta calls for the same.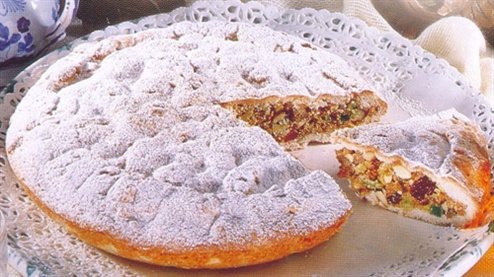 SPONGATA The spongata is a typical cake of the provinces of Piacenza, Parma, Reggio Emilia, Modena; particularly famous is the one from Busseto, where Verdi lived as a young man. Its name comes from the Italian word for spunge, or spugna, referring to the consistency of the filling, the small holes on the outside and the sugar coating. It is a flat round cake made with a thin, crunchy pastry dough, covered with powdered sugar and filled with jam of apples and pears, candied fruit, pine nuts and almonds, and covered with a second layer of pastry. Verdi thought the cake was a masterpiece and the spongata became the official dessert of Busseto.
FORTANA WINE Also called Uva D'Oro, the red Fortana comes from the coastal area of Emilia. The conditions of this habitat, a damp environment, with winter fogs, briny air and sandy and infertile soils, give this wine its savory accents. It is said that when you taste the Fortana you can taste the sea.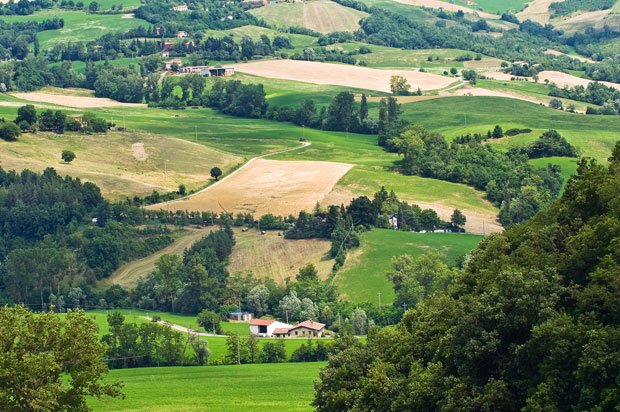 MALVASIA WINE Available dry or sweet, sparkling or still, the intense aroma of Malvasia goes well with many typical products from Emilia Romagna. Aromatic Malvasia of Candia is a variety whose presence in Emilia Romagna dates back to at least the Renaissance. It is cultivated in the clay soils and mild climate of the hills of Parma and Piacenza. It is the most common white grape in these two provinces. A glass of sparkling Malvasia is ideal for a light aperitif. Fried snacks are also a perfect match. Sweet Malvasia is great with spongata.
---
To learn more about Giuseppe Verdi, check the links below: Italy's Treasures: Giuseppe Verdi - His Life and Work - /italy-featured/italys-treasures/italys-treasures-giuseppe-verdi-his-life-and-work Italy Celebrates Verdi Bicentennial: The Guide - /italy-featured/giuseppe-verdi/italy-celebrates-verdi-bicentennial-guide Homage to Verdi: Aida - /featured-story/homage-verdi-aida Homage to Verdi: Un ballo in maschera - /featured-story/homage-verdi-un-ballo-maschera Homage to Verdi: Nabucco - /featured-story/homage-verdi-nabucco
---
You may also be interested in...