I wonder how many readers of Italy Magazine dream of owning property in Italy and living their dream? Well, I have done precisely that, and have many tales to tell about the bureaucracy, the taxes, the neighbours, and moving in; but that is just the beginning. I have never regretted my decision to buy a flat in the Veneto despite well meaning advice warning against it, but I now know that what makes my life there perfect is more than just having an apartment and a view from the balcony of hills and vineyards.
Essential for my happiness is a sense of belonging, being part of the community. Here are a few observations about making a perfect new life in Italy.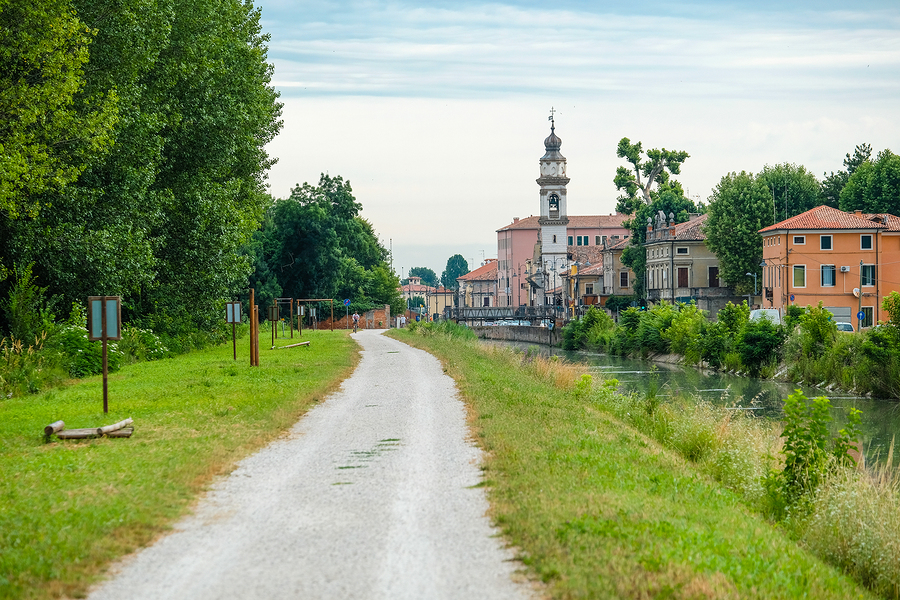 [Landscape of Battaglia Terme]
First, learn the language. I am not saying you need to be fluent; I am very far from that, and am constantly aware of the mistakes I make when I try to chat, but the important thing is to communicate. I find that Italians are always pleased, and sometimes surprised, to hear foreigners try to speak their language. They make allowances (such as not speaking in their usual dialect) and often give (undeserved) compliments, or even free drinks at the end of a meal in a restaurant.
Remember that, especially in a small place, you might be the only foreign resident so they will be curious about you and everyone will know who you are. Don't be shy. Introduce yourself, and give them a bit of information. Italians love to gossip, and word will get round that you are approachable. In my village they all know when I'm in residence because the shutters are open. Seasonal gifts usually follow my arrival: a basket of cherries; tomatoes and aubergines; apricots; hazelnuts... I feel cherished, or even spoilt, but I love it! So intrigued are they about my life that they invited me to give a talk in the library (see the poster).
It's important to become part of local life. I joined the library when I first arrived, and got to know the librarian well enough to ask for advice about anything that was puzzling me.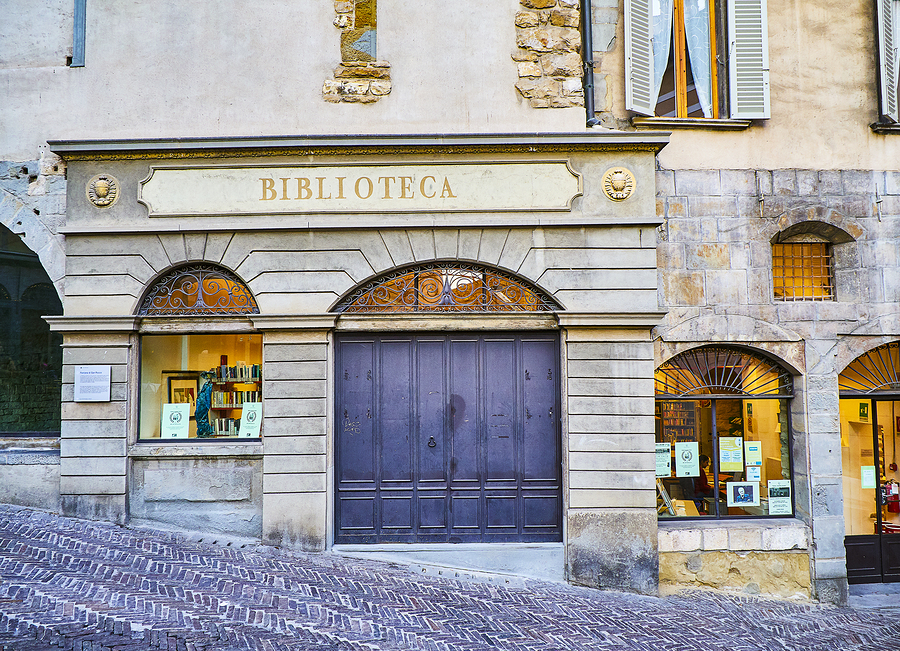 I subsequently learned that there was a local demand for English lessons, and that the library would be the ideal venue, so my English Conversation Group began on Wednesday evenings and happens whenever I'm in residence. Now in its 10th year, it's very popular and great fun, as I'm a believer in learning through enjoyment. You don't make much progress if you're bored. I have even taught my group some English country dances which they join in very enthusiastically in the large upstairs room of the library. They love the "basket" formation in which 2 men whirl 2 girls off their feet. They do it so vigorously that shoes have been known to fly off through the windows! We play word games, do role play exercises, read newspaper cuttings of items which I know will interest them, or practise specifics to help someone who's going on holiday to the UK or the USA. In fact, one young couple in what they considered dead-end jobs decided that fluent English would help their careers. It certainly did. They now live and work in Salzburg, and I've been to stay there with them.
Through the conversation group I've made many friends who invite me to events, or suggest things I might like to know about, because they are aware how curious I am about Italian life. I have helped with grape picking (sometimes paid in bottles!) and the olive harvest. I have tried the very basic local mud cure as I was assured it is "the best mud in Italy". (This turned out to be the perfect title for my book about my Italian adventures.) One of my group has a passion for cows, and invited me to a malga (mountain refuge hut) in the Dolomites to learn about his prize-winning cheese. He even asked me if I wanted to kill a pig and help to make sausages, but I haven't taken things to that extreme yet!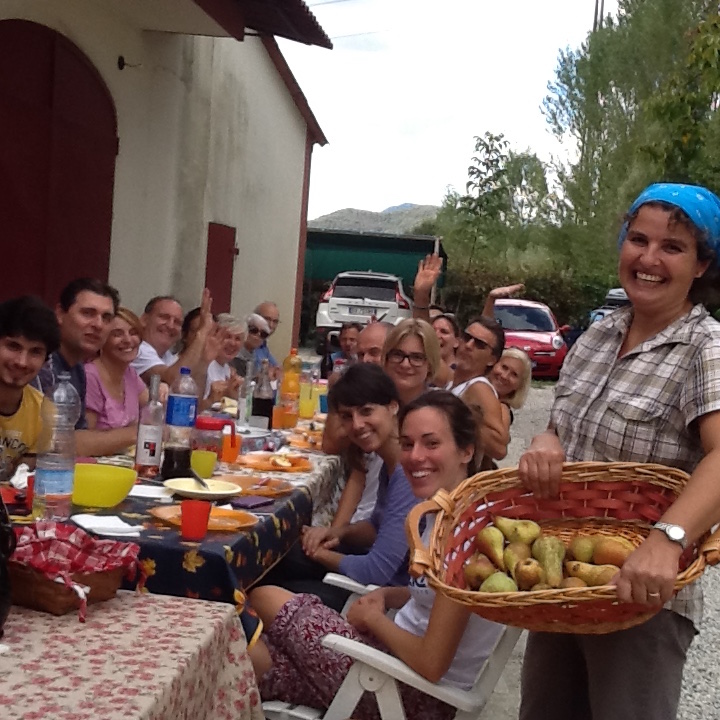 [Joining during the grape harvest]
My book about becoming absorbed into local Italian life led to an invitation from the library book club at the US army base in Vicenza. I had an invitation to speak to a fascinating group of people, and I found myself in the embarrassing position of speaking to enthusiastic readers who knew more about my life than I did! (They had of course read my book more recently than I had written it!) The librarian has now become one of my dearest friends in the Veneto.
Once a year in May, the village celebrates the importance of its ancient 12th century canal and holds a 'Canale Fiorito' Festival where all the banks and bridges are decorated with flowers, and visitors can take rides on decorated barges up to the local castle and back. When I first arrived, I looked around the stalls and sideshows, but decided they were pretty much the same as anywhere else in Italy, and had a conversation with our Councillor for Culture about new ideas.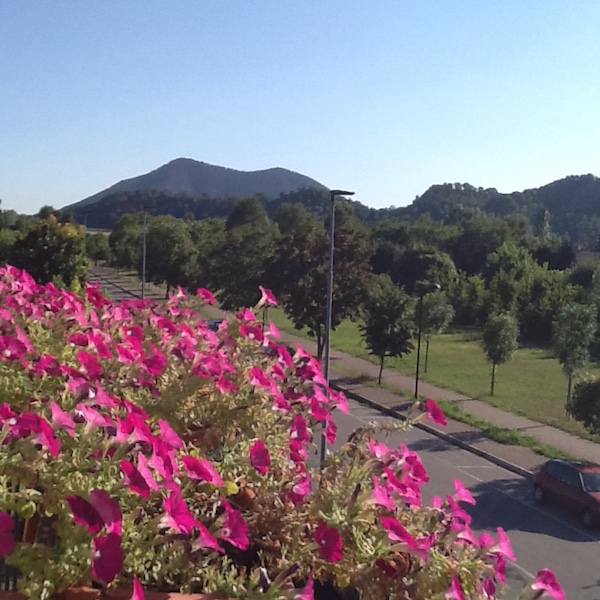 A very enthusiastic chat followed. I had realised that people were very interested in the few English items I had brought for my flat, and offered to fill a small market stall with 'Cose Inglesi'. The logistics of doing this have provided me with many a happy day finding little treasures in charity shops and car boot sales, and have given us the opportunity to explore new places across Europe on our way driving to Italy once a year with a car full of assorted bric a brac. The car then stays all summer so that we don't need to hire a car. (Another bonus of this annual trip is that the return drive in Autumn gives us the means of taking back lots of fine wines, cheeses and salami so that we can have Italian feasts at home in winter in England.) I love the days spent at my market stall, chatting to locals and explaining the purpose of curious items. The final bonus is that my profits help to pay my Italian taxes.
Meeting people in the library, the streets or local shops can be a source of great pleasure. Chatting to the 'last bargeman' of the canal which runs through the village introduced me to the history of the place, and I began to take a particular interest in his little museum. Somehow they seem to believe that I am an exotic who can make things happen. When he asked me to help to save it because funding had run out, I couldn't think what to do, then had an inspiration. Why not twin his museum of inland navigation with an English canal museum? It wasn't hard to tempt my fellow countrymen to link up with a canal museum near Venice, and the funding then flowed in because of international recognition. We even held an international conference on European waterways in the local castle. A grateful museum presented me with a walnut forcola, (shown here) a curious structure to hold an oar, which now has pride of place in my flat.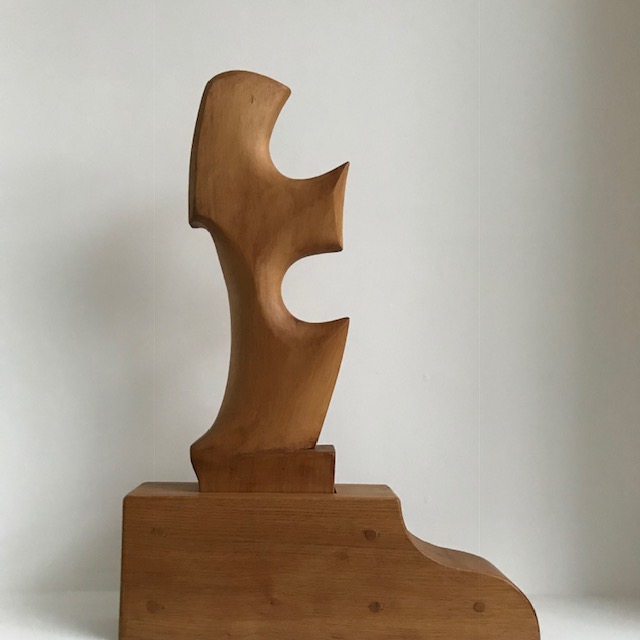 Who knows what new discoveries I'll make this year? Despite warnings from my friends that I would grow bored with always returning to the same place, I don't at all. Each return visit brings new friends and experiences, and a feeling that I have increased my understanding of Italian life by becoming an ever more involved member of the local community.