A few years ago now a Florentine friend gave me one of the simplest and most useful travel tips I've ever received. When moving around Italy, he recommended, the best way to get the sense of an area, be it a town, a village, or a large city, is to head to the nearest market. It's a wise maxim, and one I've held close over the years. 
From Turin's Porta Palazzo to Palermo's Ballarò, Italy is hardly short of beautiful places to shop. The market culture, in spite of all competition from modern superstores, is still alive, well, and thriving. This is one of many things that makes it so enjoyable to travel in the country, or, if you live here, a wonderful place to call home. 
Still, even with so many to choose from, Livorno's mercato centrale has a particular place in my heart. All markets reflect their city, and vice versa. The vettovaglie, though, as locals call it, has a particularly intimate relationship with the wider urban reality. 
Livorno itself is a complex city. Seen from the air, in the descent towards Pisa airport, it looks a little unassuming. All you can make out from the plane window are the factory pylons and industrial cooling towers. On the ground, though, it's filled with hidden gems. Giulia Scarpaleggia, the Tuscan food writer and photographer, has summarised it particularly well.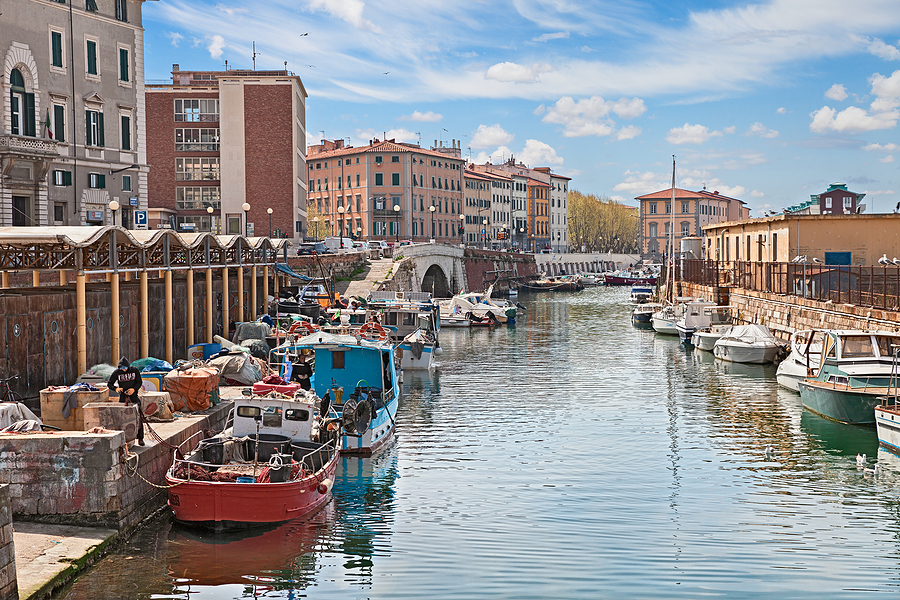 "Livorno", she writes, "is not what one would call a classically beautiful city. It possesses little of the brilliant renaissance charm of Florence, or the elegance of Lucca, or the history-rich, red-bricked medieval palaces of Siena. Yet it's still beautiful, in its own, authentic terms."
The central market is a living breathing expression of this authenticity. The first thing that strikes the first-time visitor is the sheer bustle, the immensity of the people flow. While Covid-19 has inevitably dampened that impact it's still got the feeling of a genuine, lived-in space, one that's well-populated by locals. 
And it's true. This market is not by any means a tourist gimmick. It's crumbling and a little worn-out looking. There's a distinctly 70s feel. Yet it's still a huge and beautiful space. The main hall, which is decorated with Neoclassical and art nouveau elements, in the so-called Liberty style, boasts almost 200 stalls. In fact, Livorno's is the second largest indoor market in Europe, second only to the Boqueria in Barcelona. 
The Livornese take their traditions seriously, and this is still visible among the traders today. A good example is the Gabbrigiane, the section of the market taken over to vegetables and poultry. Almost all of this is sourced from the local countryside. Historically, peasants would come each morning from the nearby agricultural area of Gabbro to sell their produce. And while times have changed the quality remains exceptional.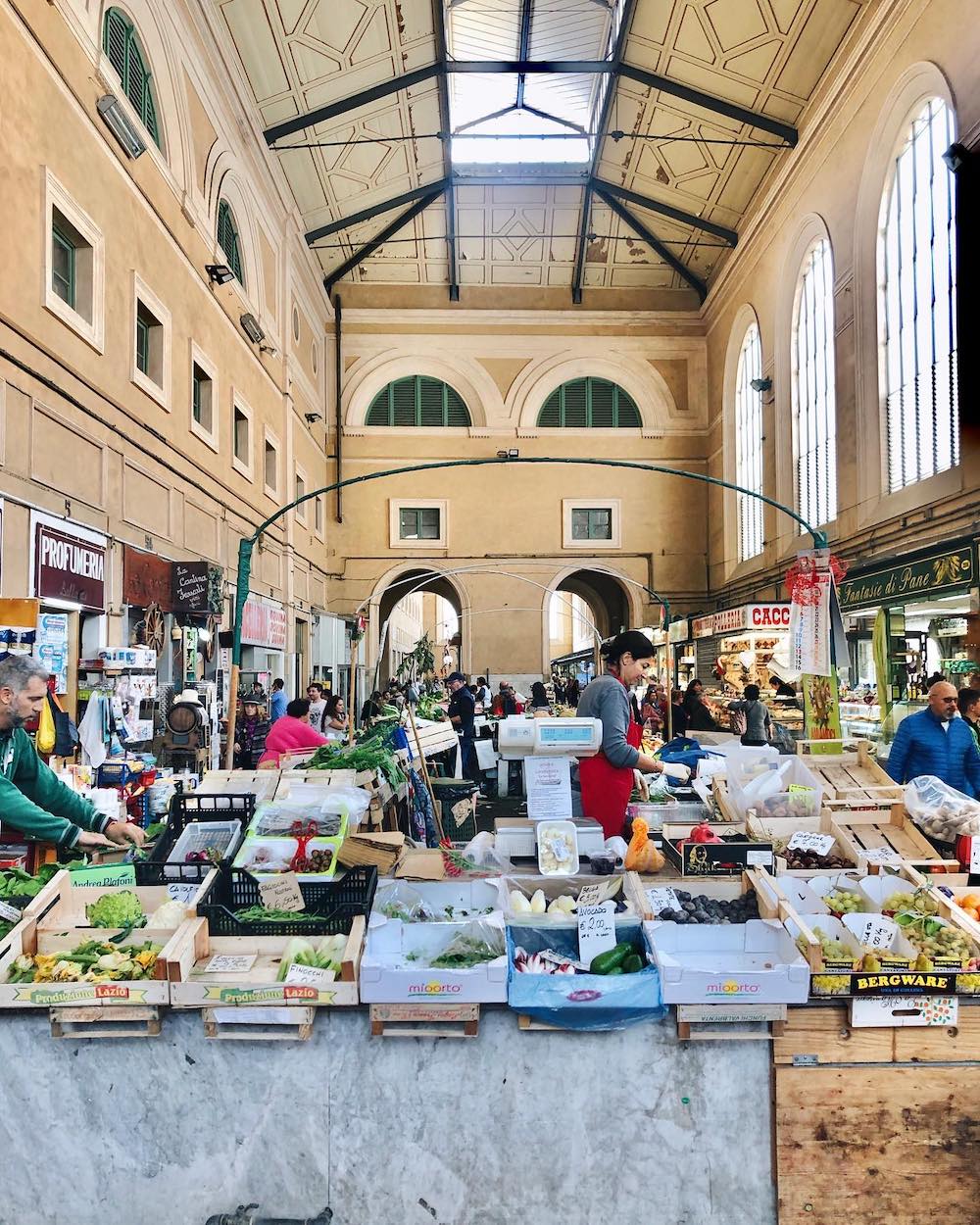 The tomatoes, zucchini, green beans and kale are of a particularly high quality, and the eggs and chicken - the yellow skinned galletto livornese - are some of the best you can buy in Italy. This being a port city the fish selection is, as you'd expect, stand out. Indeed, one of the features that makes the market so beguiling is the presence of a canal which runs right in front of the building.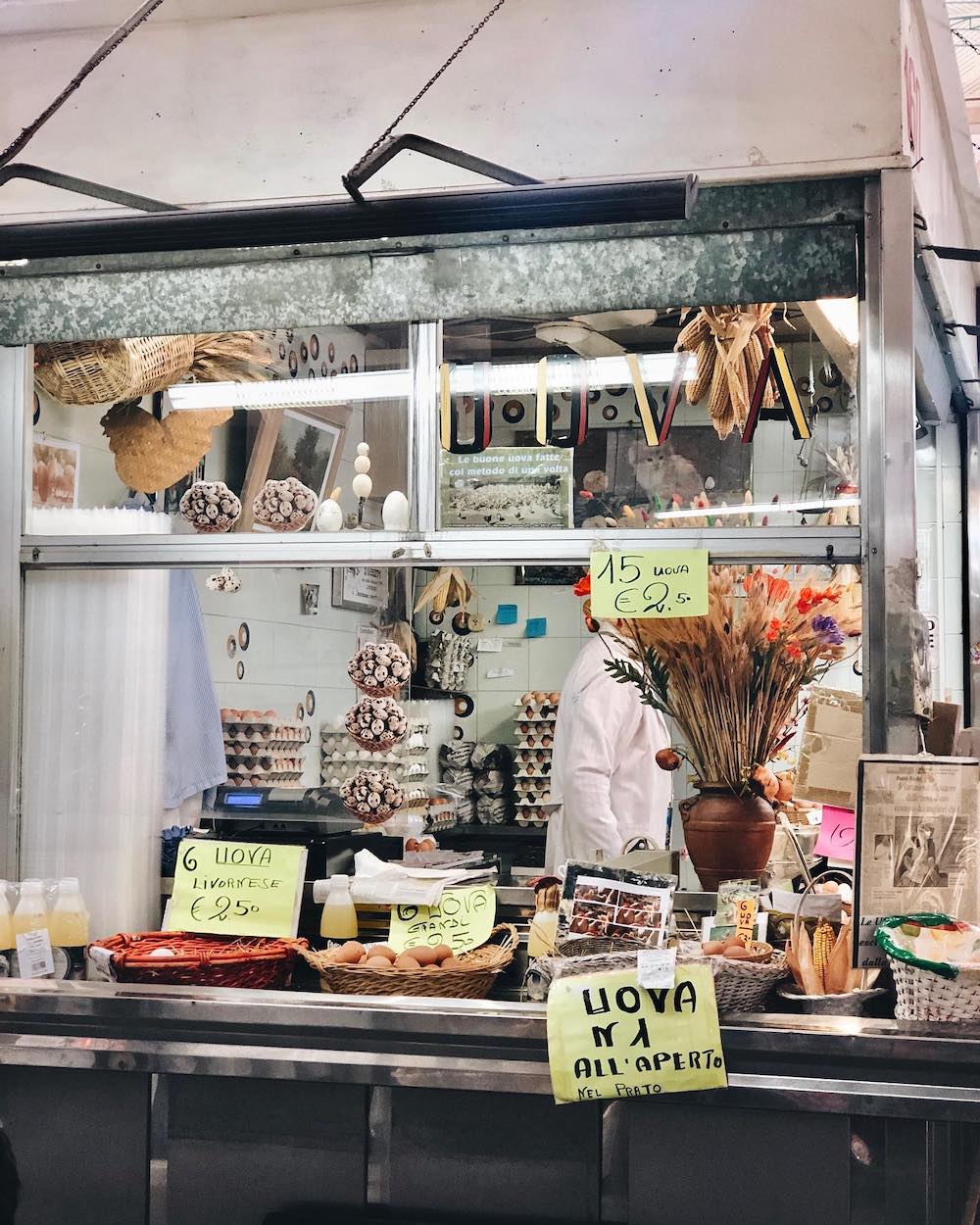 If you arrive early enough you can even watch some of the stall holders source their catch of anchovies, snapper and dogfish right there, metres from the door.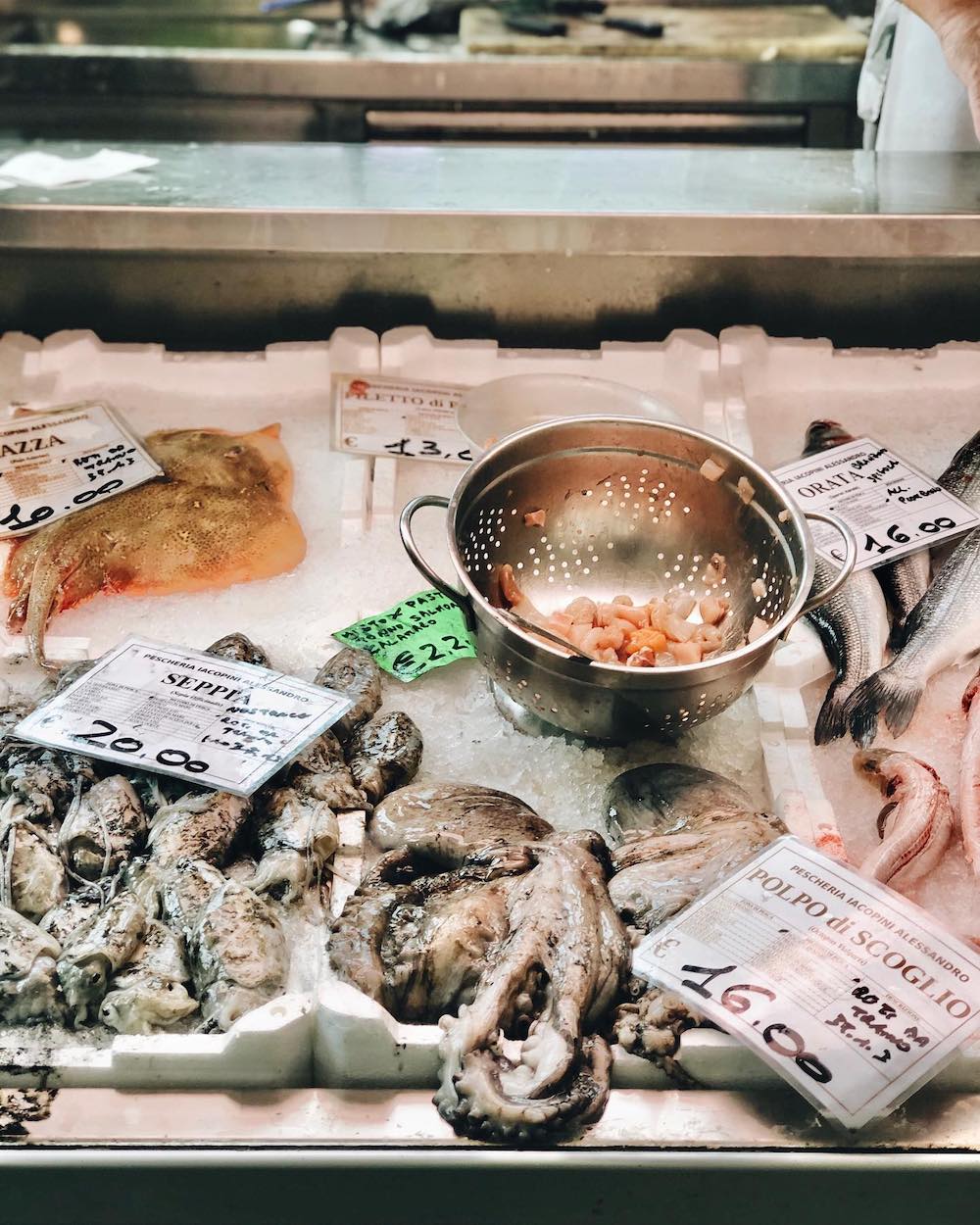 Today most of us think of Livorno as an Italian city. Yet we might also do well to imagine it as a Mediterranean harbour, a place at the centre of a complex network of cultural exchange. In the 16th century Livorno was an independent, duty-free port with close trade links to France, Spain, Greece, Armenia and Britain among other countries. Jews and Muslims were free to live within the walls, escaping the kind of persecution that followed them in some other parts of Europe. Aspects of that cosmopolitanism are alive and well today. 
Traders from the Levant still sell spices in the smaller stalls around the edge of the market. The Jewish influence, meanwhile, can be seen in the abundance of kosher fish and tomato-based dishes the city is famous for, including red mullet stew and salt cod with olives.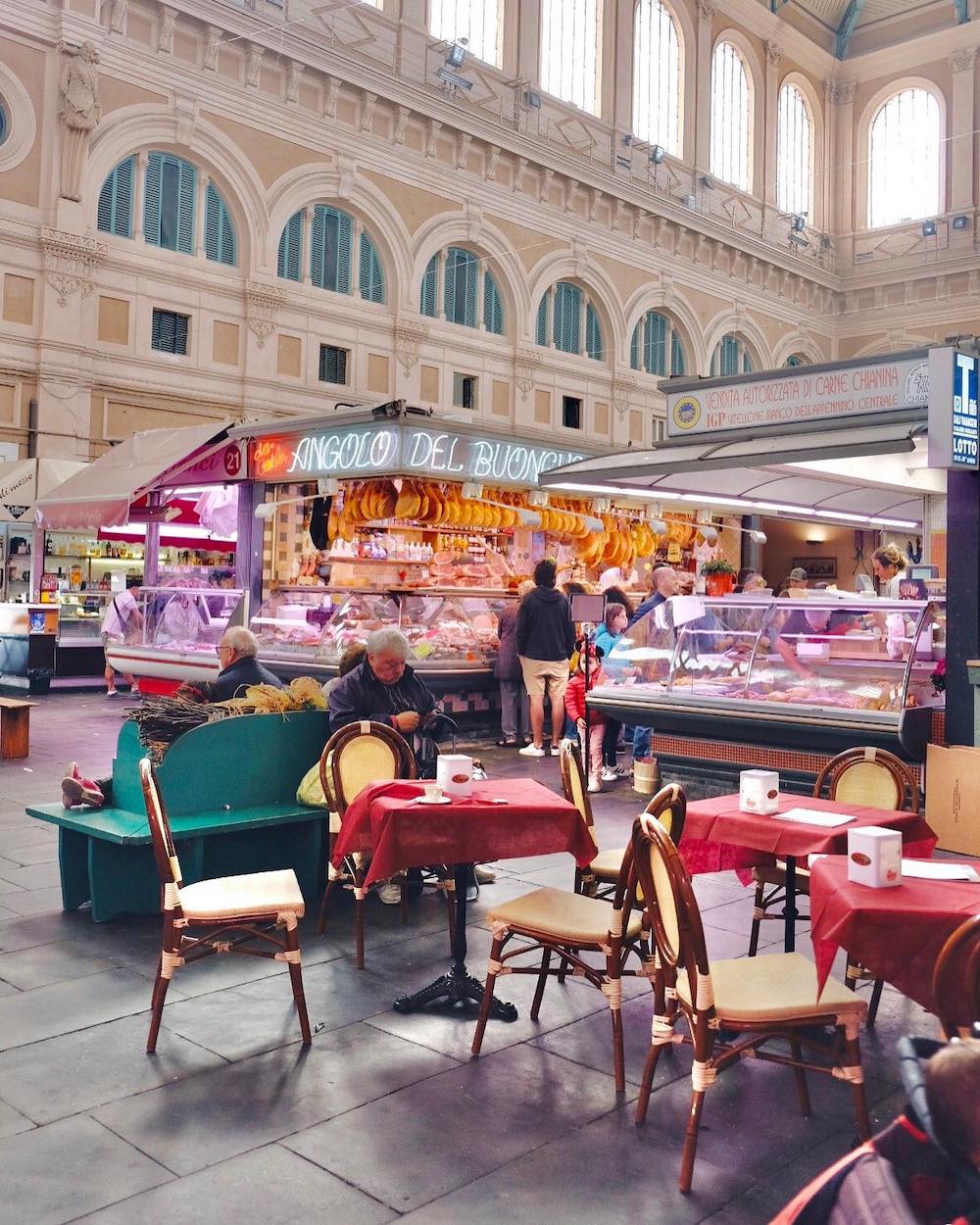 Most guidebooks will tell you that, after perusing the produce, the best thing to do is head to one of the nearby restaurants, like Gennarino or perhaps Antico Moro, to enjoy a cacciucco (a fish soup that's heavy on the chili). This is absolutely a valid option. For me, though, a more exciting choice is to stay standing-up at one of the many torteria stands, to eat a cecina, a chickpea pancake. Sometimes, in fancier places, these are served thin and topped with tomatoes and fish, or perhaps grilled aubergines.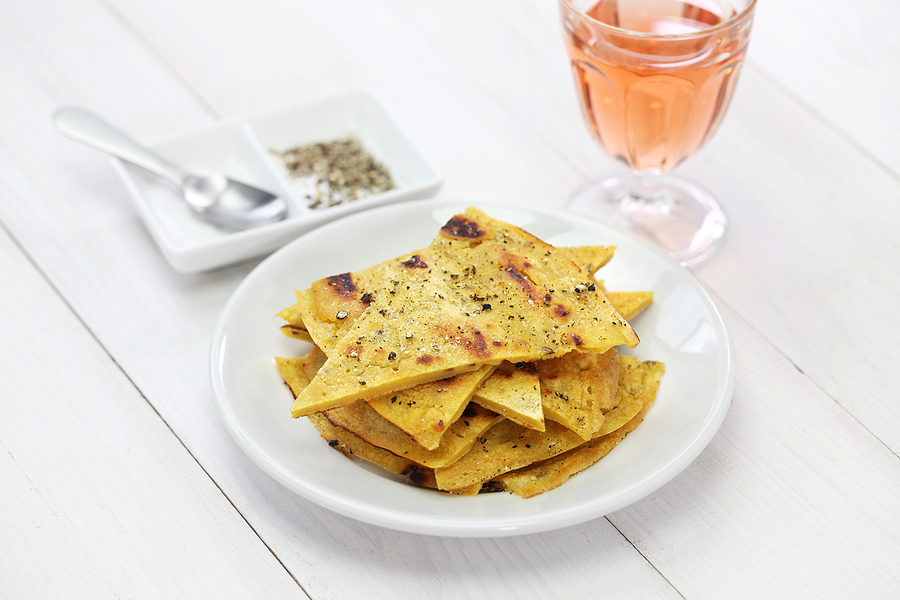 Tradition maintains, though, that it should be eaten in a sandwich, known as a 5e5, and accompanied by a fizzy soft drink called a spuma bionda or a cedrata. This is democratic, truly Livornese experience that will, inevitably, involve raucous conversational exchange with fellow diners.   
In most 21st century markets, in Italy as abroad, this kind of experience is now labelled as street food. It's a word you see cropping up increasingly around the Vettovaglie. Some locals complain that it's a pretentious term, little more than excuse to drive prices up. Still, for now at least, this city shows little sign of losing its values or its abundance of cheap eateries. Besides, not all the globalised imports are such a bad thing. 
Livorno now has a wide array of decent craft breweries – check out the Piccolo Birrificio Clandestino for example –  and some of the more hip bistrots, like Cascara Urban restaurant, are pioneering some genuinely interesting and delicious innovations, often involving raw fish. 
If there are occasional clashes in aesthetic values, it's nice to see how comfortably young and old still socialise side by side. The Vettovaglie is still a place with a lot of joy, swag, and friendliness on display. And as beautiful as the building is it's these qualities that make the market, and this city, well-worth exploring.