Le Marche is one of those magical places that leaves you feeling slightly peeved you hadn't visited sooner. Full of lush green countryside, it really is as emerald in colour as the friendly and enthusiastic locals claim. It's enchanting with a totally varied landscape combining every wonderful feature Italy has to offer, the hilly countryside to a long coastline extending along the Adriatic Sea for about 180 km, alongside impressive mountainous views. It is characterised by fine medieval towns dotted throughout the area and a drive through the winding roads is rewarded also with spectacular views of sparkling clear water and fine sandy beaches.
Ancona is the regional capital and a natural port, dating way back to the 5th century BC, when it was founded by Greek exiles from Siracusa in Sicily. Together with Pesaro, the birthplace of the composer Gioacchino Rossini, it's one of the pivotal centres of the coastline, full of life particularly - of course - in the summer. There are a vast number of medieval wonders to be discovered with a huge amount of fabulous castles, as well as treasures to be found in Ascoli Piceno. The lovely city of Urbino is a World Heritage Site noted for its incredible historical legacy of independent Renaissance culture under the watchful eye of its patron Federico III da Montefeltro, the duke of Urbino from the mid- to late-1400s, whom we recognise for his distinctive (and self inflicted) hooked nose from the portrait painted by Piero della Francesca in 1492.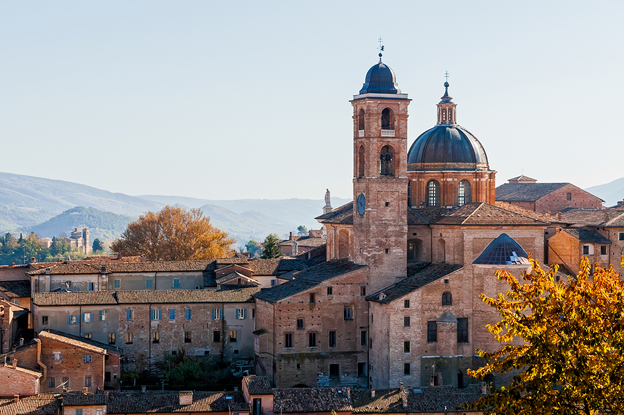 The region is full of natural beauty and has two national parks, including the beautiful and wild Monti Sibillini and Gran Sasso and Monti della Laga, and four regional parks (Monte Conero, Sasso Simone and Simoncello, Monte San Bartolo, Gola della Rossa and Gola di Frasassi). The Grotte di Frasassi are caves dating back thousands of years and are well worth a visit. With their small lakes, stalactites and gigantic stalagmites, they are among the largest accessible caverns in Europe.
The region's traditional industries are hugely varied, and include papermaking, shipbuilding, shoe manufacturing, food, furniture, musical instruments and synthesizers and clothing. Among the typical local products are ceramics, terracotta, copper, rugs, wooden pipes, hats, musical instruments such as accordions, toys, leather goods, furniture, gold, paper, straw, wicker and travertine marble.
There are many local delicacies on offer and the cuisine of the region still proudly sticks to its peasant roots, including soft ciauscolo salami, cheese from Talamello matured in caves, prized truffles from Acqualagna, casciotta cheese from Urbino, ham from Carpegna and salami from Fabriano. There's a vast range of dishes to discover, from passatelli, the best piadina – fabulous snacks of unleavened bread filled with just about anything but, as ever in Italy, simple is best with just a filling of salami or local cheese. Of course, being so close to the sea you can be sure of finding lots and lots of delicious fish to eat.
The region proudly boasts 12 DOC wines, the main regional white is the excellent Verdicchio, and other exceptional whites are the Bianchello del Metauro and the Bianco dei Colli Maceratesi. As for the reds, Rosso Conero and the Rosso Piceno are hard to beat.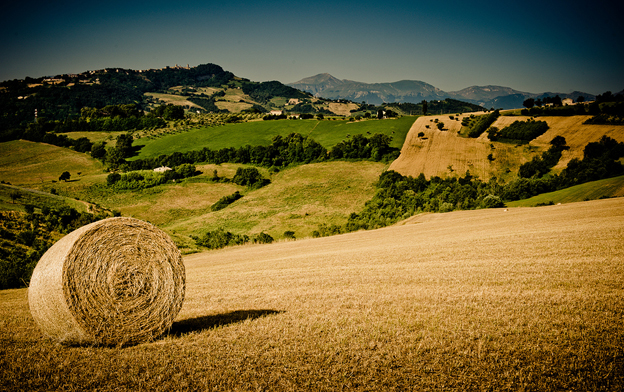 A beautiful town that is typical of the region is Petritoli, as Ninette Hartley, who moved to the area, explains: "It is a typical small Marchigiana town with around 2500 people, steep cobbled streets, houses large and small, palazzi, churches, roof terraces and secret gardens. At the heart of the Borgo Vecchio is the bell tower in the centre of Piazza Rocca. The entrance to the Centro Storico is through I Tre Archi (The Three Arches), first built some time around the 14th century. The town theatre is an amazing place, when first entering the auditorium it is uncannily like stepping into a miniature version of the Albert Hall or Royal Opera House… it does however only seat around 200 and one grande jeté on the stage would have you sitting on the lap of the person in the front row! There are of course all the usual shops, cafés, restaurants and a bank - in fact everything one needs for quality everyday existence…"
In Le Marche there are secret little places to discover that really surprise you, such as Il Trattamento Artistico dei Metalli, a wonderful school and gallery headed by the renowned sculptor Arnaldo Pomodoro in the gorgeous mountain village of Pietrarubbia with a unique chapel decked out by Pomodoro and his students and a fabulous restaurant with the best steaks around.
Another place to visit if you are mad about Moto GP is Tavullia, a small town which was the birthplace of young legend Valentino Rossi. Blink and you'll miss it, but stop for a coffee and mention his name and watch everyone's eyes well with pride.
For an absolutely jaw-dropping view, then head for the Furlo gorge – it seems like nothing exciting as you approach it on a rather normal road and then you get to the gorge itself. At one point you will find a short tunnel that was created by hand in 76AD, still with chisel marks visible if you look very carefully as you drive through. With the green surroundings and the roar of the engine as you speed through the work of skilled Roman craftmen, you will see why Le Marche is one of the most fascinating and inviting places Italy has to offer.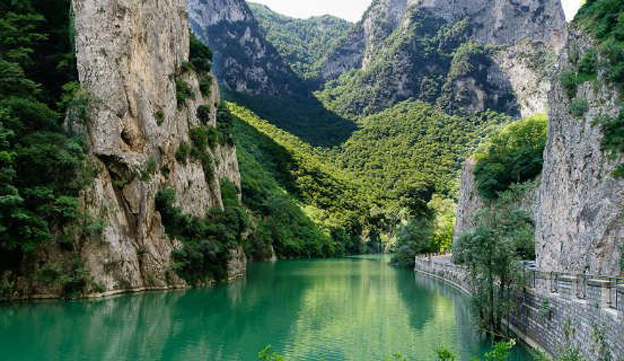 PLACES TO STAY
You'll find many wonderful places to stay, from charming Bed & Breakfasts such as The Hideaway, a stunning retreat open all year round that has been beautifully decorated. Set in the heart of the countryside, it nestles in a peaceful valley near Amandola, from where you can discover the delights of the surrounding area, including the Adriatic coastline and the beautiful Sibillini mountains. 
Another lovely place to stay is the colourful four-star Villa Matarazzo, overlooking the beautiful 14th-century walled town and castle of Gradara. This medieval village, full of fascinating tales such as the fated lovers immortalised by Dante, Francesca da Rimini and Paolo, also is the magical backdrop today to many a happy and memorable wedding with brides from all over the world feeling like pampered princesses for the day.