[Prosciutto di Parma and Parmigiano Reggiano, Parma's most famous food products. Photo courtesy Maestro Travel Experience.]
In 2015, Parma was declared by Unesco a Creative City of Gastronomy, officially recognizing what this Emilia-Romagna town and its surroundings have been for centuries: a center of Italian food excellence. Known as the 'Food Valley', the area around Parma produces some of Italy's most famous food products, chief among them Parmigiano Reggiano and Prosciutto di Parma.
Both Parmigiano Reggiano and Prosciutto di Parma have DOP status (Protected Denomination of Origin), a recognition by the European Union that certain food products are what they are because of the area where they're produced; therefore, in order to be authentic, they cannot be produced anywhere else.
It is indeed no coincidence that Parmigiano Reggiano and Prosciutto di Parma are produced with excellent results in Parma's Food Valley, as I discovered on a recent trip to the area, where I had the chance to visit a salumificio (ham factory) and caseificio (cheese factory) and learn about the processes behind their making.
Prosciutto di Parma for example can only be made in the southern portion of the province of Parma, south of the Via Emilia, between the Enza and Stirone rivers, at a maximum altitude of 900 meters.
To learn more about it, I headed to Salumificio Conti, a family-run ham factory, located at 550 meters of altitude among the gentle rolling hills of Castrignano, not far from Langhirano, a major center of Parma ham production.
What does it take to create that salume perfection that is Prosciutto di Parma, with its sweet, delicate, and balanced taste? You may be surprised to know that it only requires three ingredients: quality pork meat, salt and time.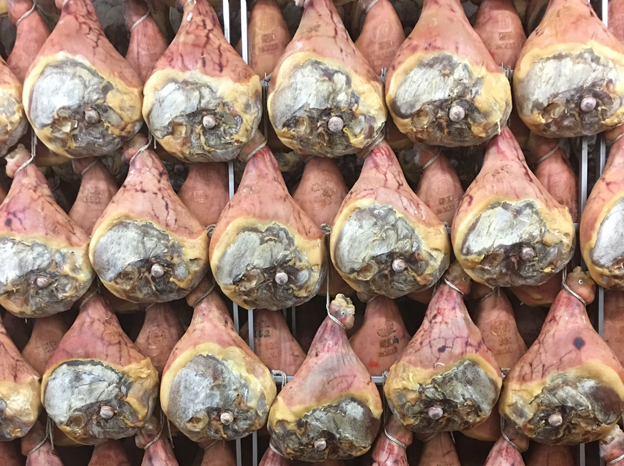 [Prosciutto di Parma in the 'drying' phase. Photo taken at Salumificio Conti in Parma's Food Valley by Silvia Donati.]
The pigs used to make prosciutto di Parma must be born and bred in Italy, more specifically in ten regions of north-central Italy. Salumificio Conti prides itself on using high quality, monitored pork meat, which comes from pigs raised in the Po Valley, where they're fed, just like in ancient times, with cereals and the whey deriving from the production of Parmigiano Reggiano.
Salt is used as a preservative; it is the only preservative allowed in prosciutto di Parma. The 'salatura' (salting) phase is extremely important: not all pork thighs will require the same amount of salt, and it is the expertise of the ham-maker that will determine how much salt each thigh requires. Each prosciutto is different from the other, and each ham factory makes different hams, which is only more proof of the artisanal work that is prosciutto-making, where the hand and expertise of the ham maker is just as important as the meat itself.
Finally, time: prosciutto gets better with age. Prosciutto di Parma must age for at least 12 months. This is the phase where you understand why the territory of production is so important. If you visit a ham factory around here, you'll notice they have large windows facing south; that's for hams to be dried by the scented air coming from the Ligurian Sea (look up Parma on a map; trace a diagonal line toward the south-west; you'll notice the line ends at the Ligurian Sea, passing through the Po Valley, the hills and the Apennine mountains. Why is this important? Because it creates a microclimate unique to the area that is ideal for aging prosciuttos). Prosciutto, which has been made since Roman times, was known then as perexsuctum, meaning 'asciugato', dried.
After this pre-aging phase, hams are moved to the 'cantine', cellars, where the microclimate and biochemical processes it stimulates will determine the final aroma and taste of the prosciutto. Only prosciutto fire-stamped with the ducal crown is authentic Prosciutto di Parma.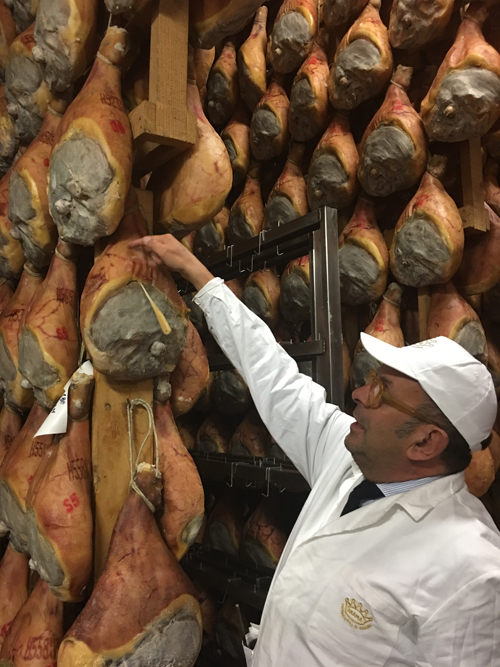 [Testing prosciuttos with a horse bone needle at Salumificio Conti in Parma's Food Valley. Photo Silvia Donati.]
Just like Prosciutto di Parma, Parmigiano Reggiano doesn't require many ingredients: raw cow's milk, natural calf rennet, salt, and, again, time. Just like Prosciutto di Parma, Parmigiano Reggiano is strictly tied to the area where it's produced. Cows must be bred in the area and fed with forage from the area; the milk they produce is influenced by these factors.  
Parmigiano Reggiano has been made around here since medieval times, invented by Benedictine and Cistercian monks, who had reclaimed marshes to make room for pastures and crops. They had perfected the process by the 14th century and today, Parmigiano is still made in the same way: the craftsmanship it requires can never be automated.  
To understand the – hard – work it takes to make Parmigiano, I visited the Caseificio Sociale Basilicanova, run by a husband-and-wife team, Paolo and Paola Ghillani. It is strenuous physical work, and must be done every day.
During the initial phase of production, I watched as Paolo and his assistant lifted spongy masses from large cauldrons filled with milk.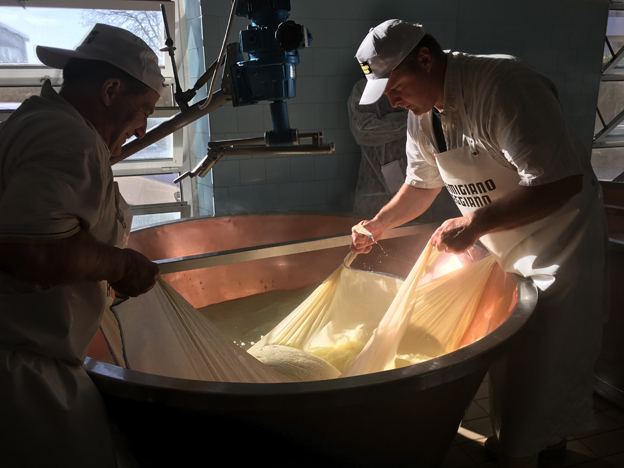 [Casari - cheesemakers - working on the first phase of Parmigiano Reggiano making at Caseificio Basilicanova. Photo Silvia Donati.]
Once the masses have dried, they are transferred to round wooden forms to give them their characteristic shape. The newly-formed "wheels" (forme in Italian) soak in sea-salt solution for 20-25 days. After soaking, the wheels are taken into the aging room, where they remain for a year. Every 10 days, each wheel is carefully wiped, brushed and turned.
In the same way that each prosciutto is different from the other, each wheel of Parmigiano is different, and each cheese factory produces different Parmigianos; because, again, it's an entirely artisanal process where the expertise and sensitivity of the casaro is a fundamental aspect of the process.
After 12 months, certified cheese-testers determine if the wheels comply with the standards of the Consortium of Parmigiano Reggiano, the organization that certifies the authenticity of the cheese. The wheels that pass the test are fire-branded with the oval certification mark. Most wheels continue to age for another 12 months, as 24 months is the ideal aging time for Parmigiano Reggiano.
In the aging room, filled with forme up to the ceiling, I experienced the excitement that precedes the opening of a wheel, as Paolo and Paola anxiously awaited to taste it; I did too and it was delicious.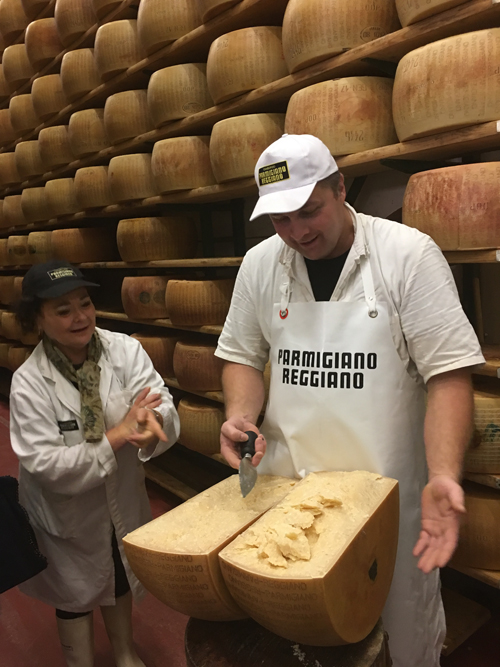 [Paola and Paolo Ghillani opening a 'forma', wheel of Parmigiano. Photo Silvia Donati.]
Tortellini and the other stuffed pastas Emilia-Romagna is famous for wouldn't be the same without Parmigiano, which is used often and widely in the local cuisine, not just as an ingredient, but also by itself, to open or close a meal.
When you understand the work, pride and craftsmanship that goes into making certain foods, you'll have a deeper appreciation when you sit down to eat them. Many ham and cheese factories in Parma's Food Valley open their doors to visitors to let them in on the secrets of production. It's an opportunity you shouldn't miss. 
Want to experience first-hand prosciutto and parmigiano making and meet the producers behind them? Hop on the "Tasty Bus," a guided food and tasting tour run by Maestro Travel Experience, departing daily from Parma.
For more information about Parma and surroundings and to plan your trip, visit the Parma City of Gastronomy website.