When I first heard that the writer, chef and illustrator Letitia Clark was releasing a book dedicated entirely to Sardinian cuisine I was intrigued to say the least. Sardinia is a part of Italy that, for whatever reason, tends to be overlooked by food critics. Mainlanders rarely talk about the island in terms of its gastronomy, and the cuisine as whole is almost entirely unknown beyond its shores. Personally, though, I've had the good fortune to visit the capital Cagliari, several times and have always enjoyed what I've eaten there. And so, despite the fact that my cookbook shelf is already buckling under the weight of neglected tomes, I ordered Bitter Honey with a mind to learning some new techniques and deepening my knowledge about Sardinia more generally. I was not disappointed. 
Clark was born in Devon, England, and worked for several years as a chef in London. In 2017, fed up with big city British life, she decided to move to rural Sardinia to live with her then partner, Luca, just outside the western town of Oristano. Bitter Honey exhibits all the energy of someone starting to fall in love with a place, and the enthusiasm that comes with trying to understand a new culture. In the preface, the author grapples with imposter syndrome. "I was nervous of writing about a cuisine that was not my own" she admits. Yet she needn't have been. While embarking on a project like this immediately after putting one's roots down does indeed take some guts, this book is a good reminder of how cultural distance can sometimes provide new, valuable, perspective on traditions that locals take for granted.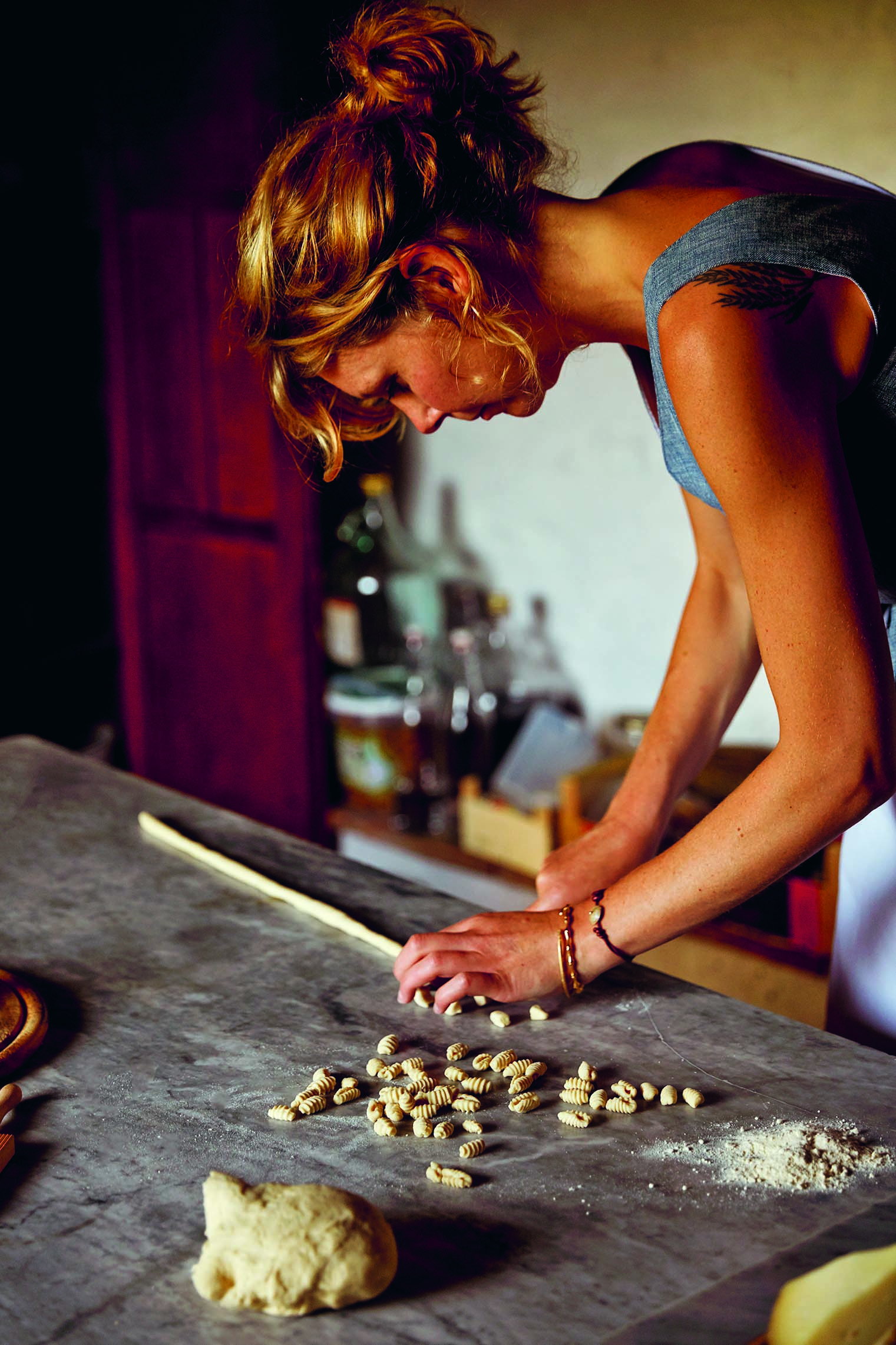 Sardinia has always been a bit of an enigma. It was ruled by Spain for several centuries, and it maintains elements of that colonial identity to this day. At the same time, the island also has a fiercely independent spirit. Sardinian is a language unto itself - not a dialect - and its variations, Logudorese and Campidanese, bear only a passing resemblance to Italian. The landscape is covered in strange shrubs and herbs and the hillsides are covered in huge bushes of myrtle and helicrysum, not to mention row after row of cork and eucalyptus trees.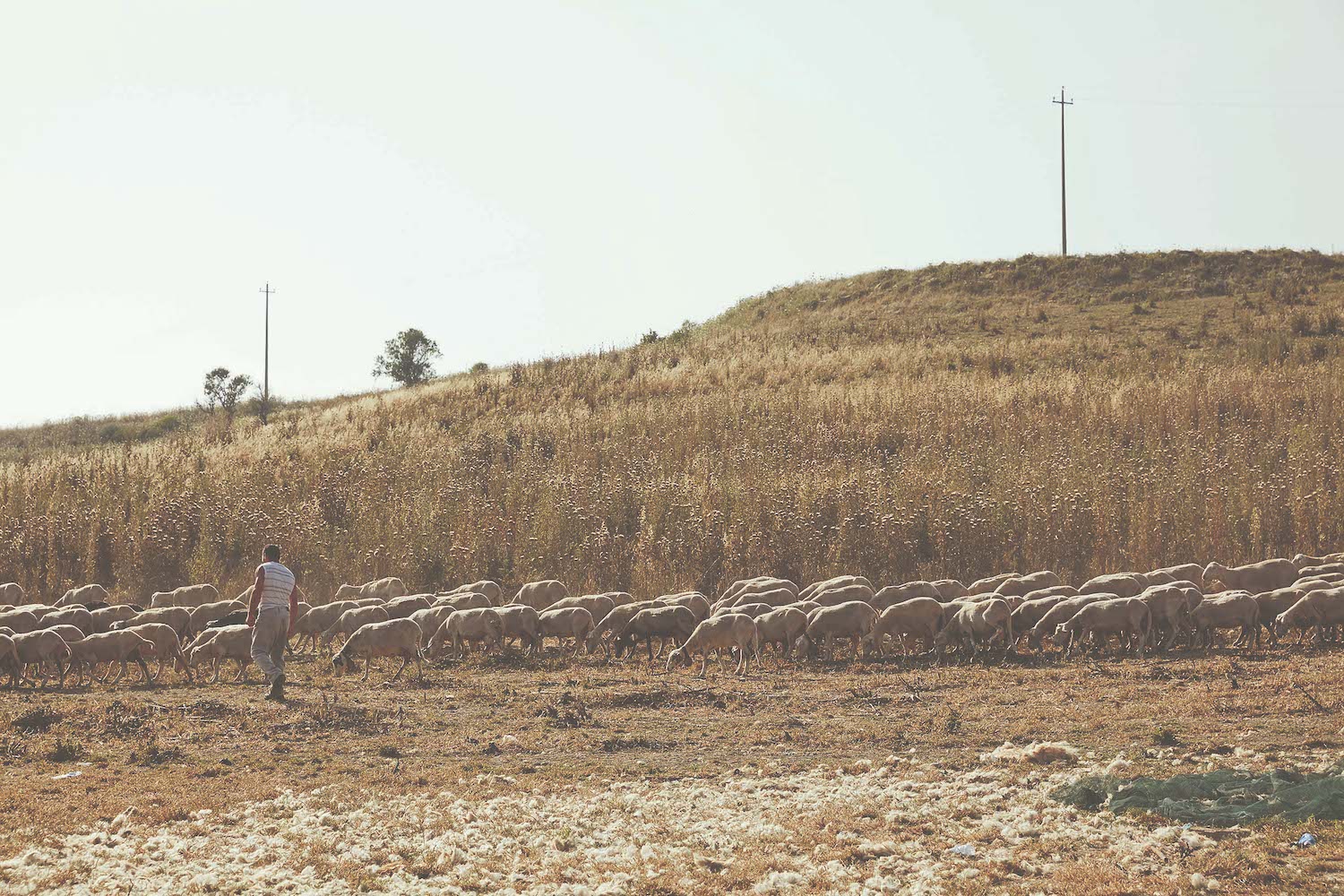 Sardinia is beautiful but it's difficult. The dry, shallow, rocky soil, makes large scale crop production a challenge here. Over the centuries the island's inhabitants have struggled almost constantly against famine, and this has had obvious implications on the food culture. In 1921 D.H. Lawrence wrote a particularly colourful account of his stay in the interior, which, with its frightening descriptions of black meat, pungent broths, and rotting fruit, reads at times like a gothic horror tale. A more charitable way of putting it, perhaps, would be to emphasise that Sardinian cuisine is characterised by rather intense flavours, and, as a whole, is unusually salty, musky, sour and, frankly, rather 'barnyardy.' The earthy simplicity might be a little overpowering for some modern palates, but I for one find it quite refreshing compared with the overzealous spicing of so much contemporary cooking.  
Bitter Honey covers most of the Sardinian staples. The main culinary distinction on the island is between the 'coast', where, as a general rule, dishes tend to be fairly elaborate, and the interior, where things are simpler. Clark covers both areas here, but with a slight preference for the inland fare. The first recipe I tested was for malloreddus, Sardinian 'pasta dough gnocchi' with sausage ragu. It might sound familiar, but the addition of chili, saffron, and a huge amount of bay, make it quite different to similar dishes in, say, Tuscany or Lazio. This is a favourite across the island and is arguably Sardinia's most iconic dish.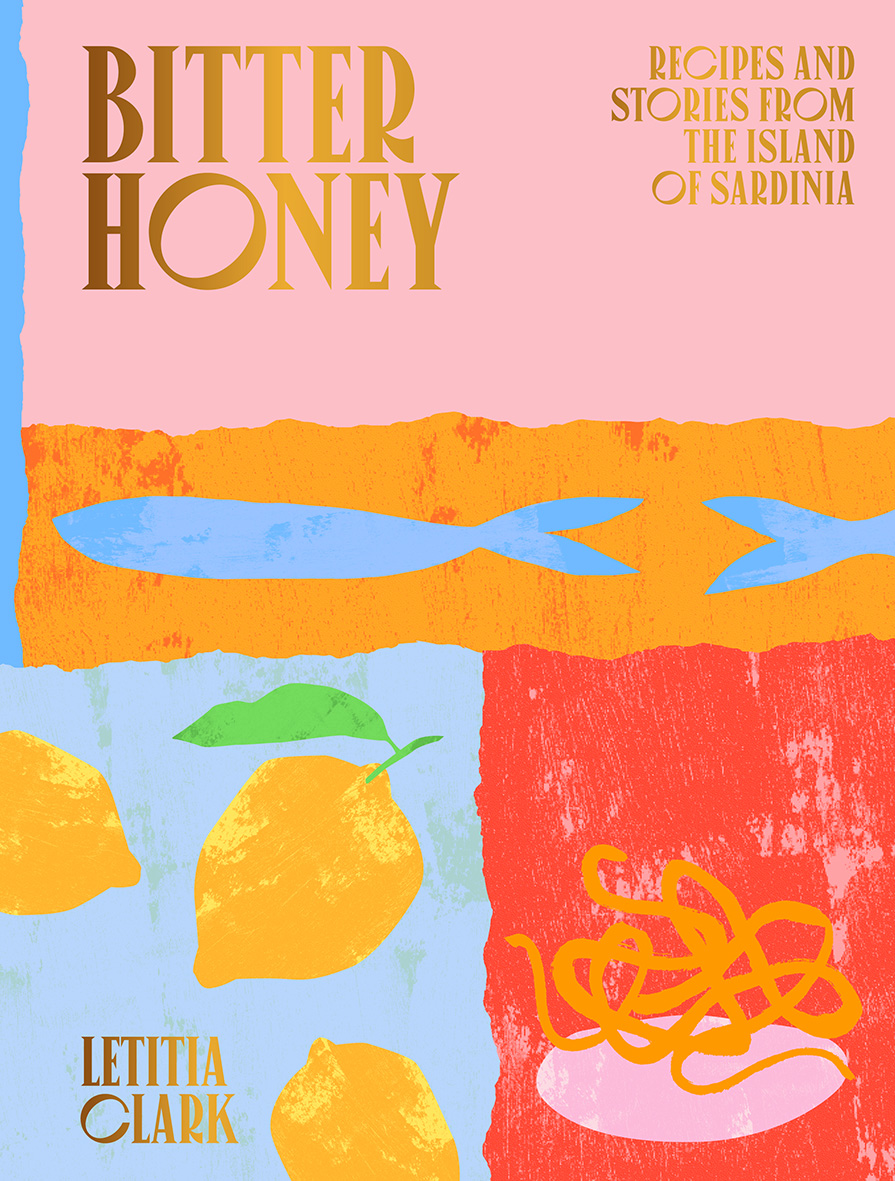 Clark collates other well-ish known recipes with similar reverence, including culurgiones (pecorino-filled dumplings), mutton broths, and several suggestions on how to make the best use of bottarga (dried grey mullet roe). In case you were wondering, the most enticing option with regard to the latter is to simply grate it onto a long pasta, like linguine, though Clark also offers an intriguing, apparently authentic dish which calls for it to be thinly sliced and served with celery in a salad. There are – it's true – a few niche ingredients to buy here, but don't be put off. On the whole these are simple, budget friendly recipes, which are well-grounded in the islanders' own distinctive version of cucina povera.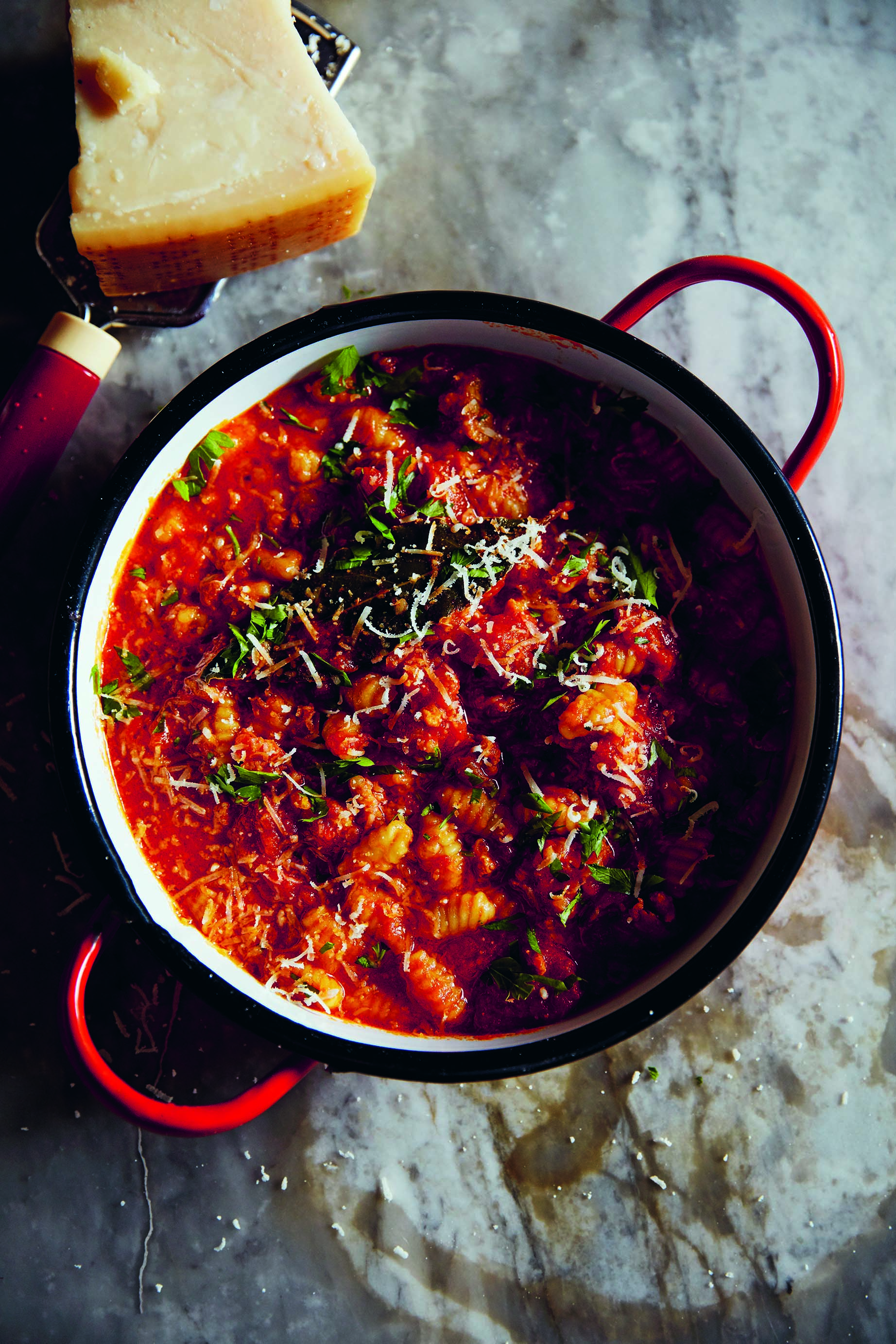 One thing that particularly stands out about this book is the quality of the vegetable recipes. These also happen to be the moments in which Clark seems most comfortable with forwarding her own interpretations of the traditional fare. One example is the antipasto of 'grilled aubergine, with date syrup and ricotta salata.' This is a rather ingenious suggestion: the combination of sweet and salty, feels like a more refined version of an idea that is latent in the island's heritage; a potential which has been eked out here thanks to Clark's own modern, European, approach to Mediterranean food. This is equally true of the 'chickpeas with wild fennel and ham.' When I cooked it last week for my partner, she described the result as being "like tucking into a Sardinian hillside… in the best possible sense," and I wholeheartedly agree. 
The absolute stand-out in my kitchen so far has been the 'artichokes braised with sage, lemon, fennel and olives with saffron aioli.' This is essentially a slow-cooked vegetable stew, but it has an extraordinary depth of flavour due to a very clever use of the eponymous herb. Clark's nod to Catalan influence (in the mayonnaise) is her own addition, but it works well here, and is in keeping with the food philosophy around Alghero, which is also known as little Barcelona.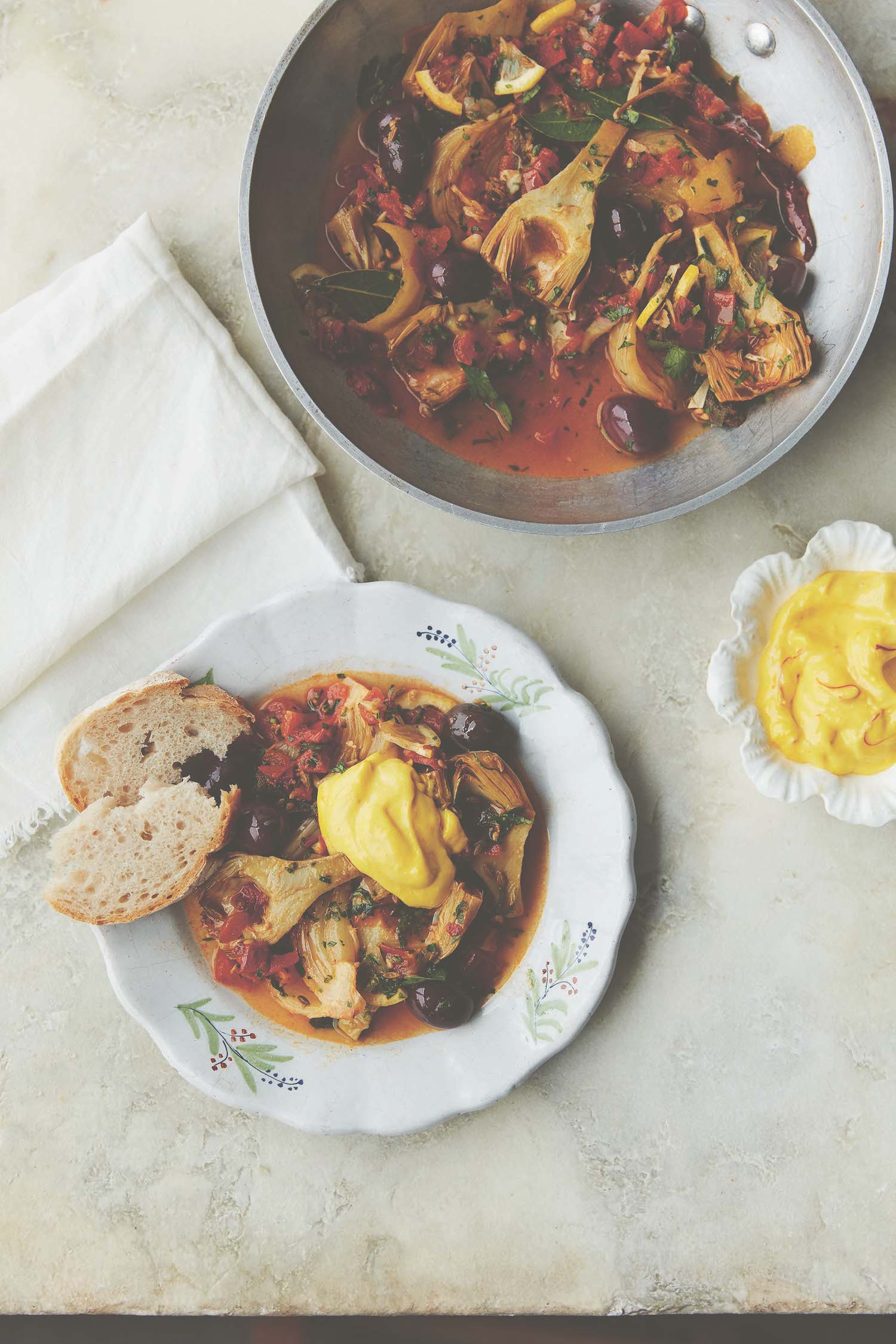 With this book Clark has succeeded in communicating traditional techniques in a clear and efficient manner, while, at the same time, proposing her own, Anglo Saxon, take on things. As I'd hoped I learnt a lot about the island itself. The more I read, though, the more I also came to understand, and appreciate, Clark's own desire to re-invent some of what she encountered. Throughout this book the author goes to considerable effort to pay homage to the figures that helped with the research, but she also convincingly justifies her deviations from the rigid standards that many families on the island adhere to. While I don't agree with all of her suggestions – who really needs a 'two booze' tiramisu? – Clark is so convincing at explaining her decisions that it's impossible to gripe too much about what is, at the end of the day, a question of personal taste. 
For anyone seeking a step-by-step guide to producing gourmet showstoppers, like those collected in, say, Tim Siadatan's 'Trullo', this book won't be for you. But Sardinian food shouldn't be about that kind of thing anyway. These are every day, unpretentious, informal, suggestions, easy enough to pull off for a weeknight meal, or to enjoy, slowly, in good company. Clark herself puts it rather beautifully. "Food is never just food," she writes, "it is a memory, a moment recaptured in a mouthful. It is friendship, it is love, it is celebration. Often in the modern world it's easy to lose sight of this. In Sardinia, it's not."