John Bensalhia steps up to the challenge of finding some top notable walking destinations to visit in Italy...
Whatever the weather, there's no better way to see the beautiful countryside and amazing sights of Italy than on foot. Seeing the sights by car or by train may be more convenient, but there's one small problem: the attractions will pass by in a flash. A good walk will allow you to stop and see the sights at your own pace. Admire the breathtaking environments at your leisure – and better still, it's a brilliant way of keeping fit!
This article features some of the best walks to enjoy in a selection of Italian regions. Whether you want a simple walking day out for all the family or a more ambitious hiking experience, Italy has something for everyone. So, best foot forward and all that and let's visit some great walking locations!
ABRUZZO NATIONAL PARK
For a walking location that mixes lush environments, exciting walking routes and historical architecture, Abruzzo National Park is a good port of call.
Located in the central Apennines, Abruzzo National Park offers some great walking opportunities. It's a location that's packed with flowers such as geraniums and thymes and also the odd bit of wildlife: keep an eye out for wolves, eagles and bears!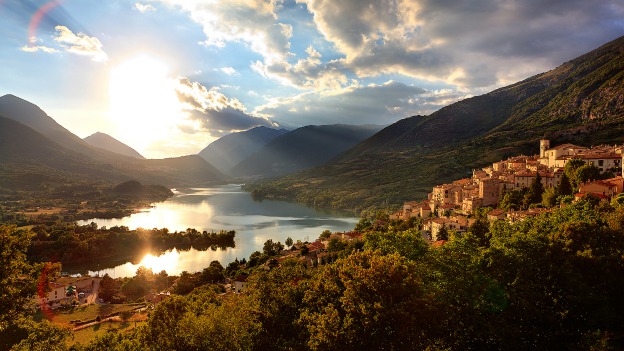 A good example takes you above Pescasseroli to a hill and ridge which is known as Bocca di Forno (or the Oven's Mouth). This is a nice walk that offers attractions such as pine forests and the ruins of Castel Mancino. The remains of the fortress are said to date all the way back to the 10th or 11th century.
A more ambitious walk takes you to Rocca Ridge. Be warned! if (like me), you're a heights refusenik, then the steep slopes may be a challenge. But if you're happy to try this one, then you'll be rewarded with some more fine scenery including an amazing landscape, a beech forest and the ancient old Church of Santa Maria di Monte Tranquillo.
VAL GRANDE NATIONAL PARK, Lake Maggiore
Val Grande is said to be the biggest wilderness in Europe. There are all sorts of walking opportunities in this unspoilt region: Take your pick from mountains, valleys, canyons and more. The views are second to none and the walking routes are many in number.
If you're particularly interested in wildlife, then the Val Grande National Park is definitely for you. It includes all kinds of mixed and hardwood trees, including chestnut, yew, ash and beech. Animals living in the area include deer, foxes and badgers.
Humanity has also made its mark though, with a variety of man-made examples that have been built throughout history. These include chapels, abandoned shelters, rock incisions and passages. It's a fascinating visual document of humanity's achievements since the dawn of time, and makes for a breathtaking and interesting walk.
MENAGGIO, Lake Como
Half way up Lake Como, on the western shore is Menaggio. This location offers a fine choice of walks from various destinations. An advantage is that there is a regular bus service that will take you to places such as Lugano and Breglia.
Breglia, for example, boasts a great walk that will take you to Rifugio Menaggio, a refuge that gives some fantastic views of Lake Como. If you're feeling ambitious, then you can carry on from this stop to make your way to the summit of Monte Grona where you can enjoy some more spectacular views including that of Monte Rosa. Alternatively, if you're after a shorter walk from Breglia, then a stroll through the woods will take you to the Chapel of San Domenico. Another chapel to take a look at is the Chapel of San Martino which is accessible from Griante, and makes for a picturesque walk: Alpine pastures, flowers, butterflies... it's the sort of picture perfect postcard walk and one that's to be savoured.
Croce is another spot that you should visit. A notable route takes you to Sasso San Martino, which is a steep, woody locale that overlooks the Lake. Again, if you're not one for heights, you may want to pass – but if you're OK with them, then you'll be rewarded with more stunning views.
LAKE ISEO
All kinds of sights await you when you come to walk at Lake Iseo.
Lake Iseo is a popular destination for walkers – if you're looking for a walk that provides you with exceptional views of the Lake, then take the route to Sulzano, which will oblige with a picturesque experience.
Monte Isola is especially notable for sturdy but enjoyable climbs. From the village of Cure, head up the track to the island's highest point where you will find the Madonna della Ceriola chapel.
Other amazing walks include the route to the waterfront settlement of Carzano. You can get there either by coastal road or a mountain track situated above the shoreline. On the other hand, if you're seeking to explore some village history, then you won't go wrong with a visit to Sale Marasino. This charming old village includes some unique houses and plenty of narrow alleyways to explore.
LAKE GARDA
Time to stroll on over to Lake Garda. This is a location that has a walk for all seasons. Whether you wish to admire the blossom, flowers and trees in the Spring or the snow-peaked mountains in the Winter, Lake Garda presents a myriad of walks for all to enjoy.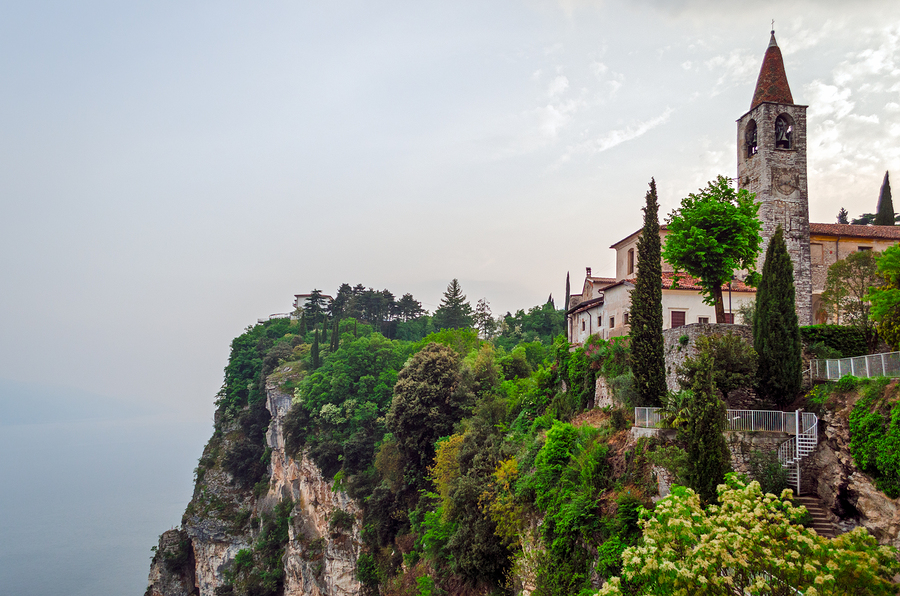 Make your way to the south of Lake Garda, and you can see the Morenic Hills. It's an accessible walk that all the family can enjoy, and the final destination is peppered with some incredible landscapes, slopes and vineyards.
On the other hand, if you're more ambitious with your walking choices, then Mount Baldo, on the north east side of the lake, provides some fabulous views with its highest peak at 2220 m.
For more great lake walks in Italy, please check out the following link. 
DOLOMITES – ALTA VIA
The thing to bear in mind when you go walking is whether you're up to the challenge of some of the more demanding routes. Some are easy to navigate (making these sorts of walks ideal for all ages and abilities) while others are that little bit harder.
But if you're a walking connoisseur, then you've come to the right place at the Alta Via trail (high route) on the Dolomites Mountain Range in the North Italian Alps. The 150 km high trail is an ambitious one to tackle and in fact, can take between 10 and 15 days. This is a monster of a walk and makes for a real adventure. Because camping isn't allowed, along the way, mountain huts (Rifugi) are situated for overnight stops and breaks. Your best bet, safety-wise, is to take a hike in the Summer months between June and September. No snow – only pitch-clear views.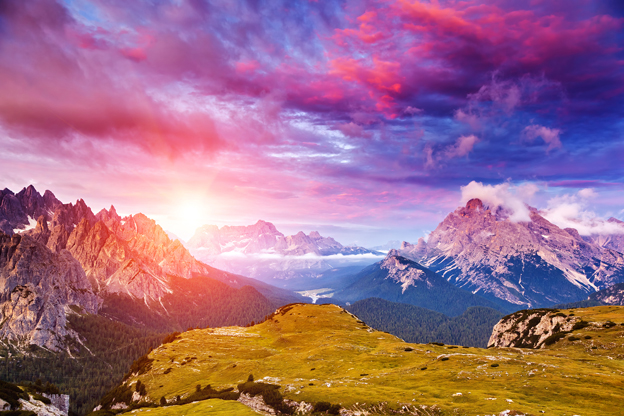 DOLOMITES – VIA FERRATA, Trentino
The more inexperienced hiker should get on better with the Iron Road or Iron Route. Via Ferrata in Trentino is an access path that is designed to help hikers. The path is fully equipped with walkways, cables, ropes and pegs (amongst other things) to provide safe passage for walkers. In fact, a good number of these were introduced in the First World War when they were designed to assist with troops' movements.
The mountain ranges include the Sella Group, the Marmolada and the Brenta Group (also known as the Western Dolomites), which includes eight peaks higher than 3000 m.
For more details and more on the above two, please check out this link.
MONTE BIANCO and MONTE ROSA, Aosta Valley
This is another destination that's one geared towards the more experienced walker and hiker. The Aosta Valley, in North West Italy, is a location that's renowned for its mountains with steep points.
Monte Bianco (AKA the White Mountain) is the highest mountain in the Alps (peaks reach 4810 m), and if you choose to take the tour that makes its way round the Mont Blanc Massif, then it's said to take around 11 days to complete by walk. Having said that, every year, Ultra Trail du Mont Blanc challenges marathon runners to complete a route in a mere 20 hours!
Monte Rosa's peaks reach over 4500 m, making it the runner-up to Monte Bianco. Its name actually doesn't originate from the common meaning of pink, but from the Franco-Provencal Aostan word for glacier, rouese.
VALTELLINA, Lombardy
The stunning and spacious area of Valtellina reaches out over a span of 4200 km. About one third of Valtellina is devoted to parkland and natural reserves. Walkers wishing to check out some superb natural trails will find much to enjoy in the Orobie Valtellines Park and the largest of its kind in Italy, Stelvio National Park.
Valtellina is also the place to be for hikers. Alta Via della Valmalenco boast the mountain peaks of Pizzo Scalino and Pizzo Bernina. Meanwhile, Via Alpina is a route that crosses a hefty eight countries of the Alpine chain.
APENNINO TOSCO-EMILIANO
More mountain action: this time we're off to the border between Emilia Romagna and Tuscany where there's an area of mountains between the passes of Cisa and Forbici.
The highest mountain in the North Apennines is Monte Cimone (with a peak of 2165 m). This is well worth experiencing, since the top provides all-encompassing views of the Alps, the Adriatic Sea, the Argentario and more!
You can follow in the footsteps of passing shepherds and pilgrims who took these paths – and on the way, there's many an opportunity to appreciate the natural landscapes.
SIBILLINI MOUNTAINS
The mountains that divide Umbria and Le Marche, rank as another impressive destination to visit for the ultimate in hiking and sightseeing.
Monte Vettore, for example, is an 800 m rocky trail that rewards a half day's climb with some awesome views of the surrounding scenery. The Eastern Marche slopes make for quite an ambitious hike too – a great chance to blow those cobwebs away!
There's plenty of interesting flora and fauna to see along the way. In addition to the wild flowers, there are rare sightings of peregrine falcons and golden eagles. If you're in the area, then it's also worth paying a visit to Parco Nazionale dei Monti Sibillini, one of Italy's finest parks. At 70,000 hectares, there are around a dozen trails to explore, making for a refreshing and fun walking experience.
THE AMALFI COAST
Seeking those cool coastal views? Then a walk along any of the footpaths on the Amalfi Coast and you'll get the results you want. Originally old mule tracks and cliff edge paths, today's footpaths are generally more accessible – but again, if you're not one for heights, then this may not be the choice for you.
The walks are mostly suitable for all, although some are more difficult to navigate. Il Santuario dell'Avvocata is a trickier path to try. This steep path from Maiori leads to the medieval hermitage, Madonna dell'Avvocata. La Baia di Ieranto is a little easier, a route that takes about four hours to navigate. Once you reach the end, you'll be able to relax at a lovely beach that faces the Faraglioni of Capri.
Easier options include Il Sentiero degli Dei, which features both views of the beautiful coastline and hills between Agetola and Positano. La Torre delle Ziro includes the tower and fortress that used to be part of the defence walls of the Dukedom of Amalfi. Rumour has it that these walls are said to be haunted... Punta Campanella, meanwhile, takes you to the furthest part of the Amalfi Coast and the Minerva Sanctuary. In these parts, it's said that Ulysses was seduced by the Sirens. And you'll be seduced by the amazing scenery in this two-hour walk!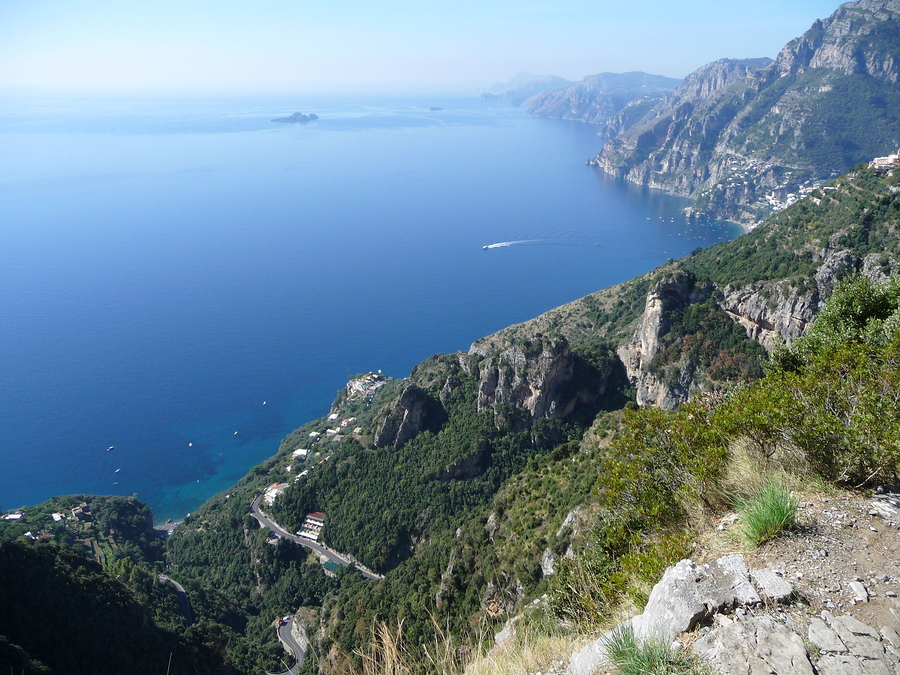 For more details on Amalfi Coast walks, please take a look at this great guide. 
ASSISI
Religious pilgrimages dot the hill town of Assisi. As well as offering some bright and colourful flora (sunflowers are an especially welcome sight in the Summer season), this is suitable for those wishing to choose a more spiritual path to walk.
Among the churches and basilicas to check out are the Basilica of San Francesco (essentially two basilicas built on top of each other, consecrated by Pope Innocent IV in 1253 and restored to its former glory after the 1997 earthquake), and the Church of Santa Maria Maggiore (which boasts fresco remains from the 14th and 15th centuries in the nave, apse and sacristy).
Another must walk will take you to Eremo delle Carceri, a series of buildings built around the Cave of St Francis of Assisi - the small cave in which St Francis is said to have retreated to from time to time.
PERUGIA
Sometimes, walks don't necessarily equate with woods, rocks and coasts. A good walk can still be enjoyed while appreciating the architecture from centuries past.
Perugia is a good case in point – there are various winding streets and alleyways from medieval times to traverse, not to mention arches and passageways.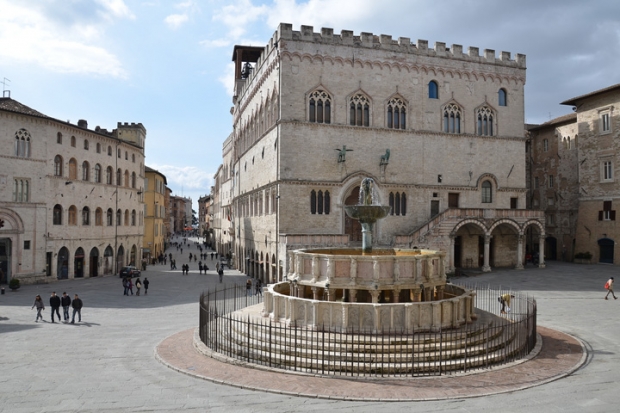 Via dell'Acquedotto is a good street to walk around – it's a road situated on the old aqueduct that used to take water to the Fontana Maggiore. On the subject of which, the Fontana Maggiore, a great stone image of the medieval world has been recently restored.
That's one of the many sights to enjoy as you walk around – such as the Sala del Collegio della Mercanzia and Collegio del Cambio, the latter of which hosts some super 15th century frescoes by Perugino.
ORVIETO
Water water everywhere! That's a common finding you'll experience when you come to Orvieto for many a walk. A walk to the Paglia River also yields other attractions close by including the remnants of the old Roman bridge, Ponte delle Colonnacce.
If you're after some genuine pure water, then you must go for a walk to the Tione Springs. It's a source of water that's said to have notable healing properties, and is widely acknowledged for its high quality and purity. Also worth the walk is the San Valentino Waterfall, an unspoiled and tranquil stop to rest.
For more superb walks in Umbria, take a look here.