The first time I heard of drogherie shops was while talking to an Italian friend who said: "If I can't find something in a conventional shop I go to a drogheria and they will sure have what I need." Since then they became my favourite kind of stores.
There are very few of them left in the country but older generation Italians still remember going to a drogheria to buy, well, pretty much anything. Before the advent of supermarkets in the 1950s, drogherie sold spices alongside a range of household goods, natural pigments for making customized paints, natural adhesives and beeswax wood polish, which you could buy in small quantities by weight.
Some of the most beautiful drogherie are found in Tuscany. In the past, there were many of them in the region but most of them have closed over the last few decades or have been turned into bars and restaurants (Antica Drogheria in Lucca or Antica Drogheria Niccolai in Pistoia are just two examples of the latter). However, those few that remain open are always worth a visit. Each of them is like an Aladdin's cave full of treasures, the ultimate gift shop for foodies and Italophiles where you can foodstuffs and things you didn't know existed.
Drogheria Manganelli, Siena
Open since 1879, the shop has always been the place to buy traditional local cakes and biscuits such as Panforte, Panpepato and cavallucci and spices for making them. Today, the shop's assortment extended to include olive oil, wine, varieties of pasta, chocolate, coffee, jams and preserves and other local and Italian delicacies.
Located in a historic palace, the drogheria is easy to miss, as there is no clear sign, only two large windows, which allow a glimpse of the treasures inside. Glass jars filled with spices and sweets, colourful liquor bottles and boxes are tightly stocked on wooden shelves. The marble counter top, dark wood panelling, arched ceiling and original terracotta floor remind you of the shop's long history.
Patrizia Malomo, a blogger at Andante Con Gusto, born and raised in Siena, says that the drogheria is the last guardian of the city's confectionary traditions. "Their mix of spices for making Panforte is a must buy. I also buy here high quality candied fruit, various exotic spices such as excellent cardamom used for making cavallucci senesi biscuits, almond flour for ricciarelli cakes. I go there when I need an edible gift and always find something unique. The fragrance of spices and coffee that greets you at the shop's entrance is the stuff of pure poetry. It is worth stopping there even just for inhaling all those aromas," says Patrizia. "The staff is always helpful and ready to tell you about history of local desserts. For me, this place is special because it feels timeless and represents history of my city."
Address: Drogheria Manganelli, Via di Città 71-73, Siena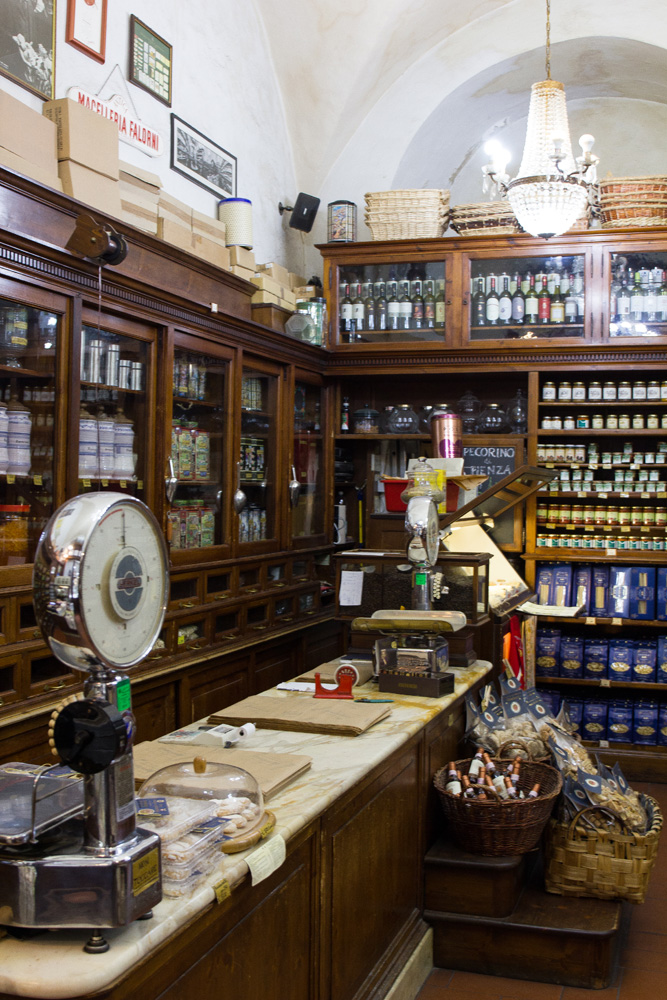 You might want to read also "The Hidden Florence Most People Never See." 
Antica Drogheria Banchelli, Montevarchi, Arezzo
The small town of Montevarchi is worth a day trip from Florence or Arezzo not only for its Prada outlet selling designer garb at discounted prices. The old centre is filled with Renaissance palaces, elegant churches, fascinating museums, cosy bars and excellent restaurants. In one of the grand historic palaces you will find the Drogheria Banchelli. The Banchelli family bought the business in 1953 and, to keep the shop's character, wisely preserved the massive wooden shelves and cabinets dating back to the 1800s. It is bursting with goodies: chocolates, spices, wine, tea, coffee, traditional Tuscan culinary delights - the choice is overwhelming here. I am always curious to  know what locals buy in drogherie, so I asked Maria Rosaria De Luca, a great cook and author of Cucina Casareccia to tell me more about the shop. "In the past, only in a drogheria you could buy salt, sugar, coffee and various spices by weight but nowadays they are not the only things you can find here," explained Maria Rosaria. "In Drogheria Banchelli, I buy different products for cake design as well as chocolates that I can only find here and give to my daughters on Epiphany Eve. The shop is not big but the shelves arrive up to the ceiling and make it look enormous. One thing that I love and notice every time I enter, is the lovely scent and atmosphere of the old world."
Address: Drogheria Banchelli, Via Roma, 96, Montevarchi 
Pegna, Florence.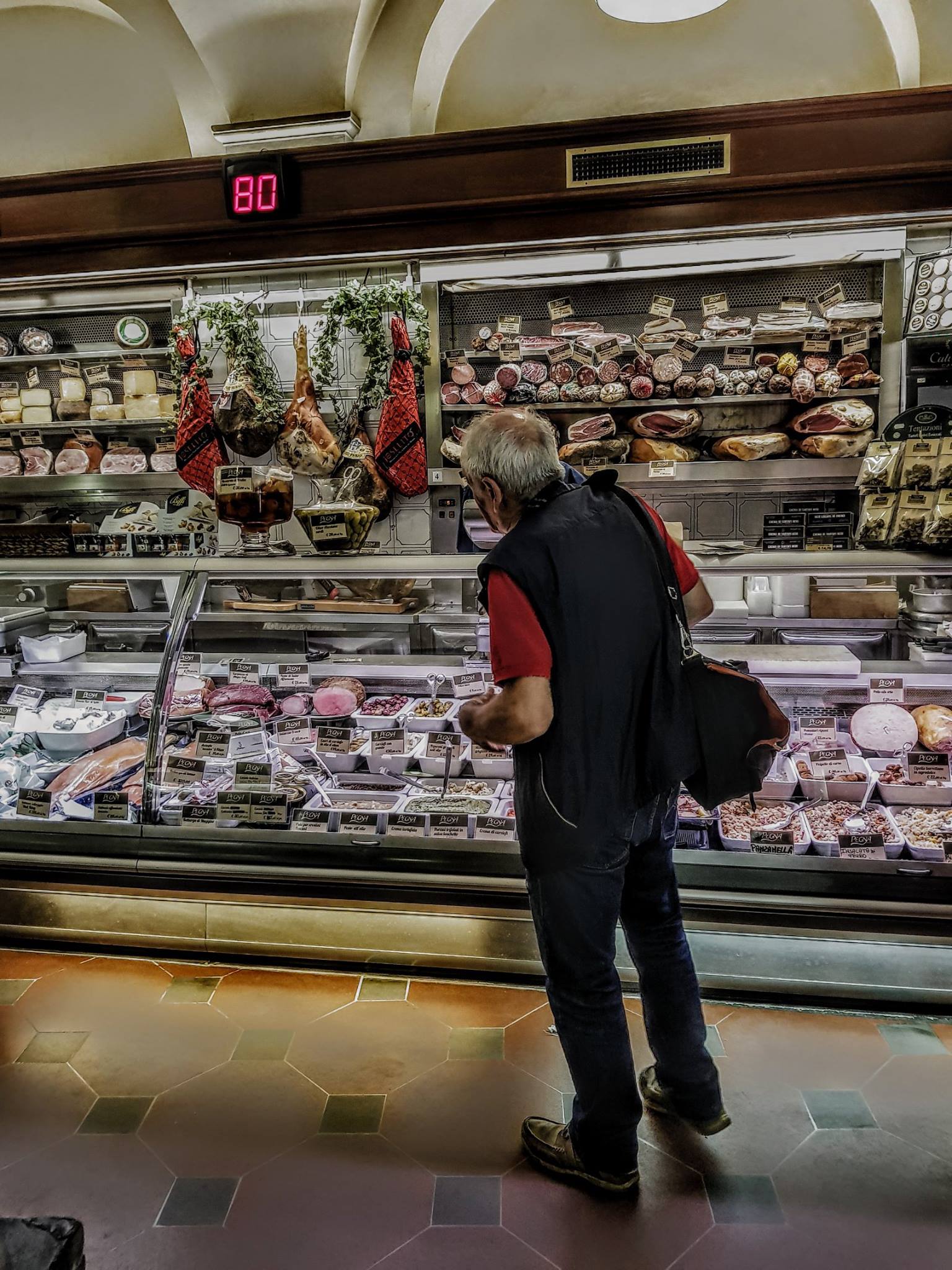 Pegna is the closest you can find to the old style drogheria, it doesn't only sell spices, salt, sweets by weight but also soaps, toothpaste (like the old-fashioned Marvis, Italian toothpaste with no nasty additives) and natural wood polishes. Founded in 1860, Pegna produced and sold various chemical products, paints, varnish and solvents for local artisans. One part of the shop was a drogheria with sweets and spices. Valentina Dainelli, the blogger behind Too Much Tuscany loves shopping in here. "Pegna is like a wonderland for food lovers: imagine shelves full of high quality products from Italy and delicacies from all over the world. I remember when I was a child and my mom wanted to spoil me with a bonbon or a mini cake, she brought me to Pegna and let me choose what I wanted. It was the place to buy quality products and 'primizie' like the very first zucchini flowers of the season."
Address: Pegna, Via dello Studio, 8, Florence