What has reopened in Venice in terms of museums and monuments? The situation is so confusing that when I asked a local tour guide, even she wasn't sure. 
Currently, we know the following is open:
Doge's Palace
Accademia Galleries
Glass Museum in Murano
Lace Museum in Burano
Scuola Grande di San Rocco
Basilica dei Frari
Peggy Guggenheim Collection
But the rules for access, the hours and rates keep changing. "It's really complicated," Luisella Romeo, the guide I contacted, said. "They should create a website with updated information, but then the website would have to be updated constantly…"
Let's see if we can make some order out of the (Italian) chaos.
Palazzo Ducale /Doge's Palace
The monument symbol of Venice is part of the Civic Museums of Venice network which includes the Museo del Vetro in Murano (Glass Museum) and the Museo del Merletto (Lace Museum) in Burano; the three sites reopened on June 13. 
They are open to the public every Saturday and Sunday until July 26 with the following schedule: 
Palazzo Ducale 10 am to 6 pm  
Glass Museum 11 am to 5 pm   
Lace Museum 12 pm to 4 pm  
The entry ticket currently costs a reduced fare of €13 for the Doge's Palace (free for Venice residents); entry to the Glass Museum and the Lace Museum is free.
From June 22, it will possible to reserve private guided visits of some of the collections housed inside the Civic Museums of Venice; these include, besides the three mentioned above, Correr Museum, Ca' Rezzonico – Museo del Settecento Veneziano, Casa Goldoni, Palazzo Mocenigo and the Museum of Natural History, which are currently closed to the public. You must be in a group however or in any case reserve your time slot for the entire number of people allowed per group, which is 10. It's €140 per group. 
After July 26 we may assume things will go back to the way they were before the lockdown, but at the moment there's no information on the Civic Museums website.
More information is available here: https://www.visitmuve.it/en/openings-muve/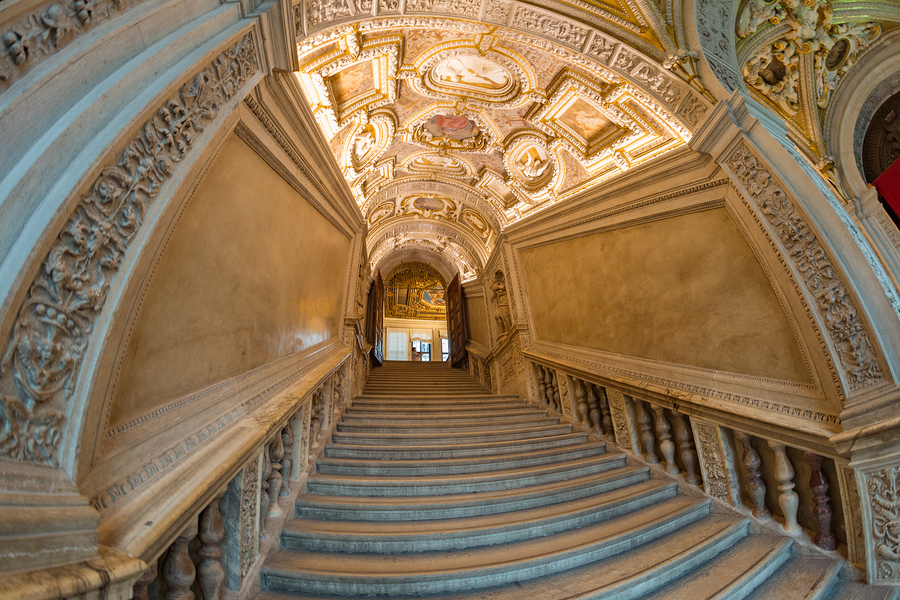 St. Mark's Campanile and the Museum of the Basilica of San Marco
The website of St. Mark's Basilica is quite devoid of current information, so this is what we have gathered by also checking local media. 
St. Mark's Basilica is now open with a mandatory visit route that takes visitors, after entering from the facade, up to the museum and the upper galleries and the outdoor terraces. A maximum of 100 people per hour are allowed inside. 
St. Mark's Bell Tower and the San Marco Museum are open to the public with the following schedule in June 2020:
Bell tower of San Marco
10:30 am - 6:15 pm (last entry 6 pm) 
Admission is 10€. Only four visitors at the same time in the elevator are allowed instead of the regular 12.
Saint Mark's Museum
10:00 am - 6:00 pm (last admission 5:30 pm).
Admission is 5€. 
Gallerie dell'Accademia
The greatest collection of Venetian painting in the world, with masterpieces by Giorgione, Bellini, Titian, Veronese and Tintoretto among others, the Accademia Galleries were the first cultural institution to reopen in Venice, as early as May 26 (they had been closed since March 9). 
Opening times are as follows: 
Tuesday-Sunday 8:15 am - 7:15 pm; last entry 6:15 pm.
No more than 130 people will be allowed in the same room at the same time, the use of face masks is mandatory, social distancing must be observed (two meters rather than the standard one meter), and hands should be disinfected often.
http://www.gallerieaccademia.it/en
Scuola Grande San Rocco
The Scuola Grande di San Rocco, which houses what is considered some of Tintoretto's finest work, is open every day except Wednesday from 10:30 am to 5:30 pm. The Chiesa di San Rocco is momentarily closed for restoration work. Entrance fee is €10 per person. 
http://www.scuolagrandesanrocco.org/home-en/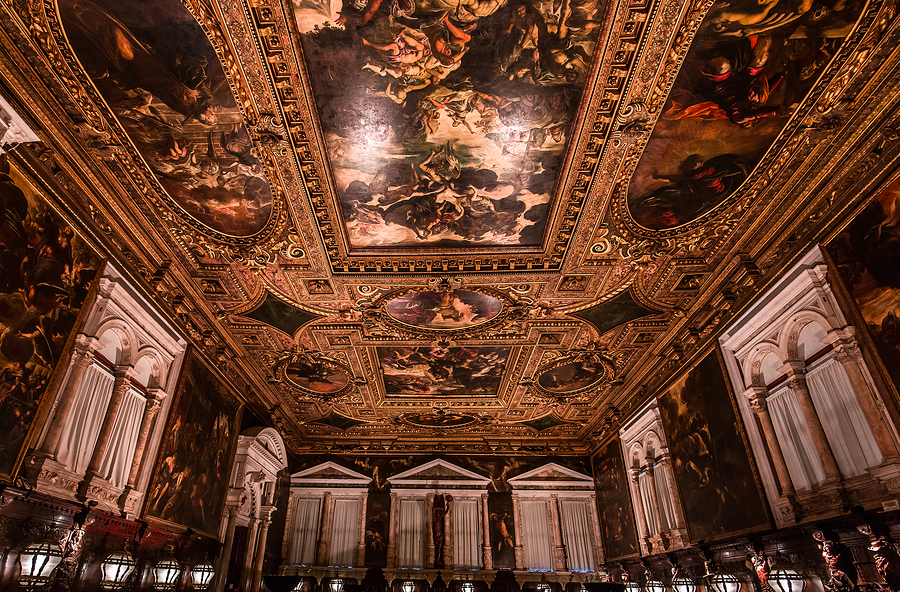 Basilica dei Frari
The Basilica dei Frari, the largest church and one of the most important in Venice, appears to be open 9 am to 12:30 pm every day except Sunday when it's open 1 pm to 6 pm to allow for liturgical celebrations. You should however check the calendar on the basilica's website to verify the opening times because if you just look at the regular visiting hours page, it says the basilica is open 9 am to 6 pm. 
It costs €3 to enter the Basilica. 
https://www.basilicadeifrari.it/en/
Peggy Guggenheim Collection
The popular Peggy Guggenheim Collection, one of the most important museums of European and American art of the 20th century, located on the Grand Canal in the Dorsoduro sestiere, is open Saturday and Sunday 10 am to 6 pm.
You can purchase your ticket online and select your preferred time slot (if available) which gives you priority entrance into the museum. You can also buy the ticket directly at the museum, but only by credit/debit card, and you may have to wait if the maximum number of people allowed inside at the same time (70) has been reached. 
Guided and group visits are not allowed at the moment.

https://www.guggenheim-venice.it/en/visit/reopening/
General rules that apply to visits at all museums and monuments of Venice:
Use of a face mask when inside;
Distance of one meter between people;
Disinfecting hands often with the hand sanitizers provided at the entrance and generally in each room of museums;
Entry denied to those with a body temperature of 37.5° or higher; it's recommended that those with any symptoms of acute respiratory infection stay home;
Follow one-way itineraries when set up and don't linger in areas where people are passing through;
Follow staff directions. 
We recommend that you check the website of each attraction you're interested in visiting as hours, prices and rules will most likely be updated over the next weeks and months.