My first ever trip abroad was to Italy in the 1960s. I have just experienced a return to that magical time before mass tourism, looking at sights again as if I've come out of a long hibernation. There are very few people and a welcoming atmosphere: the presence of tourists even in small numbers is greeted with much enthusiasm.
The first flight from Manchester to Venice following all the cancellations was on July 19th, and, with some trepidation, I was on it! It was hard to know what to expect in airports and on planes, but I needn't have worried: in fact it was the best flying experience ever! Both airports were deserted with many shops closed, but there were no queues, and arrangements for boarding and disembarking were well organised with extra precautions for spacing and timing. Temperatures were taken, but it didn't cause hold-ups, and the plane left on time, arriving 10 minutes early.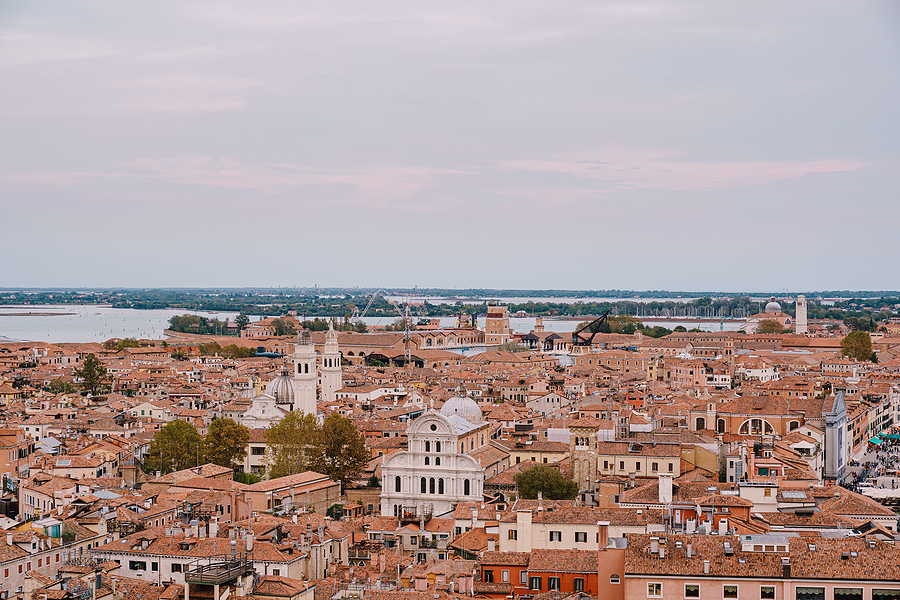 First impressions were that Italy generally feels much as usual, but without the bustling crowds, apart from the fact that everyone wears masks in public places. All shops provide sanitising gels and remind customers about social distancing.
Travelling by train is rather different. The timetable is normal but there are notices to tell passengers only to occupy window seats, and masks are of course compulsory, with frequent reminders over the speaker system. Each carriage has one door for entry and the other for exit to help with distancing arrangements, and platforms have marked spaces to stand.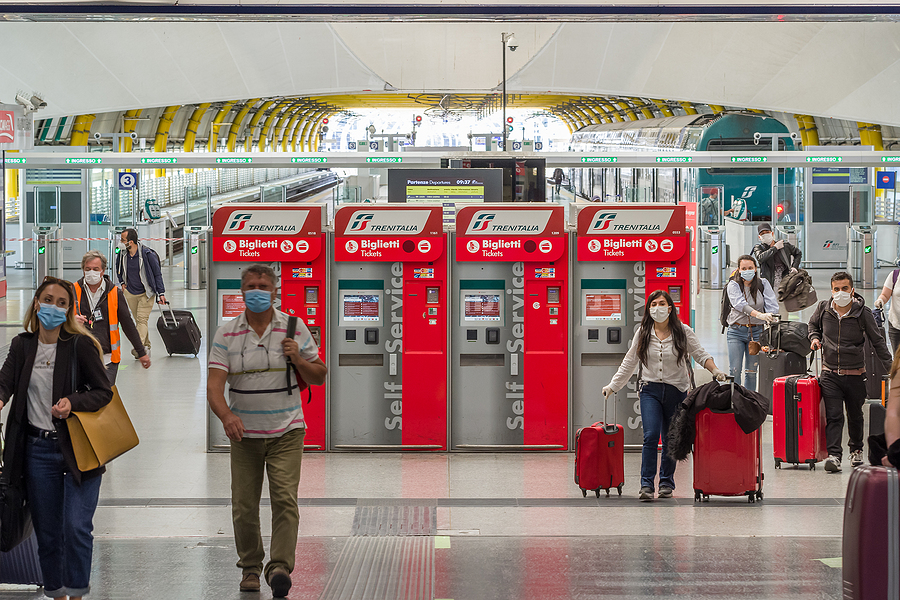 A day in Venice felt very strange. I've never seen the station looking so empty, and wandering the deserted alleyways became a pleasure instead of jostling with the usual crush of people. Most of the shops along the Strada Nuova, Venice's main shopping street, were open, and to entice the small numbers of tourists, trattorie offered bargain 3 course lunches for €11 including drinks, service and cover charges.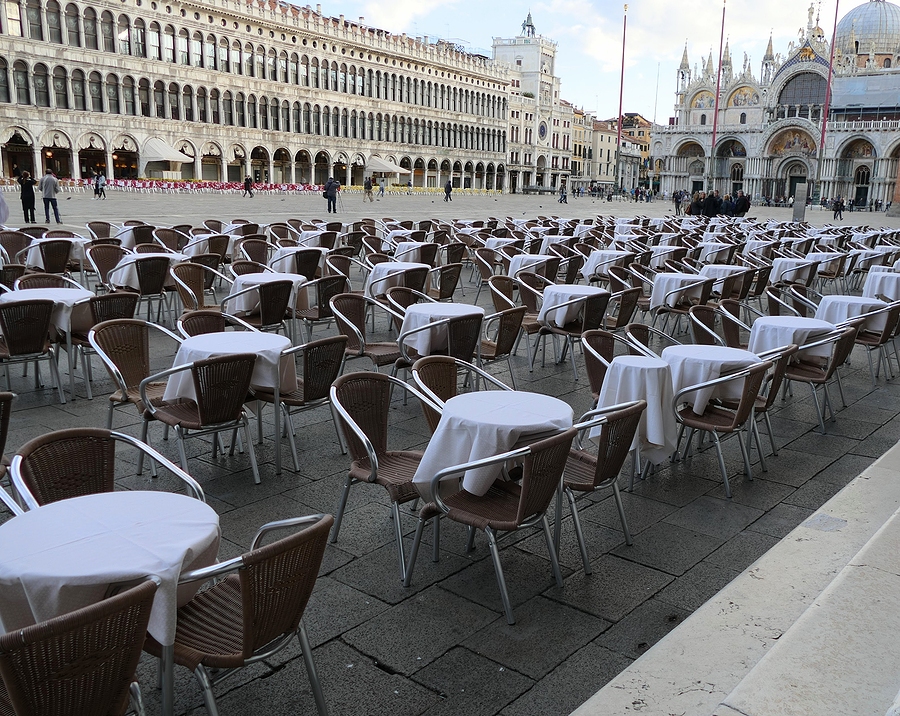 Arriving at St Marks' Square felt like stepping into a De Chirico painting – strong shadows, and 3 distant figures in a vast empty space. It had even been deserted by the usual flocks of pigeons. On the waterfront rows of gondolas bobbed about with covers on, waiting for the tourist season to re-start.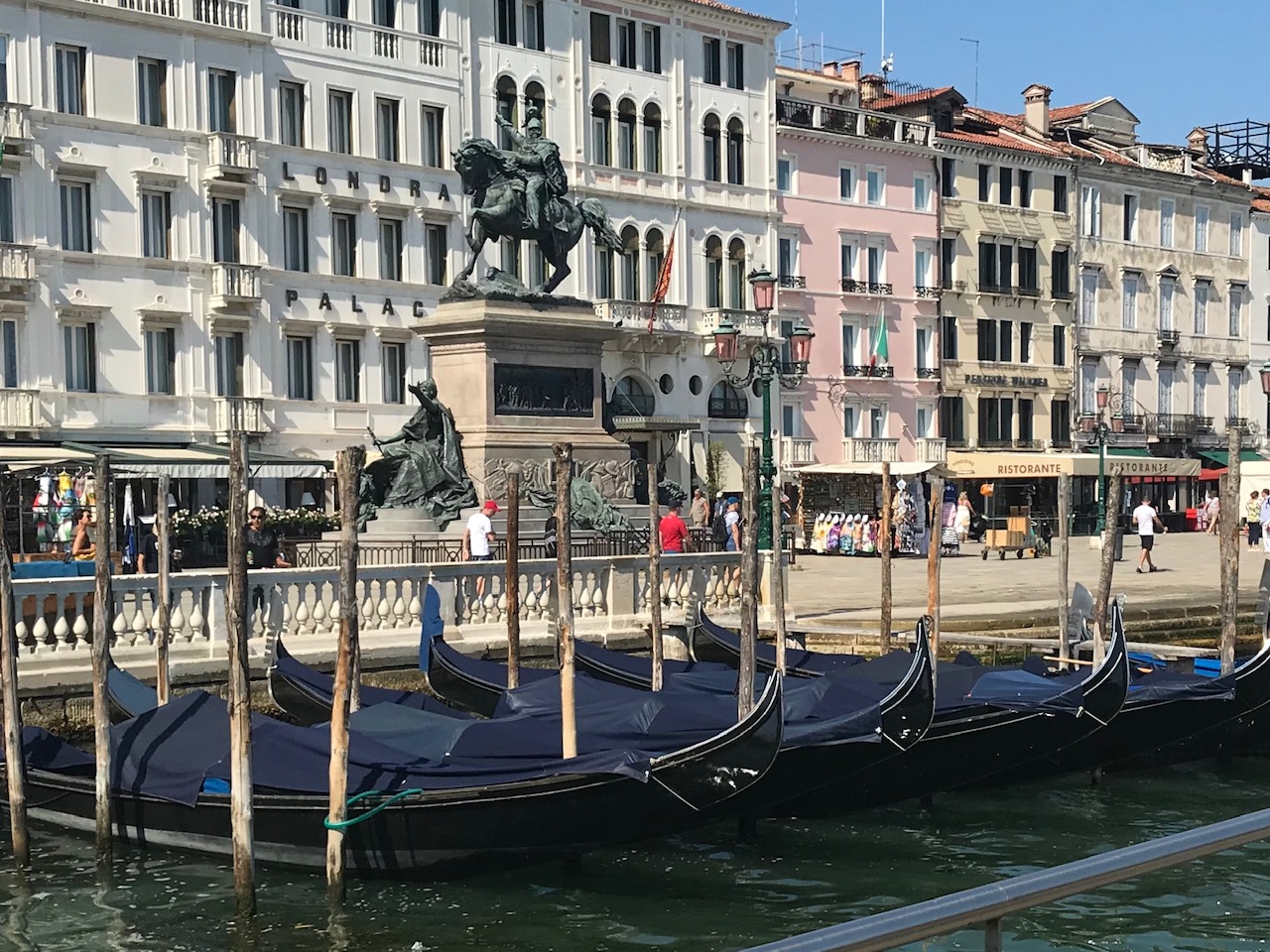 Going to a favourite trattoria for lunch, Alla Vedova, was an unexpected experience. Normally, it's lively and crowded with groups of locals at the bar munching cichetti (snacks), especially its famous meat balls, and drinking wine, but this time the bar area was silent and the tables spaced out, which actually made it better for examining the paintings and curios which decorate the walls and ceilings. The waiter said it had reopened on May 29th, but up to now they had only served locals, although he sensed that slowly (noting our presence) tourists were returning. (Of the six occupied tables, 4 were Italian families, one French and one English.)
There were sanitising arrangements even on entering the vaporetti, and everyone wore face coverings on board. In Venice you can now buy masks with the design of the Venetian flag, a popular new souvenir which looks rather weird with a winged lion across the mouth!
Visiting old friends like Venice's amazing churches was another unfamiliar experience. At San Zaccaria, for instance, we were the only couple there, all the better to appreciate the fantastic paintings, especially the Bellini, and to experience the eerie atmosphere of the flooded crypt with no loud conversations in many languages to spoil the serenity and timelessness of the 'floating' tombs of doges.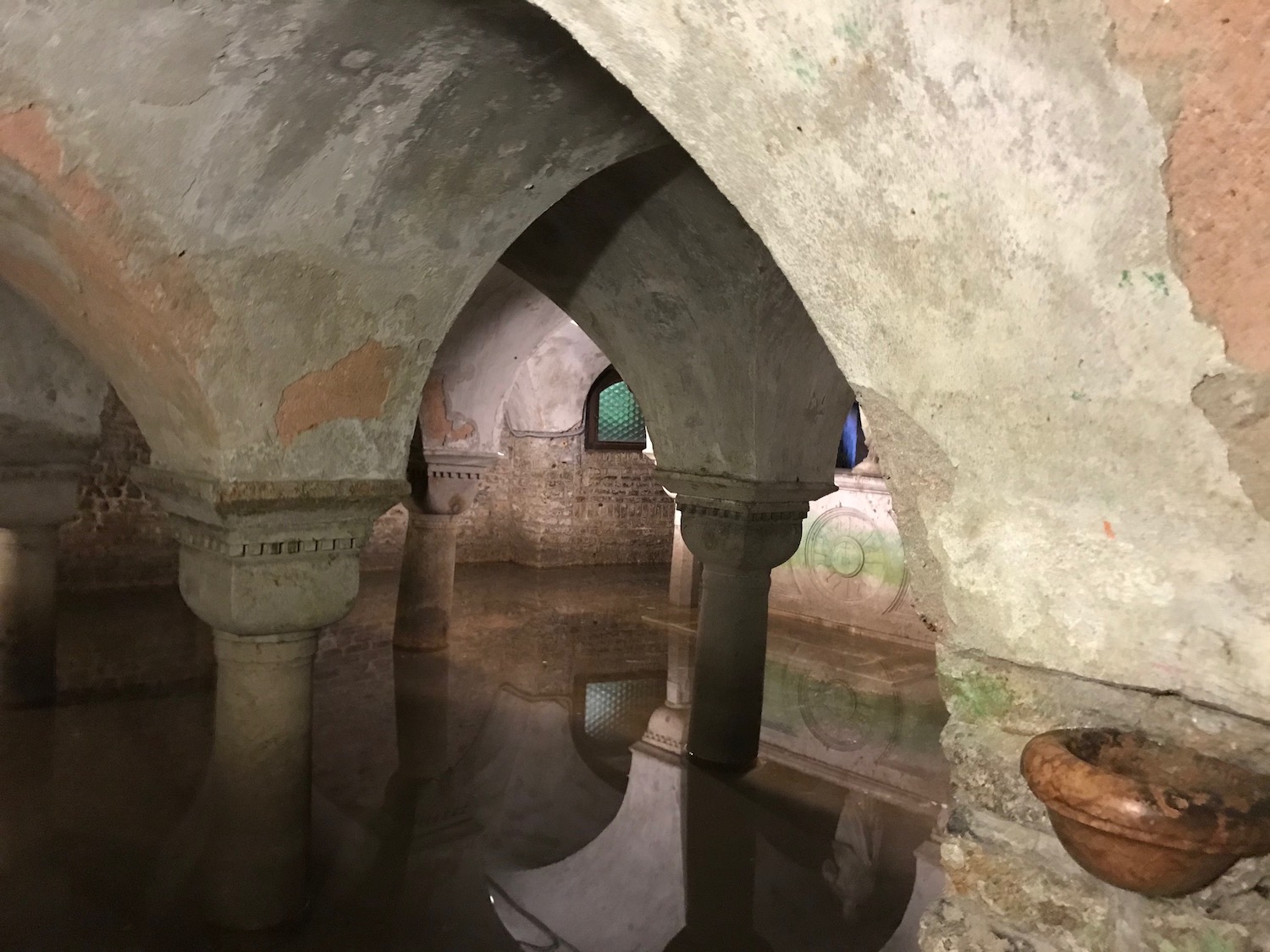 A few days in Florence was a slightly different experience. Here there was certainly more evidence that tourists were returning, although most visitors were still Italian. Unlike every other summer, I saw no Chinese or Japanese tourists, and there were no Americans either. Some Europeans were in evidence, but in nothing like the numbers we're used to. In the Piazza della Signoria David looked wistfully down wondering where all his admirers had gone, and up the hill at the sublime church of San Miniato it was so peaceful that you couldn't imagine the presence of the great tourist magnet of Florence on the other side of the Arno. For the only time in recent memory, there were no coaches parked in Piazza Michelangelo, often the tourists' first view of the city. It was also an unexpected treat to go to great works of art like the Cenacolo (last supper) in S. Apollonia and have such places entirely to ourselves.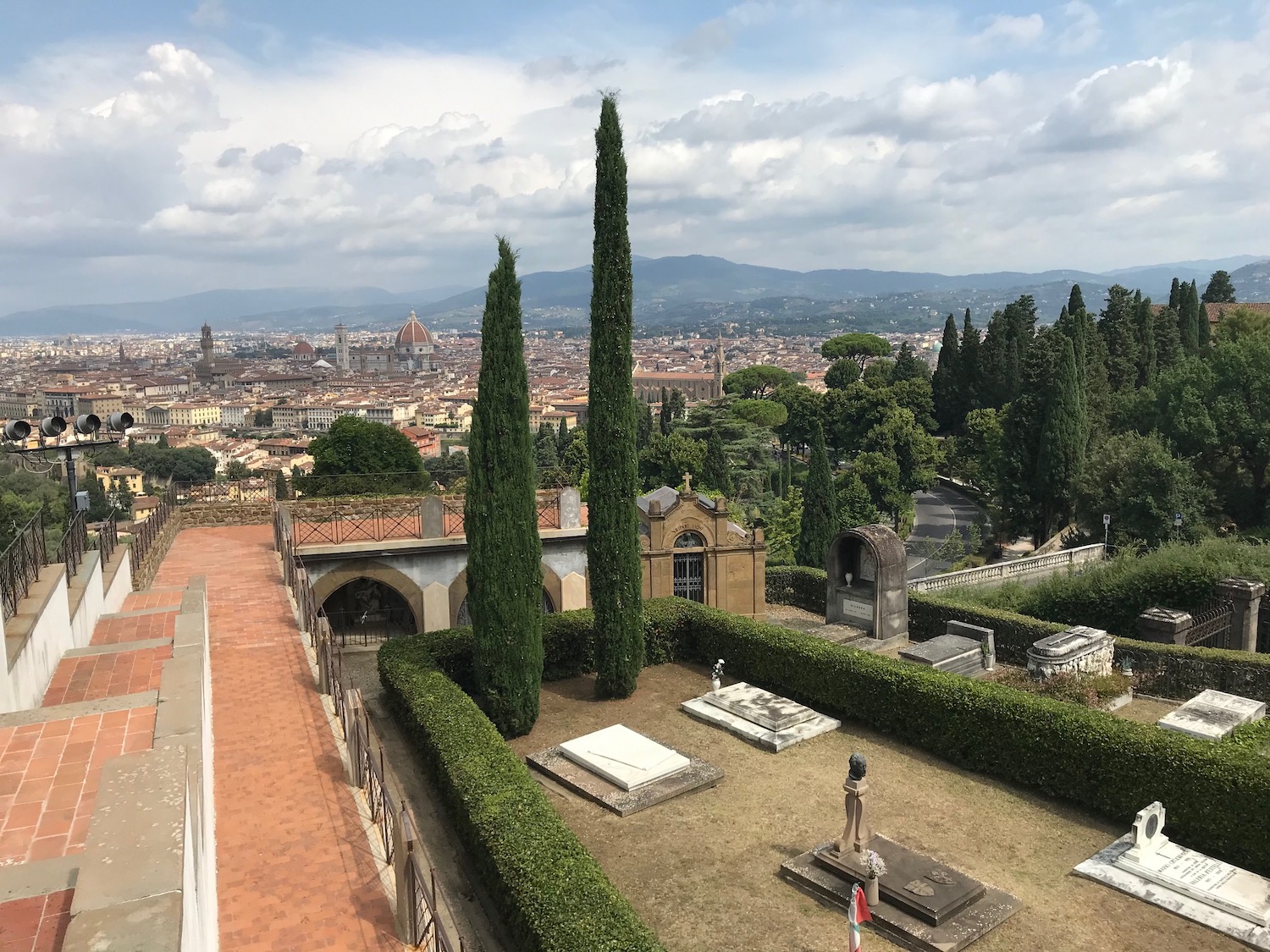 Italy is famous for its renaissance. Now it is experiencing another renaissance. It will survive – it always has – and slowly things are returning to normal.
Italy will renew itself, we know it. FORZA ITALIA!