Sicilian Alessi Ceramiche Snail Basket Centerpiece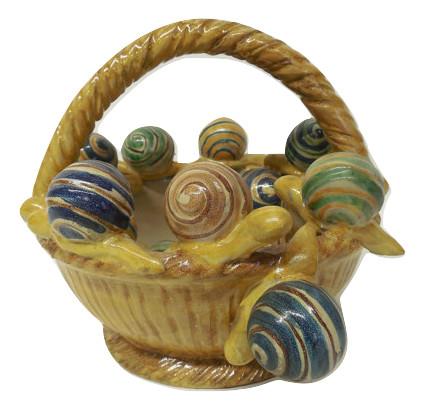 We think this piece would be glorious in a garden, but it must be brought inside during any freezes or thaws. Artisan Giacomo Alessi handcrafted this piece, and he is not only a master of his craft, he is also a scholar in the field. His work both in majolica and in writing has been featured and published internationally and is especially cherished in Italy.
The Sicilian Snail Basket Centerpiece is 7" in height with an 8" diameter. Measurements are approximate.

This product is guaranteed "Made in Italy"
This block is broken or missing. You may be missing content or you might need to enable the original module.
Dimensions
W 8" / D 8" / H 7" / 1.7 lb.
Material
Ceramic, Maiolica
Countries Availability

United States
You may be also interested in...