September has arrived and with it 'sagre' season – from now until the beginning of December, towns and villages around Italy host a number of food festivals centered around seasonal regional products.
We love sagre as they provide a fun chance to try authentic local food and wine while mingling with locals. Here we've selected some great sagre around Italy you can reach by train.  
Mercato del Pane e dello Strudel – Bressanone, South Tyrol
Schüttelbrot and Pusterer Breatln are two varieties of typical breads of the South Tyrol region of Italy, which will be on display, among others, at the 'Bread and Strudel Market' on Piazza Duomo in Bressanone-Brixen,  October 5-7.
Bread is revered in South Tyrol, where hundreds of different types are produced: black, wholemeal, flavored with fennel, topped with sunflower or poppy seeds, and more.
Bakers will illustrate the various bread-making and –baking techniques and reveal tricks and secrets to obtain some excellent bread.
And let's not forget about delicious strudel, the typical apple cake of the region.
Music, guided visits, and carriage rides for children complement the event.
Bressanone is easily reached by regional train from Bolzano, which in turn is well served by high-speed rail.
Info: www.mercatodelpane.it
Dì de la Brisaola - Chiavenna, Lombardy
Literally the 'Day of Bresaola,' the event is a celebration of a product that is the symbol of the Valchiavenna, a beautiful alpine region located to the north of Lake Como. It will be possible to try 14 different varieties of bresaola (air-dried, salted beef, aged two to three months, produced since at least the 1400s), directly from the local artisanal producers. Bresaola originated right in this area and adjacent Valtellina, and it is spelled 'brisaola' in Valchiavenna to differentiate it from that produced in Valtellina.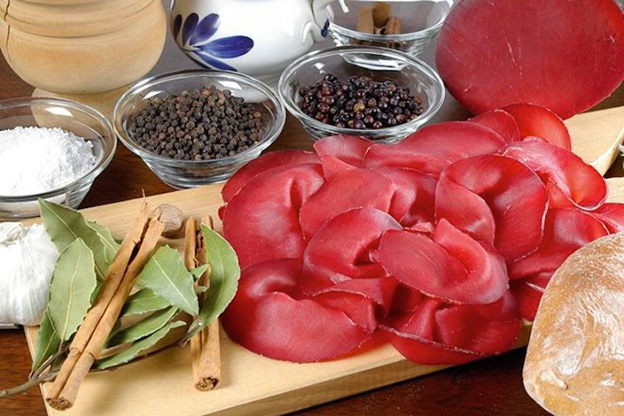 The major town in the area is Sondrio, which is where you can catch the regional train to Chiavenna, site of the event, which takes place on October 7, from 11 am to 6 pm. Local bands will entertain with their music.  
Admission is free. Info: www.didelabrisaola.it
Festa del Vino e del Monferrato - Casale Monferrato (Alessandria), Piedmont
In September, the hills of Monferrato come alive for the most important time of the agricultural season: the grape harvest, which will eventually result in the production of some of the finest and most appreciated wines in the world. Monferrato, a Unesco World Heritage site, is indeed among the most important wine regions of Italy, producing such prestigious wines as Barbera d'Asti, Asti spumante, Moscato d'Asti, Cortese, Malvasia, and Grignolino.
September is also rice harvest time in the plains of the area, and you'll be able to try varieties of risotto. In addition, other typical products, such cured meats and sweets, will be on offer for a true foodie feast.
The event takes place on two consecutive weekends, September 14-15-16 and 21-22-23. Casale Monferrato can be reached by train from Milan and Turin.
Alba White Truffle Festival
The Alba White Truffle Festival is one of the best-known truffle fairs in Italy. It takes place in Alba, considered the capital of the Unesco-inscribed hilly area of Langhe, every weekend from October 6 to November 25. The Alba white truffle grows spontaneously and has a round shape, although it can also be flat and irregular. The event includes a truffle show, a truffle sensory analysis, wine tasting (this is the home of Nebbiolo, Moscato Bianco and Barbera vines).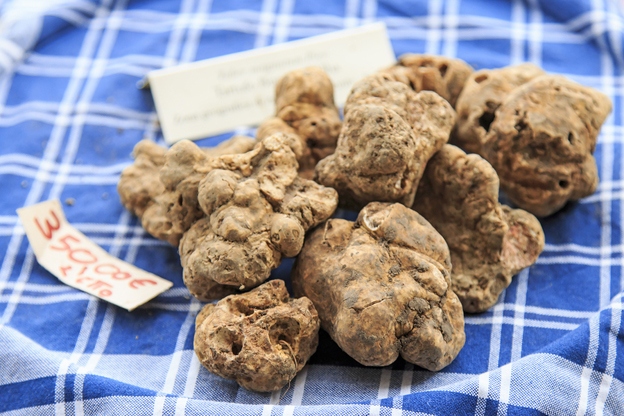 In addition to locally-made traditional dishes, the fair has live music, auctions, tours and even a donkey race.
Alba can be reached by train from Turin.
Info: https://www.fieradeltartufo.org/en/
Festa di San Nicola-Sagra del Tortellino – Castelfranco Emilia, Bologna
Your chance to taste authentic tortellini in the place that, according to legend, is its birthplace, the small town of Castelfranco Emilia, located halfway between Bologna and Modena. A small square of egg pasta stuffed with pork loin, ham, mortadella, parmesan, nutmeg, pepper and salt has become the emblem of Emilia's cuisine.
Strictly made by hand, using the iconic rolling pin, then cooked and served in capon broth, the traditional tortellino of Castelfranco Emilia is a must for all lovers of fresh, handmade pasta.
A historical re-enactment of the tortellino legend will provide much fun. Every evening during the event, live musical entertainment will be provided.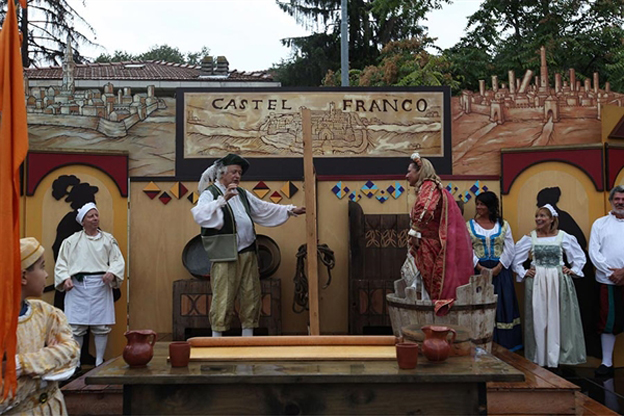 Castelfranco Emilia is an easy and quick train ride from Bologna or Modena. 9-16 September 2018. Info: http://www.lasannicola.it/uploads/2018.09.01-pagine-programma.pdf
Sagra delle Castagne e del Marron Buono – Marradi (Romagna-Tuscany)
The Festival of Chestnuts in Marradi, a charming village in the Romagna Apennines, between Faenza, Florence and the Adriatic coast, is a must for castagne lovers. Surrounded by extensive chestnut groves, Marradi, land of the 'marron buono' (the good chestnut) is especially renowned for its chestnut production and its chestnut fair is one of the most important in Italy.  It takes place every Sunday in October, and the train ride to get there, along the Faentina railway line, from Faenza, is especially picturesque.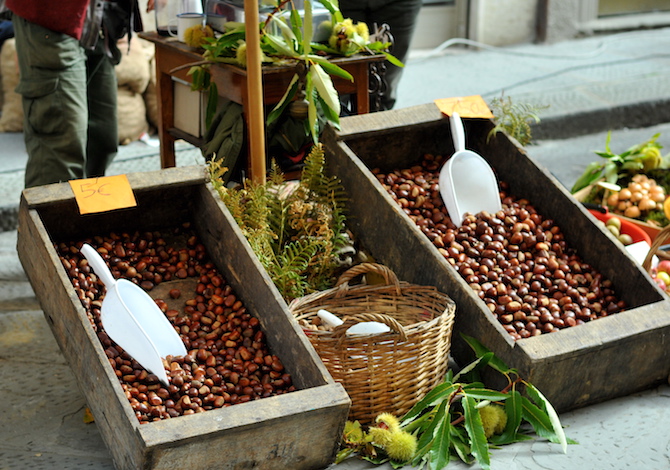 Festa dell'Olio – San Quirico d'Orcia
One of Tuscany's most prestigious olive oils is produced in the area around San Quirico d'Orcia, where the Festa dell'Olio in December celebrates the new oil, still made with the traditional stone mills. From 8 to 10 December, visitors can taste the local extra virgin olive oil, and other local specialties, from Chianina meat to cheeses, and take part in guided tastings and walks among the olive groves. Live music and street artists will provide the entertainment. If you go on Sunday, you can hop on the Nature Train departing from Siena, and enjoy the breathtaking views of the Valdorcia on board vintage carriages.
Info: https://lafestadellolio.com/
Primi d'Italia - Foligno (Umbria)
The Primi d'Italia is a national festival taking place in the historic center of Foligno dedicated to celebrating first dishes only, like pasta, polenta, soups, gnocchi and rice. Chefs from all over Italy gather in Foligno to give visitors a taste of original primi recipes they've created for the event, which features tastings, cooking lessons, demonstrations, food stands, and live entertainment.
September 27-30. Info: http://www.iprimiditalia.it/.