Summer is here, finally! And there is so much to see and do in Tuscany.
As the weather heats up, Italians ditch their cities and throw down roots in cool mountain towns, shady camping villages or glitzy beachside resorts. 
For three months, city slickers inundate the farthest corners of country Tuscany and beyond. It's a phenomenon as old as tourism itself, inspiring folk tales and short-lived romances like the one immortalized in the 1980s pop hit L'estate sta finendo, where the young protagonist laments the loss of his summer sweetheart. 
The locals of these towns and villages don't let the forestieri (outsiders), as they are called, leave disappointed. They put on their summer best and stage incredible folk festivals, concerts and sagrasor feasts. 
And what about us? The intrepid traveller and tourist alike? Well, you can swelter in Italy's semi-abandoned cities or join the locals and exodus for Tuscany's magnificent countryside, soaking up everything it has to offer in what is arguably the best season to visit. 
These are some of Tuscany's best, albeit underrated, summer festivals.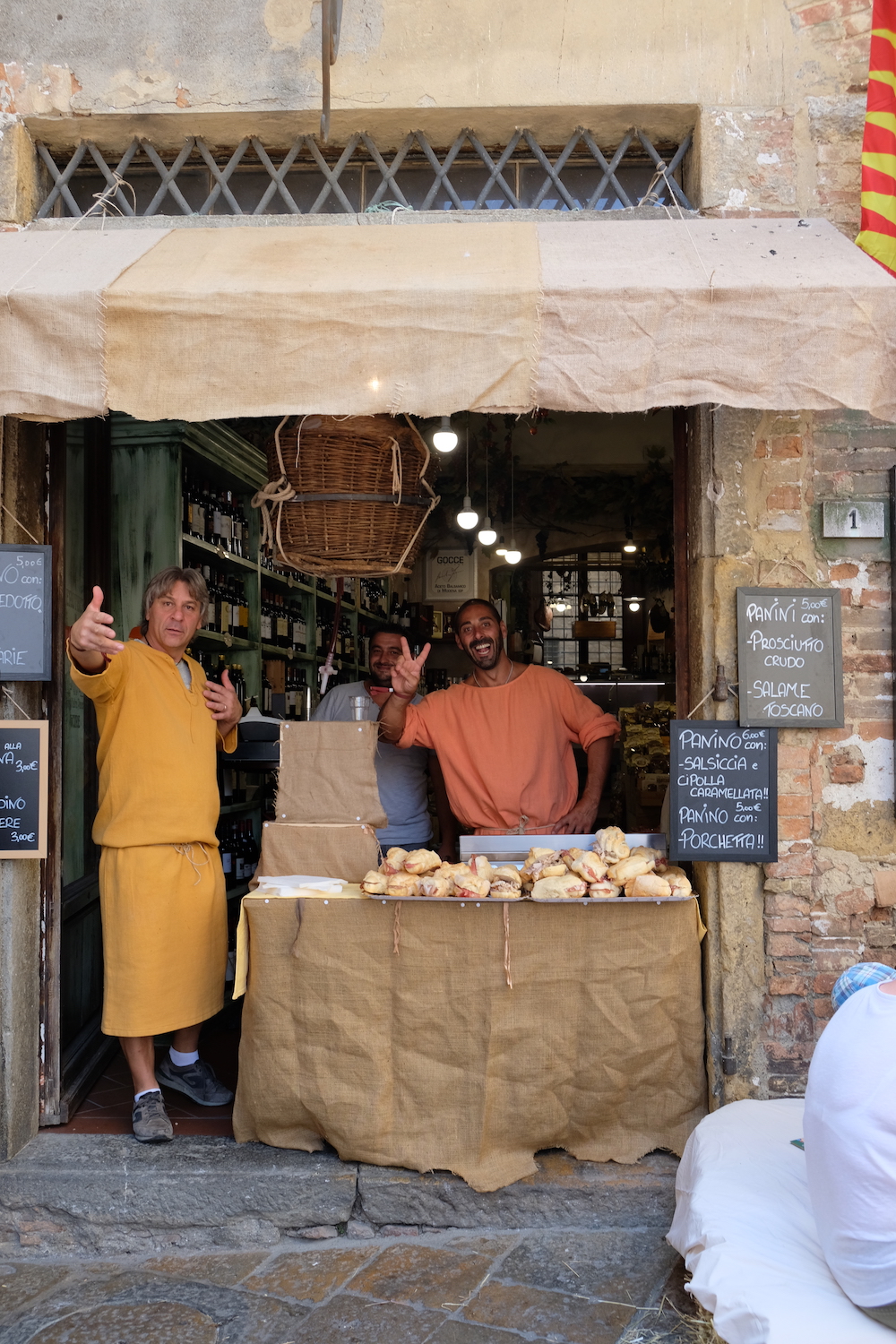 [photo of Volterra's August flag-throwing festival, photo by Georgette Jupe-Pradier]
June 
15, 16, 17 June
Livorno – Cacciucco Pride
A gastronomic smorgasbord of food and wine dedicated to Cacciucco, Livorno's signature seafood stew. 
22, 23, 24 June
Tria Turis – Chiusi
Three intense days that will transport you back to the 1300s, where jesters, musicians, fire breathers, knights, flag-wavers and archers perform in an incessant whirlwind of shows and artistic events. Battles, tournaments, banquets, artisans from another time and the Tripartita, an ancient form of football, ensure there's always something to see and do. 
28, 29, 30 June 
Amiata Piano Festival - Cinigiano
Beethoven, Tango Jazz and an explosion of something called Hispanic Dance headline a series of concerts in this annual music festival. Internationally acclaimed classical artists from all over the world play in some of Southern Tuscany's most scenic locations for your enjoyment, glass of wine and nibbles in hand. You can book tickets online. 
For more information: http://www.amiatapianofestival.com/2018/?lang=en
July 
6, 7 and 8 and 13, 14 and 15 July
Sagra degli Strozzapreti – Sticciano Scalo
Almost completely hidden by an immense oak forest, this tiny village is known throughout Tuscany for its food festival. Strozzapreti are a traditional type of hand-rolled noodle. In an old folk tale, the local parish priest was so taken by their delicious flavour that he choked in his rush to devour them, hence the name strozzapreti(priest-choker). In Sticciano Scalo, they're handmade and served with aglione, a simple tomato and garlic sauce. 
19-29 July
Sagra della Ranochiocciola – Massarosa
It doesn't get much more unusual than this food festival, where they serve up two dishes close to the locals' hearts: frogs and snails. Both are found in abundance in and around Lake Massaciuccoli and made up a significant portion of the diet for local farmers in centuries past. The delicacies are prepared in traditional Versilian style with plenty of garlic. 
Various dates in July and August
Puccini Festival – Torre del Lago
An intense lifelong love tied Giacomo Puccini to the town of Torre del Lago, renamed Torre del Lago Puccini after his death. This festival is the only one in the world dedicated to the great Tuscan composer, during which some of his most famous works are staged. Tickets are available online.
11- 15 July
Mercantia - Certaldo
An exciting street art festival that transforms this Florentine village into a moving exhibition of art and fantasy. Visitors will find themselves strolling amid amazing artists, craft stalls and fantastical creatures that seem more dream than reality. 
Like this article? Don't miss "The Best Festivals and Events in Italy this June."
August
1, 5, 6, 13 August
Grey Cat Jazz Festival – Follonica and Gavorrano
Jazz's best names come together for a series of outdoor concerts. Tickets can be bought online or on the night. 
9 August 
Santo Patrono San Lorenzo - Grosseto
Join the locals as they celebrate their patron saint with a parade, and catch a glimpse of the elusive butteri, Southern Tuscany's own cowboys charged with caring for the countryside's native breed of cattle, the Vacca Maremmana. The butteriare unfortunately destined for extinction, but in the meantime, their gorgeous traditional outfits and incredible horsemanship are sights to behold. 
11-19 August
Sagra dell'Acquacotta – Bagnolo
A chance to taste two of Southern Tuscany's most prized culinary traditions, chestnuts roasted over an open fire and acquacotta, a rich vegetable soup served with a poached egg. 
14 August
Balestro del Girifalco – Massa Marittima
This festival can trace its roots back to the 14thcentury, which makes the medieval costumes and rituals seem all the more authentic. The event revolves around a very elaborate archery competition, where the town's various districts go up against each other to see who has the best marksman. The locals don't mess around and many a friendship has been lost over the results of this competition. There's also a fantastic medieval parade and an Olympic-worthy flag waving demonstration. 
14 August
Palio Storico dei Ciuchi - Roccatederighi
Siena can keep her Palio because in Roccaderighi, they race with donkeys. Don't laugh. These donkeys are considered to be the fastest in central Italy and their riders are put to the test as they navigate the ancient course through the town with speed and dexterity. 
15 August
Palio Marinaro dell'Argentario – Porto Santo Stefano
On Tuscany's seaside, they race not on horses, but on boats. Tiny little scuds, known locally astartarone.This race has ancient roots, thought to have been inspired by a tale of local fishermen who escaped maundering pirates thanks only to their skill with the oars and speed in navigating the dangerous coastline. 
26 August
Montepulciano - Bravìo delle Botti
The Bravio delle Botti is fun to watch, not so fun to compete in. The various districts select their strongest residents to race more than 1 kilometre uphill, downhill and all around Montepulciano, which sounds like hard work even before you consider that they aren't running alone. They're pushing a wine barrel that weighs 80kg! It's an incredible feat of strength and determination that has to be seen to be believed. 
Volterra A.D 1398 – Volterra
20 and 27 August
Performances, tradesmen, artisans, musicians, jugglers, peasants and noblemen transform Volterra into a medieval city. The nearby archaeological park gets the same treatment, inviting you to experience the countryside as it was in the 14thcentury with farmers, shepherds, monks, military camps and animals.