Isola Comacina, Photo credit: isola-comacina.it/
As I look out from the terrace of a small house in Moltrasio on Lake Como I can hear the thwack of tennis balls on the court below me, and half hope that George Clooney will be playing a set with his beloved, since locals have told me he played there (once, five years ago.) No such luck.
My attention is then caught by a small helicopter flying along the opposite shore, carrying long planks suspended from a chain. It delivers them to a building site and returns for more. Surely it would be better to take them by boat, I think, but maybe the site is inaccessible. What a luxury it is to be staying in such a lovely place with nothing better to do than speculate on such trivia.
After a couple of days of winding down, a bit of action is called for. We decide to take a boat up the lake the next day, to the island of Comacino. The trip takes about an hour, so we move a couple of chairs to the edge of the deck to enjoy the breeze and scrutinise the shoreline. A German couple are looking for the Clooney residence through binoculars. We know, being almost neighbours, what their villa looks like, but we're not giving the game away.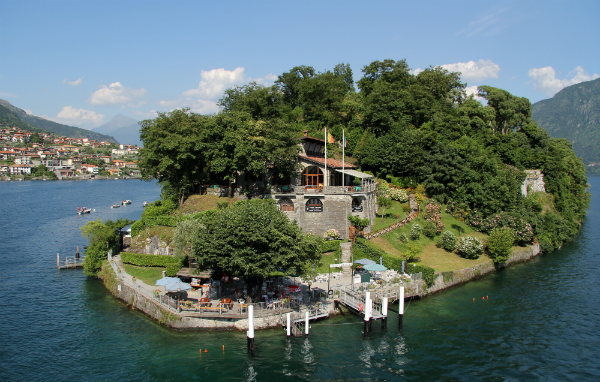 A pleasant zigzagging course up the lake takes us past pretty villages and grand villas until we dock at Comacino, the only people getting off. Opposite the small bar there's a hut where you buy a €5 ticket to allow you to walk round the (private) island. We seem to be the only people on the path, which takes you past 3 houses restored as an artists' colony, a white painted Greek-looking church, some Roman and mediaeval remains, and a woodland walk with wonderful views though gaps in the trees. Given the intense heat, the island is surprisingly green, and the only sound is the rasping of a thousand crickets all around us.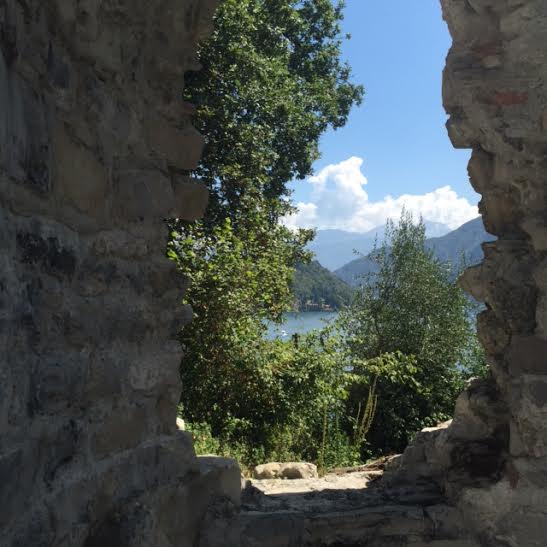 The island has had a chequered history. It was invaded and under siege many times, a last refuge of Christianity when surrounded by the Barbarians. An anonymous poet in 1127 placed a curse on the island, which, they say, remains to this day, but more of the curse later. Finally, in 1911 a local man from the mainland succeeded in buying the island, only to bequeath it, oddly, to the King of Belgium. The Belgians returned it to Italy, but the link remains in the three artists' houses, recently restored, which are available to Belgian or Italian artists as creative retreats. Some of the works they produce are scattered around the island, making a sculpture park.       
The walk takes an hour, and beginning to feel hungry, we climb up the remaining twisting path to the only restaurant. Now we know where everyone has disappeared to! There's a terrace full of tables, half of which are occupied by groups already beginning their lunch.
We sit down and a waiter scurries up to deliver a chilled bottle of Soave and two carafes of water, one sparkling, one still. I protest that it can't be our order because we haven't seen the menu, but the boss is brought to the table and we are firmly told that we have everything we are given: there is no choice. Then we understand why half the tables are empty. They are to hold the eight different plates of antipasti which will accompany the chunk of ham and slices of bresaola for the first course. Being reliably informed that we were to receive five courses, "served with love" we realise that pacing ourselves might be a good idea, and resolve to test a little of all the dishes before us. I particularly enjoy the whole roast onions and the celery salad, whilst the dish of beans in vinaigrette and the roasted peppers run a close second.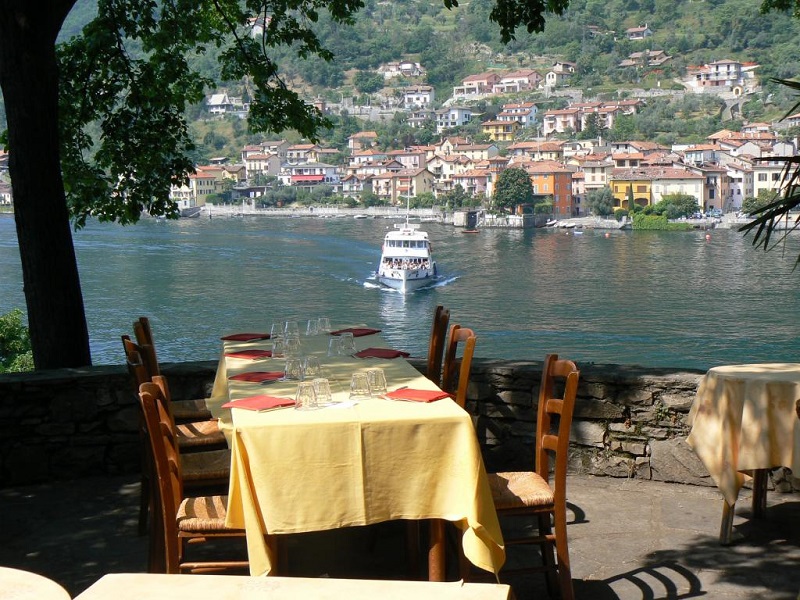 Locanda dell'Isola Comacina, Photo credit: 2spaghi.it
A short pausa takes us to course number two, trout from the lake, grilled whole and boned at the table, served with a mound of lemons and olive oil. The people at the next table seem to be ahead of us, which is useful as we can gauge how much is still to come, but they too take a pausa and by the main course of chicken fried to a secret recipe ("You can use your fingers, Signora") we have caught up.
Our waiter now lovingly staggers out with a half moon of Parmesan cheese and forks so that we can gouge out chunks whilst we are embraced fondly (men and women). Diners take photos as the enormous cheeses are carried from table to table, and dumped in laps.
Looking around, I see that almost everyone is now ready for the dessert. (Amaretti ice cream with slices of orange in peach syrup) This is not an accident. A performance is to come, and we all have to be ready to appreciate it.
The loud clanging of an enormous cow bell heralds the entrance of Benvenuto Puricelli (Yes, he really is called Welcome) wearing a woolly hat and a tartan waistcoat in all the heat.  He stirs a cauldron of coffee on top of a stove, tipping in bowls of sugar whilst telling us in a mixture of Italian and broken English about the curse on the island. Previous owners of our restaurant have died in mysterious circumstances, but Benvenuto knows the answer. We'll be safe if we consume fire. Pouring several bottles of brandy into the brew, he sets fire to it. The resulting drink is horribly strong and sweet, undrinkable in my case, but I sip it to prevent my sudden demise.
The immaculate timing includes everyone finishing lunch (by 4.30) in time for the boat. Passengers already on deck watch us staggering on board, no doubt wondering what we have been up to on this quiet island. I'm glad it isn't well publicised. Too many people would have spoiled our magical and bizarre afternoon.
Stayed at: Villa Moltrasio (Property 1041544; Home and Away holiday rentals)
Ate at: Locanda dell'Isola Comacina tel: 0344.55,083
Check Out Myra's Book, The Best Mud in Italy, which is available on Amazon Kindle.