Capri is less than an hour away from Naples but that short trip across the bay is like being transported to another world. The island of Capri is strikingly beautiful, full of chic boutiques and the people that shop in them, super yachts and Michelin starred meals. But there is a quieter, simpler side to the glamour if you know where to look. You can hike on shady trails, visit Roman ruins and swim where the locals go too. 
In high season you can stretch out your day leaving Naples at 7:00 am and taking the last ferry back at 11:00pm. For the true night owl, you have the option to dance all night and then taking the first ferry of the day back at 5:40 am.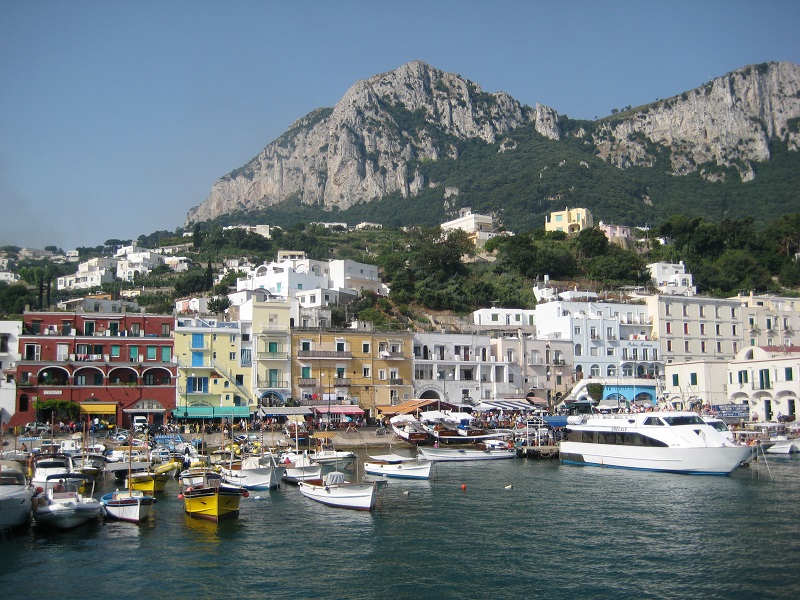 Capri: Photo credit: Wikimedia commons 
Rent a Boat
One of the best ways to see the most of the island is to rent a boat. You can go for a few hours or all day, have a captain to guide you or skipper yourself.
Aurora Time
, located in the Marina Grande has everything from small inflatable boats, traditional "gozzo" a type of wooden fishing boat and a double masted elegant sailboat available to rent.  Have lunch on board, Ristorante Michel'Angelo. can deliver anything from simple sandwiches to Caprese salad  and wine to you before you set sail. Explore grottos (there are so many more than just the famous Blue Grotto) make a wish when you pass through the scenic Faraglioni rocks and drop anchor and swim in a quiet cove.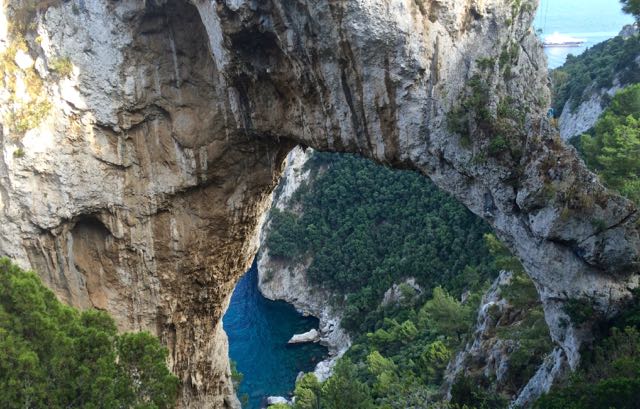 Natural arc of Capri: Photo credit: www..gillianslists.com 
Go to the Beach
Capri is surrounded by sparkling blue and green sea, but there is no stretch of sandy beach here. Instead there are small curves of pebbly beach or rocky overlooks. There are a variety of private beach clubs, called Stabilimenti in Italian, where you can rent a sun lounger and an umbrella. Beach clubs have showers and bathrooms, snack bars and restaurants. The luxe Lido del Faro in Anacapri has the best sunset, Bagni Tiberio near Marina Grande has a terrific restaurant and is a favorote of many Caprese families.  Or you can do what most locals do and head to the Marina Piccola in the afternoon, find a space to put down your towel and swim on either side of the Scoglio di Sirene (Sirens Rock) until the sun dips behind the Monte Solaro just before 5:00.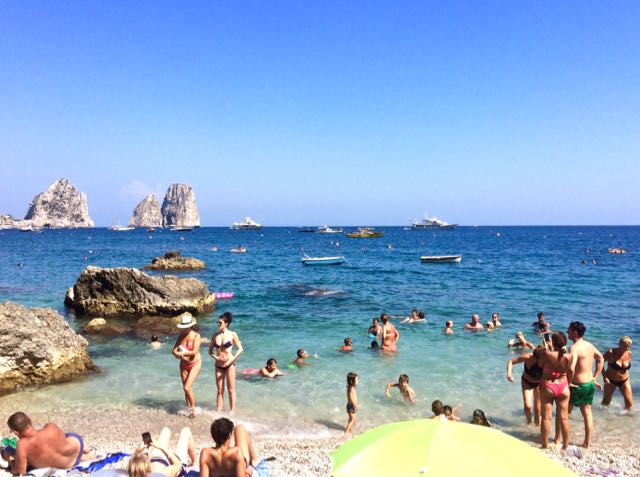 Marina Piccola in Capri, Photo credit: www.gillianslists.com 
Shop Till You Drop
Capri is a shoppers paradise. The big designer names line the via Camerelle and via le Bottega has some of the islands most elegant boutiques. Shop for perfumes, soaps and candles made from flowers grown on the island at Carthusia; Eco Capri for preppy whimsy created by a former Pucci designer; colorful baubles at Grazia e Marcia Vozza and finely tailored dresses and elegant cover-ups at Laborotorio Capri; Wonderland has some of the best vintage finds in Italy.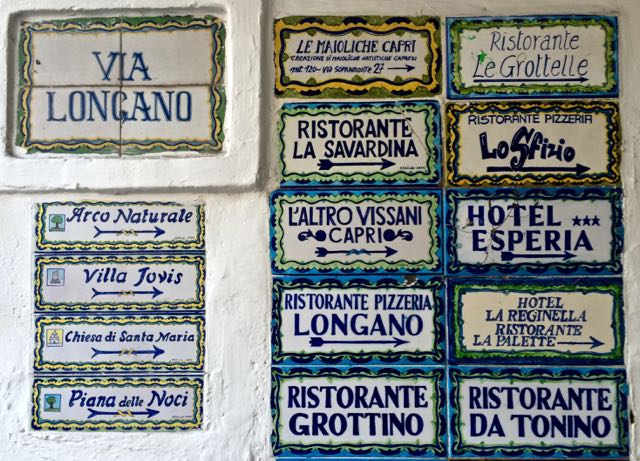 Street signs in Capri, Photo credit: www.gillianslists.com
For the History Buff
There is another side to the glitz and glamour of the island. The uphill stroll to the Villa Jovis yields extraordinary views and Roman ruins that were once one of Emperor Tiberius' many villas. Take the narrow trail (that you may have to share with a resident goat or two) down to the stately Villa Lysis, an Art Nouveau "shrine to love and sorrow."
Take a Walk
Hike the Pizzolungo which takes you through residential Capri to the Natural Arch down to the Matermania Grotto, past the modern architectural masterpiece Casa Malaparte and ends at the scenic via Targara overlook. The more than 900 steps known at the Phoenician steps linking Anacapri to the Marina Grande is an excellent way to work off the pasta and limoncello.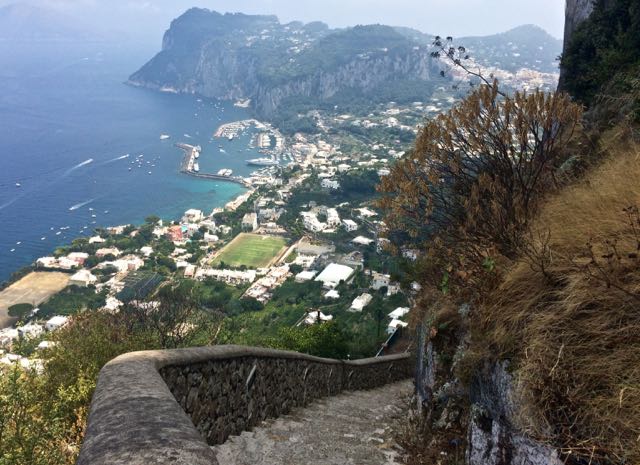 Phonecian Steps, Photo credit: www.gillianslists.com
Have a Drink
Officially named Piazza Umberto I, but everyone knows this square as the Piazzetta. This is the place to see and be seen. Busy from early morning where you have a cappuccino to start your day until sun set when a spritz is the cocktail to start your evening. 
Stay up Late
Capri is a late night town. It is not unheard of to sit town to dinner after 10:00 pm. Have something simple and authentic at Ristorante Michel'Angelo (who has the best mozzarella on the island) or take a moonlight stroll to da Tonnino for elegant fine dining and an impressive wine cellar. Dance until the wee hours to the live music of Guido Lembo at Taverna Aneme e Core
capri.com has
information on events, ferry times and opening hours.
Download the App Capri Schedule and have the ferry schedule at your fingertips.