As we continue our coverage of Lombardy, ITALY Magazine's featured region this November, we take a look at its notable music tradition.
You may not be aware of Lombardy's significant music tradition, but consider this:
Giuseppe Verdi, one of Italy's greatest opera composers, worked in Milan for many years, where he premiered many of his operas; La Scala, one of the most prestigious opera houses in the world, is also in Milan; Cremona is the birthplace of the violin and of Antonio Stradivari, considered the most skilled artisan of stringed instruments in history; Gaetano Donizetti, a leading composer of the bel canto opera style during the first half of the 19th century was born in Bergamo; Mantua had a significant role in the history of opera and classical music, especially in the 16th and 17th centuries; and Brescia is home to the Teatro Grande, a national monument and one of the most important musical theaters in Italy.
Let's now look in details at the above.
Giuseppe Verdi and Milan
"I have been, I am and always will be a villager from the Roncole." Giuseppe Verdi, one of the most influential opera composers of the 19th century, never strayed too far from his native village in Emilia-Romagna, but did work extensively in Milan, as the Lombard capital was, in his time, a major Italian and European cultural center.
Verdi had a special, yet complicated, relationship with Milan's famous Teatro alla Scala. For years, he refused to have his work played there because, he claimed, the orchestra had "corrupted" some of his music. Overall, though, Verdi premiered seven of his operas at La Scala, including Nabucco (1842), a colossal success, the opera which is considered to have established Verdi's reputation as a composer; Otello (1887), also a big success – Verdi took 20 curtain calls at the end of the performance; and Falstaff (1893), the last of his 28 operas, which he composed as he was almost 80; it premiered at the presence of royalty, aristocracy, and leading cultural figures from all over Europe and was a huge success.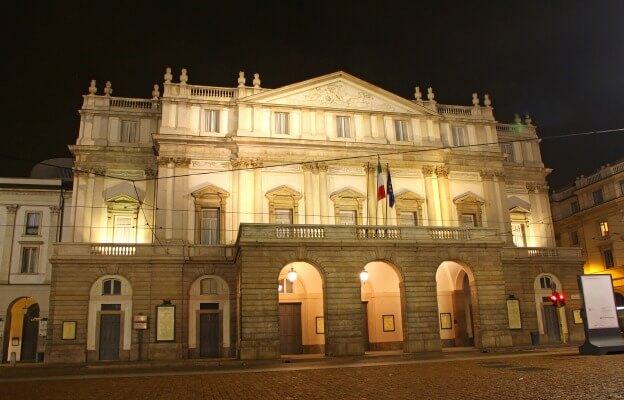 [Teatro alla Scala, Milan, one of the top opera houses in the world.]
Verdi's music was also said to inflame the spirits of his compatriots fighting in the Risorgimento, the movement that eventually led to the unification of Italy.
The Orchestra Sinfonica di Milano Giuseppe Verdi, the resident orchestra of Milan, is named in Verdi's honor and colloquially refers to itself as La Verdi.
Verdi died in Milan in 1901 and is buried at the Casa di Riposo per Musicisti, a rest home for musicians he himself had founded.
Milan
When talking about music in Milan, one must begin with La Scala, as Italy's most famous opera house is affectionately called. La Scala's season traditionally opens on 7 December, and the opening night is an event that causes much anticipation and excitement, with tickets selling out quickly even though they can cost thousands of euros.
Inaugurated in 1778, Teatro alla Scala has been the stage for many famous opera premieres, including Bellini's Norma, Verdi's Otello and Falstaff, and Puccini's Madame Butterfly and Turandot.
The theatre's concave channel beneath the orchestra is credited with providing outstanding acoustics. State-of-the-art technology mixed with the talent of the conductors and musicians performing there make La Scala one of the world's premier classical venues.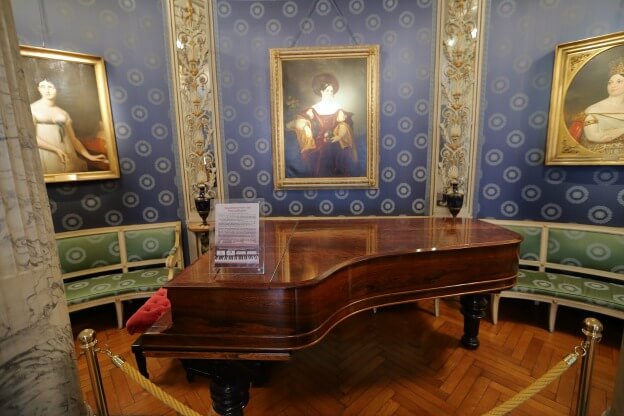 [La Scala museum, Milan.]
Less known than La Scala, Teatro Piccolo and Teatro Arcimboldi also feature among Milan's great musical theaters.
Founded in 1947, Teatro Piccolo is Italy's first permanent theater, with three venues in the city. It hosts approximately 30 performances a year, in addition to cultural events, such as festivals, film screenings, concerts and conferences.
Teatro Arcimboldi was built to substitute La Scala for the time that the famed theater was going to be closed for major renovation works. Located 4.5 miles from the city center, in an area known as Bicocca, the theater was built in a converted Pirelli tire factory. The opening night featured a performance of Verdi's La Traviata. After La Scala reopened in 2004, the theater expanded its program to include performances of jazz, classical and pop music.
Cremona, Birthplace of the Violin
On the left bank of the Po River, right in the heart of the Pianura Padana (Po valley), Cremona has strong musical traditions; it was the birthplace of such renowned luthiers as Giuseppe Guarneri, Antonio Stradivari, and the Amati family.
An important musical center since the late Middle Ages, Cremona became renowned as a center of musical instrument-making beginning in the 16th century, with the violins of the Amati family. Andrea Amati (1505 – 1578) designed and created the violin, viola and cello known as the "violin family". He standardized the basic form, shape, size, materials and method of construction. His first violin was ordered by Lorenzo De Medici in 1555. Nicolò Amati (1596 –1684) was the most eminent member of the family, perfecting the model adopted by his family members. Today, his violins are evaluated at around $600,000.
His most famous pupils were Antonio Stradivari and Andrea Guarneri, founder of the house of the Guarneri violin makers. Stradivari is regarded as the man who brought the craft of violin-making to its highest level. The unique sound of a 'Strad' violin, as it is colloquially called, has been described this way: "It flickers, constantly trembles, it moves like candlelight." The violin was originally designed to imitate the human voice and used for ballet and dance music, and later became the most prized instrument for orchestra and melody. More than 1,000 Stradivarius instruments were created and about 650 "Strads" survive, mostly violins.
Cremona is still renowned for producing high-quality instruments.
[The Stradivarious violin from Cremona.]
Bergamo
Located 40 km (25 mi) northeast of Milan and 30 km (19 mi) from Lake Como and Lake Iseo, Bergamo has a long-standing music history, documented since 1137, when the Romanesque church of Santa Maria Maggiore began a 800-year-long tradition of music teaching and singing.
Bergamo is also the birthplace of Gaetano Donizetti, a leading composer of the bel canto opera style in the 19th century. He is considered to represent the transitional stage in operatic development between Rossini and Verdi. Over the course of his career, Donizetti wrote almost 70 operas in Italian and French. Some of his best-known works include comedies such as L'elisir d'amore (1832) and Don Pasquale (1843) and dramas such as Lucia di Lammermoor (1835).
Bergamo's opera house, Teatro Donizetti, is named in honor of the composer.
Mantua
Mantua developed an important opera and classical music tradition in the 16th and 17th centuries. It is in Mantua that the composer Claudio Monteverdi, who was born in Cremona, premiered one of the earliest operas in history, L'Orfeo, which was composed for the ducal celebrations of Carnival. Monteverdi, who was employed by the Duke of Mantua Vincenzo Gonzaga, is considered a crucial transitional figure between the Renaissance and the Baroque periods of music history. Monteverdi was later fired by Vincenzo's successor, Francesco IV, but found better fortune in Venice.
Antonio Vivaldi, one of the greatest Baroque composers, was employed by the Governor of Mantua from 1718 to 1720. He was offered a prestigious position as Maestro di Cappella at the court of the prince. During his time in Mantua, he produced several operas. His most famous one, created later in Rome, is Four Seasons.
And to conclude with an anecdote, Verdi's opera Rigoletto is set in Mantua.