Motoring down the Autostrada south from Venice towards Florence, I am sure many of you will have noticed the conical peaks that rise majestically from the plain on your right hand side, just south of Padova. These are the Euganean Hills, or Colli Euganei as they are known in Italian, a large and beautiful regional park of about 20,000 hectares.
Wonderfully located and easy to reach by car or train, the Hills have the beautiful cities of Venice, Padova, Vicenza, Verona, Bologna and Ferrara virtually on their doorstep. Yet these hills retain a quiet presence standing guard over the Venetian plains.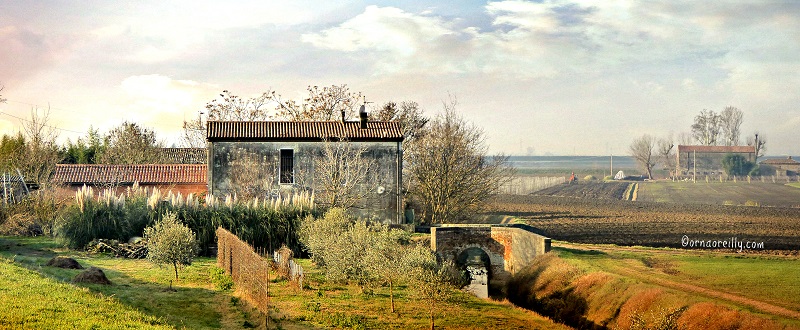 Photo by Orna O'reilly
Picture postcard beautiful, The Euganean Hills, were mentioned in a poem by Percy Bysshe Shelley. A small excerpt from "Lines Written Among the Euganean Hills" goes as follows:
Beneath is spread like a green sea
The waveless plain of Lombardy,
Bounded by the vaporous air,
Islanded by cities fair…
Made up of more than eighty extinct volcanic peaks, The Euganean Hills are tranquil and beautiful. Slopes filled with oak and chestnut trees are sprinkled with cherry and almond blossom in springtime assailing the senses in a glorious way. Summer sees the vines heavy with grapes ripe for picking, while autumn brings rich russet colours to the woodlands, followed by the harvesting of the olive crop. Winter is cold and mysteriously foggy, with vines bare and gnarled waiting for spring.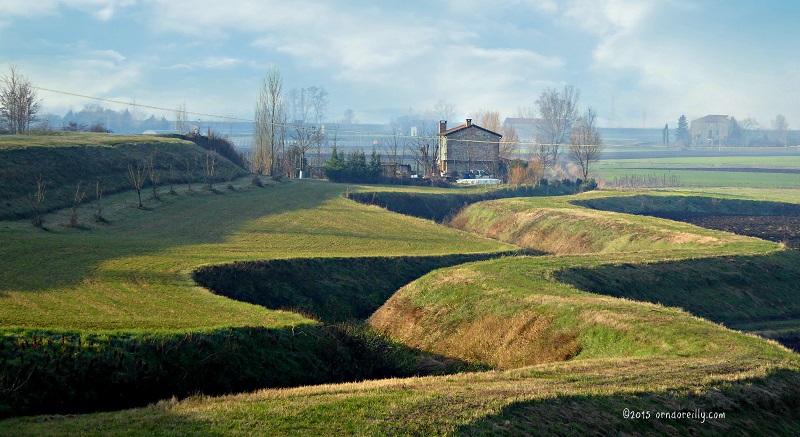 Photo by Orna O'Reilly
During the week, the Hills are so quiet you could hear a pin drop. All is silent except for the birds singing to one other from the treetops. Weekends – especially between spring and autumn - are quite another matter, as hundreds of Italian cyclists and car enthusiasts take to the Hills in their droves. It's not unusual to see a group of thirty or more Harley-Davidson riders cruise majestically past, resplendent in their leather gear. Vintage car rally drivers – especially of the Fiat 500 variety – love to take their colourful vehicles around the high, winding roads. And a few months back, several hundred colourful Vespas took more than fifteen minutes to pass through the tiny hamlet of Faedo.
The Euganean Hills are full of interesting things to see and do.
Spas
Abano Terme is world famous for its thermal spas which attract visitors from all over Europe. Back in the day it used to be a favourite holiday destination for European royalty of the Austro-Hungarian variety.  I myself have had several mud therapy sessions, followed by massage. Thermal mud is, apparently, a cure for arthritis and many other ills, and being covered from top to toe in glutinous mud is quite an experience I can tell you!
On my first visit to the thermal spa at the Hotel Antoniano in Abano Terme for a series of mud treatments, having donned my most elderly bikini (since binned), a gentleman whose badge proclaimed him to be "Diego" led me to a tiled room and gestured me towards a bed, covered in canvas, on which reposed a pile of steaming mud. I could hardly believe that he actually wanted me to lie down in this glutinous mass; but yes, he did! Diego smeared the sulphurous mud all over my body and wrapped me in canvas for twenty steamy minutes. Then he escorted me to a shower and hosed me down briskly, after which I reclined in a warm bath-full of thermal water. Next a gentle massage by a girl called Katia, followed by a couple of hours reclining beside a large blue swimming pool sipping fizzy water while reading my Kindle. I can't remember when I last felt so relaxed and I subsequently returned for several more treatments over the next couple of months.
Walking
I love to walk and the Hills are full of walking trails, all clearly marked, that take you through vineyards, olive groves, up steep trails and along flat canal banks. More than 200 paths criss-cross the park. Twenty of these are clearly signposted for walking or cycling. You can set out on these trails from many of the towns dotted throughout the park. The main towns for access to these marked trails are Cinto Euganeo, Arqua Petrarca, Lozzo Atestino, Teolo, Este, Monselice, Galzignano and Battaglia Terme.
Cycling
As with walking, there are myriad cycling paths, both for racing and mountain bikes. A popular and fairly easy route is along the canal which skirts the edge of the Hills taking in the towns of Este, Cinto Euganeo, Vo and Monselice. Others take to the more challenging hilly routes, either by road on racing bicycles or on the unpaved trails by mountain bike. The weekends see all varieties of cyclist; dressed colourfully they are to be seen in their droves struggling up the steep hills and zipping speedily down the other side.  Motorists take note!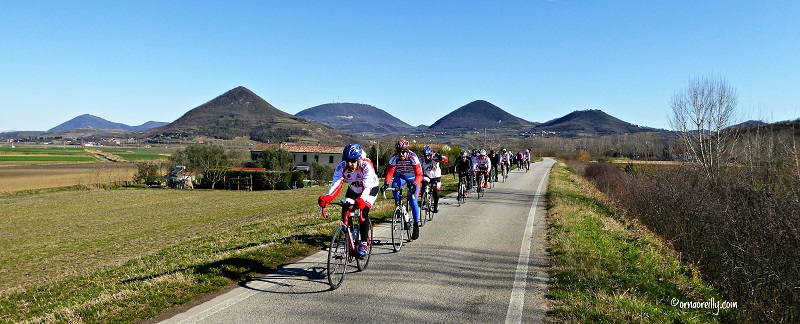 Photo by: Orna O'Reilly
Wineries
The Euganean Hills are renowned for their superb wines. Apparently there are thirteen DOC (Denominazione di Origine Controllata) wines produced here including Cabernet Franc, Sauvignon and Chardonnay, with delicious sparkling wines such as Serprino and Moscato Fiori d'Arancio. There are many specialist wineries and my own particular favourite is Ca' Lustra, which specialises in organic wines. Their vineyards are spread throughout the Faedo Valley and Arqua Petrarca and make a magnificent sight. The main winery is at the top of a steep rise, with many hectares of grape vines sweeping down across the rolling hills. Early September heralds the grape harvest and is a busy time in the Euganean Hills with vineyards full of grape pickers and trailers piled high with grapes on their way to begin the magical process of converting them to wine. Many grapes from the Hills go to the Cantina Colli Euganei, a wine co-operative in the nearby town of Vo.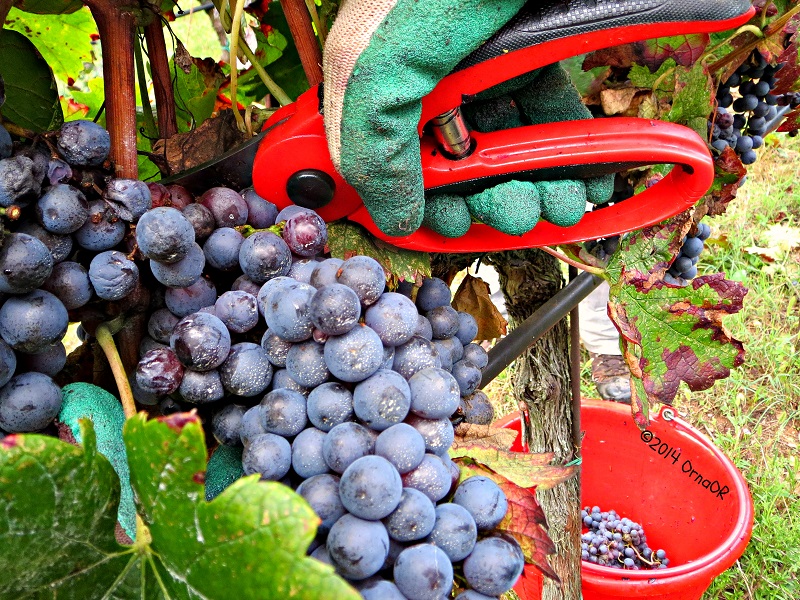 Photo by: Orna O'Reilly 
Olives
November dawns cool and clear with the olive harvest and, visiting the old olive mill at Valnogaredo while the fresh olives are being pressed, one can sample - straight from a giant tap – the thickest, greenest and tastiest freshly pressed olive oil imaginable. In November the roads are crammed with tractors pulling bouncing little trailers full of olives, taking them to the local frantoio (olive press), where their goodness goes straight from basket to bottle or can, via the stone crushing wheels and a filtering system.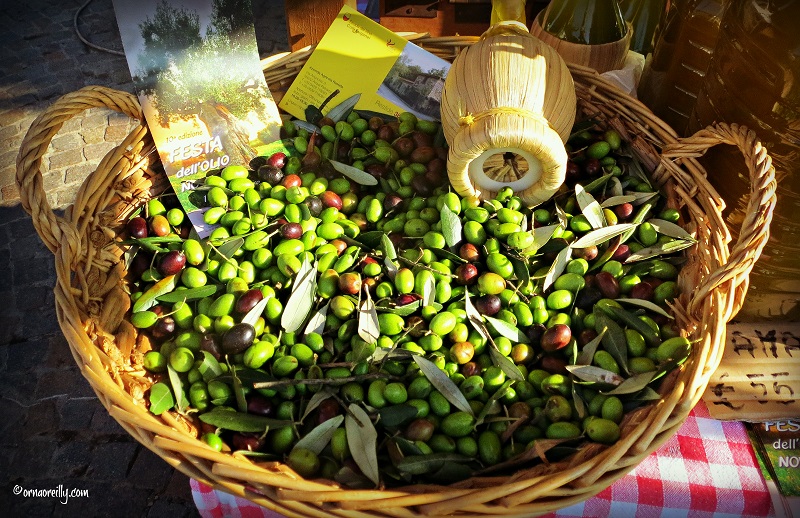 Photo by: Orna O'Reilly 
Food
Quite apart from the grapes and olives for which the Euganean Hills are so justifiably famous, the changing seasons bring an abundance of such delights as wild asparagus in April, cherries in May and luscious purple figs in June. And that's just for starters. The result is that the local markets are full of fresh produce which change with the seasons and this is reflected in the menus of the many restaurants and agriturismi which dot the Hills.
Two food specialities of the Euganean Hills are musso con polenta (donkey with polenta) and cingiale ragu (wild boar sauce).  You will find both of these on most menus.
Agriturismi
As you can imagine, with such an abundance of excellent food produce, wine and olive oil, agriturismi (farm to fork dining) abound. Fine dining at an agriturismo is unusual as the food is usually plain, wholesome and well prepared, the way you would expect grown-on-site food to be served. However, Al Peraretto in Faedo is an exception and they pride themselves on their excellence. Valentina, the chef, trained for many years in a cookery school in Abano and she, along with her family, runs this wonderful agriturismo. On the other hand, if it's high quality plain food, served in a lively family atmosphere that you crave, look no further than Ca' Bianca in Fontanafredda, where the food, wine and service are tip-top. Owned and run by the friendly Turetta family, Sunday lunch there is the best fun imaginable.
Restaurants
As agriturismi are open only at weekends, if you find yourself in the Hills during the week and need a spot of lunch, there are two good restaurants right opposite one another in the hamlet of Faedo that I can recommend. The first is Al Rio, run by the Faccin family. A friendly steakhouse that also serves excellent pasta. Directly across the road is Da Scussa, where their Irish lamb is a treat.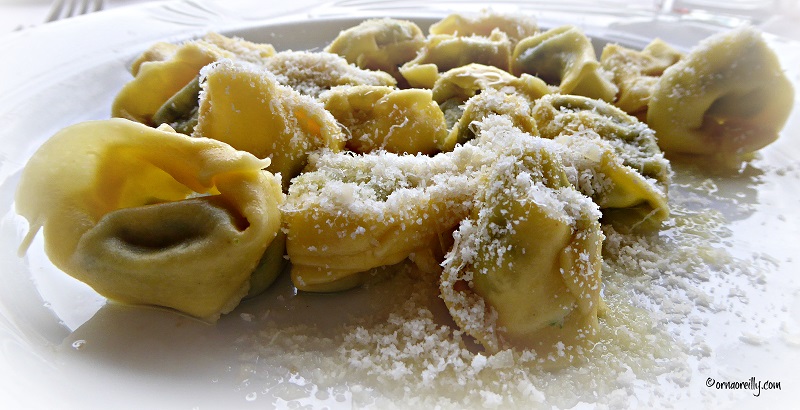 Photo by: Orna O'Reilly
Culture
There are many cultural places to visit in the Euganean Hills. Just to mention a few that I have personally enjoyed, for those of you who love to stroll around a beautiful, Italianate garden, I must recommend a visit to Villa Barbarigo at Valsanzibio near Galzignano. These gardens are magnificent in spring and summer.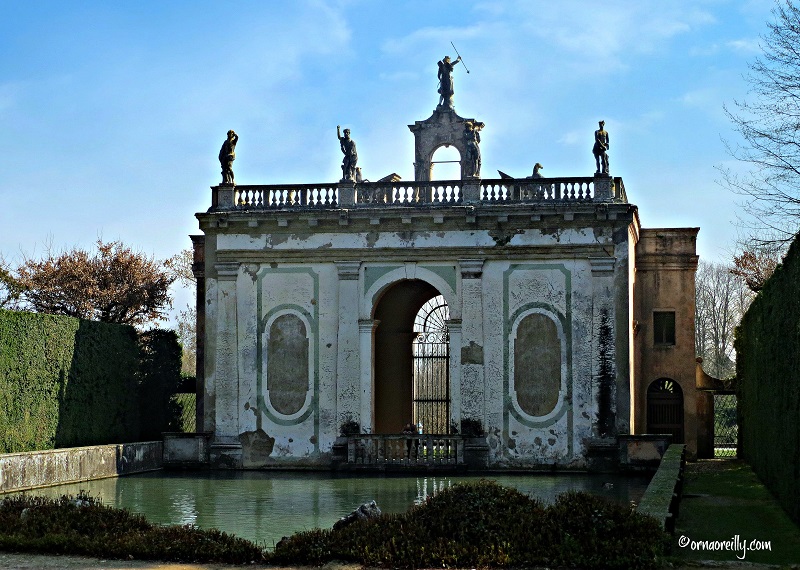 Valsanzibio, photo by: Orna O'Reilly 
If it's a charming medieval village that you would like to wander through, Arqua Petrarca fits the bill. High in the Hills and designated one of the most beautiful villages in Italy, it contains the home of the famous poet Petrarch, who retired there in the 14th century.
For shopping, the nearby town of Este is, by contrast, a bustling place overlooked by the medieval walls of the huge castle that once belonged to the eponymous Este family.
If you want to visit a Venetian villa, then Villa dei Vescovi in Toreglia, close to Abano, is open to the public and you can, in summer, buy a picnic lunch there and eat it under a shady tree.
Villa Beatrice d'Este, an old convent near Cinto Euganeo, is a favourite spot for family picnics on a Sunday too and the panoramic views from there are breathtakingly beautiful.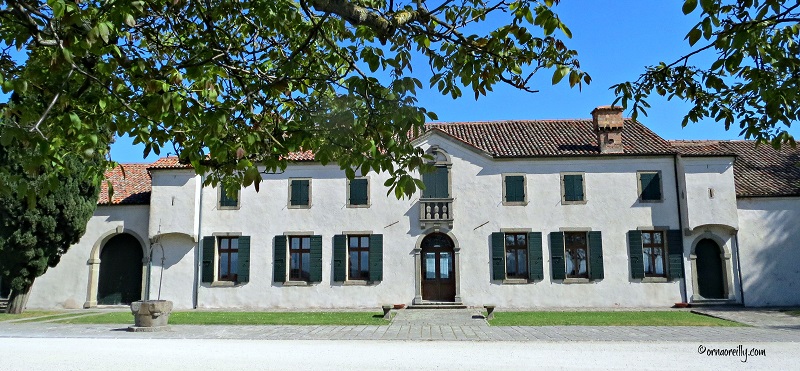 Villa Beatrice, Photo by: Orna O'Reilly 
Well known by the Italians who live in the Veneto and often forgotten by tourists who are heading to the glamourous cities of Venice and Florence, if you enjoy walking, cycling or good wine and food, a few days spent in the Euganean Hills would be well worth the detour.