The farm to table restaurant is a hugely popular concept worldwide. With vegetables, fruits and herbs freshly grown on the farms and in gardens and free range meats also part of the menu, farm to table restaurants ensure that what their guests is eat is both a healthy option and of the highest quality.
There's a real homely charm to the farm to table restaurant. With the food lovingly prepared, the owners are keen to see that the guests enjoy their meals in warm, welcoming environments. The farm to table restaurant has that extra personal touch. Once you leave for the first time, there's every chance that you'll come back for more – time and again. Before you know it, you'll feel like part of the family.
In Italy, the farm to table restaurant is a massively popular choice. Many of these restaurants not only offer food and drink of the highest calibre, but breathtaking views and cosy, friendly interiors. Here then, are some of the very best.
Buon appetito!
GLI ULIVI, Rome
Just a stone's throw away from Rome's centre, you'll be able to encounter Gli Ulivi, a strong example of farm to table dining in the area.
Gli Ulivi's menu features food selected from its own estate. Like all good farm to table restaurants, the ingredients used are fresh and organic. The food is neatly presented and arranged with great flair and style.
There's a great deal of choice available at Gli Ulivi, with a wide roster of dishes to suit all tastes. For pasta fans, there are some fine combinations including pasta and bacon and pasta with scallops and asparagus. A choice of excellently cooked meat dishes includes steak, roasted chicken and sea bass. The home grown vegetables cap off the main meals to perfection, as does the tasty home-made bread. You can't go wrong with freshly baked bread, and Gli Ulivi is no exception. Desserts are also popular, and include cheesecake and tiramisu, made with much flair and their own stamp on these two classics.
Whatever the weather, there is much to enjoy at Gli Ulivi. In Summer, you can eat outside, and when the sun bids adieu, the warm, inviting interior adds to the Gli Ulivi experience.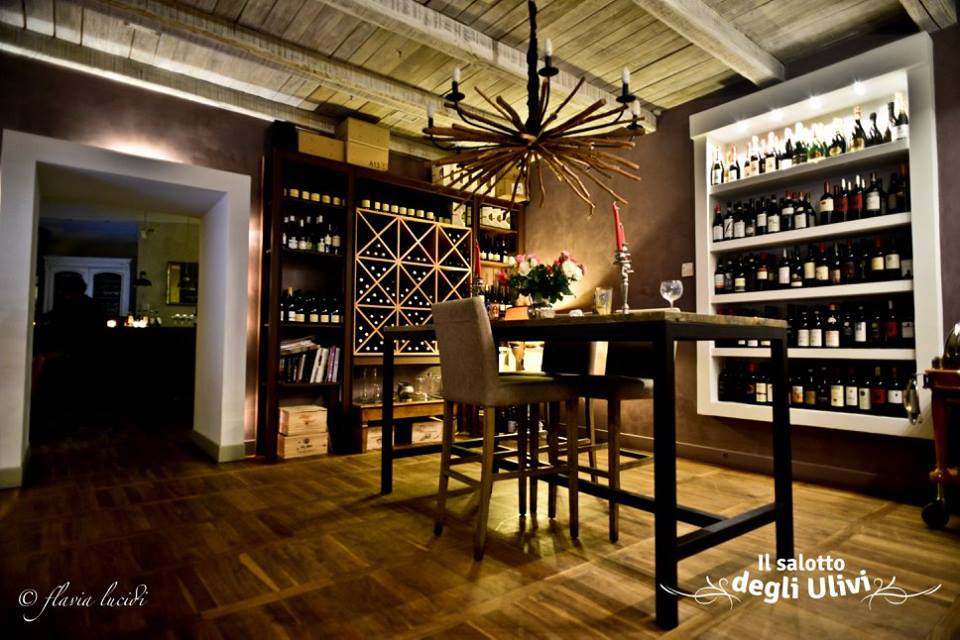 Il Salotto Degli Ulivi, Photo credit: Flavia Lucioli
SAN MICHELE ALL'ARCO, Florence
A major plus point of the acclaimed San Michele all'Arco restaurant is that it's in a convenient central location in Florence. Couple that with delicious food sourced from the restaurant's own farm, and you're onto a winner.
San Marco all'Arco's vision and process can be seen on a screen in the restaurant, explaining the methods behind their dishes. The food is well cooked and prepared, and furthermore, is excellent value for money. The service is outstanding, with punctual and friendly staff, ensuring that your eating experience is the best that it can be.
The food on offer is first class, including all kinds of delicacies such as pasta with pork bolognese, salami and fresh vegetables which are used to great effect (such as the mixed green salad). Sample the sweet dishes too. The apple pie and chocolate cake will tempt your tastebuds, even if you're not a sweets fan!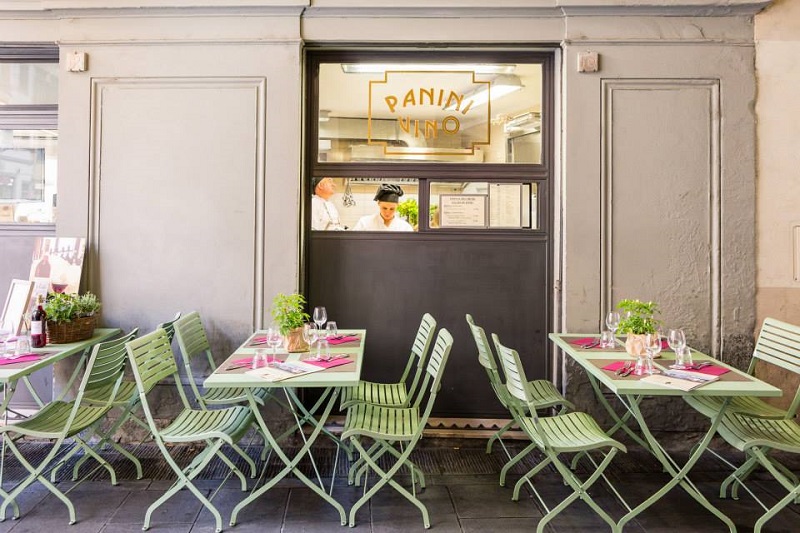 Photo credit: San Michele All'Arco
ERBA BRUSCA, Milan
Seeking the ideal brunch or breakfast experience? Then why not potter over to Erba Brusca in Navigli, Milan?
Sunday is brunch day at Erba Brusca, and Erba Brusca does not disappoint. Eggs Benedict, Gravadlax Trout with fennel salad and grapefruit and a tasty fry up (comprising sausages, mushrooms, potatoes, tomatoes and fried eggs) are just a sample of the super brunch menu at Erba Brusca. The breakfast offering is also a worthy one, with fried eggs, sausages, pancakes and fresh fruit prepared to make sure that your day starts with a swing.
Erba Brusca cultivates its own ingredients from its kitchen garden, with vegetables and herbs such as basil, rosemary and mint, to add an extra kick to the dishes. The meals are of a very high standard, including Carpaccio with Jerusalem artichoke, a fantastic spaghetti dish and a cornmeal and honey cake for all those with a sweet tooth.
OSTERIA DELLA FONTE, Brisighella
A warm welcome and some out-of-this-world food await you at Brisighella's Della Fonte restaurant.
Using local produce, Osteria Della Fonte provides a winning combination of excellent value for money and friendly, attentive hospitality to all customers. The menu offers some fine dishes and foods including salami, porchetta and cheese with fruit jelly. For pasta fans, Osteria Della Fonte's offerings are deserving of a taste, including the classic Pasta and Ragu and stuffed pasta with lamb. You can wash these tasty meals down with a sip of a good selection wines or grappa if that takes your fancy.
VILLA LENA, Palaia
One of the great things about eating out is that you can get the chance to enjoy some spectacular views. The beautiful, rolling Tuscan hills is picture perfect, and can be enjoyed if you pay a visit to Villa Lena.
Located on top of a Tuscan hill, Villa Lena's position allows customers the chance to admire some breathtaking views from a unique vantage point.
And the food's pretty spectacular too. The restaurant is part of a hotel, and serves up some stunning food including ratatouille, duck, roast lamb, and some delightful home-made pasta. Villa Lena's garden is the source of the wide range of herbs and vegetables that grace their dishes. It's also worth checking out some of the beautiful desserts, including apricot compote, gelato and meringues with cream and chocolate sauce.
On top of this, from time to time, you can also get to enjoy some live performances at Villa Lena. Good food. Amazing views. What more could you ask for?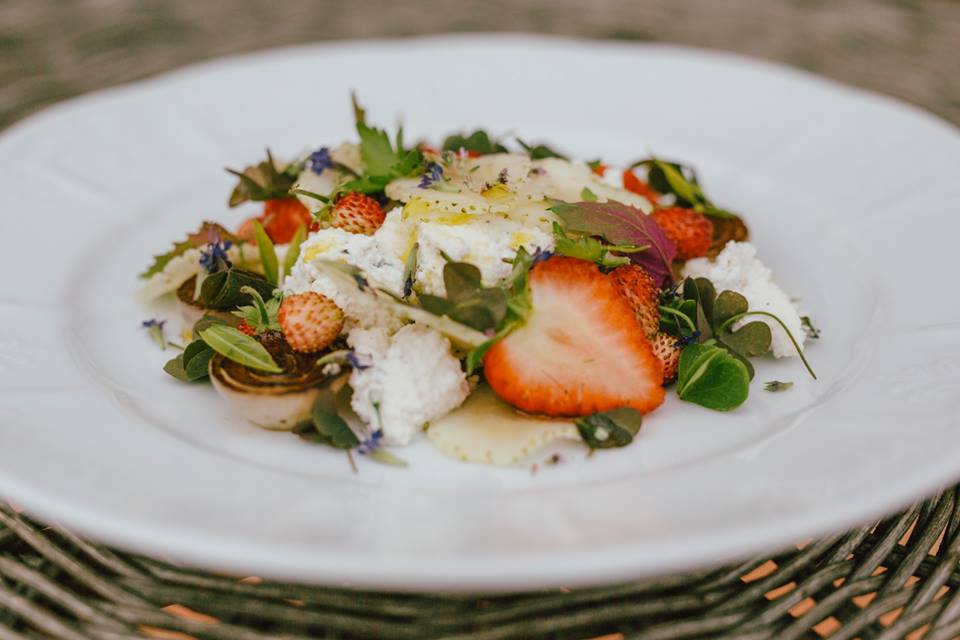 Salad with strawberry, ricotta, baby onions and herbscredit: photo credit: cityshrinker
LA TAGLIATA, Positano
La Tagliata has recently relocated to larger premises to embark on the next chapter of their hugely successful business.
Providing fine garden fresh food, beautiful views and a genuine family atmosphere, La Tagliata features three terraces. The views are outstanding, including views of the Galli Isles and Positano Capri. La Tagliata is also actually a perfect location to hold a special occasion celebration, whether it's for a birthday party or a wedding.
Whatever the occasion, you're guaranteed some fine food coming your way. The menus utilise organically grown vegetables and free range meats. The flavours are at the top of their game in all spheres. Parma ham and melon, eggplant and home-prepared salami can be found in the starters, while steaks and magnificent home-made pasta are among the treats in store on the mains menu. And why not tuck in to a slice of La Tagliata's home-made cake if there's space for dessert?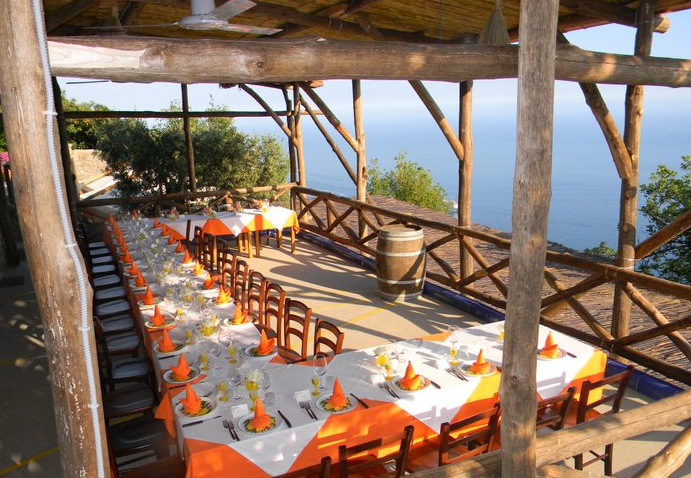 Photo credit: La Tagliata
TRATTORIA TERRA MADRE, Puglia
Like all good farm to table restaurants, Trattoria Terra Madre's philosophy is simple: Use the best fresh produce to create the best dishes. With that in mind, the vegetables are left on the plants until they are good to go – in order to ensure that they are as fresh as possible.
Trattoria Terra Madre's organic garden plays host to a wide selection of vegetables on a seasonal basis. For the Winter months, carrots, cabbage, spinach, onions and chickpeas are among the vegetables grown. Fast forward to Summer, and the line-up includes eggplant, tomatoes and peppers. The menu includes some wonderful roasted vegetable dishes and a line-up of strong flavours. Additional touches are the icing on the cake, including home-made bread, and literally in the case of the irresistible icing and cream-topped cakes.
IL RITROVO DEL CIMA, Near Miglianico
With a name that means "Meeting At The Summit", Il Ritrovo Del Cima boasts a first class line-up for its farm to table concept.
The food served to guests comes from the restaurant's own site from the grapes to the vegetables to the herbs. The menu is very good indeed and offers something for everyone, including pasta, meats such as sausages and hams, cheeses. And of course, a broad selection of vegetables including steamed greens, chickpeas and wild mushrooms.
Additional goodies include olive oils, refreshing mineral water and a superb choice of local wines. Outdoor eating is also available if you wish.
IL CANTO DEL MAGGIO, Tuscany
Mauro the owner of Il Canto Del Maggio and his daughter Simona will guarantee you a very warm welcome. Using traditional Tuscan cuisine using the cream of local produce, Il Canto Del Maggio has an excellent reputation for providing amazing food with equally superb hospitality.
It's based on a hill which overlooks the Tuscan hills, with the interior providing a cosy, welcoming and picturesque ambience. Whatever you choose between the delightful interior or beautiful views, you will be served food served with real passion and heart.
The menu is out of this world and isn't afraid to add its own unique touch. Nettle soufflé, courgette salad with pine seeds and duck egg with truffles and asparagus are among the tempting goodies on offer along with Fiorentina steak and wild boar stew. The desserts are also the finest in their field, including deconstructed cheesecake and chocolate cake.
It's little wonder Il Canto Del Maggio has earned a worldwide reputation (with appearances in the Michelin Guide and Conde Nast), and with its unbeatable combination of fine foods and friendly conviviality, its a reputation that is very well deserved.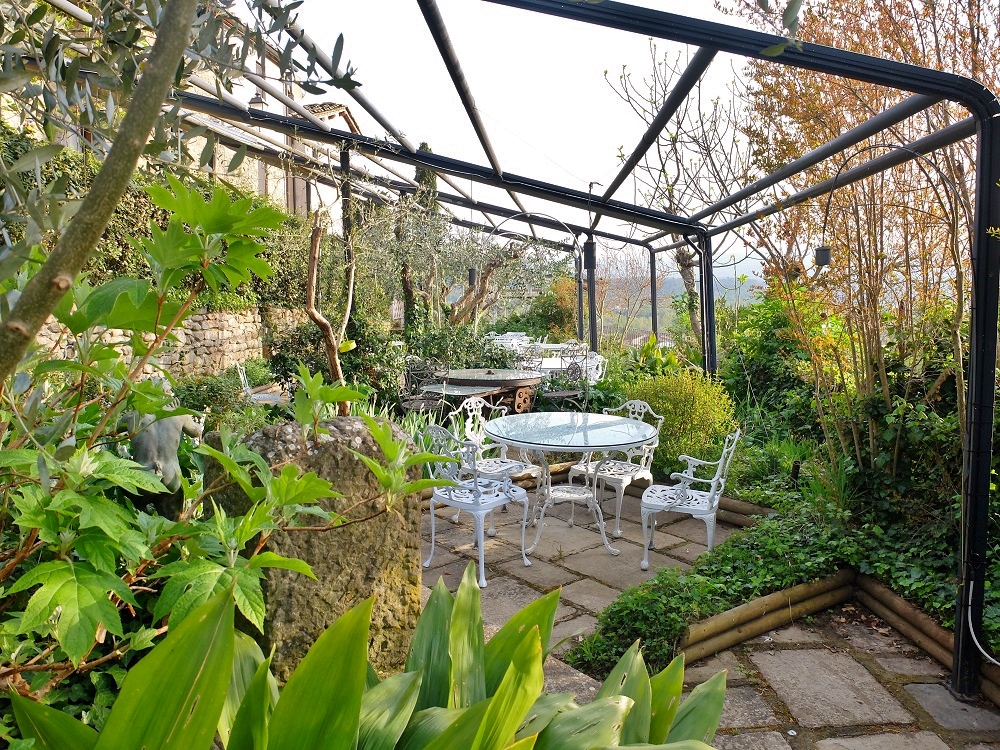 Il Canto del Maggio, Photo by Georgette Jupe