Italy's magic has been shifting over the last five years. While the Tuscan charm still attracts large volumes of tourists, slowly and steadily, the welcoming southern Italian hospitality is drawing more and more visitors to its region. Lecce (affectionately dubbed 'Florence of the South') now ranks higher in visitor numbers than Siena in Tuscany. So, what is it about this southern point of Italy, more commonly referred to as the "heel" of Italy, that's piquing visitors' curiosity? 
Italy offers a sensory tour to all who visit, with culinary delights steeped in tradition and abundant fresh produce forming the mouthwatering dishes depicted in the menus of delightful village trattorias. Whitewashed hilltop villages dazzle in the midday sun, and baroque architecture sits photogenically in the soft glow of golden hour. It is easy to see why this popular European destination captures the hearts of 94 million visitors a year.
While streams of celebrities papped drinking their morning cappuccinos in a Rome café compete with front-page snaps of Milan's glamourous fashion shows, other celebs have been quietly enjoying luxurious countryside living with their families. Justin Timberlake married Jessica Biel in an elegant Puglian resort, a favourite summer escape frequented by the Beckhams in recent years. Oscar-winning Dame Helen Mirren and Meryl Streep have both purchased typical Masseria-style farmhouses, an hour south of Lecce.
Puglia (pronounced "pool-ya"), or Apulia (its lesser common Latin name), is located in Italy's southern-eastern region, an area known for its abundant countryside and olive trees and a gentler pace of life. 
    
We delve into the most-asked questions and highlight a few of the magical must-sees.
WHY VISIT PUGLIA?
Maybe it's the laid-back style of day-to-day living, or perhaps it's the attention the Pugliesi give to their food, with plates of delicious homegrown produce that entice more and more visitors every year. Puglia is probably most famous for its olive oil production, producing more than 40% of Italy's olive oil and 12% of the world's! No surprise when you consider the temperate climate of southern Italy with its long dry summers and warmer winters – a 
the perfect environment for over 50 million olive trees to grow.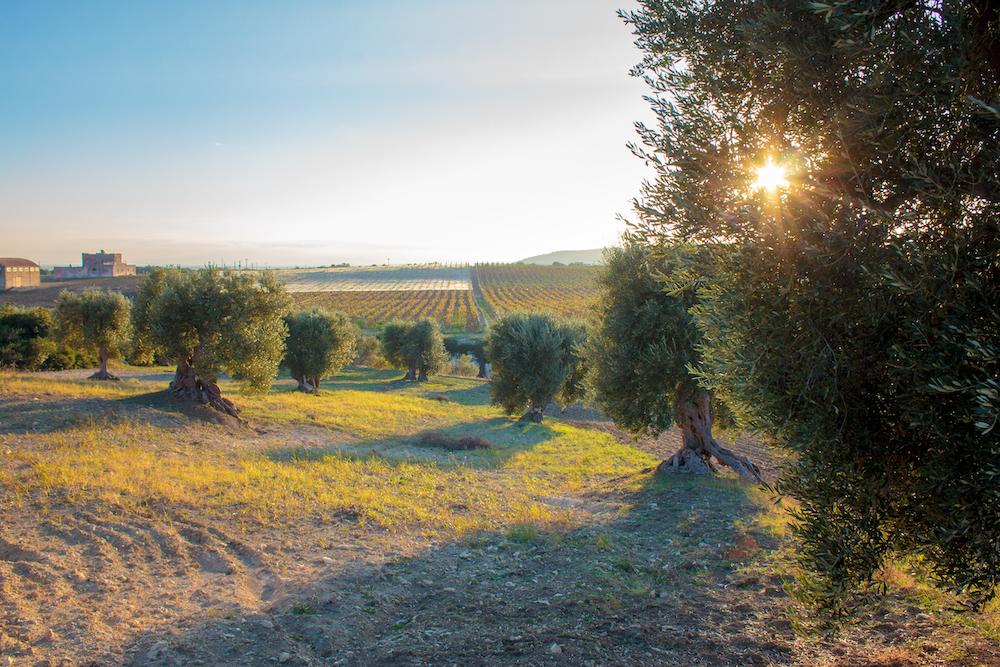 Part of this region's magnetism is the slower pace of life, allowing you to explore at an unhurried pace, soaking up the rich culture and present-day feel of each locality – all offering a unique experience. Italy's southern-most region is famed for its vast 800km coastline framing the peninsula with its Adriatic waters lapping the east coast.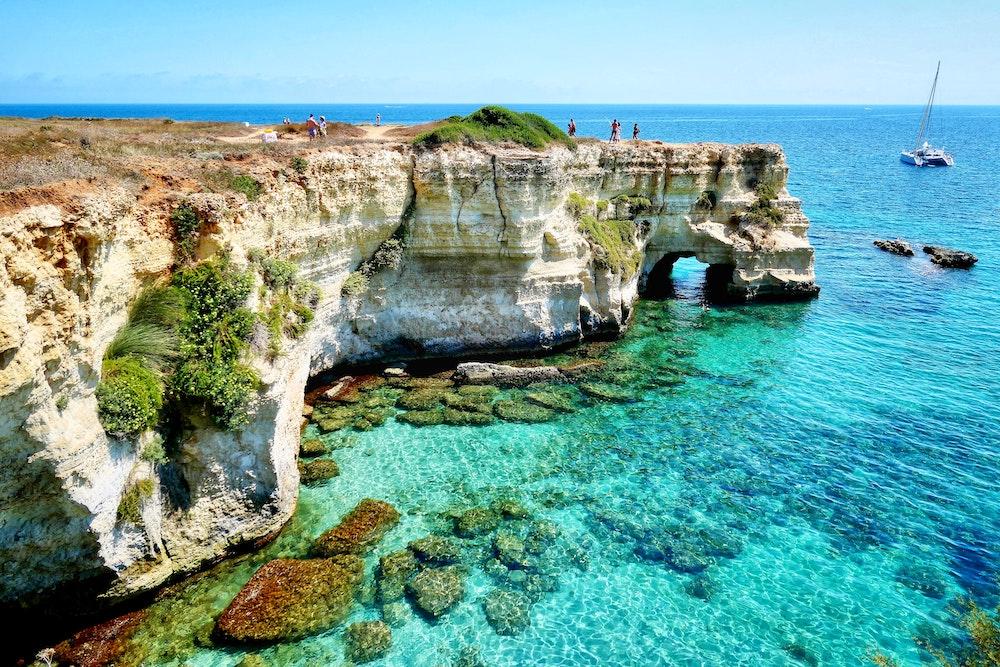 To the west, the tiffany-blue Ionian Sea dazzles spectacularly. No surprise then that Puglia is the winner of 13 coveted Blue Flag beach awards. One such beach – Pescoluse – being referred to as the "Maldives of Salento" for its 4km stretch of white sands and translucent turquoise waters.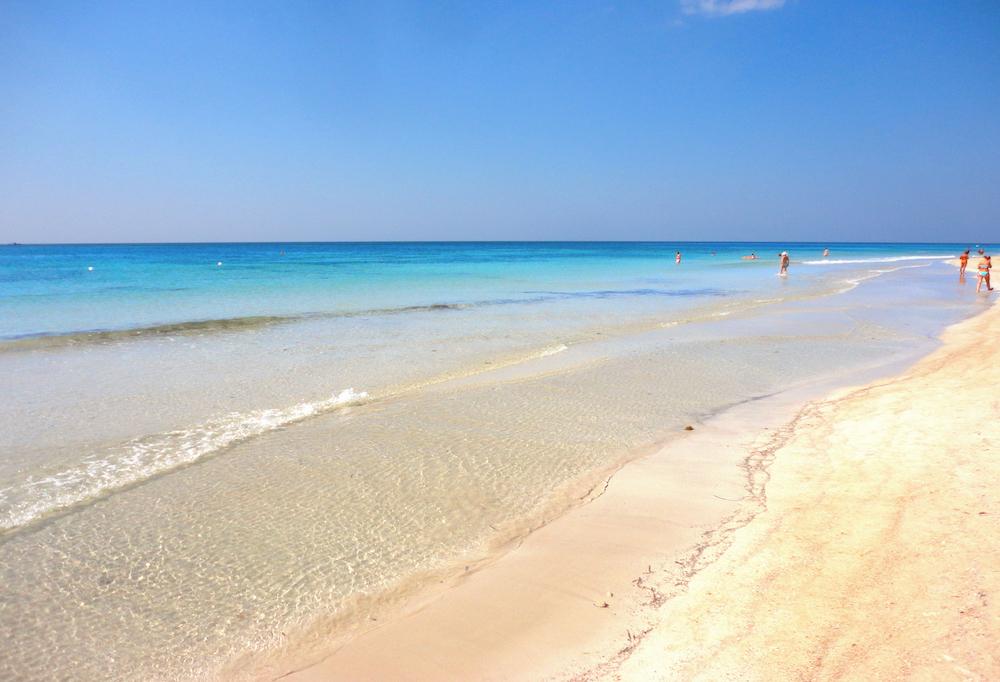 Whether it's wine tasting, a walking tour to discover beautiful architecture or a boat trip to magical caves, or olive oil tasting and cooking classes to make dishes from recipes passed down through generations – there are 101 reasons you should visit Puglia.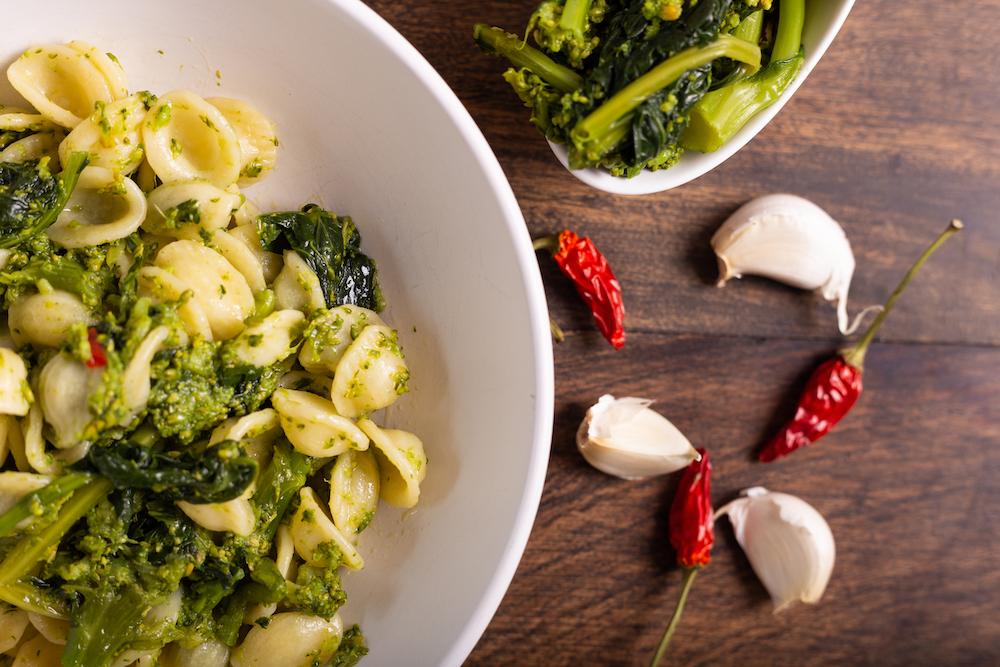 WHAT TO SEE IN PUGLIA?
Brimming with baroque architectural gems, enchanting piazzas, rustic trattorias, lively lidos, or secluded beaches, Puglia is an alluring Italian destination. Here, we explore the top spots.
ALBEROBELLO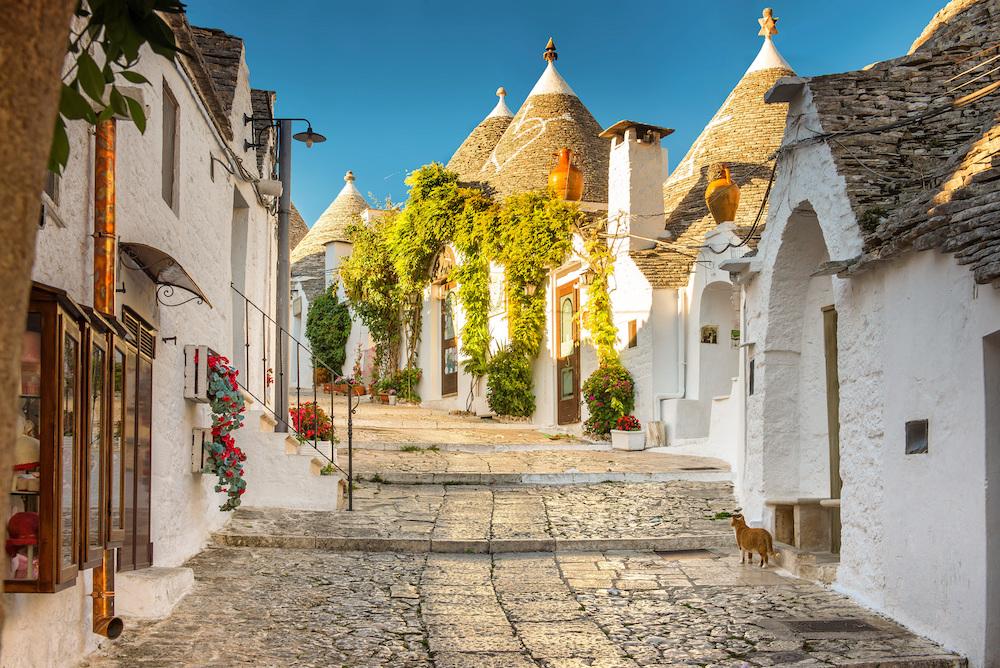 Located in central Puglia, in the verdant Itria valley, lies the quaint town of Alberobello. Wander the hypnotising streets of this UNESCO World Heritage Site peppered with iconic conical roofed stone trulli huts. There are over 1,500 of these Smurf-like buildings built from large limestone slabs. Nowadays, they exist as charming souvenir shops, restaurants and visitor accommodation rather than their original purpose of dwellings for the inhabitants. Be sure to ask in any grocery for the famous "Pasqualino" sandwich – a tradition dating back to 1966. Pasquale Dell'Erba freshly-made a daily supply of these snacks in his grocery shop for the nearby hungry students, passing on their way to school! It's layered with tuna fish, capers, salami and cheese (and has to be constructed in this precise order). 
POLIGNANO A MARE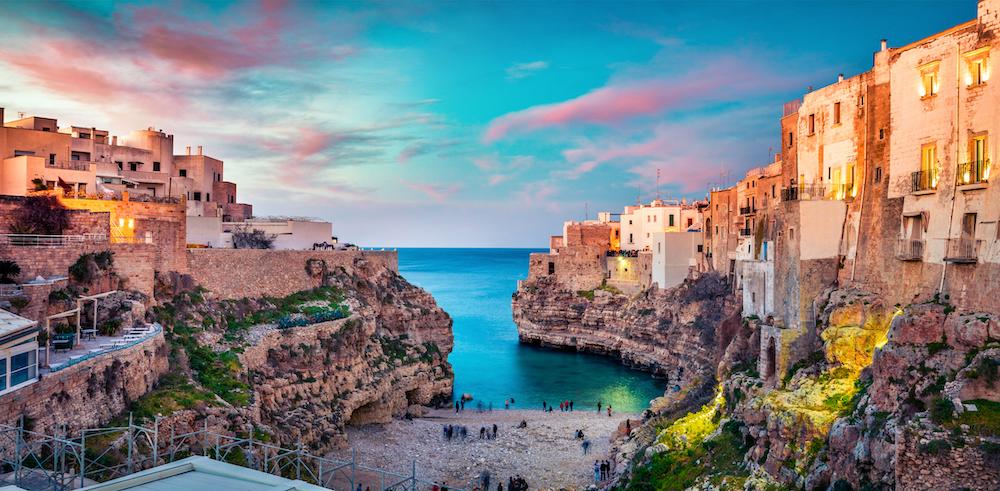 This 8,000-year-old history-drenched town lies 25 miles from Bari and is one of the most photographed spots on the Adriatic coast. It's easy to see why, with its cliff-top setting offering spectacular views from restaurant terraces and the famous Lama Monachile beach nestled between the cliffs. Awarded the sought-after Blue Flag beach award, Cala Porto, as the beach is also known, offers the best spot to enjoy the exhilarating Red Bull Cliff Diving Competition. Crowds gather each year to witness athletes spectacularly diving off the cliffs some 92feet high into the Adriatic blue waters below!
VIESTE – GARGANO PENINSULA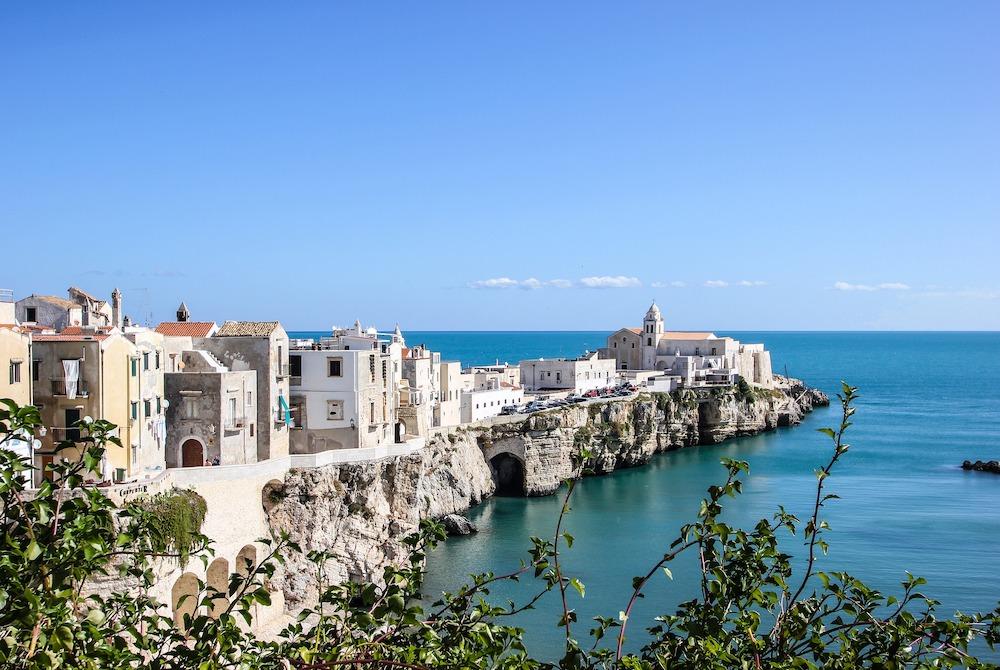 Two hours north of Bari, you'll arrive at the Gargano Peninsula. Hugging the Adriatic coast and home to the area's greenest landscapes, exploring The National Park – a UNESCO World Heritage Site is a must. Puglia's ancient Foresta Umbra teems with abundant wildlife, Aleppo Pines, Oaks and Beechwood trees. Travel 30 minutes to the coastal port village of Vieste, and you'll be met by a wondrous sight of this pretty seaside town, jutting out to sea and framed by beaches and cliff drops to azure blue waters. Meander the streets of whitewashed buildings and ornate churches. 
LOCOROTONDO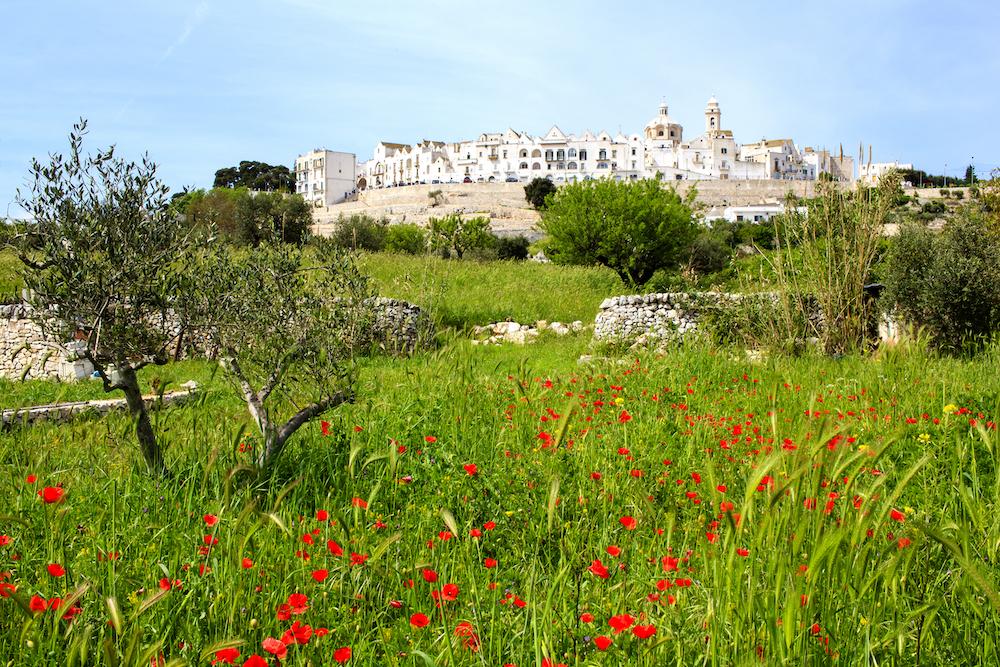 Rising majestically over the fertile Itria Valley, Locorontondo was constructed in a circle formation, hence the town's name, meaning – 'round place'. The area's topography and temperate climate produce a superior white wine DOC from rarely seen Verdeca grapes. Subtle and fruity in taste, a chilled glass of this straw-green wine complements delicious local fish or pasta dishes. What could be better after a morning's stroll around this hilltop beauty? 
OSTUNI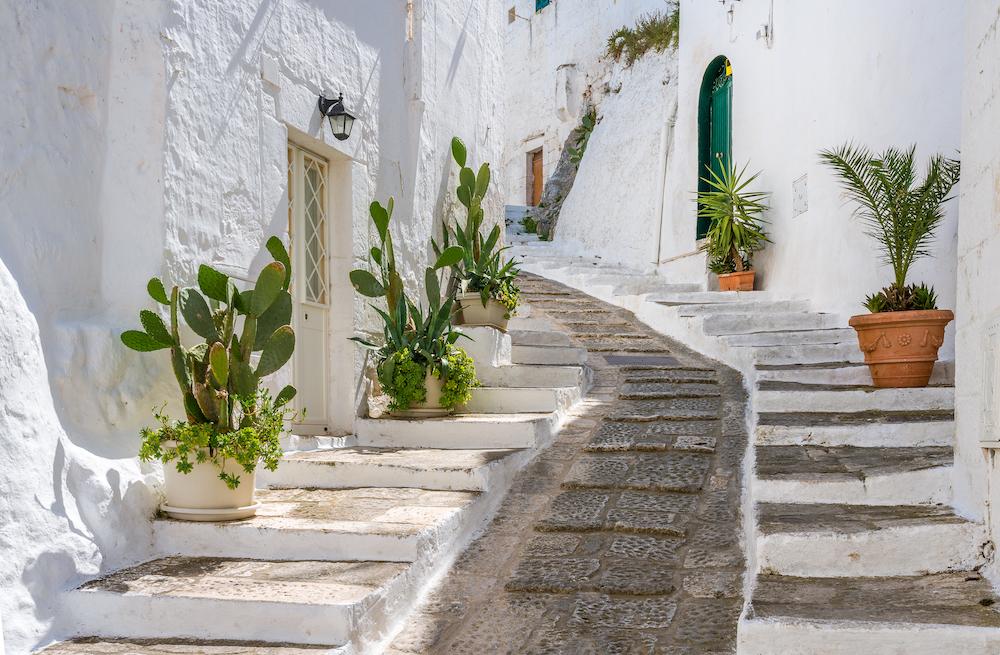 Referred to as "The White City", Ostuni's buildings were originally coated with a white limestone chalky paint during The Plague's time due to the paint's antibacterial properties. Today, these alluring whitewashed buildings and cobbled streets create a fairy-tale destination in another hilltop city. Ambling through the Medieval streets and atmospheric alleyways of the Centro Storico, you'll wind up in the town's ancient piazzas. Lined with vibrant cafes and restaurants, you can indulge in beautiful plates of local cured meats, homegrown vegetables, olive oil and cool glasses of Puglian wine – bliss!
LECCE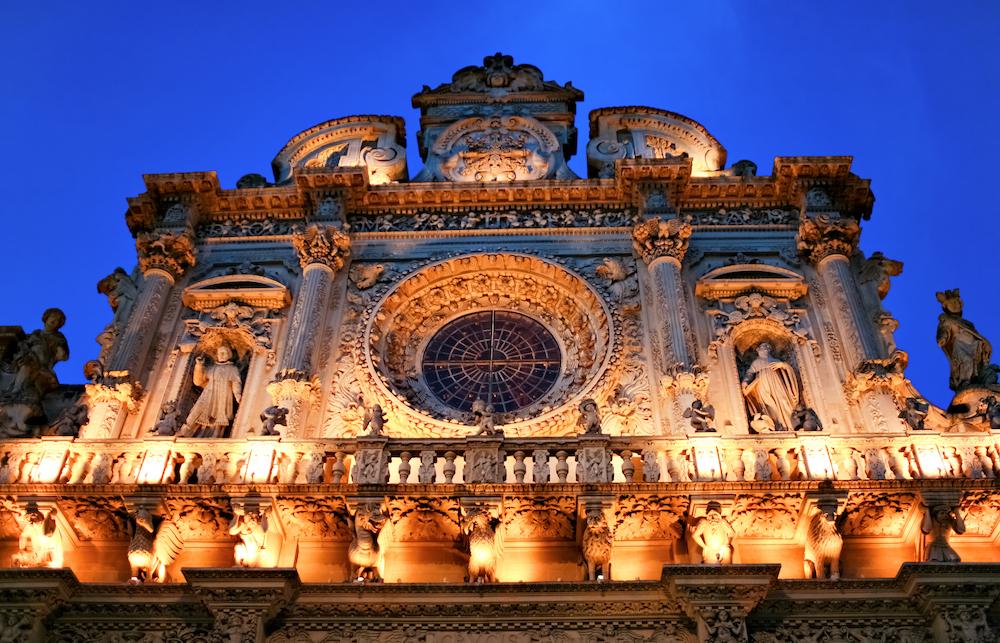 Bursting with baroque architecture and dubbed 'Florence of the South', Lecce is a dream for lovers of photography and architecture, with its 17th century highly decorative buildings at every turn. One way will lead you to a Roman Amphitheatre, the other to The Basilica di Santa Croce – a marvelous example of the baroque period with its detailed pillars and extravagantly carved exterior. Intersperse wandering around the stunning cathedrals and churches with a leisurely coffee stop and enjoy the local 'caffe leccese' – iced coffee with almond milk and 'pasticiotto' (a custard-filled Italian pastry). 
WHEN TO VISIT?
Hot sunny summers and mild winters sum up this southern peninsula of Italy. Framed by the Adriatic Sea on the east and the Ionian Sea to the west, swimming begins as early as May. Spring, through to June, and then September and October in Puglia offer gloriously sunny days and warm bathing waters. Temperatures rise significantly during July and August, but there's always the shade of an olive tree and a cool glass of Aperol Spritz to be found!
HOW TO GET THERE?
Bari (Karol Wojtyła Airport) serves the north of Puglia, and Brindisi (Salento Airport) is located further south, although both are perfect for exploring Puglia's ever-changing landscape.
WHERE TO STAY?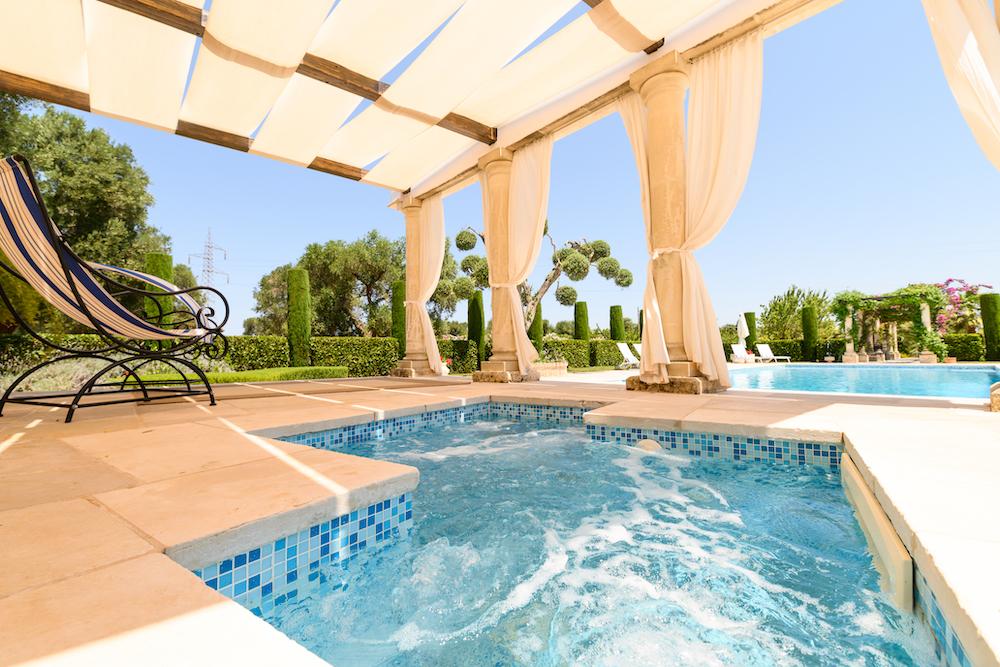 Scattered throughout Puglia, you'll find examples of fortified farmhouses known as Masserias. Constructed in the 16th century, a lot today have been luxuriously renovated while still capturing that southern Italian charm that this region of Italy exudes. The Pinelli Group, run by Nigel Carley and his wife Dawn, who fell in love with Italy, offer a successful Collective Ownership model that has expanded into Puglia alongside their Campanian luxuriously renovated properties. With Brexit and COVID-19 affecting how we travel and in time, for how long we travel, it is understandable that people are worried to buy a holiday home abroad. With Pinelli's model, you can actually buy a 4-week fraction by purchasing a share in a UK Limited Company that offers you an exclusive usage entitlement without all the hassle of actually owning and running a second home. Full property management is included when you are not there. With many happy members, a Puglia destination has now been added in San Vito Dei Normanni, ideally located for you to enjoy a luxury break and full immersion into the delights of Puglia.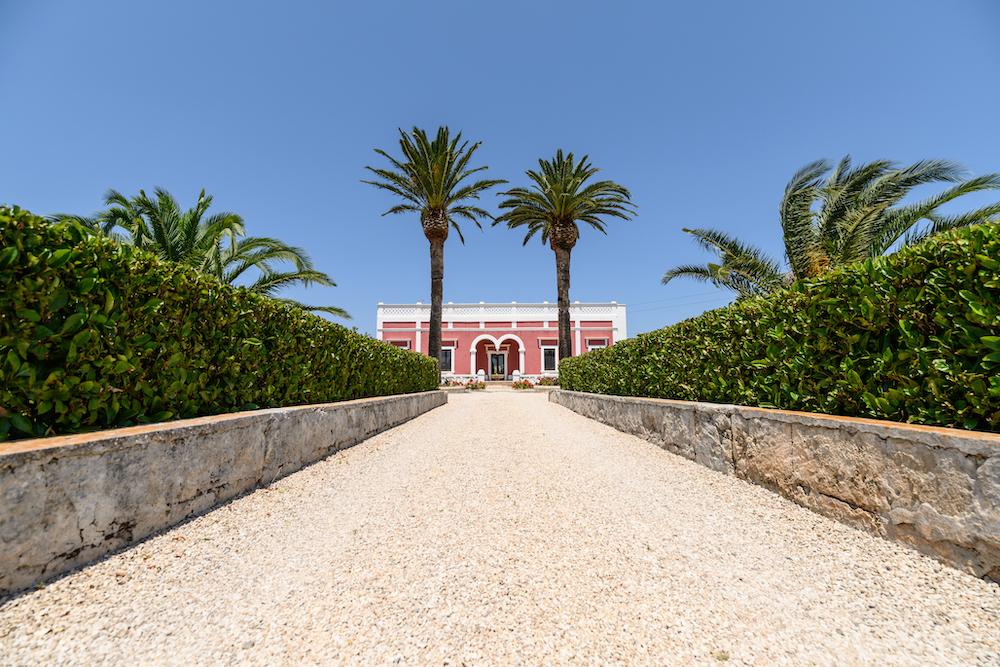 The Pinelli Group release a finite number of places each year through their Discovery Visits for you to experience the area and properties while enjoying a beautiful trip at one of their hotel partners' properties. 
Thirty places have just been released. While we understand that travel plans are still unclear, we know that there will be an overwhelming surge for these popular trips once the country restrictions lift, especially with Puglia becoming such a desired destination.
Register your interest NOW and lock-in your place so that you don't miss out.