Do you think that traveling around Italy on a vegan (or vegetarian) diet is a difficult task? Yes it's true, Italians have a special penchant for meat, cheese and fish: you will probably find them showing their wares off in tiny bottegas or at the vendors' stalls as well as hidden in panini and stuffed pasta almost everywhere. Yet, what a lot of people don't realize is that the boot is also a country where seasonal veggies are super-tasty (and usually affordable, too) and where at almost every corner you can treat yourself to a delicious "aglio olio and peperoncino" (garlic, olive oil and chilly) pasta or a pizza marinara, lavishly topped with tomato, garlic, oregano, extra virgin olive oil and nothing more than that: the perfect choice for vegans.
But if you want to enjoy your Italian holiday without worrying about finding a slice of prosciutto or a bite of mozzarella in your sandwich or salad, here it is a list of vegan or vegetarian (but usually offering also some vegan options in the menu) restaurants all over Italy, from fine dining to street food and trattorias. 
MILAN
Joia: average price per person: 80 €
Swiss-born chef Pietro Leeman runs this elegant gourmet vegetarian restaurant in Milan, proposing a "Top Natural Cuisine" which strictly follows the Nature's rules and a healthy food&lifestyle, matching a strong Oriental influence with a pure Italian taste. The ingredients have biological or biodynamic origin, and all dishes are prepared without eggs, many of them without flour and dairy products. Vegan and gluten free options are clearly flagged on the menu where it is also stated: "Food need not just be good, it needs to make us feel good after eating it".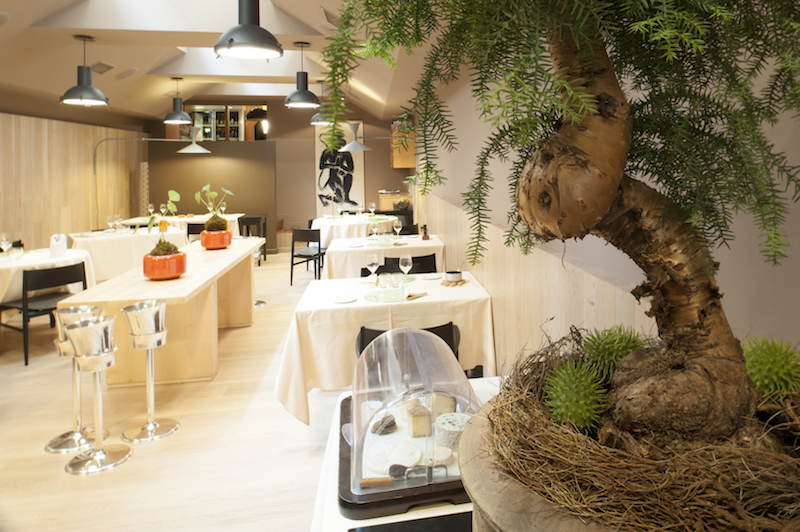 Ghea: average price per person: lunch buffet by the weight (22 €/kg), dinner 35 €
An elegant vegan and vegetarian restaurant offering organic, natural and sustainable food in a welcoming atmosphere. On week days, at lunch guests can choose from the buffet or opt for a small selection of hot dishes, while at dinner and on weekends the seasonal menu offers a wider choice of refined recipes such as the spelt linguine pasta with almonds and spinach pesto.
Osteria al 55: average price per person: lunch 10 €, dinner 42 € (tasting menu)
A long-established "osteria" (tavern), now a welcoming, contemporary restaurant offering a tasty vegetarian and vegan fare both for lunch (with a small choice between a salad, a rice dish and e raw or vegetarian mixed plate) and dinner, when the atmosphere turns a bit more sophisticated and the menu is wider. A full raw menu option is available on request. 

Courses, personal chefs & social dinners in Milan:
http://www.latavernadegliarna.it/ a vegan blogger who also organizes vegan social dinners
http://daniela-cicioni.webnode.it/ vegan and raw personal chef 
TURIN
Soul Kitchen: average price per person: 30 €
A vegan and raw restaurant in the very hearth of the city, offering a tasty and earthy food with creative recipes and a friendly approach. Home made seitan, spiced rice dishes, azuki burgers and tasty desserts – all matched with good organic and vegan wines – lure here vegan, vegetarian and omnivorous guests.
BRESCIA
Trattoria Glisenti: average price per person: 45 €
Facing over the Iseo lake, this traditional restaurant places side by side to a meat and a lake fish menu, also a vegan one based on local, organic cereals, beans and vegetables. Chef Berlinghieri uses them to create beautiful and tasty dishes – desserts included – creating no regrets in choosing them even for omnivorous guests.
   PADOVA
Papilla: average price per person: 30 €
Located in Cittadella, a beautiful medieval town not far from Padova, Papilla is a vegan restaurant with a relaxing and friendly mood. Local, organic and seasonal products (vegetables, fruit, beans, cereals and seeds) are used by Gianluca Ronchi to create tasty and healthy recipes. On week days you will find a "mixed platter" both for lunch and dinner while on Saturdays the dinner menu is wider and also includes raw vegan sushi.
FLORENCE
La Raccolta: average price per person: lunch 12-15 €, dinner 17-35 € (mixed platter -tasting menu)
A colorful and bright market, café and restaurant at a short walk from Santa Croce, offering a full range of organic, vegetarian, macrobiotic and vegan products and dishes. You can find organic and vegan croissants and Fair Trade coffee at breakfast, simple yet tasty mixed platters or rice and pasta dishes at lunch, much elaborated vegan and vegetarian dishes at dinner. Favorites include a pumpkin cream with crunchy Jerusalem artichokes and olive powder or lemon seitan escalopes with teriyaki sauce and stuffed potatoes.
La Dolce Vegan: average price per person 20€ to 25. 
A pretty space on via san gallo not far from piazza san marco and the Duomo cathedral, everything here is completely vegan and organic, you can dine here or take advantage of their takeaway options. They make their own fresh pasta daily, and have a variety of vegan burgers, 'make your own salads' and delicious desserts, think cheesecake with coconut, almonds and chocolate. Also check out their list of organic wines. They are open everyday from 12-3pm, 7:30-11:30pm, closed on Tuesdays. 
Libreria Brac: average price per person 30€. 
Tucked away in a small street close to piazza santa croce and the Arno river, is this local favorite that isn't entirely vegan or vegetarian but that has all of those options available and plenty of excellent salads. A real find, you'll love the bohemian feel of the small inside decor, once you finally find the front door, you'll see a front bar where one can comfortably dine alone, then enter a beautiful inner courtyard, perfect for a soy cappuccino or a chat and finally the inner dining room for a more typical restaurant experience. We highly recommend their unique plate with typically includes seasonal favorites (artichoke lasagna, avocado 'carpaccio' salad with a sesame dressing etc). Reservations highly recommended. 
Il Vegetariano: average price per person 15-20€
Since 1981, this place has proved to be a local favorite, with vegetarians first and now anyone who appreciates the plesant inner decor and now vegan options. Close to San Lorenzo and San Marco, you'll often find a line out the door as Italians on their lunch break crowd to get a seat as soon as it opens at 12:30. The menu changes seasonally and tends to be typical Italian dishes with around 4-5 choices for each course (pasta with grilled eggplant and aged ricotta, sauteed veggies) mingled with a few ethnic options (cous cous Tunisian style was recently on the menu) and vegan desserts. They also have excellent house wine (sangiovese for the red, trebbiano for the white). 
Konnubio: average price 35€-45€. 
A chic restaurant with two locations, one by the Duomo and San Lorenzo neighborhood, the second is located near piazza santa croce. While not purely vegetarian or vegan, they offer options for every course, this is a wonderful option for a classy sit-down dinner in very contemporary and comfortable ambiance. The menu is Italian and dedicated to organic seasonal products sourced as locally as possible, starters include artichoke porrige (vegan) and seitan carpaccio. The very Tuscan ribollita can also be found here, vegan pizza, as well as a hearty barley salad. Ask for their extensive wine menu. Another plus is the fact that they are open every single day for both lunch and dinner.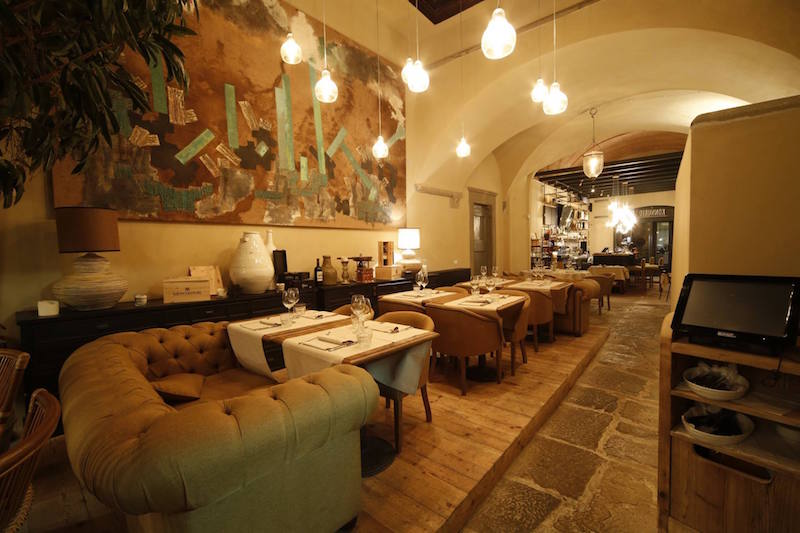 Interior of Konubbio, Photo by: Konnubio
SweeThings: average price 15€
A new and very adorable (tiny) bakery dedicated to vegan organic desserts can be found on the 'other side of the river' on Florence's borgo san frediano, they don't just do sweets but also have ventured into savory goodies like tofu kebabs with sesami. The menu changes daily and it's best to pop in and see what they have on offer, we spotted banana muffins, chocolate cake, and cupcakes. They also specialize in catering events. 
ROME
Ops!: average price per person: 25 €
Named after the ancient Roman fertility and earth-goddess, this vegetarian restaurant boasts the collaboration with chef Simone Salvini, a passionate vegan/vegetarian researcher and popularizer (who recently launched the vegetarian and vegan restaurant Lord Bio in Macerata. Both for lunch and dinner, Ops! offers a varied and wide buffet with cold and hot dishes, and a "pay by the weight" formula. Also take away, catering and vegetarian, vegan and gluten-free cooking classes.
Il Margutta: average price per person: 60 €
Rome's historic vegetarian restaurant, has been offering a "gourmet" vegetarian cuisine in a refined atmosphere since 1979. Located in the evocative artists' road near the Spanish Steps, the restaurant has a definite artistic mood and a classy decor. Great part of the ingredients come from the private orchard located in the Regional Vejo Park, at the city's outskirts. Il Margutta also offers a Green Brunch or an easy Bistrot menu for lunch, while for dinner the Margutta Light Gourmet menu is available.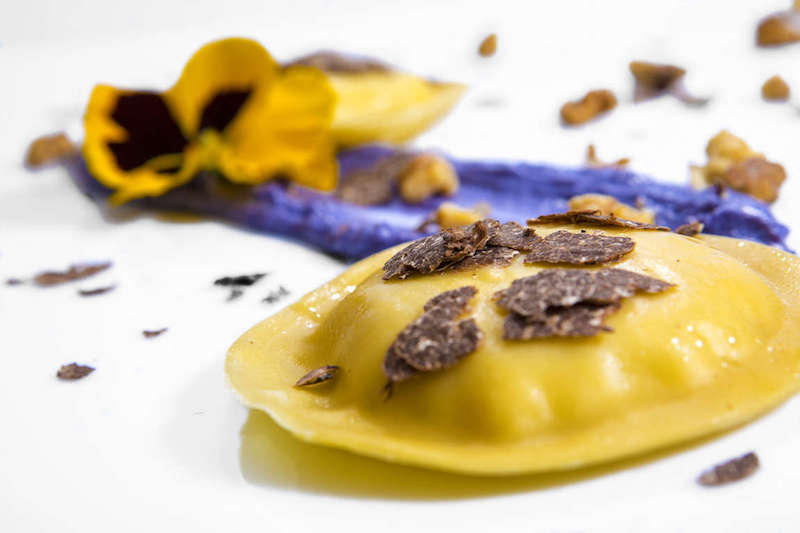 Artistic stuffed-tortelli, photo by: La Margutta
Solo Crudo: average price per person: 28 €
Recently launched in the posh Parioli district, this bright and cozy "raw street food restaurant" and juice bar offers a raw and vegan menu based on organic, healthy and sustainable products and recipes. It includes a wide choice of starters, soups, salads, vegan sushi, pasta dishes, mains and desserts. Beverages include "raw" beers, organic and vegan wines and freshly-made juices. Also take away and delivery.
Grezzo: average price per ice-cream/small cake: 3-5 €
For the sweet tooth, this raw and vegan chocolate and pastry shop in the picturesque Monti area is a must. They offer raw chocolate (bars and pralines), vegan and vegetarian raw cakes, all made using only organic and vegetable-origin ingredients and processing them at a lower than 42º temperature. You will also find raw ice creams made using home-made almond milk and raw fruit or chocolate, and tasty and refreshing raw smoothies.
NAPLES
Un sorriso Integrale: average price per person: 12 €
For over 20 years this cozy vegetarian and macrobiotic restaurant run by the AmicoBio association has been offering a tasty vegetarian, vegan and healthy fare to locals and tourists. Driven by a natural, ecologic and "spiritual" philosophy, both the location and the (fairly priced) dishes reflect the owners' choices: casual atmosphere, organic and vegan wines, no industrial soft drinks and an ever changing menu featuring seitan and tofu dishes as well as beans and vegetable soups, pasta and rice dishes and veggie side dishes.